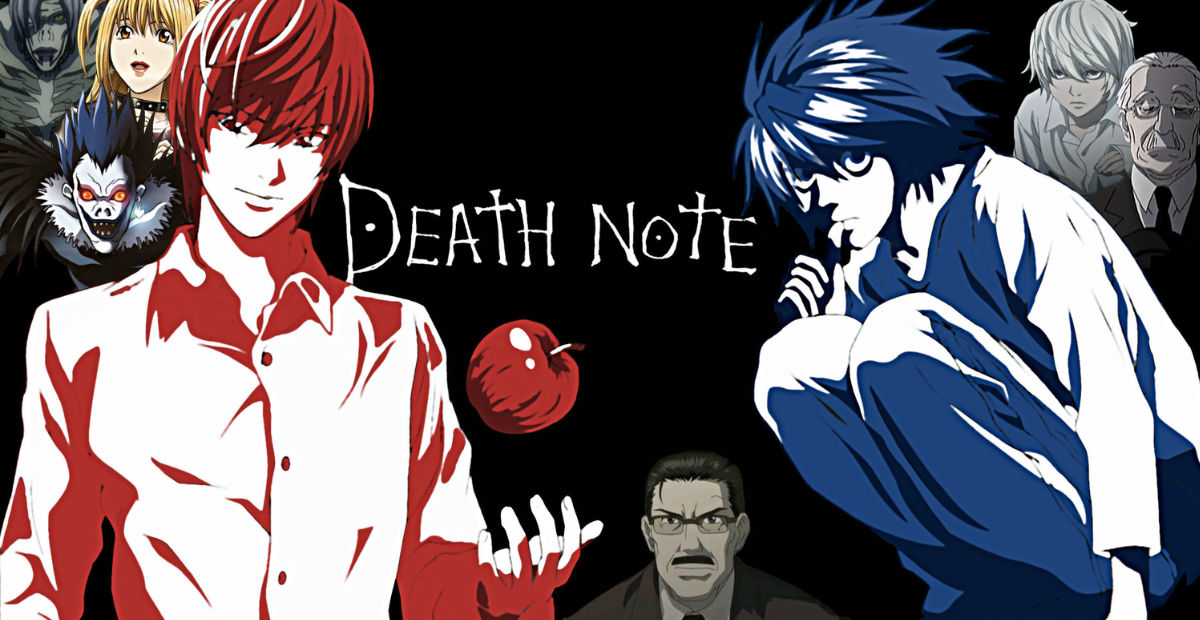 In recent years, the popularity of anime has skyrocketed across the globe, with Western streaming giants like Netflix at the forefront of this upsurge. This comprises various classic anime series, many of which have yet to be shown in western nations despite their enormous popularity in Japan. They have also assisted in introducing viewers to some of the many excellent hidden gems the medium offers. OTTs are now widely used in anime. Several well-known anime series are shown on various OTT platforms in India and other countries. What are the top anime series available on OTT? Find out by reading our list.
Top Anime Series of All Time
| | |
| --- | --- |
| Show Name | IMDb rating |
| Death Note | 9.0 |
| Attack on Titan | 9.0 |
| Cowboy Bebop | 8.9 |
| Full Metal Alchemist-brotherhood | 9.1 |
| One Piece | 8.9 |
| Hunter x Hunter | 9 |
| Dragon Ball Z | 8.8 |
| Neon Genesis Evangelion | 8.5 |
| Steins; Gate | 8.8 |
| Code Geas | 8.7 |
| Monster | 8.7 |
| Berserk | 8.7 |
| Samurai Champloo | 8.6 |
| Trigun | 8.2 |
| Ghost in the shell – stand-alone complex | 8.5 |
| Munshi-shi | 8.5 |
| Gurren Lagann | 8.3 |
| Yu Yu Hakusho | 8.5 |
| Rurouni Kenshin | 8.5 |
Death Note
In this classic anime, we follow Light Yagami, a teen who gets supernatural powers via the Death Note. This is a book that gives the user the ability to kill whoever they want by writing that person's name in the book. Empowered with the Death Note and a great intellect, Light goes on a genocidal moral crusade that affects the world. What comes next is a cat-and-mouse game between Light and World Class investigators. This has to be one of the best and most influential anime of all time.
Cast- Brad Swaile, Vincent Tong, Mamoru Miyano, Ryô Naitô, Trevor Devall, Brian Drummond, Naoya Uchida, Chris Britton, Keiji Fujiwara, Aya Hirano, Kappei Yamaguchi, Shannon Chan-Kent, Alessandro Juliani, Shidô Nakamura, John Murphy, Kazuya Nakai, French Tickner, Kiyoshi Kobayashi
Duration – 23 min
Genre – Animation, Crime, Drama
Director-Tetsurō Araki
Producer-Toshio Nakatani, Manabu Tamura, Masao Maruyama
Where to watch –
Netflix
Attack on Titan
Released in 2013, became an instant classic. The story follows three friends, Eren Yeager, Mikasa Ackerman, and Armin Arlert, who battle alongside humanity's greatest soldiers against the formidable Titans and the threats beyond their city walls. This anime tackles war, racism/classism, and other pertinent topics. Expect high-intensity action, slow character-driven scenes, and more in this anime.
Cast-Yuki Kaji, Josh Grelle, Bryce Papenbrook, Yui Ishikawa, Marina Inoue, Trina Nishimura, Clifford Chapin, Kishô Taniyama, Hiro Shimono, Romi Park, Matthew Mercer, Mike McFarland, Jessica Calvello, Hiroshi Kamiya, Yoshimasa Hosoya, Yu Kobayashi, Robert McCollom, Ashly Burch.
Duration-24 mins
Genre-Animation, Action, Adventure
Director- Tetsurō Araki
Producer-Wit Studio
Where to watch-
Hulu
Cowboy Bebop
This anime was released in 1998 and quickly climbed up the popularity charts. The story deals with the futuristic misadventures and tragedies of an easygoing bounty hunter and his partners in crime. With a great script, interesting characters and superb animation, it is no wonder that this show is extremely popular among viewers.
Cast – Kôichi Yamadera, Unshô Ishizuka, Megumi Hayashibara, Beau Billingslea, Steve Blum, Kevin Seymour, Wendee Lee, Melissa Fahn, Isshin Chiba, Aoi Tada, Hiroshi Naka, Tsutomu Tareki, Miki Nagasawa, Toshihiko Nakajima, Jin Hirao, Skip Stellrecht, Kazuhiro Nakata, Shinpachi Tsuji
Duration-24 min
Genre-animation, action, adventure.
Director-Hajime Yatate
Producer – Christopher Yost,Marty Adelstein, Becky Clements and Jeff Pinker
Where to watch – Netflix
Fullmetal Alchemist: Brotherhood (2009)
This show was released in 2009-2010 and quickly became popular among audiences. The story introduces us to two brothers searching for a Philosopher's Stone after an attempt to revive their dead mother goes wrong, leaving them in damaged physical forms.
Cast-Kent Williams, Matthew Leonhart, Romi Park, Iemasa Kayumi, Vic Mignogna, Muriel Hofmann, Lili Troncale, Maxey Whitehead, Rie Kugimiya, Shin'ichirô Miki, Travis Willingham, Colleen Clinkenbeard, Fumiko Orikasa, J Michael Tatum, Yûki Hayashi, Kenta Miyake, Caitlin Glass, Monica Rial
Duration-24 mins
Genre-Animation, action, adventure
Director-Hiromu Arakawa
Producer-Bones
Where to watch – Hulu
One Piece
Released in 1999, this anime quickly climbed the popularity charts because of its superb animation and interesting storyline. The story follows the adventures of Monkey D Luffy and his pirate crew, trying to locate the greatest treasure left behind by Gold Roger, the legendary pirate. The treasure in question is a mystery called "One Piece'.
Cast-Mayumi Tanaka, Laurent Vernin, Tony Beck, Akemi Okamura, Kazuya Nakai, Kappei Yamaguchi, Hiroaki Hirata, Ikue Ôtani, Colleen Clinkenbeard, Yuriko Yamaguchi, Mahito Ôba, Kazuki Yao, Chikao Ôtsuka, Luci Christian, Christopher Sabat, Sonny Strait, Eric Vale, Cho.
Duration-24 min
Genre-Animation, action, adventure.
Director-Eiichirô Oda
Producer-Eiichiro Oda
Where to watch – Netflix
Hunter x Hunter
This anime starts off with a hero who leaves his small town for an adventure, for the first time. Leaving his island, he tries to find his long-forgotten father who had abandoned him. The only clue he has is that the father is a world-famous licensed Hunter. Gon takes the deadly exam and becomes a Hunter himself. This anime is full of emotional highs and lows and is a must-watch.
Cast-Issei Futamata, Mariya Ise, Megumi Han, Erica Mendez, Erika Harlacher, Michael McConnohie, Miyuki Sawashiro, Daisuke Namikawa, Matthew Mercer, Keiji Fujiwara, Keith Silverstein, Wataru Takagi, Bill Rogers, Tony Oliver, Ray Chase, Kyle Hebert, Ben Diskin
Duration-24 min
Genre-Animation, Action, Adventure.
Director-Keiichiro Kawaguchi
Producer-Nippon TV
Where to watch – Netflix
Haikyuu
This sports anime series is perfect for anime fans. The story introduces us to a large high school volleyball team ensemble. The character development is well-balanced, and you will find yourself supporting each team member, whether their role is big or small. Production IG has taken care of the animation, and you'll be glued to your screen for all episodes. Haikyuu has created a great sports team formula.
Cast – Ayumu Murase, Kaito Ishikawa, Yu Hayashi, Satoshi Hino, Miyu Irino, Koki Uchiyama, Soma Saito, Nobuhiko Okamoto, Hiroshi Kamiya, Yoshimasa Hosoya, Toshiki Masuda, Bryson Baugus, Adam Gibbs, Scott Gibbs, Greg Cote, Justin Doran, Gabriel Regojo, Blake Shepard
Duration- 24 min
Genre- Animation, Comedy, Drama.
Director-Haruichi Furudate
Producer-Production I.G
Where to watch –
Netflix
Also Read: Marvel Movies in Order 2023: How to Watch MCU Chronologically from Captain America: The First Avenger to Black Panther 2
Trigun
This classic late 90's sci-fi western takes place on a desert planet named No Man's Land. Vash the Stampede is the protagonist, a quirky, goofy person in an awesome red duster coat, having a hyperactive pacifist streak. In this story, we accompany Vash as he tries to uncover his amnesiac past and discover why he has a bounty on his head. Unique characters and weapon designs make this series a must-watch.
Cast – Masaya Onosaka, Hiromi Tsuru, Satsuki Yukino, Johnny Yong Bosch, Dean Wein, Dorothy Elias-Fahn, Lia Sargent, Kazuyuki Ishikawa, Takashi Nagasako, Show Hayami, Chiba Susumu, Jeff Nimoy, Hiroaki Ishikawa, Aya Hisakawa, Toshihiko Seki, Kirk Baily, Hidenari Ugaki, Kenji Nomura.
Duration – 24 mins
Genre-Animation, Action, Adventure.
Director – Yasuhiro Nightow
Producer-Kiyotaka Waki,
Where to watch –
Hulu Plus
Dragon Ball Z
A lot of people started watching anime with Dragon Ball Z. It is an easy anime with the story of superhuman martial artist Goku and his pals, who test their abilities against a powerful and outlandish range of enemies. It is a humorous anime with a lot of amazing action and a lot of amazing characters. The characters are humorous and shatter planets with their bare hands. This anime is a must-watch.
Cast – Scott McNeil, Doc Harris, Christopher Sabat, Sean Schemmel, Terry Klassen, Brian Drummond, Sonny Strait, Don Brown, Stephanie Nadolny, Dale Kelly, Tiffany Vollmer, Cathy Weseluck, Kyle Hebert, Michael Dobson, Kirby Morrow, Ted Cole, Jillian Michaels, Cynthia Cranz
Duration – 24 min
Genre – Animation, Action, Adventure.
Director-Kōzō Morishita
Producer-Toei Animation
Where to watch –
Hulu
Also Read: Best Comedy Movies on Netflix Right Now: Bullet Train, Always Be My Maybe and More
My Hero Academia
While many superhero stories may exist, My Hero, Academia has a fresh twist. He focuses on Izuko Midoriya, a hero born without powers in a world filled with people with different abilities. Even after earning the "quirk" he's always dreamt of, this movie finds ways to challenge his journey by offering new twists, exploring what it is to be a hero with consistent humor and heart, and some great action sequences. Stunning animation and an awesome roster of supporting characters make this anime a must-watch.
Cast – Daiki Yamashita, Ayane Sakura, Justin Briner, Daiki Yamashita, Clifford Chapin, Yuki Kaji, Kaito Ishikawa, Luci Christian, Jun'ichi Suwabe, Toshiki Masuda, David Matranga, J Michael Tatum, Kiyotaka Furushima, Justin Cook, Tasuku Hatanaka, Hiroyuki Yoshino, Kei Shindo, Christopher Sabat.
Duration – 24 min
Genre – Animation, Action, Adventure.
Director-Kenji Nagasaki
Producer-Kazumasa Sanjōba Hiroshi Kamei (#1–13) Naoki Amano (#1–13) Hirokazu Hara (#1–13) Natsumi Mori (#1–38) Wakana Okamura (#1–88) Kōji Nagai (#39–88) Yoshihiro Ōyabu (#39–101) Hayato Saga (#39–) Sōkichi Onoda (#89–) Mirei Tsumura (#89–) Hiroya Nakata (#89–)
Where to watch –
Netflix
Made in Abyss
This is a gut-wrenching story fueled by both hope and despair. The story follows Riko and Reg, who live in a fascinating world with a deep, strange abyss at the center of it all. Hardly anyone returns from the deeper levels alive because ascending can affect someone worse than a diver's decompression sickness. Riko's mother goes missing, and the couple goes off to find her and uncover the mysteries of the abyss. This show might appear cute and sweet at the outset; however, it is not meant for the faint of heart.
Cast-Luci Christian, Brittany Lauda, Miyu Tomita, Mariya Ise, Kyle Jones, Maaya Sakamoto, Brittney Karbowski, John Swasey, Shelley Calene-Black, Monica Rial, Daniel Regojo, Shiori Izawa, Greg Ayres, Kristen McGuire, Ry McKeand, Juliet Simmons, Gabriel Regojo, Mark Laskowski,
Duration –5h 25 min
Genre-Animation, Action, Adventure
Director-Masayuki Kojima
Producer-Roy Lee and Masi Oka
Where to watch –
Amazon Prime Video
Jojo's Bizarre Adventure
This amazing shounen anime series follows the different generations of the Joestar family. Since 1987, this show has only started airing anime in 2012. This show is full of wild characters, amazing action, and iconic moments that impact the anime community. Watch it to be amazed and also for a few laughs.
Cast-Matthew Mercer, David Vincent, Daisuke Ono, Unshô Ishizuka, Toru Ohkawa, Fuminori Komatsu, Richard Epcar, Phillip Reich, Kira Buckland, Kenshô Ono, Yûichi Nakamura, Yuki Ono, Doug Erholtz, Patrick Seitz, Jun'ichi Suwabe, Kyle Hebert, Yong Yea.
Duration –24 min
Genre-Animation, Action, Adventure
Director-Naokatsu Tsuda Kenichi Suzuki Toshiyuki Katou
Producer-Hiroyuki Oomori Toshiyasu Hayashi Ryousuke Mori Jun Fukuda
Where to watch –
Amazon Prime Video
Also Read: Best Korean movies of 2022 to watch online in 2023: 20th Century Girl, Decision to Leave, Broker and More
Naruto Shippuden
Referred to as one of the "big three" anime because of its insane popularity in the world, this show is full of action-packed fight sequences, heart-wrenching dramatic scenes and funny moments. The story in this anime takes a darker and more serious turn, because the characters are older and face daunting challenges from the shadows and themselves. This series is famous for its memorable characters and relationships and is the biggest shounen anime ever.
Cast-Alexandre Crepet, Junko Takeuchi, Maile Flanagan, Kate Higgins, Chie Nakamura, Dave Wittenberg, Kazuhiko Inoue, Kyle Hebert, Yuri Lowenthal, Noriaki Sugiyama, Masako Katsuki, Debi Mae West, Colleen O'Shaughnessey, Steve Blum, Stephanie Sheh, Tom Gibis, Shôtarô Morikubo, Rikiya Koyama
Duration –24 min
Genre-Animation, Action, Adventure
Director-Masashi Kishimoto
Producer-Studio Pierrot and TV Tokyo
Where to watch –
Netflix
Also Read: Best Romantic Movies on Netflix: She's Gotta Have It, When Harry Met Sally, Phantom Thread, and More
Ouran High School Host Club
This show takes anime and manga conventions and turns them on its head. The story follows Haruhi Fujioka, who stumbles upon her school's popular host club. She accidentally breaks a vase, finds herself mistaken for a boy, and is forced to become a host. Her awkward and shy nature doesn't hinder her as she finds her place in the Host Club and discovers her courage and a new bunch of friends. This show is a sweet and silly satire on otaku culture.
Cast-Maaya Sakamoto, Mamoru Miyano, Masaya Matsukaze, Kenichi Suzumura, Yoshinori Fujita, Ayaka Saito, Daisuke Kirii, Caitlin Glass, Vic Mignogna, J Michael Tatum, Greg Ayres, Todd Haberkorn, Luci Christian, Travis Willingham, Taliesin Jaffe, Yuko Sanpei, Ayahi Takagaki, Risa Tsubaki
Duration-24 min
Genre-Animation, Comedy, Romance
Director-Han Choru, Tetsuo Kan.
Producer-Toshio Nakatani, Manabu Tamura, Masahiko Minami, Masahiro Yamashita
Where to watch –
Netflix
Devilman Crybaby
In just ten episodes, this show manages to tell a great story. It has explicit depictions of sex, violence, and profanity. This show is a loose interpretation of the biblical apocalypse and a modern take on the Book of Revelation – a study of love. Expect banging hip-hop, a cast of memorable characters, and more when you watch the show.
Cast-Koki Uchiyama, Ayumu Murase, Kyle McCarley, Megumi Han, Griffin Burns, Cristina Valenzuela, Cherami Leigh, Ami Koshimizu, Ken the 390, Afra, Subaru Kimura, Jun'ya Hirano, Atsuko Tanaka, Cindy Robinson, Rikiya Koyama, Eri Inagawa, Kenjirô Tsuda, Anne Yatco.
Duration-25 min
Genre – Animation, Action, Drama.
Director-Masaaki Yuasa
Producer-Aniplex and Dynamic Planning,
Where to watch –
Netflix
Demon Slayer
Each and every episode of this anime is impressive with smooth animation, gorgeous art, awesome special effects, and an amazing soundtrack. This show also exhibits over-the-top absurdity of characters, and with its heavy themes of loss and family. This show is a great mix of happy and melancholic.
Cast-Natsuki Hanae, Abby Trot, Zach Aguilar, Yoshitsugu Matsuoka, Aleks Le, Bryce Papenbrook, Hiro Shimono, Akari Kitô, Ray Chase, Shinya Takahashi, Doug Erholtz, Katsuyuki Konishi, Erica Lindbeck, Johnny Yong Bosch, Brook Chalmers, Takahiro Sakurai, Saori, Hayami, Erika Harlacher
Duration-24 min
Genre-Animation, Action, Adventure
Director-Haruo Sotozaki
Producer-Ufotable
Where to watch –
Netflix
Code Geass: Lelouch of the Rebellion
This show was first released in 2006 and immediately became a hit because of its captivating storyline and narrative full of twists and turns. The story takes us to an alternate timeline, where the world consists of 3 superpowers-the Holy Britannian Empire, the Chinese Federation, and the European Union. Before the story begins, the Holy Britannian Empire has conquered Japan. Political subterfuge, fascinating characters, and enticing mythology – all make this anime a must-watch.
Cast-Jun Fukuyama, Takahiro Sakurai, Johnny Yong Bosch, Kate Higgins, Ami Koshimizu, Yukana, Yuri Lowenthal, Brian Beacock, Karen Strassman, Noriaki Sugiyama, Tetsu Shiratori, Akeno Watanabe, Liam O'Brien, Sayaka Ôhara, Kikuko Inoue, Mitsuaki Madono, Kirk Thornton, Deborah Sale Butler
Duration-24 min
Genre-Animation, Action, Drama.
Director-Gorō Taniguchi
Producer-Sunrise
Where to watch –
Netflix
Samurai Champloo
This is a samurai story with a touch of hip-hop, and is mostly episodic. The individual character arcs of its main 3 leads are engrossing to follow, with a lot of emotional moments and great action. A tight script, fascinating storyline, and great direction make this anime a must-watch.
Cast-Kazuya Nakai, Ginpei Sato, Ayako Kawasumi, Kirk Thornton, Steve Blum, Kari Wahlgren, Erik Davies, Doug Stone, Masakazu Kohara, Tsuguo Mogami, Shunsuke Sakuya, Yoshinori Sonobe, Masao Harada, Takehiro Murozono, Steve Kramer, Paul St Peter, Doug Erholtz, Kim Strauss.
Duration-24 min
Genre – Animation, Action, Adventure.
Director – Shinichirō Watanabe
Producer-Takatoshi Hamano, Takashi Kochiyama, Tetsuro Satomi
Where to watch
– Hulu
Baccano
This story has a lot of intrigues, and is a fast-paced thrill ride, just like the train ride that is at the center of this twisted story. This anime unfolds like a puzzle, with each episode coming with its own surprise. And it also has some of the best dubs you can hear. This anime is a must-watch thanks to its storyline and animation. Don't miss it.
Cast-Michael C. Pizzuto, J. Michael Tatum, Akemi Kanda, Caitlin Glass, Maxey Whitehead, Masaya Onosaka, Sayaka Aoki, Sanae Kobayashi, Kunihiro Kawamoto, Bryan Massey,
Brina Palencia, Joel McDonald, Daisuke Sakaguchi, Charles Baker, Yoshinobi Sonobe,
Keiji Fujiwara, Bob Carter, Tetsuharu Ôta
Duration-24 min
Genre-Animation, Action, Adventure
Director-Takahiro Omori
Producer-Shuko Yokoyama
Where to watch –
JustWatch
FLCL
Pronounced Fooly Cooly, this is a good sci-fi comedy. It is as strange as anime gets, with the story revolving around a regular suburban boy called Naota NAndaba, and his new "friend", a strange alien woman named Haruko Haruhara. In the first episode itself, we see the boy growing giant robots from his head and the series only gets stranger after this. A great soundtrack, experimental animation, and surreal tone make this a must-watch.
Cast-Jun Mizuki, Mayumi Shintani, Izumi Kasagi, Suzuki Matsuo, Hiroshi Ito, Mika Ito, Kazuhito Suzuki, Sho Miyajima, Koji Ohkura, Chiemi Chiba, Kari Wahlgren, Barbara Goodson, Stephanie Sheh, Steve Blum, Melissa Fahn, R Martin Klein, Joe Martin, Steve Kramer.
Duration-2h 31min
Genre-Animation, Action, Comedy
Director–Kazuya Tsurumaki
Producer-FLCL Production Committee, which consists of Gainax, Production I.G, and King Records.
Where to watch –
Hulu
Also Read: Best Korean movies of 2022 to watch online in 2023
Yu Yu Hakusho
In this anime, we meet Yusuke Urameshi, a 14-year-old teenage delinquent who gets hit by a car and dies, while saving a kid. He finds no place in heaven or hell but is offered a second chance at life when he's given the responsibility of investigating supernatural activity in the Human World. He becomes a Spirit World Detective. He tries to protect the balance between the Human and Demon worlds. Can he do so successfully? Watch the anime and find out.
Cast-Takumi Kitamura, Kanata Hongô, Jun Shison, Shûhei Uesugi
Duration-NA
Genre-Action, Adventure, Comedy.
Director-Noriyuki Abe
Producer-Fuji Television, Yomiko Advertising, and Studio Pierrot.
Where to watch – Netflix
Neon Genesis Evangelion
This is a great take on the mech anime genre, and a personal exploration of depression. Countless sequels and reimaginings do not come close to the first run of this show which remains a fan favourite. A great script, tight storytelling, and stellar animation make this anime a must-watch.
Cast-Megumi Hayashibara, Megumi Ogata, Kotono Mitsuishi, Spike Spencer, Allison Keith-Shipp, Sue Ulu, Amanda Winn Lee, Tristan MacAvery, Guil Lunde, Tiffany Grant, Matt Greenfield, Kendra Benham, Jason Lee, Carrie Keranen, Casey Mongillo, Erica Lindbeck,
Pedro de Aguillón
Duration-24 min
Genre-Animation, Action, Drama
Director-Hideaki Anno, Kazuya Tsurumaki, Masayuki.
Producer-NA
Where to watch – Netflix
Mob Psycho 100
This is another fun watch from the creator of One-Punch Man. This show is a parody of shonen-style anime and a superb example of it, with the story revolving around Mob, a silent, reserved boy who specializes in exorcising evil spirits. However, his own supernatural powers are tied to his emotions. If he goes over the edge, the whole world is in danger.
Cast-Setsuo Ito, Takahiro Sakurai, Akio Ôtsuka, Kyle McCarley, Chris Niosi, Michael Sorich, Miyu Irino, Max Mittelman, Yoshitsugu Matsuoka, Patrick Seitz, Ryunosuke Watanuki, Yoshimasa Hosoya, Erik Scott Kimerer, Daiki Hamano, Seiichiro Yamashita, Cherami Leigh, Toshihiko Seki, Kohei Amasaki.
Duration-24 min
Genre-Animation, Action, Comedy
Director-Yuzuru Tachikawa
Producer-Bones
Where to watch – Netflix
That does it for the 20 best anime that you can watch online. So which one will you watch first?