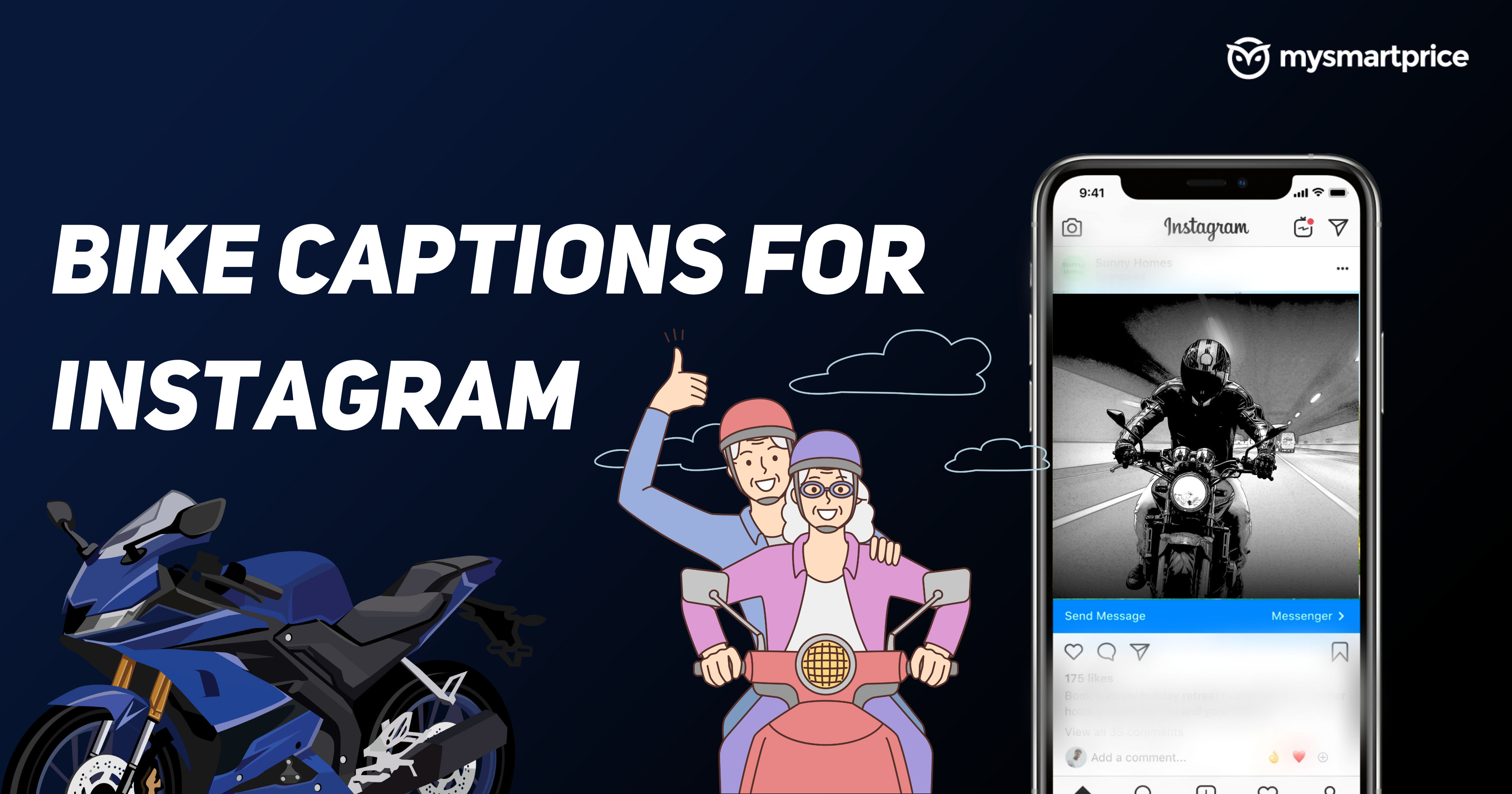 Are you a passionate biker who loves capturing the thrill of the open road on Instagram? Look no further! We've curated a collection of over 200 best, short, trendy, and catchy Instagram captions and quotes specifically for bikers like you. Whether you're a seasoned rider or embarking on your two-wheeled adventures, these captions will surely rev up your social media game.
From adrenaline-fueled quotes to poetic expressions of freedom, our collection has something for every biker to accompany their awe-inspiring photos. So, buckle up and get ready to elevate your Instagram feed with these amazing bike captions!
So rev your engines, let's start the ride!
Also Read: Eid-ul-Fitr 2023: Best Eid Mubarak Wishes, Messages, Captions to Greet Your Loved Ones on WhatsApp, Instagram, Ramadan vs Eid-ul-Fitr
Best Bike Captions For Instagram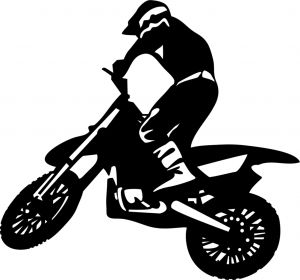 You can't buy happiness, but you can buy a bike, and that's pretty close.
Buy a bike because money returns and time doesn't.
Life is a journey; make the most of it on a motorcycle.
A bike is the only thing that can make me feel truly alive.
I'd rather be a biker for a minute than a spectator for a lifetime.
Only a biker knows why a dog sticks his head out of a car window.
When my mood is off! Then I need a special bike ride to recover my mood.
If you don't like motorcycles, then you probably don't like me.
Men love women, but even more, they love bikes.
You don't have to go; you just have to go.
For some, it's a lifestyle. For others, it's an addiction!
Bike Quotes For Instagram
You don't need a therapist if you own a motorcycle, any kind of motorcycle.
Distance is just a number when you ride a bike.
The best views are seen from inside the helmet.
Four wheels move the body two wheels move the soul.
Road trips are meant to be with bikes.
A bike is not just a means of transportation; it's a feeling of freedom and adventure.
A bike on the road is two worth in the street.
Riding a bike is like dancing. You need to feel the rhythm and flow with it.
You don't stop riding when you get old; you get old when you stop riding.
Ride as much or as little, long or as short as you feel. But ride.
Riding a bike is like an art, something you do because you feel something inside.
Bike Love Quotes/ Captions For Instagram
Riding with my love, nothing else matters.
Two wheels, one love.
My bike is everything to me.
I love my bike more than my phone.
Put the love between your legs and enjoy the ride.
I cannot imagine my life without my bike.
I love looking into those beautiful eyes of my bike.
I love my bike more than my girlfriend.
My bike is my first love.
I am not single; I have a bike.
Every bike lover rides his bike in their dream.
Live it. Love it. Ride it.
My first love, my bike.
Bike Ride Captions/Quotes For Instagram
There is something thrilling about riding my bike.
Biking is my way of de-stressing in life.
If you want to live your life, get biking.
Bike every day to feel you are alive every day.
Bike riding is my adrenaline rush.
Feeling alive only on two wheels.
The road is calling, and I must go.
Leave a little sparkle wherever you ride.
Riding is my escape from the world.
Riding is my form of meditation.
A bike is not just a machine it's an emotion.
A bike ride may not solve your problems, but it will distract you from them.
Attitude Bike Captions For Instagram
Life is too short to ride a boring bike.
Bikes don't have attitude, riders do.
Living life in the fast lane.
A bad attitude is like a flat tire, you can't go anywhere until you change it.
Life is better on a motorcycle.
A motorcycle is not just a machine, it's a lifestyle.
There's nothing like the feeling of the wind on your face on a motorcycle.
There are no shortcuts to any place worth going.
Change the bike or change your attitude.
New bike, same me.
New Bike Captions For Instagram
New bike, new adventure, new milestones.
A glorious day with a new bike.
Buying a bike cause money but time doesn't.
It's not a new bike. It's a new member of the family.
New beginnings.
Beep, Beep…I bought a new bike.
New bike new attitude.
Finally, I made my first adult purchase.
The new bike is the dream of every middle-class boy.
Sometimes a new bike can change you.
A hobby is when you buy a new bike; passion is when you keep the old one running.
A bike may be new, but not my passion for riding.
A new bike doesn't ask for attention.
Bike Captions/Quotes For Instagram Post
F.E.A.R: Forget Everything And Ride.
Weekends are for bike rides.
Never argue with a biker.
I don't love people driving fast; that's why I overtake them.
Don't know what the definition of freedom is, but it has two wheels.
The day I learned to ride a bike was one of the most important days of my life.
The more I learn about my people, the more I love my bike.
You are not alone when your bike is with you.
Bikes take you places your car can not.
There are only two types of bikers: those who have crashed and those who will.
Take care of your bike, and your bike will take care of you.
You don't stop when you get old; you get old when you stop riding.
Short Bike Captions
Born to ride, forced to work.
Riding is my therapy.
Riding is freedom.
The roads are calling.
Ride hard or stay home.
Born to be the world.
Riding into the sunset.
Riding is my passion.
Riding is my way to clear my mind.
Two wheels, one passion.
Riding free on two wheels.
It's a way of life.
The wind in my hair and the world at my feet.
2 > 4
Adventurous Captions For Bike Lovers
Adventure may hurt you, but monotony will kill you.
I do believe it's time for another adventure.
I ride because it's an adventure.
A new adventure with my bike.
Life is an adventure; enjoy the ride.
Adventures have more joyful with a Bike.
A woman who rides a motorcycle is in tune with the universe, a candidate for high adventure.
It ain't a race nor a competition; it's a journey – an adventure!
Some people call it an adventure, but I call it life.
Dreams and handlebars are two things worth holding onto.
Ride hard and let this world know who you are.
Funny And Witty Bike Captions
It's Ride O' Clock.
Make sure you hold tight when I ride.
Bro, I don't care about the speed breakers.
Fools use four-wheelers, and legends ride on two wheels.
If bike riding were a job, I would be the most hardworking employee.
We mature with damages, not with age.
Drop a gear and disappear.
Ride more, worry less.
Life is more fun riding on one.
Keep honking. I'm reloading.
If I ride the bike, heads will turn, and roads will burn.
Rain or shine, it's riding time.
Trendy Bike Pictures Captions
First, the bike, then the respect.
Ride big, Ride long, Ride Free.
I am looking for women drivers to rev my engine.
Shifting gears so I can get on your level.
It's not a race; it's a journey. Enjoy the moment.
Happiness is riding your bike on a sunny day.
Ride better; observe less.
Making memories one ride at a time.
If reflection accomplishes no help, I Hang with the ride living all dread behind.
A bad day on a bike is still better than a good day at work.
Two wheels, endless adventures.
Cruising through the city streets.
Bullet Bike Captions For Instagram
Boys ride toys; Men ride Bullet.
The attitude you got after sitting on Enfield makes you Royal.
When I started growing up, Royal Enfield was my first crush
If you can't feel the dugg dugg of the bullet, then you will never own a Royal Enfield.
Made like a gun goes like a bullet.
Don't marry a boy who has Royal Enfield.
The attitude you got after sitting on Enfield makes you royal.
My kind of music! Dug! Dug!
No one can match the prestige of Royal Enfield.
Royal Enfield is not about speed, it's all about the ride.
Every Dugg Dugg of my bullet makes me royal.
My Bullet, My Music.
Savage Bike Captions
Riding my bike like a savage, leaving all my problems behind.
Life on two wheels is so much more savage.
Riding is my addiction, and I'm a savage at it.
I don't ride a bike to add days to my life, I ride a bike to add life to my days.
Sometimes I wish life had subtitles.
Buy a bike because money returns and time doesn't.
Bike to work, bike to play, bike tomorrow, bike today!
Difficult roads often lead to beautiful destinations.
Life may not be about your bike, but it sure helps you get through it.
Nothing can tame my wild spirit on a bike.
Life may not be about your bike, but it sure helps you get through it.
Life is short. So grip it and rip it.
Bike Captions For Boys/Men
A full tank and good weather call for a good ride.
Bikes are dangerous, but my passion for cars is second to it.
Born to ride, can't live without it.
Riding on the open road, feeling free and alive.
Life is a journey; make it an adventure on two wheels.
Riding my bike is my way of feeling free.
The open road is my playground.
Men love bikes more than they love women.
Bikes are the babies of men.
Men never say no to bikes.
Falling for my bike!
Instagram Bike Captions For Girls/Women
Ride like a girl.
Girls can ride bikes too!
Yes dude, I can go faster than you!
Glitter bikes exist too.
I have many boyfriends but I have only one bike.
This is how girls roll.
Yes, girls go on road trips too!
Girls on bike never fail to impress.
Biking can also be a woman's passion.
Bike on girl, ride on.
Bet you'll never meet a biker chick like me.
Good girls sit, bad girls ride.
Catchy Bike Instagram Captions
It's your road, others can ride it with you, but no one can ride it for you.
A bike on the road is worth two in the street.
Ride hard and let this world know who you are.
Run the race of your life at your own pace.
You don't need a destination, just a drive.
If you want to go fast, go alone. If you want to go far, go together.
When life throws you a curve… just lean into it.
It's not the destination; it's the ride.
The best memories are made on two wheels.
Therapy is expensive. The wind is free.
The way I drive and the way I handle my bike is an expression of my inner feelings.
Motorcycle Captions/Quotes For Instagram
There's nothing like feeling the air on your face while you cruise down a dusty old road on a motorcycle.
Don't ride by yourself. Ride together. We're here to help you find your best riding buddy. Because riding together is more fun than riding alone.
Start your day on a high note with a Motorcycle! Instead of wasting time in traffic, get to work feeling energized and ready to put your best foot forward, thanks to Motorcycle's exclusive line of bikes.
Riding a motorcycle is the perfect form of individual transportation. It's exciting, easy to learn, and the best way to experience the outdoors, whether you're out for a summer ride or a winter adventure.
Find a scenic road, turn on your favorite playlist, and appreciate the simple joy of riding. See you on two wheels.
Goosebumps feel us that we are alive.
Find a scenic road, turn on your favorite playlist, and appreciate the simple joy of riding. See you on two wheels.
Here's to kicking off the weekend with a ride. May your roads be long, winding, and paved?
You look so cool when riding a motorcycle through the winding streets.
Boys these days are – Yearning for a girlfriend, But I am busy loving My Bike!