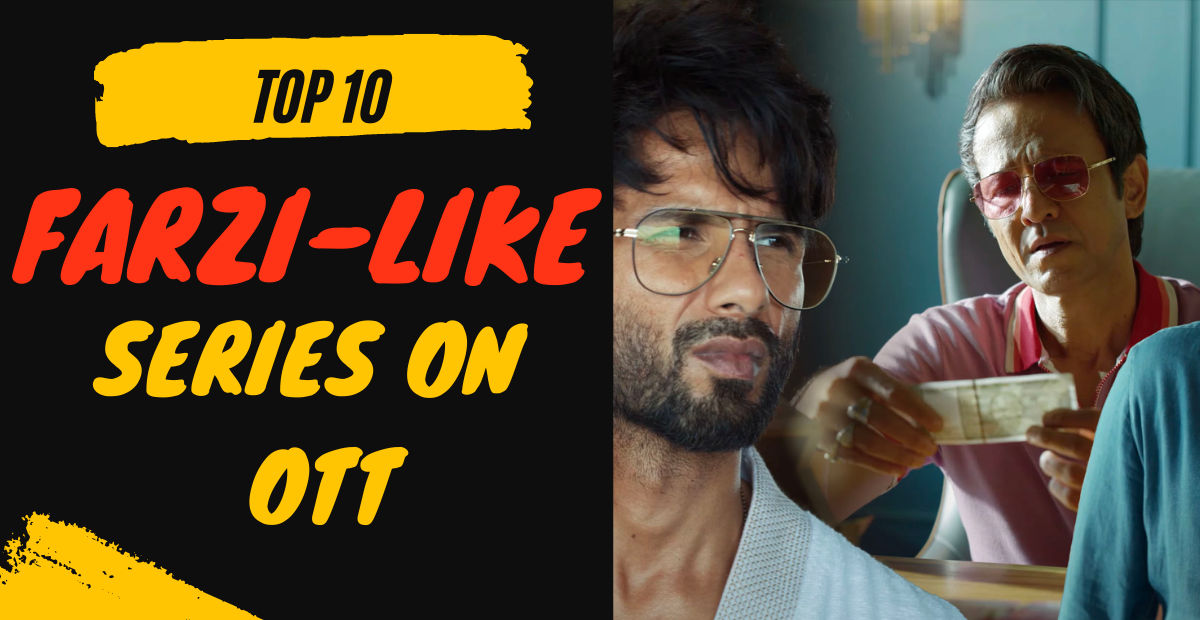 Did you like Farzi on Amazon Prime? With Shahid Kapoor and Vijay Sethupathi playing crucial characters, the show is lapped up by audiences and critics alike! With Farzi being the new binge, the Farzi-like genre is the trend of the hour! Characterized by their dark satirical humor, witty one-liners, and relatable characters who find themselves in absurd situations, these web series often have a unique style of storytelling that blends dark humor and social commentary, making them both entertaining and thought-provoking!
This article will look at the top Farzi-like web series on OTT platforms that have entertained audiences and captured their hearts. From gut-wrenching dramas to witty satires, these web series have something for everyone. Below is a list of shows, like Farzi, you may stream online. From Scam 1992, a story about Harshad Mehta, to political crime thriller Tandav, there's a veritable variety of shows to watch. Read our list and find out what will be your next watch!
Best Farzi-like Web Series on OTT
| | | |
| --- | --- | --- |
| Web Series | OTT Platform | IMDb Rating |
| Scam 1992 | SonyLIV | 9.3 |
| Jamtara | Netflix | 7.3 |
| Bad Boy Billionaires: India | Netflix | 7.9 |
| Human | Disney Plus Hotstar | 7.9 |
| Inside Edge | Amazon Prime Video | 7.9 |
| Delhi Crime | Netflix | 8.5 |
| Apaharan | Zee5 | 8.3 |
| Tandav | Amazon Prime Video | 4.6 |
| City of Dreams | Disney Plus Hotstar | 7.7 |
| Paatal Lok | Amazon Prime Video | 8 |
Also Read: Best Kantara-like Movies on OTT: Pushpa, Tumbbad, Asuran,and More
Scam 1992
Welcome to the world of Harshad Mehta. This show gives us an insight into the lifestyle Mehta led, his financial crimes, and scams in the stock market during the late 1980s and early 1990s. Harshad Mehta was a stockbroker who carried out one of the biggest financial frauds in modern India. Pratik Gandhi essays the titular role, playing the stylish, cunning business tycoon on a warpath to become one of the richest people in the country. Harshad Mehta carried out a sensational scam, which has been documented well in this story.
Scam 1992 IMDb rating – 9.3
Scam 1992 cast – Pratik Gandhi, Shreya Dhanwanthary, Hemant Kher
Scam 1992 release date – October 9th, 2020
Where to watch – SonyLIV
Jamtara
Imagine this. You get a call on your phone. The caller says "Sir, there's a personal loan just for you' or 'Sir, you have won a free prize of Rs 50,000, please send us your account number so we can transfer the sum". You give these people your account number or debit card number. They then ask for an OTP. Now, things can go either way. Either you figure out the scam or you get scammed. Such is the modus operandi of phishing scammers in the country. Jamtara is based on a true story, and follows a group of young con artists running a successful phishing operation in the village under the protection of local politicians, with cops looking to shut them down. Politics, fraud and hot-headed youngsters out to make a killing – this series is a veritable mix of interesting elements.
Jamtara IMDb rating – 7.3
Jamtara cast – Amit Sial, Sparsh Srivastav, Monika Panwar
Jamtara release date – January 10th, 2020
Where to watch – Netflix
Also Read: Best Web Series on Netflix 2023: Star Cast, Storyline, Rating and More
Billionaire Bad Boys
What do Vijay Mallya, Ramalinga Raju, Subrata Roy, and Nirav Modi have in common? They all did scams worth millions of rupees and almost got away with it. Some even got away with it, settling in foreign countries. Nirav Modi was living in a London penthouse. This show delves into the scams done by these tycoons and showcases their lifestyles, rise to power, scam, eventual downfall, and possible incarceration. Enter the high-stakes world of billionaire bad boys. Learn how these people cheated the system, making billions in the process, all for themselves.
Bad Boy Billionaires: India IMDb rating – 7.9
Bad Boy Billionaires: India cast – Vijay Mallya, Nirav Modi, Subrata Roy, Ramalinga Raju
Bad Boy Billionaires: India release date – September 2nd, 2020
Where to watch – Netflix
Human
This show has quietly been making waves and has Kirti Kulhari and Shefali Shah in lead roles. It is a crime thriller revolving around the events when a serial killer terrorizes Mumbai. We are introduced to the cops trying to bring down this killer and bring him to the book while also analyzing the psychological motivations behind the murders. A veteran police officer is in charge of the case, with the show has powerful performances and a slick plot. This is anything but disappointing.
Human IMDb rating – 7.9
Human cast – Shefali Shah, Kirti Kulhari, Vishal Jethwa
Human release date – January 14th, 2022
Where to watch – Disney Plus Hotstar
Inside Edge
A lot goes on in the murky world of the IPL. Yes, the short-format game is very entertaining, but there are politics, power plays, and dirty games in the background. With the fourth season underway, this show is Amazon Prime's most extensive Hindi web series. We are introduced to the Mumbai Mavericks, a team in the IPL, India's professional Twenty20 cricket league. Welcome to the intersection of cricket, business, and politics and the various power struggles and rampant corruption in professional cricket. Murder, power plays, and more – this show is a must-watch for those who love cricket, politics, and crime thrillers.
Inside Edge IMDb rating – 7.9
Inside Edge cast – Tanuj Virwani, Sayani Gupta, Richa Chadha
Inside Edge release date – July 10th, 2017
Where to watch – Amazon Prime Video
Delhi Crime
In 2012, in the country's capital, Delhi, a young girl was gang-raped horrifically in a moving bus that drove around the capital as the crime occurred. The girl eventually succumbed to her injuries, and public anger boiled over in the country. Never had such a brutal crime been committed in such a brazen manner. Season 1 of Delhi Crime deals with this case, while Season 2 deals with a serial killer, a fictionalized account. The 2012 story has been handled with sensitivity by the show that reveals how cops worked day and night, merging heaven and hell to find the perpetrators. Vartika Chaturvedi, Deputy Commissioner of Delhi Police, leads the investigation, pursuing those responsible, and looking for justice. This show is so engaging you won't be able to look away.
Delhi Crime IMDb rating – 8.5
Delhi Crime cast – Shefali Shah, Rajesh Tailang, Rasika Dugal
Delhi Crime release date – March 22nd, 2019
Where to watch – Netflix
Apaharan
This story is about a kidnapping that goes awry and streams on both ALTBalaji and Zee5. The titular character has been essayed by Ajay Devgn, who plays a cop called Shravan Kumar, given the responsibility of solving the case and catching the kidnappers. This show is for those who like politics, crime, and social issues affecting the nation's rural parts. Raw, real, and visceral, this show is something you must watch.
Apaharan IMDb rating – 8.3
Apaharan cast – Arunoday Singh, Nidhi Singh, Saanand Verma
Apaharan release date – December 14th, 2018
Where to watch – Zee5
Tandav
Saif Ali Khan returns to OTT after a highly successful outing in Sacred Games. This show is a must-watch for fans of politics and drama. You get a bird's eye view of the power struggles and dynamics. Samar Pratap Singh, the lead character, is a well-connected, influential, and conniving politician involved in a power tussle. The political power play is at its height in this show which even faced some controversy because of its depiction of specific political and religious figures. This show is very dynamic, and viewers love it.
Tandav IMDb rating – 4.6
Tandav cast – Saif Ali Khan, Dimple Kapadia, Mohd. Zeeshan Ayyub
Tandav release date – January 14th, 2021
Where to watch – Amazon Prime Video
City of Dreams
This crime and political thriller are one of the hidden beauties that Hotstar has in its watchlist. The show tells us about the power struggles within a political family living in Mumbai. Inspired by true events, the show follows the story of two estranged brothers, both with opposing political views and the complex nature of their relationship with each other and their family. Experience the political scenario of India in its rawest form, with ample suspense and drama. Expect twists and turns before it arrives at a thrilling conclusion.
City of Dreams IMDb rating – 7.7
City of Dreams cast – Priya Bapat, Eijaz Khan, Atul Kulkarni
City of Dreams release date – May 03rd, 2019
Where to watch – Disney Plus Hotstar
Paatal Lok
If there were an award for the best show on OTT across everything, Paatal Lok would win, hands down. One of the finest shows to come out of OTT in recent times, the story is based in Delhi, where one is given a bird's eye view of the stark difference between the elite and criminal underworld; political power plays at the top of Indian society, and the machinations of the police force. Enter washed-up cop Hathiram Chaudhary, played by the exceptional Jaideep Ahlawat, who has been responsible for solving a high-profile case that exposes him to the dark web of organized crime. This fantastic show shows India's political corruption, justice system, and caste system.
Paatal Lok IMDb rating – 8.0
Paatal Lok cast – Jaideep Ahlawat, Neeraj Kabi, Ishwak Singh
Paatal Lok release date – May 15th, 2020
Where to watch – Amazon Prime Video
That rounds up the web series like Farzi. So which one will you watch first?