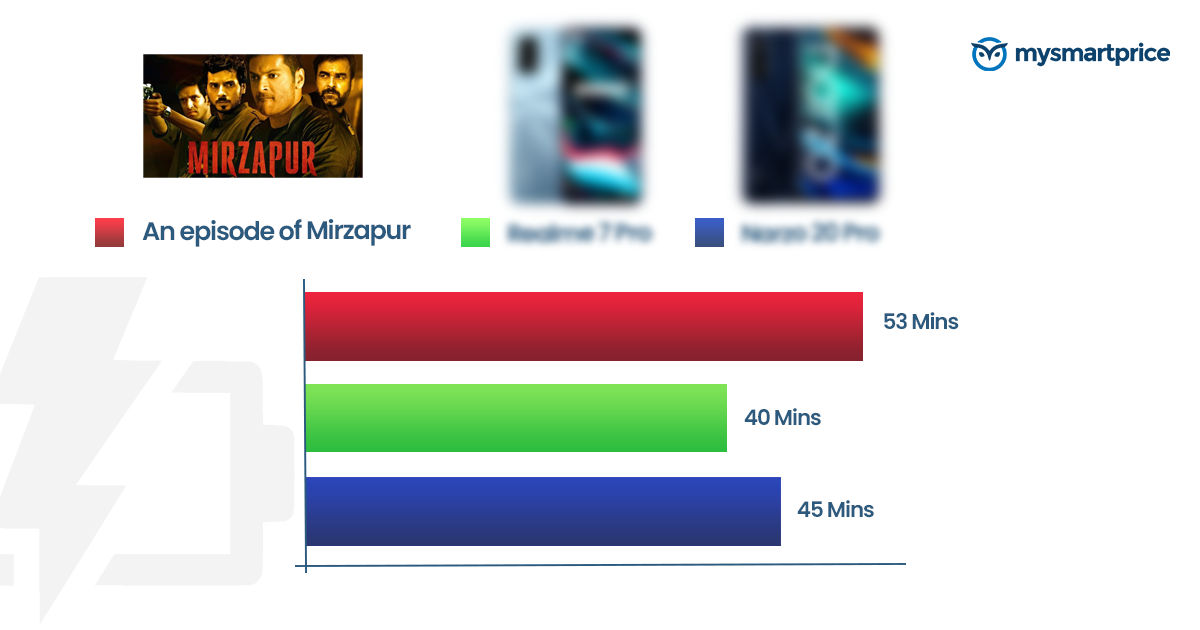 Fast charging technologies have been around for some time now and all of us will agree they really add on to the experience of owning a good smartphone. While most of us still prefer to charge our phones overnight, a good fast charging solution can sometimes prove to be a lifesaver when you have to juice up your phone before heading out on a short notice or when you just need a quick top-up during long travels (sigh).
We have compiled a list of the fastest charging phones you can get on a budget of 20K. And, these also happen to be some of the best phones you should consider buying this Diwali.
2019: the year fast charging phones reached the masses
Up until last year, most companies were offering fast charging solutions as a premium feature on their top-end phones. It wasn't until the Redmi Note 7 series that we got support for 18watt gast Charging on a popular phone under 20K. But, there was a caveat there too. Redmi still bundled in a 10W charger with the phone. However, a month later, Realme launched the Realme 3 Pro (watch full review), with support for 20W VOOC charge, with the fast charger included in box.
As far as I can remember, it was the first phone in the budget segment that could go from 0-100 in under 1.5 hours (watch charging test). That charging speed did remain a gold standard for budget phones for quite some time, with Xiaomi, Samsung, Vivo all soon launching their own fast charging solutions but none as fast as Realme's.
That equation became even more lopsided when Realme debuted the VOOC Charge 4.0 solution with the Realme X2 in Dec 2019. The X2 used a 30W power charger to fully juice up the phone in just about an hour. So, it should come as no surprise that Realme comes out as a dominant force in today's list.
2020: Fastest charging phones under 20K
We are going to talk about the top five fastest charging phones here and the bottom three spots are all taken up by phones touting this very same 30W charging tech from 2019. At number 5 we have the Realme 7, which has a massive 5000mAh battery and still takes only 70 minutes to go from 0-100. That's literally faster than a lot of the most expensive flagships out there.
Realme 6 Pro has been around for some time, but it's still probably my favorite under 20K, and one thing that makes it so good is its charging time of just an hour. Couple that with a great battery life and superb set of cameras and I can almost instantly recommend the Realme 6 Pro to anyone looking for a complete package under 20K.
Taking the first spot on the podium, at 3rd rank would be the OPPO F17. It got overshadowed by the Pro version, but the regular F17 is a charging champion, taking just 53 minutes to top-up, albeit there are other areas where it falters. To know more watch our full review below:
Seeing the results so far, it's pretty evident that this 30W charging solution already put Realme ahead of the curve in this segment. But Realme decided to go for the kill (over?) this year. The company dropped the Realme 7 Pro with the fastest 65 Watt Superdart Charging solution. This technology not only makes it the fastest charging phone under 20K, but also makes it one of the fastest charging phones you can buy in India right now.
And if that wasn't enough, just a few weeks later, the Narzo 20 Pro arrived which brought the same incredible fast charging speed to the under 15K segment as well. Both these phones can top up from absolutely dead to Homelander on Compound V level in under 45 minutes. But, in our charging tests, the Realme 7 Pro takes a minute or so lesser, making it the ultimate charging champion under 20K!
Fast charging under 20K: summary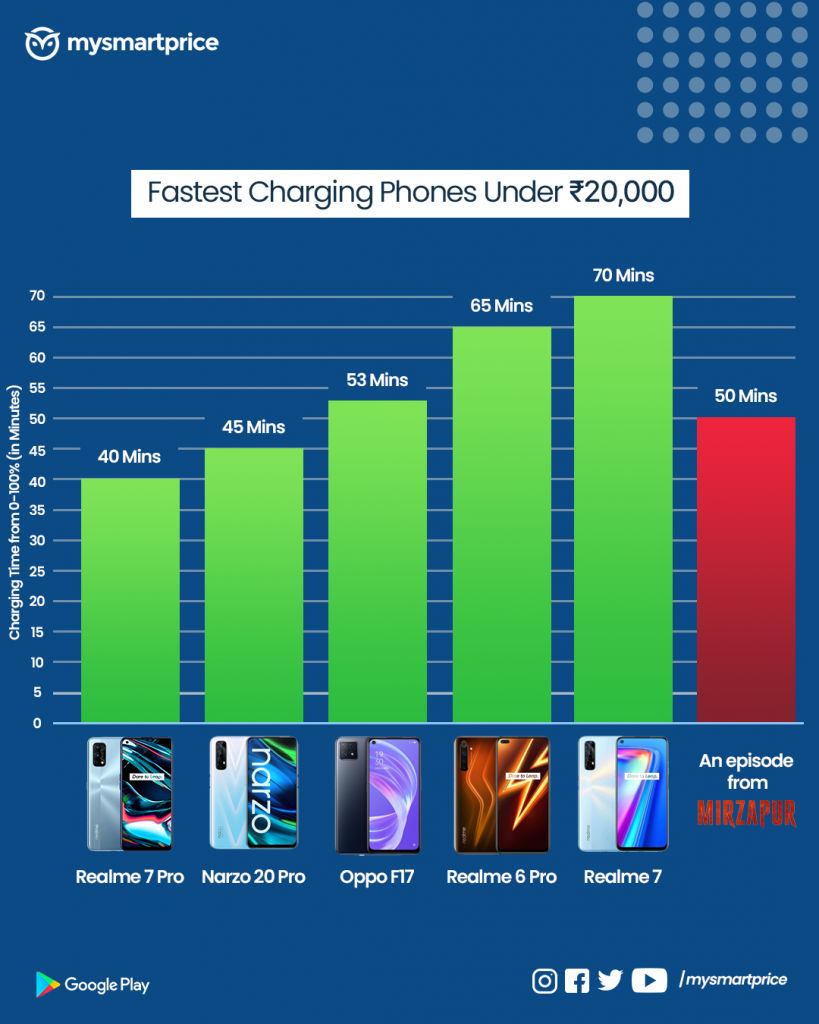 So, as you can tell from this graph, it's pretty evident that Realme is leagues ahead of the competition when it comes to fast charging speeds. What makes it even more interesting is that if we extrapolate this list to the top 10, the next two-three phones would also be Realmes. Namely, the Realme 6 and Realme X2. And then, we might see the likes of Poco X2, Redmi Note 9 Pro Max and the Poco M2 Pro. All of which, take about an hour and a half to top up.
If you're wondering, the first Samsung phone on this list would be the Galaxy M31s. It takes a little under two hours to full charge. You can watch all of these phones in action in our Real Battery Tests on our YT Channel.
The downsides of fast charging
While brands pushing for the fastest charging solutions, there are some things we need to keep in mind. Our phone batteries are bound to lose capacity with time. With regular charging, a typical phone battery can see a 10-15% degradation in two-three years' time. With faster charging solutions, this degradation rate can go up to 15-20%. When OPPO announced their latest 125watt charging, they declared that it can reduce the battery to about 80% capacity in around 800 charge cycles (that's about 2 years for a heavy user).
Of course, this might sound concerning but most of us anyway upgrade our phones in 2-3 years time and many manufacturers have started adding "optimized charging" options in their software. Additionally, one thing that always helps with battery health is to ensure you don't drain out your battery completely, put your phone to charge as soon as it drops to 20-30%, and you'll probably not have to worry about battery health for at least 2-3 years.
What do you think about this fast charging race, and are you a person who uses fast charging at all? Let us know in the comments section below and don't forget to check out all the latest tech content on our YT channel.