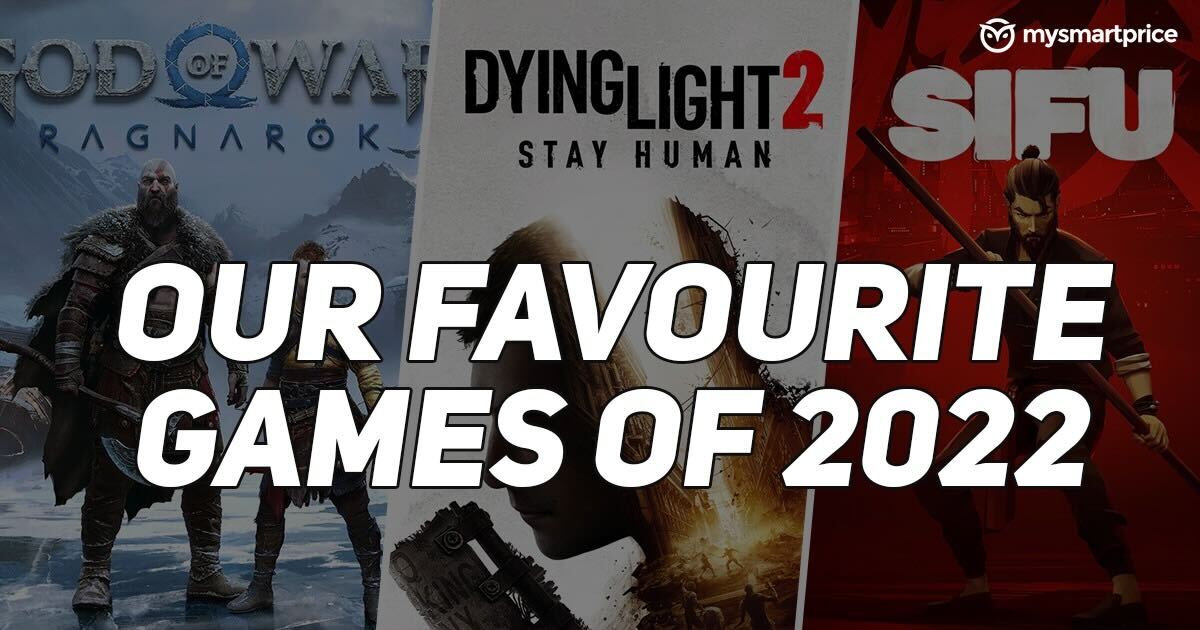 2022 has been a heck of a year for the games industry and audiences all over have witnessed what is quite possibly the most exciting year for games in the last few years. From massive AAA blockbusters to masterfully crafted and scoped indie hits, gamers have truly been spoilt in all the best ways. The year has had something for everyone — frantic shooters, intricate RPGs, expansive open worlds to absolutely bizarre adventures, there are a whole lot of games begging you to pick them up.
The team at MySmartPrice have also indulged in a bunch of games throughout the year, be it games that have been launched a few years ago, or games that launched a month ago — across smartphones, consoles, and PCs. Here, we take a look at some of our personal favourite bangers and exactly why we love them so. The year has been a truly wonderful time to be a gamer and if this is the bar that has been set for the rest of this decade, it is going to take a lot to top this one. 
Sifu
Every now and then, a game comes along that attempts to redefine and challenge your perception of what a certain type of game could be. This year, Sifu announced itself loudly upon arrival and charged headfirst into my living room and showed me exactly what I've been missing in my gaming life. What I had been missing was a truly satisfying martial arts game that both makes you feel like a true badass while also forcing you to question whether you're even a decent gamer at all.
Challenging by design, Sifu is hands down the most fun I've had all year and it is truly a masterful product of tight design, scope, and polish. The game doesn't take very long to figure out but it will take hours upon hours to truly master a level. There was no other game this year, in my opinion, that accomplishes so much even with a rather limited set of tools at its disposal.
The combat involves just a couple of buttons and a trigger and the progression is pretty self-explanatory. The game doesn't hit you over the head with long cutscenes or breaks in the action and simply lets you mow down goons in a menagerie of hallways. Sifu is my favourite game of the year, and perhaps my favourite game on the PlayStation 5 so far — Rahul Bhushan
F1 22
As I transitioned into adulthood, especially during my college days, I built this reputation of being a softcore, sim-focused gamer. People also associate me with Formula 1, it's the only sport I've never stopped watching ever since I was a six-year-old. I've not missed a single F1 title, starting all the way from F1 99. So, F1 22 was a unique-yet-familiar experience for me. F1-franchise purists hated the fact it had supercars in it – I somewhat liked it. The sport has to attract a new fan base, and the developers have to try new ways to bridge the gap between arcade racing games and racing simulators. Some might argue that F1 has always been in the gray area, being a simcade and whatnot. 
I personally think it's the perfect fit for me, as a person who plays the game without a racing wheel setup. Apart from featuring the 2022-spec cars with their brand-new aerodynamic designs, the game also has a new circuit – Miami. The lack of porpoising in the game is a bummer, but I guess it's for the best, after all, the new handling model has quite a steep learning curve. I still have my gripes with the online lobbies in the game – I've been complaining about it since EA took over the franchise, but overall F1 22, in all of its ray-traced glory, is a total blast — Shubham Raheja
FIFA 23
My FIFA phases keep coming and going – the last time I played the franchise was back in 2014. I quit because of a simple reason – I started sucking at it! I wasn't learning anything new, and losing to my friends started taking a toll on me. Fast forward to this year, and Robin got me back in the football scene. This means the whole shebang – watching and playing. Over the years, playing in online F1 lobbies has made me calmer and more resilient to losing, which quickly got me back to speed with FIFA too. I luckily started playing when FIFA 22 was losing steam and FIFA 23 was fresh in the house for reviewing with Robin. I particularly like FIFA 23 over its predecessor because of the revamp in its AI, especially the defense. 
Your fellow defenders now make somewhat rational decisions of actually chasing down the opposition and tackling. The FIFA Qatar World Cup 2022 mode was also exciting, although it did use older squads initially. I honestly don't care too much about the new cutscenes, they are meant to be skipped anyway, nor do I use the Power Shot feature, because I'm not pro enough to be aiming without assistance. I'm not sure how I'd feel next year living in a world without EA's FIFA gaming franchise, but the game was worth wearing out two controllers this year — Shubham Raheja
Read the Review of FIFA 23 here
Indian Train Simulator
This pick may seem out of league as to what others have listed. After my college days, I almost stopped playing games. But what keeps me interested is my curiosity and fascination with Indian Railways. Since my childhood days, I have been travelling in trains frequently and I adore everything about them. India is one of the major countries with the longest railway network and with various next-gen technologies. It has a vast system of locomotives, coaches, stations, and more. There was hardly any game that could match the originality of Indian Railways. But then, Indian Train Simulator from Highbrows Interactive arrived. It's an offline simulation game so you can play it anywhere you want without any need for the internet. 
I have been playing ever since its launch and am still hooked to it because of all the new features that developers bring to the game. From WAP 5 to Vande Bharat, ICF to Tejas coaches, passengers to goods trains, Kashmir to Kanyakumari — every single detail is available in the game. The window seat is one of the most desired thing in Indian Railways, and this game provides that along with 12 other camera angles. For someone like me who's a fan of Indian Railways, this is what comes I've spent most of my time playing 2022 — Shubham Dutt
Download: Indian Train Simulator
Apex Legends
I am aware Apex Legends was not launched this year but read on to find out why I still prefer playing it in 2022.
Ever since I was a kid my go-to game genre has been shooters. I spent most of my school days visiting gaming cafes to play Counter-Strike over the LAN network. I had a lot of fun back in those times and gradually moved on to different games with story mode and stuff. However, due to the lockdown in 2020, I and a bunch of my friends got back into the groove of first-person shooters and we found Apex Legends. The transition from playing a game with a small map, to a game that's just pure chaos through and through, was exhilarating. 
The game was an answer to the ever-growing love of PlayerUnknown Battlegrounds (PUBG), with a twist of its own. What's more interesting about Apex Legends, besides the obvious, is how it has sustained itself while most of the battle royale games are crumbling. It's kept itself up and running thanks to new game modes and maps along with the introduction of multiple legends and, of course, the community. Apex Legends, as the name suggests, has a bunch of legends that hold different powers. I fell in love with Octane — a legend that is absolutely crazy, and full of adrenaline. 
You enter the battlefield with a team of three (best way to play) and scatter around for guns and loot, the basics. Then, you head out to wreak havoc across the maps and shut down squads to be crowned as the champion. When I say the game is chaos, I mean it. It's better if you try it yourself. Apex Legends is now also available on mobile. The game was my favourite back in 2021, and it continues to be in 2022. 
PS: I look forward to playing God of War Ragnarok whenever a PC port is available. I have a feeling that I might end up getting a PlayStation 5 just to play this game, save me, and my wallet — Robin John 
Read the Review of Apex Legends Mobile here 
Dying Light 2 Stay Human
Personally, I have never been into zombie games or even movies for that matter. But then, I got a chance to check out Dying Light 2: Stay Human, and I might have played it for a bit too long. If I had to explain the game in a single sentence, it would be, when zombies meet acrobatics. The game might be a sequel, but that's only on the basis of its name, not the storyline. The sequel introduces a new protagonist, Aiden Caldwell — a pilgrim who traverses between different cities while fleeing from hungry zombies. 
The story revolves around Aiden trying to find his long-lost sister, Mia, while also fighting bad guys in his path. The combat is refreshed with new weapons, moves, and my personal favourite, dropkicks — it's a delight to kick a zombie in the face, must try. Dying Light 2 continues the series' legacy of the infamous day and night cycle, and I quite enjoyed almost crapping my pants when trying to get quests done in pitch dark situations. It has a stamina mechanism that can get to your nerves, barring that the game is absolutely fun with a slightly stretched storyline — Robin John
God of War: Ragnarok
I have always been a PC gamer, with almost PC Master Race-ish views, but I did own a PS Vita and played the God of War Ghost of Sparta on it which fascinated me. This led me to borrow a PS4 from a friend who happened to have all three main games of God of War. I was hooked to the series and with the release of God of War 2018, I decided to get the PS5 when it launched. It did take a while and I got my hands on the PS5 when it launched in India and played God of War 2018 which had me floored. It was the best RPG I played in a really long time. And when Santa Monica announced Ragnarok, I was apprehensive because I wanted it to be just as good as its predecessor. And boy does it deliver on the promise. 
God of War: Ragnarok not only holds true to the essence of the 2018 game but does one better. We move on from the emotional tussle in Kratos and his faltering relationship with his son into the realm of trust with both of them following their own destinies, each meeting the other at key intervals only to diverge again. Beautiful storytelling from the team at Santa Monica with some of the best in class action and performances by the people starring in the game. 
I personally felt that God of War: Ragnarok deserved that title of the Game of the Year, but it had to release in the same year as something like Elden Ring. It's kind of like Matthew McConaughey losing out on the Best Actor Emmy in 2014 for his performance in True Detective to Bryan Cranston for his performance in Season 5 of Breaking Bad — Bodhisatwa Ray

Read the Review of God of War: Ragnarok here
WWE 2K22
I won't lie; the last five years of my "gaming" experience can easily be summed up with "FIFA nights with friends" or "trying to make KKR win an IPL in a game, at least." This year, I had a new obsession: WWE 2K22. I have been playing WWE games since the first time I bunked tuition to play 'SmackDown: Here Comes The Pain' in a video game parlour. WWE games have been somewhat of a rollercoaster in the last decade. After the departure of co-developer Yuke, 2K's WWE game took a sabbatical for the first time in a long time, and 2K22 was sort of a comeback. Needless to say, I was super excited about the game, so much so that I penned my first-ever game review for it.
While I still had a lot of complaints about the game, I enjoyed the upgraded graphics, the improved AI battle experience, and the overall feeling of writing your own storylines with your favorite superstars. The fact that 2K22 came with a revamped control system and new fighting mechanics made the game feel even better, adding a bit of a learning curve for me. Although I did get bored by the mindless violence after some time, I still can't wait to see what the next iteration brings. Here's hoping we finally get a Universe mode with some real long-term consequences and an AI that really wants to rip my player's head off instead of waiting to be choke-slammed by me.
PS: I loved FIFA 23 as well, and Shubham has already done a stellar job at detailing why — Rushil Agrawal
Read the Review of WWE 2k22 here
Valorant
Gaming was an eternal part of my childhood and adulthood period, be it outdoor activities such as Cricket or Hide & Seek. But, for the better part of my 20s, I have been a constant fan of FPS games with classics such as IGI, Halo, Death Space, Battlefield & Call of Duty topping my list.
Playing Call of Duty: Mobile multiplayer modes late at night with my friends was my first exposure to the world of online lobbies. Before the pandemic hit us, I was too much into Counter-Strike, but then I was introduced to Valorant, and this was another ball game that blew my mind. It's a mix of both worlds, Fantasy and FPS. 
Simply put, it's like playing Counter-Strike with powers that gives the player an edge against each other. Players can strategize their next move, which gives them an adrenaline rush and makes the entire gaming session more energetic and lively. You have 13 rounds to attack and defend your side using sharp gunplay and tactical abilities. And, with one life per round, you'll need to think faster than your opponent if you want to survive. 
More than guns and bullets, you'll choose an agent armed with adaptive, swift, and lethal abilities that create opportunities to let your gunplay shine. I've been a regular player on the platform and have been playing this game for the last 2 years. The game has forced me to change my playing style but in a good way, now I am more of an aggressive player rather than someone who just sits around to bait out an easy kill for the scoreboard — Amit Mishra
Call of Duty: Mobile
I will not lie, but PUBG Mobile, aka BGMI, really changed my mind about the whole mobile gaming experience. Before that, I was not inclined towards mobile versions of battle royale as they did not provide the kick you get while playing the same on a PC. However, after the PUBG Mobile ban, I was forced to switch to other games. During that tenure, I played different games, including Free Fire. But I didn't feel the kick. However, once I tried Call of Duty: Mobile, I knew it was the right poison for me. The game has so much to offer and brings most of the features of the OG Call of Duty game that I completely got hooked on this beauty. 
The multiplayer mode that allows 5 vs 5 standoffs is my personal favourite. The nail-biting moments and the ability to use different scorestreaks and operator skills make it quite different from PUBG Mobile. I am always a fan of customisation, and CODM gives me a free hand to customise my weapon, not only graphically, but also the performance. Mixing and matching different combos and perks is probably the best part of the game. Moreover, as compared to PUBG Mobile, you get much better freebies, and the Store with free credits has a lot of options than PUBG Mobile. This coupled with a large collection of maps and characters, the Call of Duty Mobile is the best game for me in 2022 — Rohan Pal
Download: Call of Duty: Mobile
Grand Theft Auto V
Grand Theft Auto: Vice City was the first-ever video game that I played on a computer and I quite liked it after playing it for a few minutes. The game kept me hooked up to an old PC which was available at my home back then. I even went to cafés just to play this single game for a couple of hours. It felt so amazing to explore the fictional Vice City (Miami Beach). That game made me fall in love with the GTA franchise and tried GTA 3, GTA San Andreas, and GTA 4 and completed all missions in the game which felt amazing.
But GTA V has replaced all the other GTA games that were in my heart. Rockstar Games made sure that the game's graphics look top-notch. It is not difficult to create a large world. Making a vast world feel alive and interesting is a difficult task that many games fail at. GTA V got it right; there were a few "empty stretches," even in rural areas. You can't go 5 minutes without entering something remotely interesting.
GTA is the only game that allows you to play in a modern, realistic city with plenty of freedom and no supernatural elements. Simply put, realism. You can do anything you like, be it driving a luxurious car or bike or even flying a plane, skydiving and whatnot. One can simply lead a virtual life and can do whatever they desire or fantasize about in real life. I still love playing this game after so many years, purely because of me reminiscing about the first few rounds in GTA Vice City. The game is still polished and absolutely chaotic — Manoj Goud
What were your favourite games of the year? Let us know in the comments.