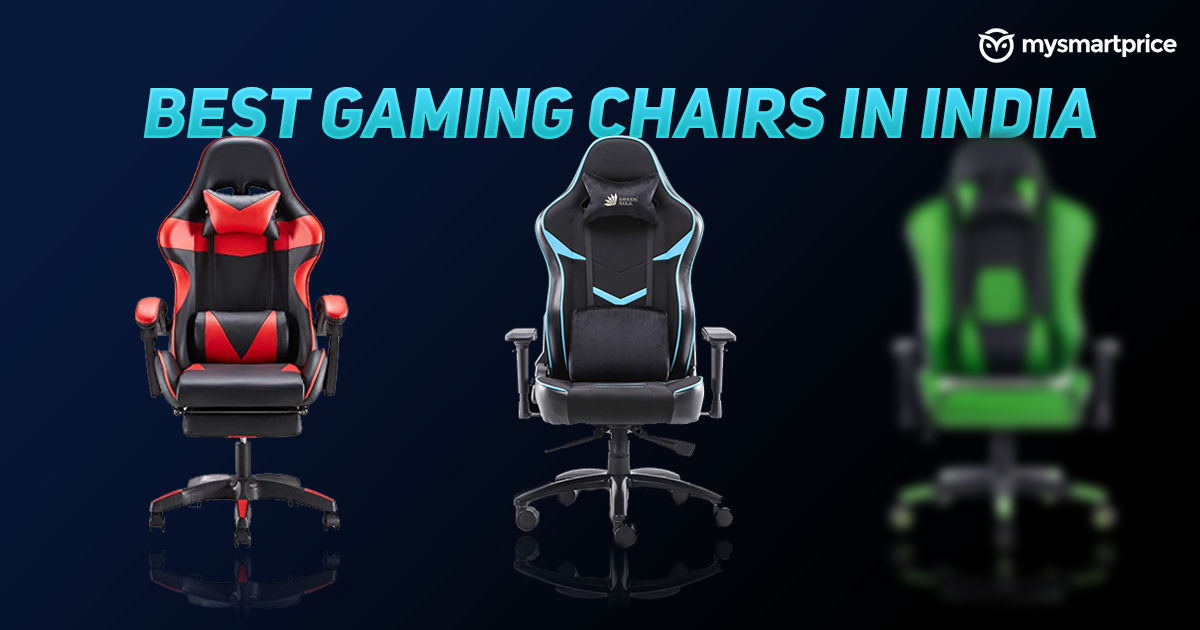 Gaming chairs may not be the most purchased commodity on any retail platform, but they serve a very crucial purpose. With India's steadily growing, nascent gaming industry, we stand at a juncture where more gamers are slowly taking up their passions more seriously. However, the art of gaming necessitates that you sit at a spot for hours and focus your attention into a few square inches of space – be it the desktop monitor of your gaming PC, the TV linked to your gaming console, or even your smartphone. This causes a number of issues, of which body posture and related pain issues are a key part. It is this very aspect that gaming chairs help deal with.
As a result, while investing in a gaming chair may seem like a rather expensive process – the best ones may cost more than a decent mid-range smartphone in India, they are also essential investments that not only save you money in the long run, but also protect your health and body posture. In other words, investing in a gaming chair today may help you in avoiding a doctor's visit tomorrow. With this, here's looking at five of our picks, handpicked from the best gaming chairs to buy in India right now.
Best gaming chairs in India
Sunon gaming chair with retractable footrest and massager lumbar support
Savya Home by Apex Crusader XI gaming office chair
Ant Esports WB-8077 gaming chair
Green Soul Beast GS-600 gaming chair
Green Soul Monster Ultimate GS-734US gaming chair
Sunon gaming chair with retractable footrest and massager lumbar support
The Sunon gaming chair is the only one in this list that features a retractable footrest and a lumbar support module that can also offer pulsating massage when connected to a power source via a USB cable. The seat, back and armrest cushioning are based on PVC leather, keeping the padding soft and super comfortable for long. It also features three recline stages – 90-degree for sitting up, 120-degree for a comfortable recline, and 150-degree for snoozing. During this, users can also make the most of the retractable footrest to unwind at utmost comfort. Even the lumbar massage support pillow can be plugged in to further add to the comfort levels.
Savya Home by Apex Crusader XI gaming office chair
With high density foam in its cushioning and PU leather on the outside, the best part about AC XI's Savya Home gaming chairs is how it helps those with broad shoulders also find the perfect snug fit. While it does not come with connected massager pillows, it does offer a headrest pillow and a lumbar support pillow to ensure comfort. It also has multiple lockable recline positions, which ensures that you get a perfect angle for work, gaming and even for simply unwinding at the end of a long day.
Ant Esports WB-8077 gaming chair
The Ant Esports WB-8077 gaming chair does away with the snug fitting, race car seat aesthetic for its gaming chair layout. As a result, it gets a broader back support that uses an anti-microbial, waterproof, bonded leather exterior that should be great for sweat-free, comfortable, soft padded seating for long hours. It has an adjustable head cushion, and an adjustable backrest that helps you stay seating up as well as reclining all the way to 135 degrees. It also has heavily padded fixed armrests that should help you use your smartphone as well at peace.
Green Soul Beast GS-600 gaming chair
Indian company Green Soul has established a considerable reputation in the gaming chair department and has interesting offerings in both the average price and the flagship segments. The GS-600 falls in the standard category, but in terms of features, comes with a breathable fabric cushioning, moulded foam seating, 3D armrest layouts, neck and lumbar pillows, hydraulic seat height adjust, and many other such features. It has widely been regarded as one of the most comfortable and ergonomic gaming chairs in the market in India right now.
Green Soul Monster Ultimate GS-734US gaming chair
The Green Soul Monster Ultimate has two variants – one for shorter users, and the other for users as tall as 6'5". The chair offers cool, breathable spandex fabric on the outside, a moulded foam seat, carbon texture armrest, velour neck pillow, memory foam lumbar support pillow, 180-degree recline with deer stability mechanism, hydraulic height adjusters, 360-degree swivelling mechanism and more. The GS-734U/US is the ultimate comfort gaming chair in the market right now, even though it misses out on integrated massagers or any smart, connected technology – despite its high price tag.