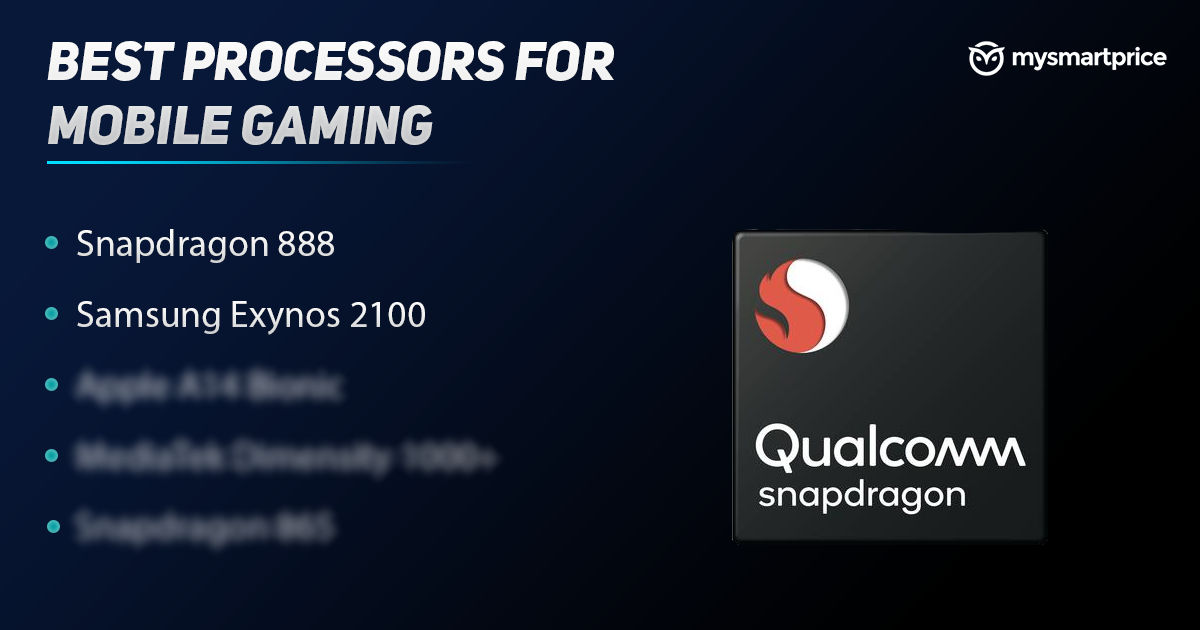 Gaming smartphones are no longer limited to a niche, select few devices. Thanks to the presence of high performance processors, many mainstream smartphones today work as great gaming phones that can also do a lot more than just game. as a result, the best processors for gaming on smartphones have their task cut out in order to achieve great performance, simplified and unfiltered background task management, a host of artificial intelligence and neural network operations, and increasing efficiency in terms of battery life. Today, the list of the best processors for gaming on smartphones include options from Apple, Qualcomm, Samsung and MediaTek – the leading chipset makers of the world. Here's looking at each of the key processors in more detail.
Also Read: 5 Best Mobile Gaming Accessories to Play PUBG, Call of Duty Like a Pro
Best processors for gaming on smartphones
Apple A14 Bionic
Qualcomm Snapdragon 888
Samsung Exynos 2100
MediaTek Dimensity 1000+
Qualcomm Snapdragon 865+
Samsung Exynos 990
Apple A14 Bionic
The Apple A14 Bionic is the de facto leader in terms of the best processors for gaming on smartphones. The custom Apple chipset has always ranked at the top of performance leaderboard, by virtue of its custom fabrication and personalisation by Apple to their device requirements. This, coupled with impressive hardware management has made the Apple chipsets rank among the best processors available for smartphones right now. This 5nm SoC has a six-core layout, with two performance 'Fire Storm' cores and four middling 'Ice Storm' cores. It also uses a custom graphics processor, which is 30 percent faster than Apple processors of two years ago.
Pros and cons
| | |
| --- | --- |
| Pros | Cons |
| Best performing mobile SoC right now | Network capability improvement not much over A13 Bionic |
| Further improved battery efficiency | Available only in limited devices |
| More capable neural engine | |
Popular smartphones with the SoC
The Apple A14 Bionic SoC is available in the 4th generation Apple iPad Air (2020), and in the iPhone 12 Mini, iPhone 12, iPhone 12 Pro and iPhone 12 Pro Max.
Qualcomm Snapdragon 888
The Qualcomm Snapdragon 888 is at the top of the chart of best processors for gaming on smartphones outside of the Apple ecosystem right now. The chipset was unveiled as the outright flagship SoC by Qualcomm for 2021, and features the custom Kryo 680 cores inside, which is based on the ARM Cortex X1's core architecture. Gaming graphics are handled by the improved Adreno 660 custom GPU that offers 35 percent better performance and 20 perfect faster touch responses than before. On overall terms, the Snapdragon 888 is a performance monster, and its ancillary 2nd generation Sensing Hub and the Hexagon 780 DSP offer the perfect background performance management that lets you game on, unhindered.
Pros and cons
| | |
| --- | --- |
| Pros | Cons |
| Flagship SoC likely to be limited to expensive flagship phones | Added performance and 5G may strain battery on some phones |
| Super smooth gaming performance | Only reserved for expensive phones |
Popular smartphones with the SoC
The Qualcomm Snapdragon 888 SoC has already been slated to feature in a number of flagship smartphones through the year. The Samsung Galaxy S21 series of flagship smartphones use the Snapdragon 888 for its US customers. Also launched is the Xiaomi Mi 11, which also has the new generation processor inside. Other phones slated to launch with the new processor soon include iQoo 7, Asus ROG Phone 5, Vivo X60 Pro+, the OnePlus 9 series, and more. Xiaomi is also reportedly set to launch the Redmi K40 Pro in the coming weeks, while Realme may launch the Realme GT 5G with the same flagship processor.
Also Read: 5 Best Gaming Laptops (2020) to Play PUBG and Popular Multiplayer Battle Games in India
Samsung Exynos 2100
The Samsung Exynos 2100 has marked a major improvement in terms of the overall performance that Samsung's Exynos series processors offered before. Migrating to the 5nm process has been of major benefit for Samsung, and the Exynos 2100 now offers far better gaming performance, and is well suited for high performance tasks. On comparative terms, the Exynos 2100 has finally been regarded as a processor that is somewhat at par with other flagship chipsets in the market, and this in turn will have a significant impact on the flagship smartphones marketed by Samsung in 2021.
Pros and cons
| | |
| --- | --- |
| Pros | Cons |
| Significantly better than previous generation | Still not as fast as the Snapdragon 888 |
| Good for overall gaming | |
Popular smartphones with the SoC
The Samsung Exynos 2100 SoC will likely only feature in the flagship Samsung smartphones, and is already present in the Samsung Galaxy S21, S21 Plus and S21 Ultra. Going forward, the Exynos 2100 is also expected to feature in the upcoming Galaxy Note series of phones, which will purportedly be called the Galaxy Note 21.
MediaTek Dimensity 1000+
The fundamental pitch of the MediaTek Dimensity 1000+ chipset was to prove that flagship processors offering strong gaming performance along with 5G connectivity need not be super expensive. That is exactly what MediaTek has achieved with this processor, which comes with an eight-core layout with four high performance cores straight out. As a result, gaming on phones running on the MediaTek Dimensity 1000+ is a pretty smooth affair. The chipset also supports up to 144Hz refresh rate, which is about the highest refresh rate that you may expect from gaming phones right now.
Pros and cons
| | |
| --- | --- |
| Pros | Cons |
| Great value in terms of its pricing | Peak performance much slower than Snapdragon 865 |
| Dual-SIM 5G support | Battery efficiency not great |
| Fluid gaming performance | |
Popular smartphones with the SoC
Smartphones that already run on this new MediaTek SoC include the Oppo Reno5 Pro 5G and the Realme X7 Pro 5G in India. Internationally, the Xiaomi Redmi K30 Ultra also uses the SoC, and so does the iQoo Z1 5G. More smartphones are rumoured to launch soon as well.
Qualcomm Snapdragon 865+
The Snapdragon 865+ from Qualcomm was an iterative upgrade over the highly acclaimed Snapdragon 865. In essence, Qualcomm fine tuned this processor to work primarily as a gaming SoC, and the key upgrades found in this chipset include a higher core clock speed for the fastest performance core, and 10 percent higher clock speed in the GPU to make sure that the SoC produces even faster general performance and graphics performance. It is a flagship chipset that was made even better for gaming tasks, and added connectivity features such as Wi-Fi 6E and Bluetooth 5.2 make the deal even better
Pros and cons
| | |
| --- | --- |
| Pros | Cons |
| One of the best for overall performance | Very slim scope of launching in many phones |
| Great connectivity chops | May be forgotten over too many upgrades in too little time |
| Impressive gaming performance | |
Popular smartphones with the SoC
The Snapdragon 865+ was not as popular as the Snapdragon 865, since it launched halfway through the original chipset's life cycle, and also probably made more cost sense for bulk OEMs. Nevertheless, the chipset can be found in devices such as the Asus ROG Phone 3, the two Samsung foldable phones (Galaxy Z Flip and Galaxy Z Fold2 5G), and the international variants of the Samsung Galaxy Note 20 series as well.
Samsung Exynos 990
The Samsung Exynos 990 was the flagship processor for Samsung phones in 2020. It was launched as Samsung's answer to the Qualcomm Snapdragon 865. While it didn't quite get there in terms of overall performance, the Exynos 990 still produces good gaming performance for most games on Android phones. It is an able processor on its own terms, until it is pegged comparatively against its rivals. Despite such limitations, it still ranks among the best processors for gaming smartphones around the world, hence justifying its flagship position.
Pros and cons
| | |
| --- | --- |
| Pros | Cons |
| Smooth general performance | Not as good a performer as its rivals |
| | Battery efficiency not great |
Popular smartphones with the SoC
The Samsung Exynos 990 SoC can be found in the Galaxy S20 series, the Galaxy Note 20 series and the Galaxy Z Flip foldable smartphone.