Highlights
We can enhance our safety and security using proxy sites
Not just that, but we can also change our IP.
And We can access websites and content that is not available in the region.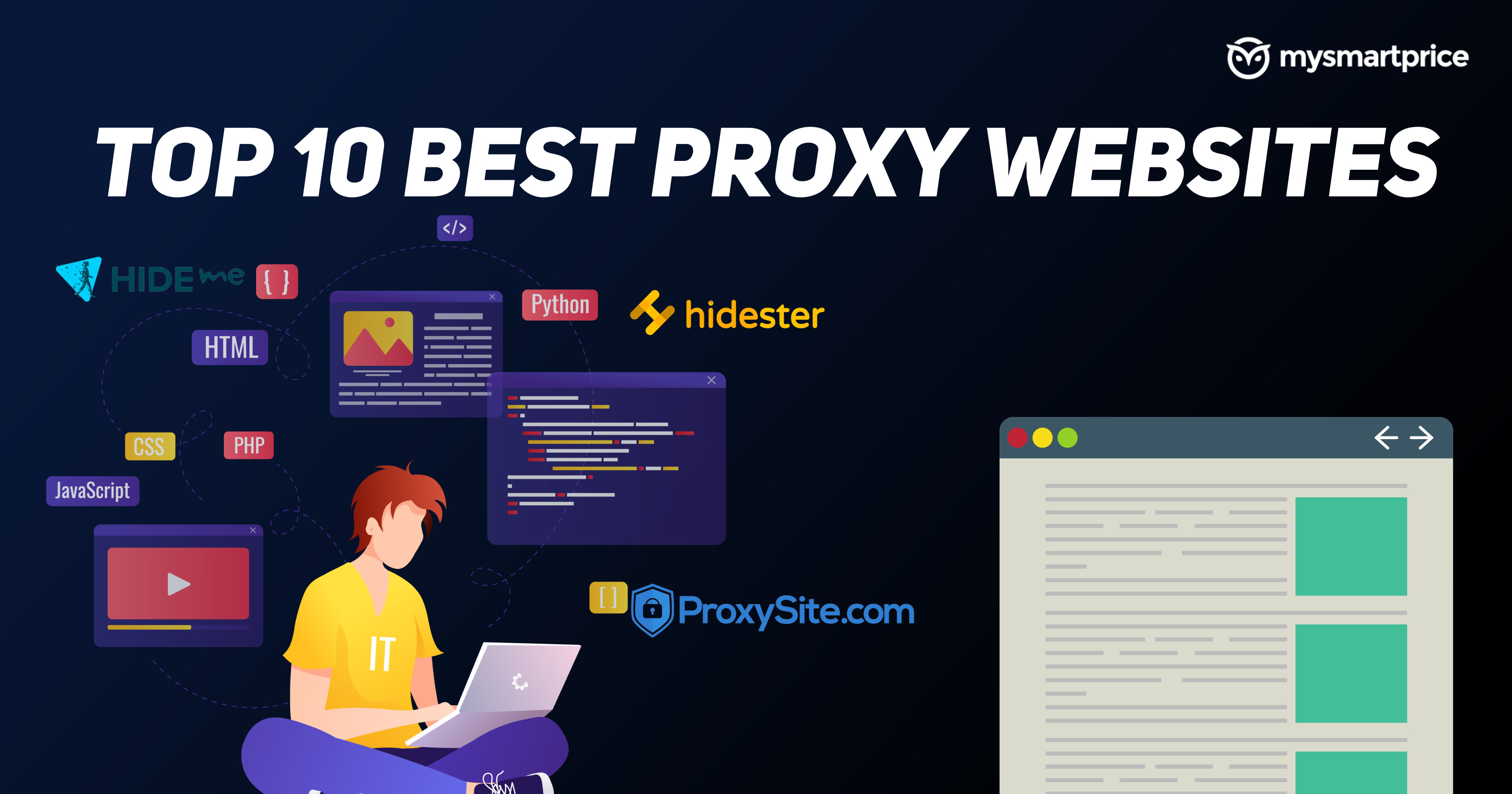 Proxy sites help you watch regionally locked content, and it also enhances your privacy and security by hiding your IP address. By doing so, it prevents sites from tracking your online activity and hides your private data like credentials and contact details. There are many proxy sites available online, but some of them are not accessible from India, or some of them ask for payment to use their proxy.
At this point, we all have stopped watching TV, and we have shifted to OTT platforms to watch content. These OTT platforms have a vast library of content. So much of this content is regional, which means shows and movies that are available to others may not be available in India. To unlock this region-locked content and to even access some OTT sites that are not available in India, we can use proxy sites. Here's the list of proxy sites that works flawlessly in India and are also free.
How do Proxy Websites Work
When you browse a site using a proxy server, it acts as an intermediator between you and the website you are visiting. Every time you visit a website, it keeps a record of your IP address as a mark of your attendance. When you visit the website using a proxy server, it masks your IP with another anonymous IP address that, results in hiding your presence from the website.
This is why you can visit a blocked website or access locked content on platforms. Proxy sites mask your IP with an IP that represents another country's location. Thus, it results in your location of online presence getting spoofed to a country where the website or content is available, allowing you to access it.
List of Top 10 Proxy sites in India
ProxySite.io

unblockproxy.win

TurboHide.org

SmartProxy.com

Proxysite.cloud

Anonymizing.com

Geonode.com

4EverProxy.com

Hidester.com

webproxy.best
Proxysite.io


Proxysite is one of the most well-known proxy sites available on the market. The Proxysite is totally free. It gives its users the privilege to access the sites anonymously and securely. It is available globally, including in India, and it supports access to any site globally.
Features
Globally available

Supports all content formats

Encrypted
Availability
ProxySite is available worldwide, and it is accessible from India via ProxySite.io
UnblockProxy


UnblockProxy allows its users to unlock any blocked sites and content worldwide. It gives shortcuts to websites like YouTube, Reddit, Twitter, and Imgur on its homepage itself, making it easier for its users to jump to their favourite platform in an instant.
Features
Multiple servers

Great support

Also provides VPN
Availability
UnblockProxy is available in India, you can access it by following Unblockproxy.win
TurboHide


TurboHide proxy helps you to unblock sites that might be blocked, locked or hidden by the network organization you might be using. It helps its users to unblock any site they intend to use, and they claim to provide fast speeds with less jitter as well.
Features
Bypass firewalls

Unblock any site worldwide

Provides Bookmarked links
Availability
TurboHide can be accessed using TurboHide.org
SmartProxy


SmartProxy is a paid proxy service that provides flexibility to choose the plan according to the user's needs. They have multiple plans to select from, which starts from as low as $12. This proxy also provides services like proxy scraping for e-commerce, Social Media, and so much more.
Features
Removes Captchas entirely

Remove IP Bans

Unlock Geo-Blocks
Availability
You can choose and opt-in for the SmartProxy plans from SmartProxy.com
Proxysite.cloud


Proxysite.cloud is a free US-based proxy entirely. It gives the IPs from US cities entirely unblocked content and OTT platforms like HBO Max. It uses a system called Web Proxy Bypass System for users to bypass location restrictions and provides secure, anonymous IP.
Features
Unblock Sites

Unblock YouTube
Availability
To access the site in India, you can click on Proxysite.cloud
Anonymizing


It is another absolutely free site that allows users to access the sites using US IP exclusively. It can unblock any video content for you. This is another site that also features shortcuts on its home screen, where it has a bunch of shortcuts for you to access with a single click.
Features
Instant Shortcuts

Free of cost

Private browsing
Availability
To access Anonymizing, click on Anonymizing.com
Geonode


Geonode offers both free and paid proxies. It has reasonable pricing as well. What makes Geonode unique is it gives residential users unmetered proxy usage. Geonode plans start from as low as $4/Gb where it features flexible pricing. If a user wants more than a GB, then they can pay after their usage is done. So that they only have to pay for what they have used.
Features
Flexible pricing

Free Plans available

Availability of more than 100 countries
Availability
To access the Geonode plans and proxy, visit Geonode.com
4EverProxy


Another proxy provider that features both free and paid plans. You can get access to the blocked sites using the free version of 4everProxy just by going to their site, but it gives little slow speeds to access the web. If you want to opt-in for higher-speed web access using their proxy, you can opt-in for one of their paid plans which starts at $3.95/Month.
Features
Free availability

Up to 8 Active devices in premium plans

Multiple servers to choose from
Availability
To buy or use the free version of the 4EverProxy, you can go to 4EverProxy.com
Hidester


One of the few proxy services in this list that also provides the browser extension so that one can access this proxy survive with ease. This proxy provider is free to use, and you can easily download their extension from their site as well.
Features
Browser extension support

Absolutely free

Easy to use
Availability
To gain access to the Hidester Proxy, you can go to Hidester.com
WebProxy.best


As the name tells, this site provides free web proxy. This is also among the sites that give it totally free. There are no charges whatsoever. WebProxy claims to give fast servers at no cost. This site has 8 different IP serves to choose from. The WebProxy site also has bookmarks to access sites faster with the quick proxy enabled.
Features
Instant Shortcuts

Fast Streaming

Multiple server choices
Availability
To access the WebProxy site, go to WebProxy.best
FAQs

1. Are proxy serves safe?
Proxy servers are absolutely safe to use as long as you are using trusted proxy servers. In fact, it enhances the user's online safety by hiding their actual IP on the web, giving them an extra layer of safety.
2. What is the difference between free and paid Proxy?
A. The difference between free and paid proxy is dependent on the service provider. Commonly, the main difference between the free and paid proxy is the availability of Unlimited bandwidth, faster connection, and multiple device support in the paid proxy.
3. Do proxy websites change your IP address?
Yes, Proxy sites do change your IP address on the web. It enhances the security of the user and prevents potential data breaches.
4. How do I find proxy sites?
A. You can check the list above to find the best proxy sites that work in India.