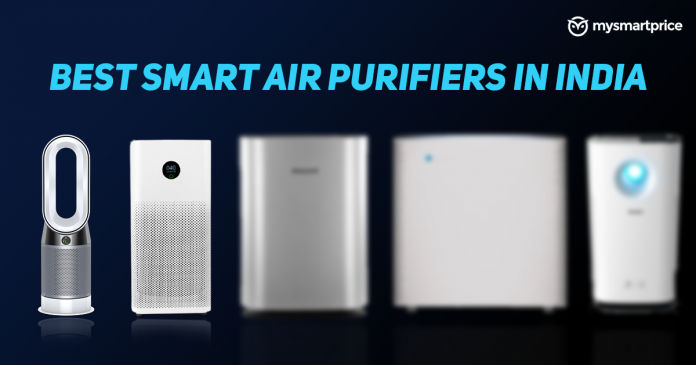 With steadily deteriorating air quality across cities in India, smart air purifiers have become critical appliances to buy for your homes. While typical air purifiers already provide reliable air purification standards, smart air purifiers add a layer of connectivity and convenience to the usage of these devices.
Smart purifiers offer an easy interface to view the air quality inside rooms. Along with this, you get the option to schedule operations, change filters, analyse purifier operations and more. With this in sight, here's looking at the best smart purifiers that you can buy in India right now.
Best smart air purifiers to buy in India
Dyson Pure Hot+Cool
Mi Air Purifier 3
Honeywell AirTouch S8
Blueair Sense Plus
Philips AC3259
Dyson Pure Hot+Cool (Rs 55,900)
The Dyson Pure Hot+Cool air purifier is Dyson's flagship smart air purifier variant. And, it offers a wide range of features to suit its premium positioning. Among other features, the Dyson Pure Hot+Cool features vacuum-sealed H-13 glass HEPA filters, along with an activated carbon filter. The two combine to offer a purification of 99.95 percent of the pollutants. And, the Pure Hot+Cool is one of the few air purifiers that offer purification of four pollutant particles – PM2.5, PM10, VOC and NO2.
Furthermore, the Dyson Link app offers a suave interface that lets you analyse your room air quality over time, and the purifier can also map its purification power to the size of rooms. Along with purification, the Dyson Pure Hot+Cool also helps circulate heated, purified air through large rooms, which is an added boon in winters.
Moreover, one major reason why we recommend a Dyson air purifier is because of the stringent tests it conducts on its products. Dyson, definitely goes the extra mile. The company's home-grown POLAR test that conducts a more accurate test than the CADR test (which is an industry standard) to simulate real Indian home conditions. It goes without saying that it aces the CADR test as well with equal aplomb. For more on their POLAR testing process, check this link; it is a truly fascinating read.
Mi Air Purifier 3 (Rs 9,999)
The Mi Air Purifier 3 by Xiaomi is a one of a kind product. Because, no other company presently offers smart air purification in India at this price point. Now, in its third generation, the Mi Air Purifier 3 has a laser-based particle sensor that helps detect fine impurities in air, and has a three-layer composite True HEPA filter.
This filtration process has a primary filter to remove large impurities. Additionally, you get a True HEPA layer that filters out most of the fine air particles that fall under PM2.5. And, an activated carbon layer that removes foul gases from homes. Its unique design offers a 360-degree air output to efficiently circulate air. Plus, the OLED display on it helps you easily view air quality in rooms. Finally, there are other features such as humidity, temperature and other factors.
Honeywell AirTouch S8 (Rs 35,990)
The Honeywell AirTouch S8 has been a widely recommended air purifier for a long time now. It is one of the best premium, connected air purifiers to buy in recent times. It also offers a CADR air purification certification can. And, it can purify large living rooms as big as up to 450 sq ft.
Honeywell advertises a three-stage advanced purification system that claims to purify up to 99 percent impurities in the air. Alongside, the Honeywell AirTouch S8 is also one of the best looking smart air purifiers in the market. Especially, the blue LED physical interface on the AirTouch S8 fits well with any living room decor. The three-dimensional air flow design also helps improve air circulation in large living rooms.
Blueair Sense Plus (Rs 27,000)
The Blueair Sense Plus has a super sleek chassis that sits in any corner of living rooms and bedrooms. Along with its sleek body, the purifier has super silent operation with three-stage HEPA Silent filter. This helps keep the Blueair Sense Plus operational round the clock. Along with the silent operation and purification mechanism, the Sense Plus comes with the Blueair Friend app to control the purifier remotely as well as assess air quality. To top it up, it also has the Blueair Aware air quality monitor to help track air filtration operation and change filters at regular intervals.
Philips AC3259 (Rs 29,990)
The Philips 3000i series smart air purifiers are the flagship air purifier variant in Philips' arsenal. It offers high volume air purification in large living rooms. It features True HEPA filters that advertise purification of 99.9 percent of impurities in the air. This includes both bacteria and viruses. The sleek display panel on the top offers real-time PM2.5 particle monitoring. That's not it, the Philips 3000i smart air purifier is the only purifier in the company's portfolio that offers smart connectivity chops. This enables remote controlling of the air purifier fan, scheduling purifier operations and changing the air filter at regular intervals. Along with its sleek design, the Philips AC3259 is one of the best smart air purifiers that you can buy in India.
| | | |
| --- | --- | --- |
| Purifier | Key features | Price (in INR) |
| Dyson Pure Hot+Cool | Wi-Fi connectivity, glass HEPA + activated carbon filter, uniform air flow, monitors PM2.5, PM10, VOC, NO2, premium design | 55900 |
| Mi Air Purifier 3 | Wi-Fi connectivity, three-layer true HEPA filter, 360-degree air outflow, OLED touch display | 9999 |
| Honeywell AirTouch S8 | Wi-Fi connectivity, CADR purification rate, powerful motor for large rooms | 35990 |
| Blueair Sense+ | Wi-Fi connectivity, sleek design, silent HEPA filter operation, Blueair Aware air quality monitor | 27000 |
| Philips AC3259 | Wi-Fi connectivity, true HEPA filter, 99.9% purification including H1N1 virus, premium design | 29990 |
Thanks for reading till the end of this article. For more such informative and exclusive tech content, like our Facebook page