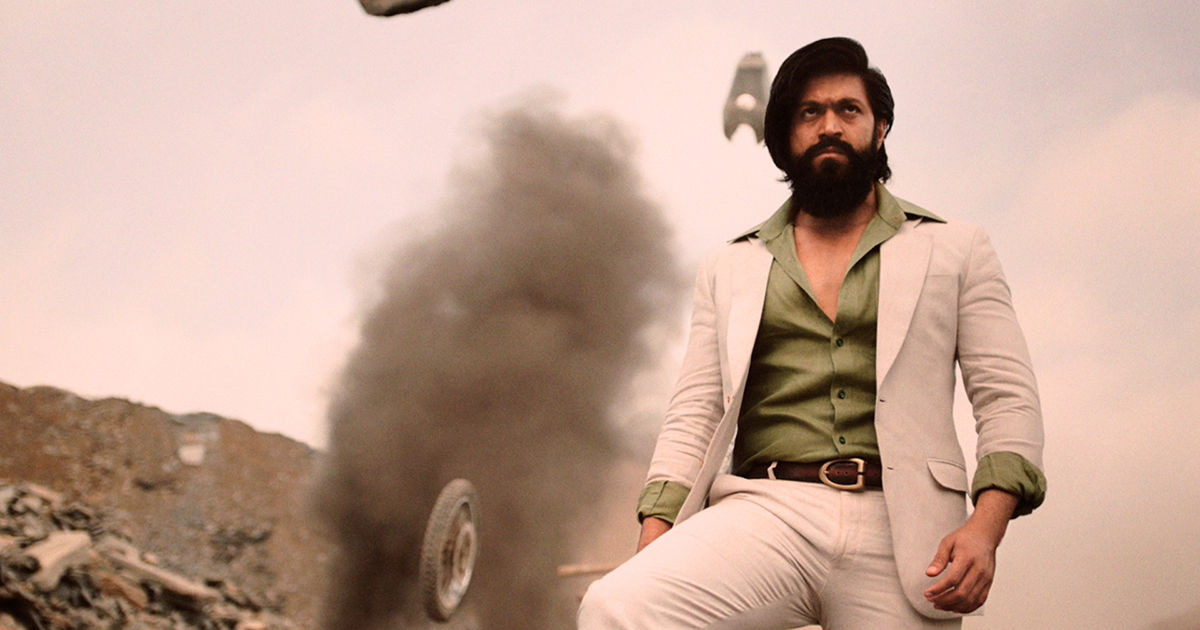 The South Indian film industry has garnered the attention of the global film community in recent years. Emphasizing the South Indian film craze among the pan-Indian audience, South filmmakers are producing films in the hopes of moving on to the next level and reaching worldwide. Numerous South Indian movies have already been released in 2022. In the South Cinema business, there are hundreds of films released annually. A handful is shortlisted in the best category, but many receive all the attention for their creation, acting, plot depiction, etc. There was intense competition among filmmakers this year, and the box office included several excellent films. A few big-budget films grabbed the spotlight and held center stage, and all genres left audiences very impressed. The best South Indian films of 2022 are what we aim to deliver in this blog. The top films, as chosen by viewers worldwide, are listed below.
11 Best South Indian Movies of 2022 to Watch Online
| | | |
| --- | --- | --- |
| Movie name  | IMBD Rating | OTT Platform |
| Kantara | 8.5 | Netflix, Amazon Prime Video |
| RRR | 7.9 | Disney+Hotstar |
| KFG Chapter 2 | 8.3 | Amazon Prime Video, Netflix, Zee5 |
| Sita Raman | 8.6 | Amazon Prime Video, Disney+Hotsar |
| PS 1 | 7.8 | Amazon Prime Video |
| Beast | 5.2 | Netflix |
| Major  | 8.2 | Netflix |
| Vikram | 8.4 | Disney+ Hotstar |
| Valimai  | 6 | ZEE5 |
| Karthikeya 2 | 7.9 | ZEE5 |
| Godfather | 5.3 | Netflix |
Kantara 
In 2022, Rishab Shetty wrote and directed the action-thriller Kantara, which Vijay Kiragandur produced through Hombale Films. Shetty plays a Kambala champion in the movie, which is at odds with Murali, a moral forest ranger (played by Kishore). Principal photography started in August 2021 and was based in the coastal Karnataka town of Keradi. Arvind S. Kashyap was in charge of the film's cinematography, while Vikram More, the action director, choreographed the action sequences, and B. Ajaneesh Loknath provided the music. Dharani Gange Putra, a debutante, handled the production design. On September 30, 2022, Kantara was released. It was optimistically received by critics, who praised the cast performances, writing, production design, cinematography, proper displaying of the Bhoota Kola, action sequences, editing, soundtrack, and musical score.  
Cast: Rishab Shetty, Sapthami Gowda, Kishore as Muralidhar, Achyuth Kumar, Pramod Shetty, Prakash Thuminad, Manasi Sudhir, Naveen D Padil 
Release date: 30 September 2022
Duration: 2 hours 5 minutes
Genre: Action, Thriller, Adventure, Drama 
Director: Rishab Shetty
Producer: Rishab Shetty
Where to watch online: Netflix, Amazon Prime Video
RRR
The epic action drama film RRR was written and published by V. Vijayendra Prasad and S. S. Rajamouli, and S. S. Rajamouli directed it in 2022. It revolves around the imaginary friendship between Alluri Sitarama Raju (Charan) and Komaram Bheem (Rama Rao), two real-life Indian revolutionaries who fought the British Raj. The story takes place in the 1920s and focuses on the undocumented time in both revolutionaries' lives when they both decided to live quiet lives before fighting for their nation.
Cast: Ajay Devgn, Alia Bhatt, Shriya Saran, Samuthirakani, Ray Stevenson, Alison Doody, Olivia Morris, N. T. Rama Rao Jr., Ram Charan
Release Date: 25 March 2022
Duration: 3 hours
Genre: Action, Adventure, Drama, Historical film
Director: S. S. Rajamouli
Producer: D. V. V. Danayya
Where to watch online: Disney+Hotstar
Also Read: 22 Best Telugu Movies on OTT 2022: RRR, Sita Ramam, Urvasivo Rakshasivo and More
KGF CHAPTER 2
 A period action movie in the Kannada language titled K.G.F: Chapter 2 was written, produced, and directed by Prashanth Neel in 2022 under the Hombale Films brand. It is a follow-up to the 2018 movie K.G.F: Chapter 1 and the second half in a two-part series. It centers on the assassin Rocky, who becomes the lord of the Kolar Gold Fields and then has to hold onto his power over rivals and authorities while confronting his history. K.G.F: Chapter 2 has collected between 1,200 and 1,250 crores globally, making it the second-highest-grossing Indian movie of all time and the highest-grossing Indian movie of 2022. A follow-up is being created.
Cast: Yash, Sanjay Dutt, Raveena Tandon, Srinidhi Shetty, Prakash Raj, Archana Jois, Malavika Avinash, Easwari Rao, Achyuth Kumar, Vasishta N. Simha, Rao Ramesh
Release Date: 14 April 2022
Duration: 2 hours 8 min
Genre: Action, Thriller, Drama, Historical film, Crime film
Director: Prashanth Neel
Producer: Vijay Kiragandur
Where to watch online: Amazon Prime Video, Netflix, Zee5
Sita Raman
Hanu Raghavapudi wrote and directed the 2022 Telugu-language period romance movie Sita Ramam. The movie, made by Vyjayanthi Movies and Swapna Cinema, stars Dulquer Salmaan and Mrunal Thakur, along with Rashmika Mandana in a lengthy cameo and Sumanth in a supporting part. In 1964, Lieutenant Ram, an orphaned army soldier serving at the Kashmir border, gets secret love letters from Sita Mahalakshmi. Motivated by these letters, Ram sets out to meet Sita and confess his love to her.
Cast: Dulquer Salmaan, Mrunal Thakur
Release Date: 5 August 2022
Duration: 2 hours 7 mins
Genre: Romance, Historical drama
Director: Hanu Raghavapudi
Producer:  C. Aswani Dutt
Where to watch online: Amazon Prime Video, Disney+Hotsar
777 Charlie
The 2022 Indian adventure comedy-drama movie 777 Charlie is in the Kannada language. The movie follows the relationship and journey of a lone manufacturing worker and a stray lab. With delays brought on by the COVID-19 epidemic, principal photography took place from June 2018 until October 2021. In a breeder's home where numerous dogs were crated and subjected to cruelty, a Labrador puppy manages to escape. The pup keeps going until it arrives at the Chinmaya colony in Satara, where Dharma lives. Dharma lives alone in a colony and avoids social interaction. The dog secretly adheres to Dharma because she regards him as her savior.
Cast: Charlie, Rakshit Shetty, Sangeetha Sringeri, Raj B. Shetty, Danish Sait, Bobby Simha
Release date: 10 June 2022
Duration: 2 hours 7 mins
Genre: Comedy, Adventure, Drama
Director: Kiranraj K.
Producer: G. S. Gupta, Rakshit Shetty
Where to watch online: Amazon Prime Video
PS1
Ponniyin Selvan: I, also known as The Son of Ponni, is a Mani Ratnam-directed epic historical action-adventure movie in Tamil released in 2022. The storyline is Under Emperor Sundara Chozhar in Thanjavur during the tenth century, the Chola dynasty ruled prosperously in South India. Aditha Karikalan and Arulmozhi Varman, also known as Ponniyin Selvan, are heading the empire's conquests of Kanchi and Lanka, respectively. Aditha Karikalan notices something odd with the courtiers and sends his buddy, the prince of the Vaanar Clan, Vallavaraiyan Vandiyadevan, to look into it. He then informs his sister, Princess Kundavai, and Sundara Chozhar about the dilemma. When Vandiyadevan arrives at the fortress of Kadamboor, he overhears his ministers conspiring to prevent Aditha Karikalan from ascending and the minister of finance.
Cast: Aishwarya Lekshmi, Jayam Ravi, Karthi, Trisha, Jayaram, Aishwarya Rai Bachchan, Prabhu, R. Sarathkumar, Prakash Raj, Rahman, R. Parthiban, and Lal
Release date: 30 September 2022
Duration: 2 hours 7 mins
Genre: Action, Drama
Director: Mani Ratnam
Producer: Mani Ratnam, Subaskaran Allirajah
Where to watch online: Amazon Prime Video
Beast
Action movie directed and written by Nelson in the year 2022, Beast, is in the Tamil language. Veera Raghavan, an Indian RAW field agent, tasked with arresting terrorist Umar Farooq, is the story's center. While doing so, he fires a missile that kills and injures a civilian child to stop Farooq from escaping, traumatizing Veera, who leaves the agency and returns to Chennai. Veera is still dealing with the impact of the child's death months later. He encounters Preethi at a wedding, and after falling in love, she persuades him to work for her faltering security firm, Dominic & Soldiers. The Tamil Nadu government learns that a significant terrorist incident is being planned in Chennai.
Cast: Vijay, Pooja Hegde, Selvaraghavan
Release date: 13 April 2022
Duration: 2 hours 6 mins
Genre: Action, Thriller, Comedy
Director: Nelson
Producer: Kalanithi Maran
Where to watch online: Netflix
Major
The story and screenplay for Major, an Indian biographical action film, were written by Adivi Sesh and directed by Sashi Kiran Tikka. Based on the life of Major Sandeep Unnikrishnan, a victim of the 2008 Mumbai attacks, who died a martyr's death. The 36 hours of operation during the 26/11 terrorist strikes in Mumbai are the focus of the story "Major." The team leader for the rescue effort at the Taj Mahal Hotel that saved the hostages' lives was Major Sandeep, an NSG training officer. He suffered martyrdom for the sake of others. NSG saved two hundred fifty hostages during that operation.
Cast: Adivi Sesh, Prakash Raj, Sobhita Dhulipala, Saree Manjrekar, Revathi, Murali Sharma, Anish Kuruvilla
Release date: 24 May 2022
Duration: 2 hours 4 min
Genre: Biography, Drama, Thriller
Director: Sashi Kiran Tikka
Producer: Mahesh Babu
Where to watch online: Netflix
Vikram 
A Lokesh Kanagaraj-directed action thriller in the Tamil language, Vikram was released in 2022. Kamal Haasan is the film's director, and he also plays the lead role of Agent Vikram, the leader of a black-ops team trying to take down Sandhanam's narcotics cartel. Police Chief Jose calls on Amar, the leader of a black-ops team, to bring justice to a gang of masked vigilantes who killed Stephen Raj, ACP Prabhanjan, and his foster father, Karnan (following Raj's arrest and eventual release after it was found that he had assisted Adaikalam and Anbu in Kaithi). Since Karnan was a simple man while the other 2 were higher-ranking officers in the Narcotics section, Karnan's murder looks out of the ordinary, so Amar starts by looking into his life.
Cast: Kamal Haasan, Fahadh Faasil, Vijay Sethupathi
Release date: 3 June 2022
Duration: 2 hours 9 min
Genre: Action, Thriller, Mystery
Director: Lokesh Kanagaraj
Producer: Kamal Haasan, R. Mahendran
Where to watch online: Disney+ Hotstar
Valimai
H. Vinoth wrote and directed the action-thriller movie Valimai, which will be released in 2022. A super cop tries to find the person responsible for a series of robberies and murders, but things get personal when his family becomes a pawn in the criminal's scheme. The movie showcases Naren, alias "Wolfranga," who is the leader of Satan's Slave, an illegal motorcycle gang that operates in Chennai and engages in narcotics trafficking, snatching, theft, and murder. City commissioner Vijayakumar gives ACP Arjun Kumar from Madurai the case because these crimes are out of control.
Cast: Ajith Kumar, Karthikeya, Huma Qureshi, and Gurbani Judge
Release date: 24 February 2022
Duration: 2 hours 9 mins
Genre: Action, Thriller
Director: H. Vinoth
Producer: Boney Kapoor
Where to watch online: Zee5
Karthikeya 2
Karthikeya 2 is a 2022 Indian Telugu mystery action-adventure movie written and directed by Chandoo Mondeti. A follow-up to the mystic thriller Karthikeya (2014) that explores Karthik's inner issues and how he overcomes them. His pursuit of the truth enlightens him about Lord Sri Krishna's Tatva and the strength of the conventional Indian system. In the movie, in a book by Ptolemy, an archaeologist and professor named Ranganath Rao learns that Lord Krishna gave his companion and counselor Uddhava his anklet, which contains all the remedies to the terrible difficulties that people will encounter in the upcoming Kali Yuga, before the end of the Dvapara Yuga.
Cast: Nikhil Siddhartha, Anupama Parameswaran, and Anupam Kher
Release date: 13 August 2022
Duration: 2 hours 4 mins
Genre: Adventure, Thriller, Supernatural
Director: Chandoo Mondeti
Producer: Abhishek Agarwal
Where to watch online: ZEE5
Godfather
Filmmaker Mohan Raja's political action thriller Godfather, which is also known as GodFather, was released in 2022 in the Indian Telugu language. The story revolves around the ruling party in a political crisis due to the sudden passing of the beloved leader PKR (Sarvadaman D. Banerjee), which also upends the family. More than one participant is vying for the position of party leader. There is uncertainty regarding everyone's intents and allegiances. This conflict is changed by Brahma (Chiranjeevi). Who will take the reins and succeed the leader to take over as CM?
Cast: Chiranjeevi, Salman Khan, Nayanthara, Satya Dev
Release date: 5 October 2022
Duration: 2 hours 6 mins
Genre: Political, Action, Thriller
Director: Mohan Raja
Producer: R. B. Choudary
Where to watch online: Netflix
In terms of movie office receipts in 2022, South Indian Industry has far outperformed Bollywood. South Indian films, including RRR, KGF-2, Vikram, and Ponniyin Selvan: Part One, brought in four 400-crore-grossing films this year, compared to only one for Bollywood. "Quality and Class" are two qualities that best describe films from South India. In terms of the calibre of movies produced, South Indian Movies far outpaced Bollywood this year.
Also Read: 15 Best Bollywood Movies on OTT 2022: Drishyam 2, The Kashmir Files, Jersey