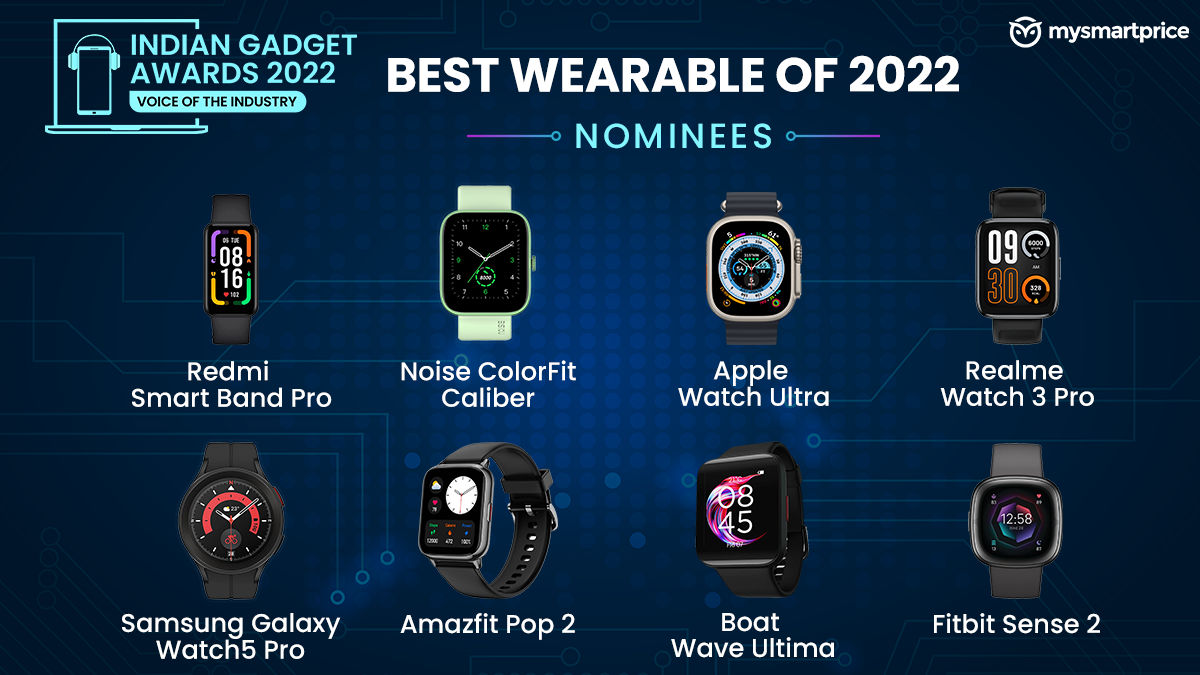 With fitness on the rise, many manufacturers have gone on a launching spree in 2022 — for both fitness bands and smartwatches. This industry has seen exponential growth thanks to some Indian brands in the budget category. Wearable devices are getting all the attention with options available in almost every price range. This year, we also got to see budget fitness bands and smartwatches incorporate health sensors like SpO2 more aggressively. From budget-centric bands and watches that provide you with accurate readings, to smartwatches that aim for class and practicality — 2022 has seen a mixture of everything. While huffing and puffing throughout our testing periods, our experts have tried and tested the best of the lot. So, here are the nominees for the best wearable of 2022.
Best Mainstream Wearable of 2022 – Indian Gadget Awards Nominees
Redmi Smart Band Pro
Noise ColorFit Caliber
DIZO Watch D Plus
Realme Watch 3 Pro
OnePlus Nord Watch
Amazfit Pop 2
Boat Wave Ultima
DIZO Watch R Talk Go
Redmi Smart Band Pro

Xiaomi and smart bands just happen to have a different love affair. The company's numbered series of fitness bands have proven to be a success, and the Redmi Smart Band Pro seems to be out on the prowl with the same approach. The band sports a big 1.47-inch AMOLED display with 283 PPI and a peak brightness of 450 nits. It weighs a total of 25.5 grams with the strap, and is rated for 5ATM water resistance. It packs a 200mAh battery that is claimed to provide a backup of 14 days on standard usage. Besides this, it also has 110+ workout modes, SpO2 and heart rate, sleep monitoring, and more.
Noise ColorFit Caliber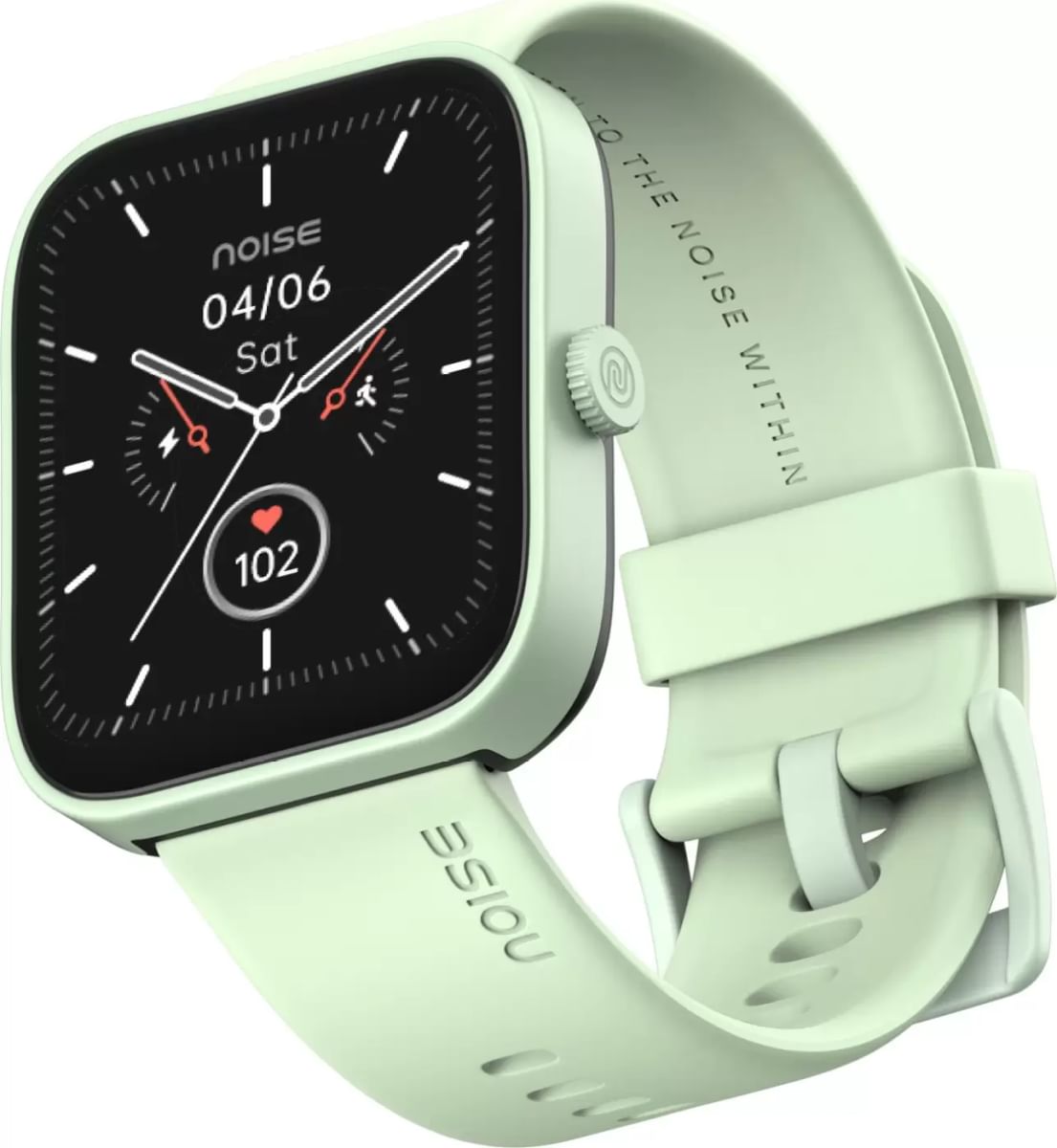 Noise has a bevy of products in the fitness tracker category, and yet this one somehow manages to stand out from the crowd — for its design, and well, its performance. The ColorFit Caliber surely looks palatable in the myriad of colour options it comes in. The boxy flat edge design houses a 1.69-inch LCD display with a resolution of 240×280 pixels. The watch weighs 37.6 grams with a strap. It's IP68 rated for water and dust resistance. It packs in a 300mAh battery with a claim of lasting up to 15 days and a charging time of about two hours. It has a SpO2 sensor, along with heart rate monitoring and sleep monitoring.
DIZO Watch D Plus

Realme's sub-brand DIZO is trying to make strides in the budget wearable segment with the Watch D Plus. It sports a rectangular 1.85-inch display with a resolution of 240 x 280 pixels and a peak brightness of 550 nits. You get a 300mAh battery and a promise of up to 14 days of run time in normal mode. It offers over 110+ sports modes for fitness enthusiasts. The watch also lets you track your health and fitness, with features such as SpO2, health, sleep monitoring, and more. You also get Smart Control for controlling your smartphone camera and other things.
Realme Watch 3 Pro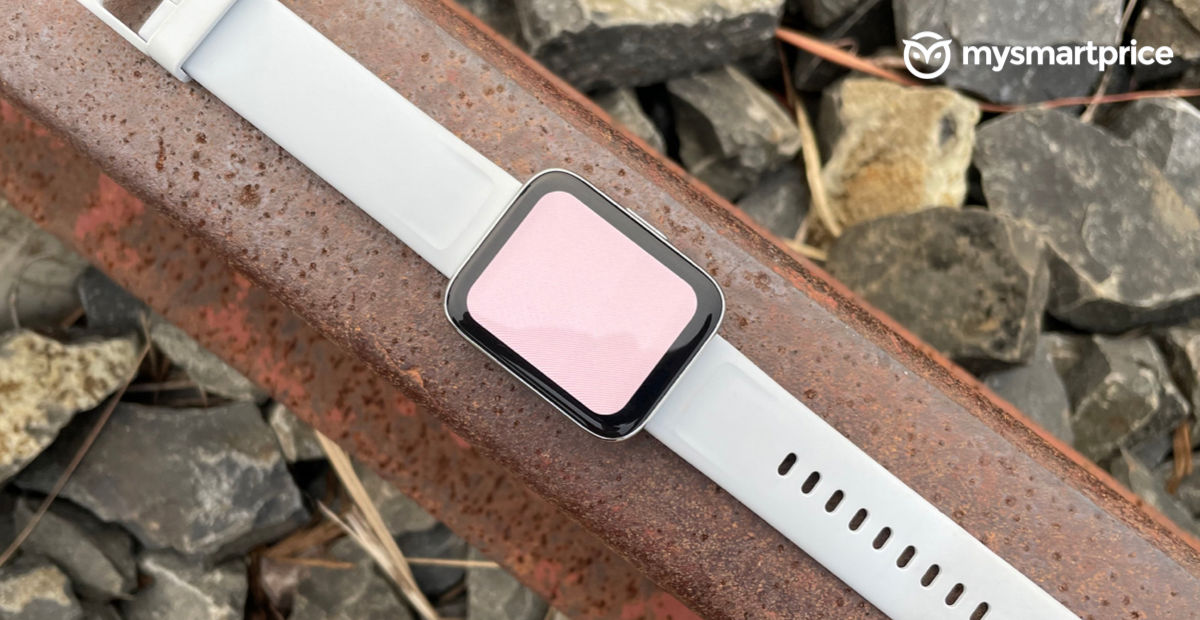 The Realme Watch 3 Pro builds on its vanilla variant with a 1.78-inch AMOLED display with 325 PPI, and a 68.7% screen-to-body ratio. This is yet another watch with a boxy design, that looks quite modern in the colour options available. The Watch 3 Pro incorporates a speaker and a microphone for voice calls. It packs in a 345mAh battery that can last up to 10 days with calling and the in-built GPS functionality. You get over 110 sports modes, water reminders, heart rate, sleep, and SpO2 monitoring. The watch weighs 40.7 grams with a strap.
OnePlus Nord Watch
The Nord brand is not limited to phones and earbuds but has also entered the wearables market. The Nord Watch follows the industry norm with a square and boxy design, a 1.78-inch AMOLED display, and a resolution of 368×448. The Nord Watch looks quite subtle with the available colourways and weighs 52.4 grams with the strap. You get over 100+ sports modes and an IP68 rating for dust and water resistance. It gets the basics right with health features such as SpO2, heart rate, sleep, and stress monitoring. The Nord Watch packs a 230mAh battery and can go up to 10 days on a single charge.
Amazfit Pop 2
Amazfit has been a well-known brand when it comes to budget smartwatches and fitness bands. The company has a myriad of options in this market, and the India-exclusive Pop 2 stands out or rather pops out with a 1.78-inch AMOLED display — and support for over 100 watch faces. The Pop 2 has a square-ish design with slightly curved edges, a metallic frame and a stainless steel button for navigating through the UI. The watch is IP68 rated for water and dust resistance. The battery can last you 10 days on a single charge, and you get over 100 sports modes for your workout sessions. Besides this, you can attend calls, and also check notifications from your smartphone.
Boat Wave Ultima
Yet another Indian company that has been upping its ante when it comes to smart wearables at a budget. Boat Wave Ultima comes with a 1.8-inch curve arc display and follows the norm with a square-shaped design. It has a peak brightness of 550 nits and over 100 watch faces to flaunt. The watch has a 300mAh battery that can last up to 10 days with normal usage and three days with Bluetooth calling. It takes the watch about two hours to charge fully from the dead. It's IP68 rated for water and dust resistance and has over 100 sports modes for extensive workouts.
DIZO Watch R Talk Go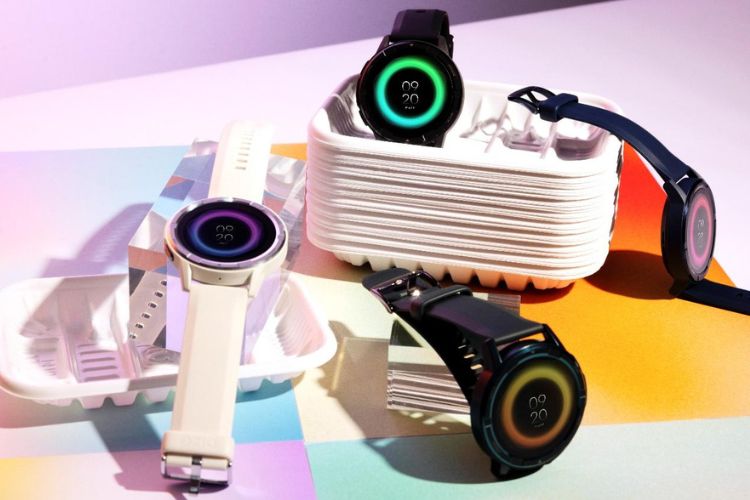 For a change, the Dizo Watch R Talk Go comes with a traditional circular dial that sports a 1.39-inch display. The display has thin bezels and 360×360 resolution. You get a peak brightness of 550 nits and over 150 watch faces. The watch weighs 45 grams with the included strap and comes with multiple health features — such as SpO2, heart rate, stress monitoring, and more. The in-built 300mAh battery can last up to 10 days with normal usage.
Best Premium Wearable of 2022 – Indian Gadget Awards Nominees
Apple Watch Ultra
Samsung Galaxy Watch5 Pro
Garmin Forerunner 955
Amazfit Falcon
Apple Watch Series 8
Fossil Gen 6
Fitbit Sense 2
Apple Watch Ultra

Probably the craziest smartwatch on the market, and of course it's from Apple. The Apple Watch Ultra is the most rugged watch by the company, cased in titanium with dual-frequency GPS, and up to 36 hours of battery life — crazy might be an understatement. The 49mm Watch Ultra is water resistant up to 100mm and IP6X rated for dust resistance. This is not for the average joe, but for the adventurer, explorer and traveller. The watch comes with an Always-on Retina display that can go up to 2000 nits of peak brightness. You also get crash detection, fall detection, multiple health modes, and an 86-decibel Siren to attract attention in case of emergencies.
Samsung Galaxy Watch5 Pro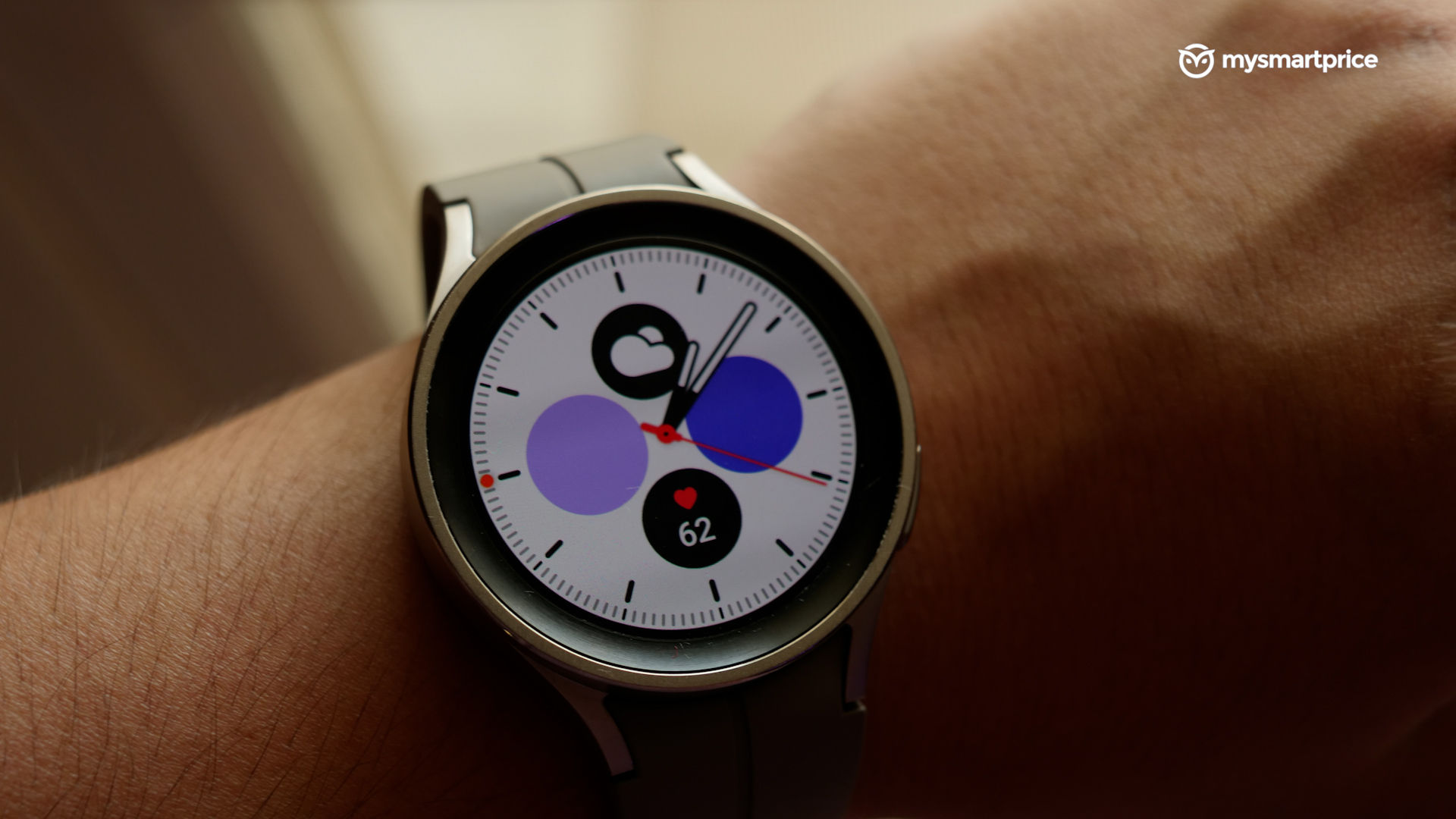 Samsung's Galaxy lineup of smartwatches has set a gold standard in the market, with the introduction of the 'pro' moniker in their numbered lineup, the company aims at building up its portfolio to capture even more consumers. The Samsung Galaxy Watch5 Pro sports a 1.4-inch AMOLED display with bright and vibrant colours, and a resolution of 450×450. The display is made out of sapphire crystal, and sits in a titanium casing — protecting it from the outside world. The BioActive sensor monitors your health and also helps with SpO2, and heart rate monitoring. The 590mAh battery promises a typical usage runtime of around 80 hours. The watch has a storage of 16GB, and has support for NFC. It runs on WearOS powered by Samsung — this allows you to download third-party apps.
Garmin Forerunner 955
Garmin and fitness smartwatches just fit in well. The company caters towards high-performance fitness enthusiasts, and Forerunner 955 is a prime example. The watch has a circular dial and touchscreen with a five-button layout to navigate through the UI during rain, storms, and other extreme conditions. It has a dedicated triathlon mode, along with 40 other indoor and outdoor sports modes. It uses multi-band GNSS positioning technology for precise location, speed, and accuracy even at harsh high altitudes. There are an infinity of features for fitness freaks, such as VO2 Max, recovery time, race predictor, training load, training status, and more. Forerunner 955 weighs 52 grams and can last up to 15 days in smartwatch mode.
Amazfit Falcon
Amazfit has left no stone unturned and no price segment empty. The Amazfit Falcon is a multi-sport smartwatch, with a circular dial design and a rugged finish. The AMOLED display upfront is made of sapphire and comes in a titanium casing for maximum safety, the four control buttons are also made out of the same bracket of materials. The display can go up to a maximum brightness of 1000 nits. The watch picks up both L5 and L1 GPS signals for accurate and strong positioning. Fitness freaks can rejoice as the watch comes with over 150+ sports modes — ranging from Kite Surfing to Golfing. The Falcon passed 15 military-grade tests and is rated for 20ATM water resistance. The 500mAh battery inside can last up to 14 days on typical usage.
Apple Watch Series 8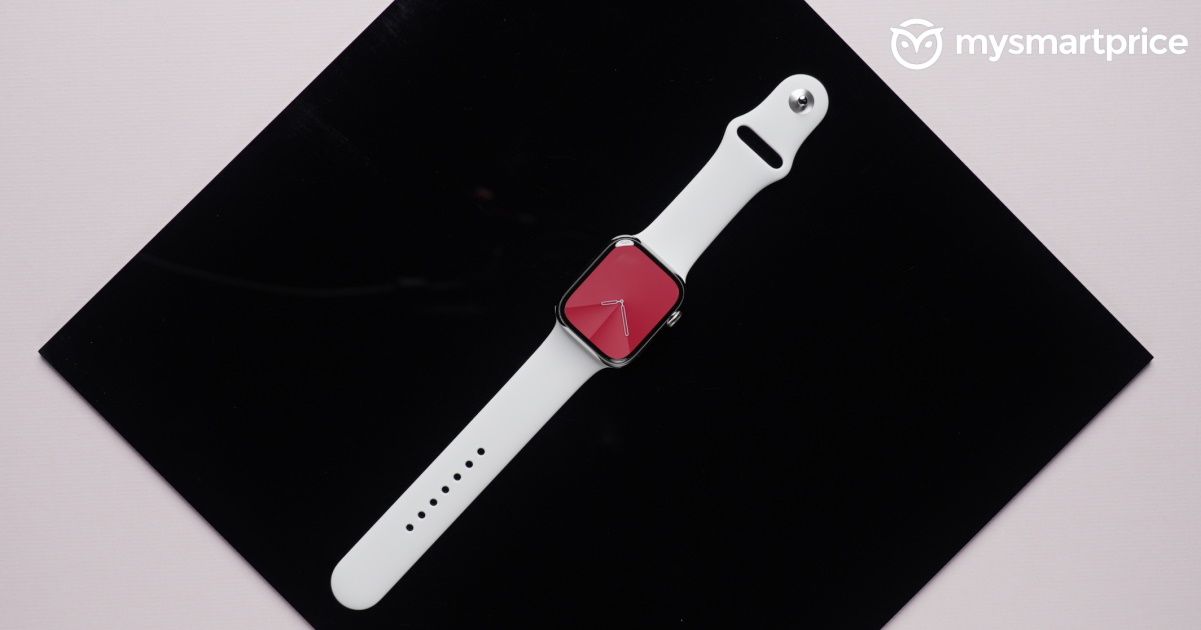 The Apple Watch Series 8 is an upgrade from its predecessor, with a smooth and edgeless design. The Always-on Retina display is one of the best in the market, with a peak brightness of 1000 nits. The Series 8 is also durable and comes with IP6X dust-resistant rating and a WR50 rating for water resistance. Basic health trackings such as SpO2, heart rate, and sleep monitoring are available. The watch can also detect falls and crashes. The Watch Series 8 can fully charge in 60 minutes, and last for 15 hours in regular usage.
Fossil Gen 6
The Fossil Gen 6 is a premium offering from the house of Fossil, and it's one handsome smartwatch with a circular dial that can go with any kind of outfit — be it casual, or professional. Based on the Snapdragon Wear 4100+ platform, the watch glides through the UI with faster app opening times compared to its predecessor. The watch allows you to take and make phone calls and uses Bluetooth for connectivity. The 1.28-inch AMOLED display upfront is capable of producing bright and vibrant colours. Basic health features such as SpO2, sleep and heart rate monitoring are also included. Fossil Gen 6 can charge up to 80 per cent in 30 minutes.
Fitbit Sense 2
Fitbit Sense 2 does not steer clear from its design approach, which began in 2020 with the first edition of Sense. The tiny, boxy wrist-borne companion showcases rounded corners with a 1.6-inch AMOLED display that produces crisp and vibrant colours. The screen looks like a small TV from a cartoon show, especially in the neon colour variant. The Sense 2 has a solid aluminium build and weighs 37 grams with the strap. You get the same 162mAh battery with a run time of six days — a 12-minute charge can get you a day's worth of battery life. Health trackings such as SpO2, heart rate, stress, sleep, and all-day body tracking is also provided. Fitbit Sense 2 is water resistant up to 50m and has a slew of sports modes to choose from.