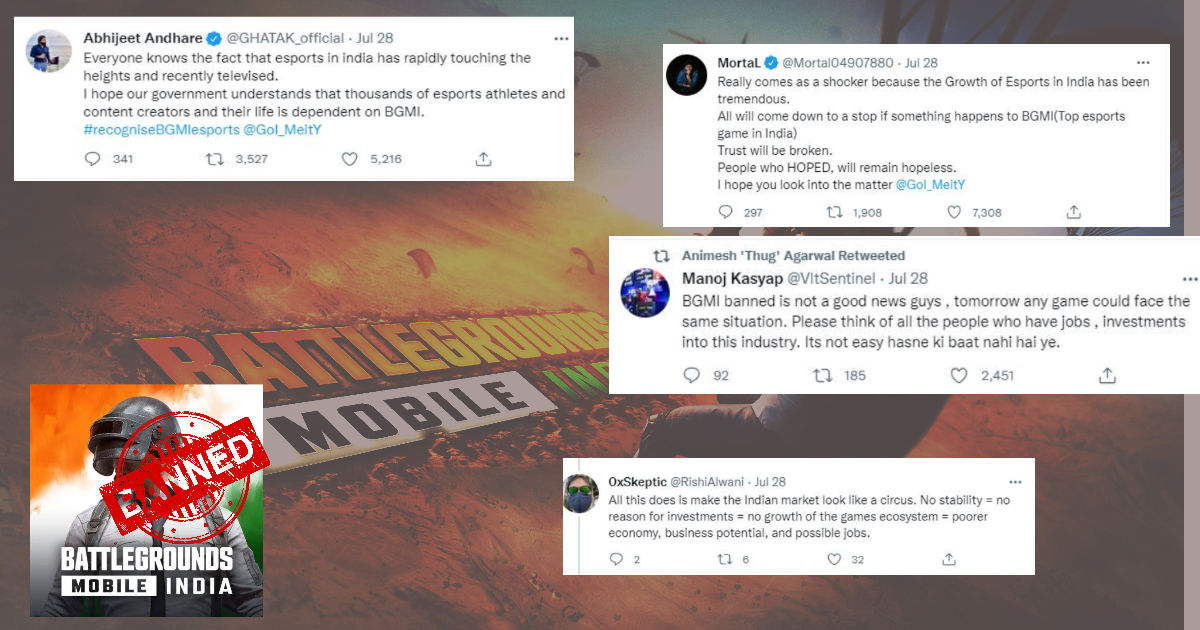 A massive shockwave that came out of nowhere hit the Indian gaming community when the popular battle royale game, BGMI abruptly got delisted from the Google Play Store and the App Store on 28 July. Following Google's statement of removing the game upon the Government's order, fans and all players in the community have been dejected extremely.
A day later, Reuter media reports confirmed that BGMI was banned by the Indian government under the same provisional law that was used to ban Chinese Apps since 2020. Apparently, Krafton supposedly had a meeting with MeitY officials but no news from the inside has come out. BGMI has carved out a niche for itself in the Indian Gaming community and gave birth to an overgrown esports ecosystem in the country which is unseen ever before.
#BGMI blocked or banned? Here's a quick recap since 2018 when PUBG Mobile made its way to India.#bgmibanned #bgmiban pic.twitter.com/yX53e46qZj

— mysmartprice (@mysmartprice) July 29, 2022
Also Read: BGMI Ban Could be a Huge Setback for the Indian Gaming Ecosystem
Having such remarkable popularity and its part in bringing up the Indian esports ecosystem, BGMI's ban has shattered the dreams & hopes of fans and professional players.
BGMI Ban: Fans are unhappy after the Game's removal from Play Store and App Store
"Really comes as a shocker because the Growth of Esports in India has been tremendous. All will come down to a stop if something happens to BGMI(The top esports game in India) Trust will be broken. People who HOPED, will remain hopeless," says Naman Mathur, popularly known as Mortal from S8UL Esports.
The reason behind the app's removal from both the download stores is still unknown and the reported ban is still being questioned by several players. BGMI Maker has replied to MySmartPrice upon reaching them about the issue. "We are clarifying how BGMI was removed from Google Play store and the App store and will let you know once we get specific information," Krafton said in an official statement.
Reacting to this sudden removal, "All this does is make the Indian market look like a circus. No stability = no reason for investments = no growth of the games ecosystem = poorer economy, business potential, and possible jobs. Because the Indian games industry will suffer if this is a long-term ban" says Rishi Alwani on his Twitter Handle.
Ghatak, a well-known personality in IGC tweeted, "Everyone knows the fact that esports in India has rapidly touched heights and was recently televised. I hope our government understands that thousands of esports athletes and content creators and their life is dependent on BGMI." He also mentioned about the number of BGMI audiences is quite massive and is second only to Cricket.
The removal and reported ban of the game came shocking for the fans and they want the game to make a comeback. Currently, no one knows the exact reason behind the app's mysterious suspension and everyone is awaiting an official response along with a clarification over the issue. "The sudden removal is probably aiming towards a blanket ban. This decision will only hurt the gaming ecosystem," Pranav Panpalia, founder of gaming community OpraahFX narrated indianexpress.com. He also added, "There is a million multi-million dollar economy, which is revolving around these games, there are carriers which are associated with it. So, banning it doesn't make sense to me."
"Despite the developers changing the server location and elements of the game, according to the government norms, this has still happened. I believe this is absolutely wrong and will affect online gaming streamers like me, who rely on BGMI for their bread and butter," says Abhay Singh aka Thugboimax, a popular YouTuber with 28 Lakh Subscribers.
Also Read: Is Battlegrounds Mobile India (BGMI) Unban in the Cards? Here's a Look at the Possibilities
While the ban left millions of players and organizations dejected, few believe that BGMI has been in the news for all the bad purposes, and this was inevitable."With the recent incident of a boy killing his mother over a BGMI argument, the game had yet again come under the radar of the government and marked it as unsafe for young adults," said Rohit Agarwal, founder and director of Alpha Zegus. An NGO in India named Prahar has appealed to the Government to take action against the game after the matricide media report took place in Lucknow. After the Game got removed, the organization thanked the Government for banning the game.
They banned bgmi for national security reasons,while the top brands in india is running with Chinese investors.may be you can fool your anth bakths,not us.
Anyway,thanks for destroying so many youngsters dreams,dedication and hardwork in a single statement.#BGMI #bgmibanned pic.twitter.com/1MwWMvfR2r

— Mr Nikaal (@MNikaal) July 30, 2022
BGMI is supposedly banned under Section 69A of the IT Act which is the same law used to ban Chinese apps which are a threat to national security. It is believed that Tencent holds some prime stakeholdings at Krafton whose linkages and relations were questioned by Prahar. After the news came out that BGMI was banned, citing national security reasons, several people are asking to impose a ban on several companies operating in India, in which Tencent holds its shares.
The Indian Government have not yet any public announcement regarding the game's ban and moreover, Krafton also has not revealed any information on this issue. It is yet to be seen whether the game gets a permanent ban in the coming days or Krafton manages to pull it back on the line. Let's keep our fingers crossed and hope for the best while awaiting the game's re-arrival.
Also Read: BGMI Banned? Here are the 5 Best Alternatives: Apex Legends Mobile, COD Mobile, and More