Highlights
Nodwin Gaming x Rooter BGMI Champions Cup concluded with Gladiators Esports walking away as the champions.
The team staged an incredible showcase, surging to the top with domination and being rewarded with Rs 12 lakhs prize money.
Revenant Esports finished the tournament as the runner-up while 8 Bit Esports came third in the event.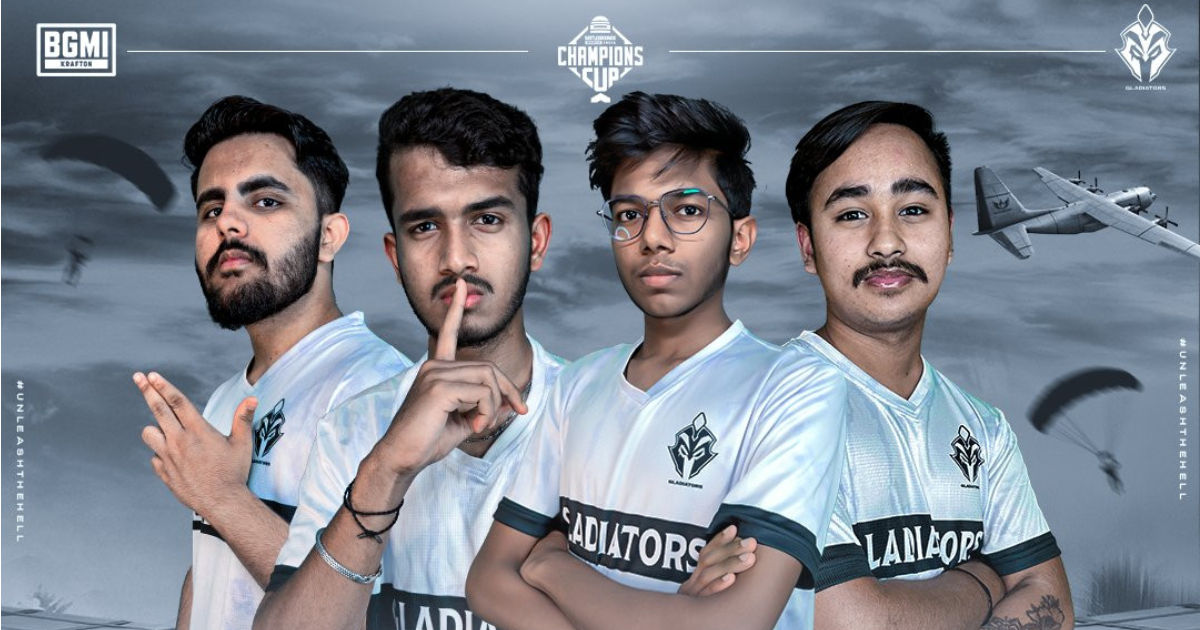 Gladiators Esports emerged as the champions of Nodwin Gaming x Rooter BGMI Champions Cup with their exceptional and dominating performance in the thrilling grand finals. The Grand Finals of BMCC which took place from 29 June to 2 July, Gladiators Esports dominated each matchday and set a huge benchmark score on the overall leaderboard throughout the Finals.
Gladiators Esports, led by Destro which consists of star players DeltaPG, Justin (formerly played for Chemin Esports) and new talent Shogun, showcased a great performance that eventually led to their win. Revenant Esports, led by Sensei, had a great tournament having finished as the runner-up with 194 points and 117 finishes.
Also Read: Microsoft Xbox Series S 1TB to Cost Rs 38,990 in India, Launch on September 1
Gladiators Esports Crowned Champions of BGMI Champions Cup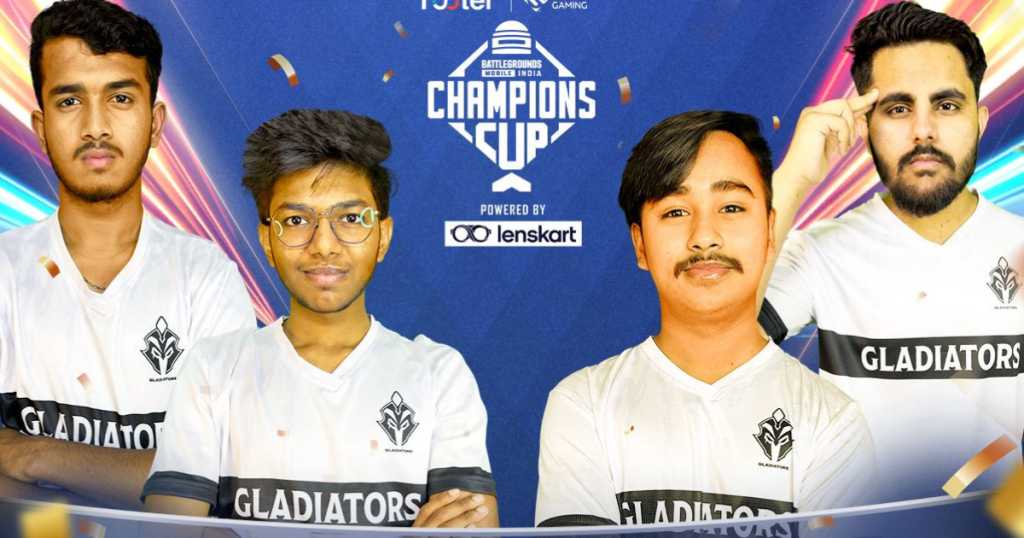 Gladiators Esports was rewarded with a hefty cash prize of Rs 12 lakhs. The team accumulated a total of 219 points with 136 finishes while securing four chicken dinners in their 24 matches. DeltaPG of the Gladiators took home the MVP award with 41 kills.
⏭️Pushing it to the very limits are @RevenantIndia

Falling just shy of the crown, with a difference of 25 points on the leaderboard their journey was a testament to the resilience💪 of true warriors! Kudos to them 🙌

Thanks for watching ❤️ Stay tuned for more updates!#BMCC pic.twitter.com/RWmOQwFkHs

— NODWIN Gaming (@NodwinGaming) July 2, 2023
Revenant Esports also took three chicken dinners to their name in their 24 matches. The team was awarded well-deserved prize money of Rs 6 lakhs. Taking Everyone by Surprise 8Bit Esports surprised everyone by taking third place with 173 points. Their flawless gameplay display and perseverance enabled them to outperform expectations and cement their place among the top performers.
Blind Esports finished fourth with 156 points and one Chicken Dinner, demonstrating their ability as a powerful team in the intensely competitive event. Meanwhile, Team Soul secured fifth place with a nail-biting victory in the final game of the event, putting viewers on the edge of their seats.
OR Esports finished sixth, earning Rs 75,000 in prize money. The Jelly-led team suffered a couple of bad games, which cost them a spot in the top three. Big Brother Esports came in seventh, followed by Entity Gaming.
Gods Reign had a poor showing on the final day, June 2, gaining only six points in their final six BGMI Champions Cup matchups. The squad, led by captain Robin, was the top 3 team on the third day but struggled in their crucial matches. Orangutan Gaming and Reckoning Esports performed inconsistently in the Finale, finishing in 15th and 16th place, respectively.
BGMI Champions Cup: Prize Pool Distribution
📢Announcing the undeniable champions of ROOTER x Nodwin BGMI Champions Cup @gladiators_esp🏆

Coming on top of the table with a total of 219 points post Day 4 Finals 🔥

Thanks for watching ❤️ Stay tuned for more updates! #BMCC #BGMI #bgmiesports #bgminews pic.twitter.com/dSk9dtkVKa

— NODWIN Gaming (@NodwinGaming) July 2, 2023
The tournament featured a prize pool of Rs 12 lakhs which is distributed among the teams as follows:
Gladiators Esports – Rs 12 lakhs

Revenant Esports – Rs 6 lakhs

Team 8Bit – Rs 3 lakhs

Blind Esports – Rs 1.5 lakhs

Team Soul – Rs 1 lakh

OR Esports – Rs 75,000

Team Entity – Rs 75,000

Big Brother Esports – Rs 40,000

Gods Reign – Rs 20,000

Gujarat Tigers – Rs 20,000

Numen Esports – Rs 20,000

Team Aladin – Rs 20,000

Medal Esports – Rs 20,000

Team iNSANE – Rs 20,000

Orangutan Gaming – Rs 20,000

Reckoning Esports – Rs 20,000
Also Read: Samsung Introduces a New Era of Gaming With the Launch of Odyssey OLED G9 Gaming Monitors