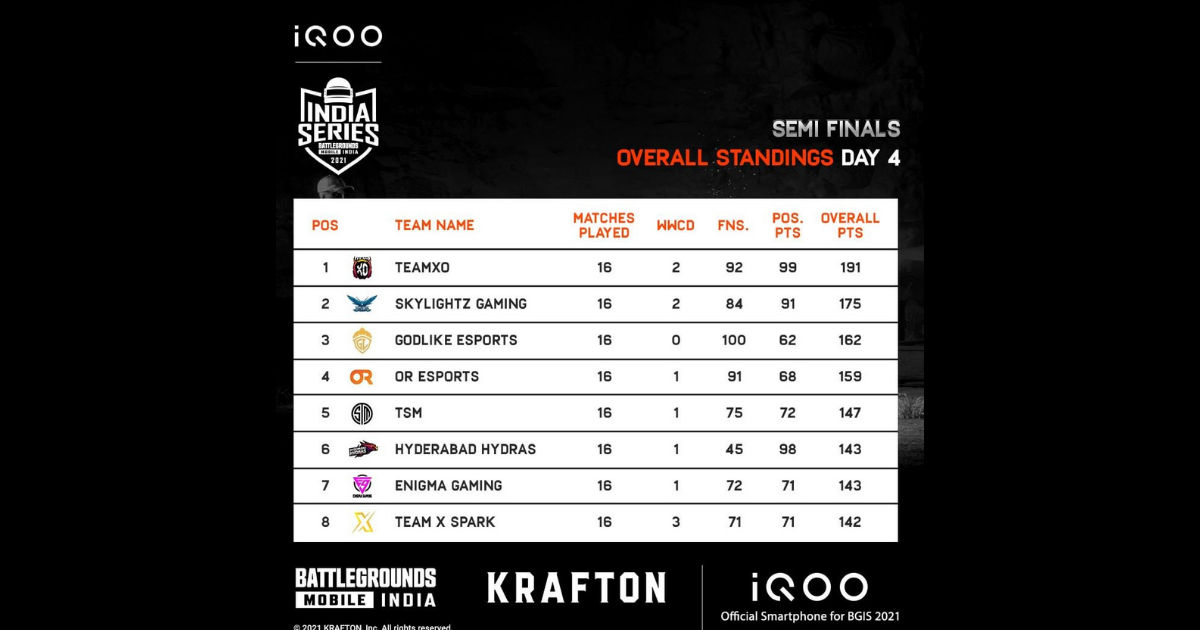 After an intense 4 weeks of elite-level esports competition, the 16 Grand Finalists have now finally emerged in the BGMI Series 2021. After Day 4 of the Semi-Finals, the top 16 teams confirmed their entry into the Grand Finals stage, and these are the teams that will be competing for the grand prize of Rs 50,00,000:
Team XO
Skylightz Gaming
Godlike Esports
OR Esports
TSM
Hyderabad Hydras
Enigma Gaming
Team X Spark
UDog India
Reckoning Esports
R Esports
The Supari Gang
Revenant Esports
Old Hood ESP
Tactical Esports
7SEA Esports
These 16 teams will now go on to play the Grand Finals, starting January 13 2022 from 5 PM onwards. Team XO had a particularly strong showing in the Semi-Finals stage of the tournament and managed to clinch the top spot on the back of 2 WWCDs and a blistering performance that saw them bag 92 Finishes in 16 matches.
Also Read: BGMI India Series 2021: Team 4 Heros, Team PLM Disqualified for Not Following the Rulebook
BGMI Series Inaugural Grand Finalists Now Confirmed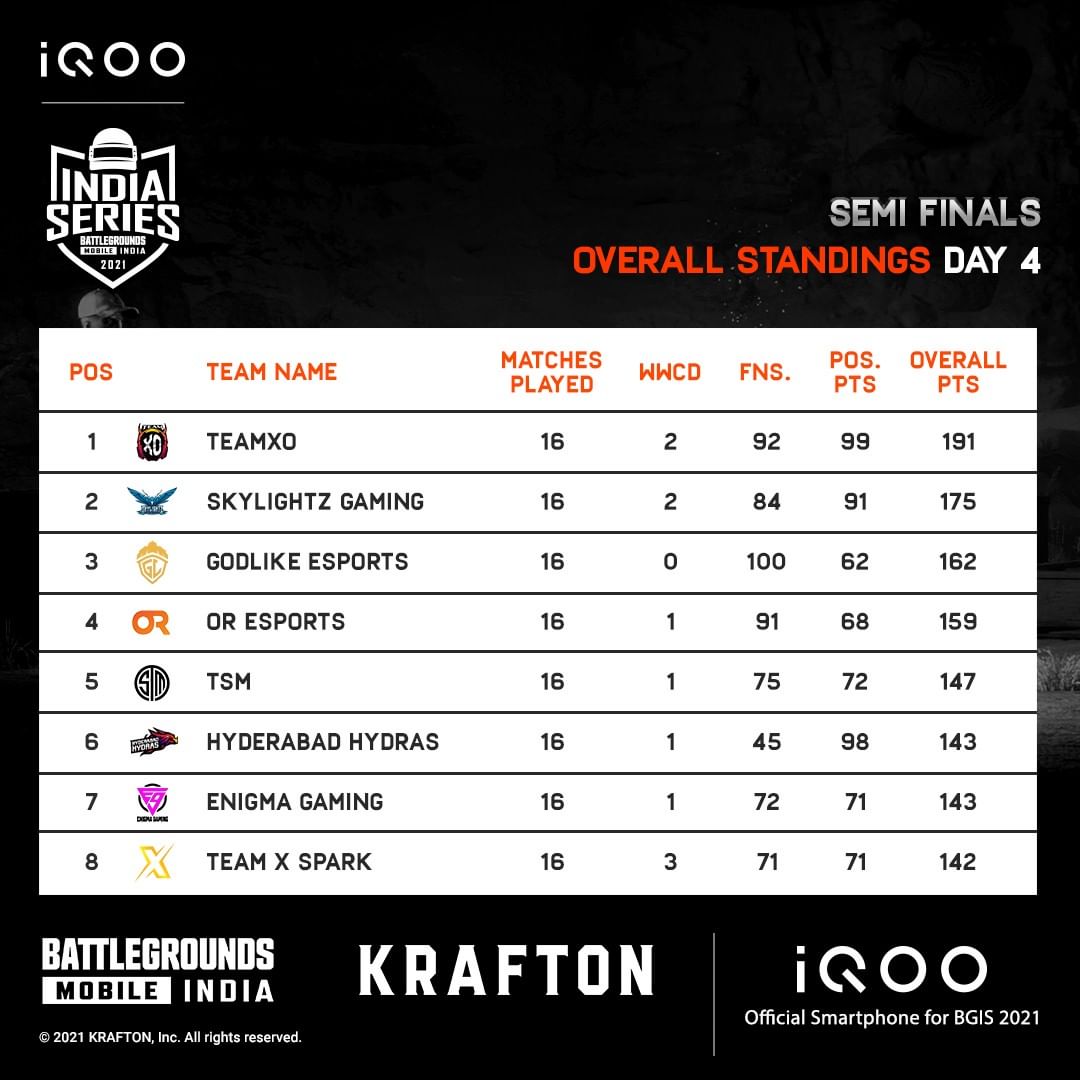 Day 4 was a fairly turbulent affair in the BGMI Series 2021 as many of the top teams struggled to hold on to their positions and slid back down, while many teams on the bottom managed to fight their way back up the table. Team X Spark, Reckoning Esports, and 7SEA Esports, despite having the most amount of WWCDs (3), could not get higher up the table due to the smaller number of Finishes through the 16 games.
Team XO has to be a favourite to win the whole thing when it comes time for the Grand Finals as the team has been relentlessly dominant right out of the gate. The team started off strong by winning The Grind, and then went on to be among the top tier teams through the subsequent rounds of the tournament.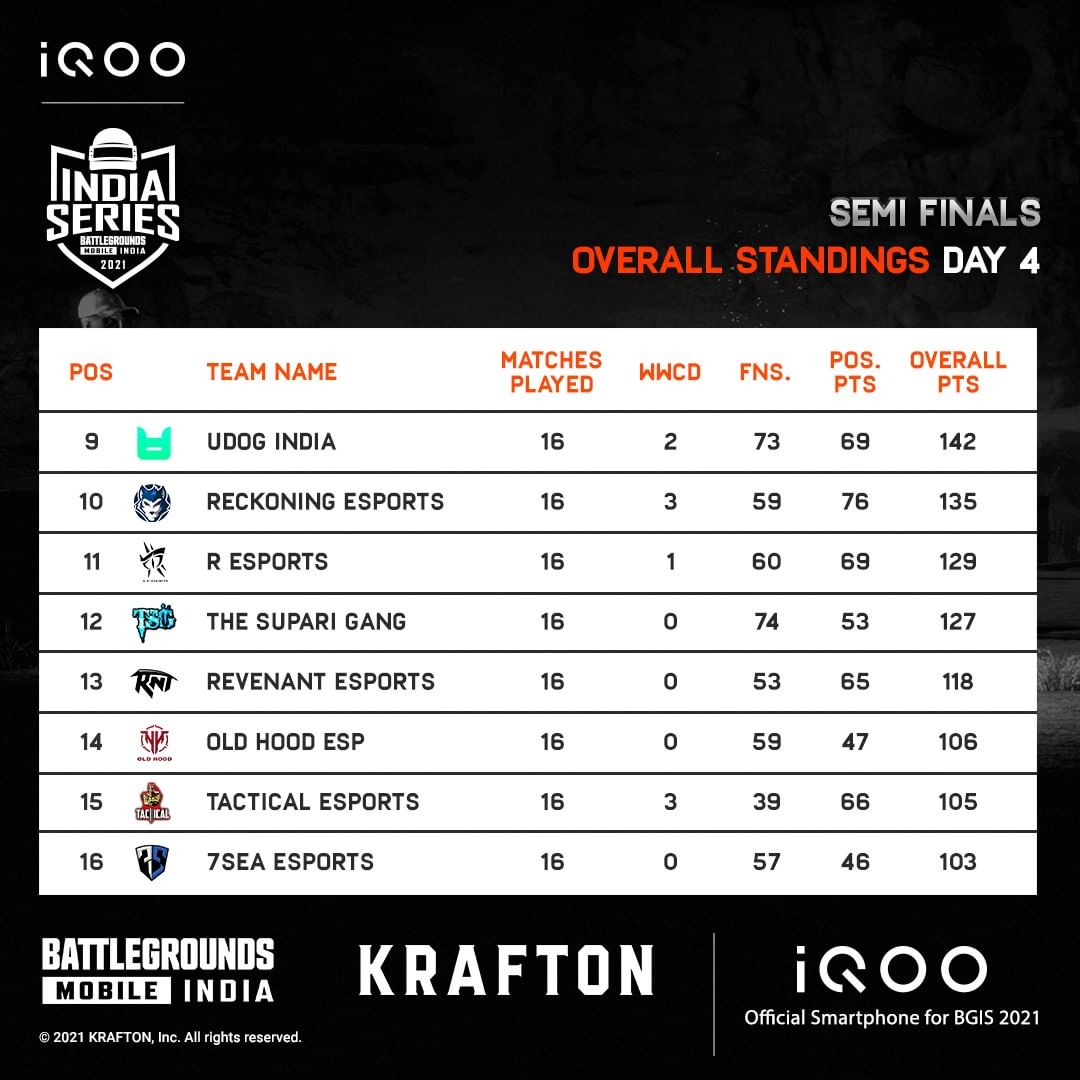 It will be interesting to see if Team XO are able to maintain their dominance and clinch the inaugural BGMI Series 2021 championship title. The top 16 teams qualifying from Semi-Finals will play 24 matches over a time period of 4 days. The squad with the highest cumulative score at the end of 24 matches shall be declared as the winner of iQoo Battlegrounds Mobile India Series 2021.