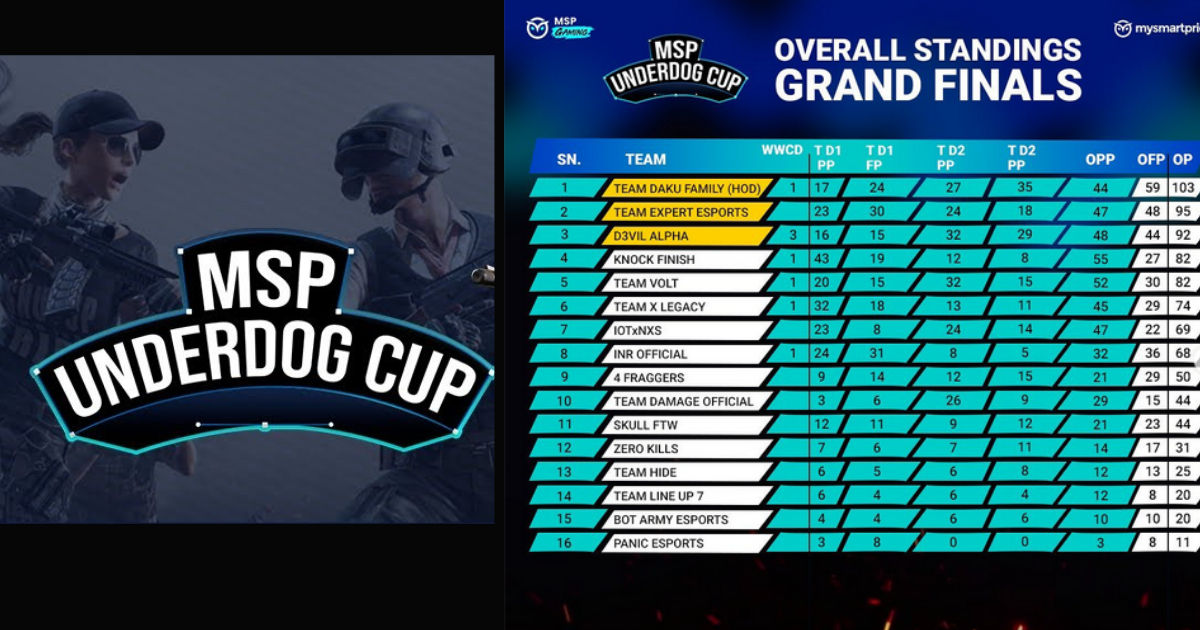 Last month, MSP Gaming under the MySmartPrice banner announced a new event named BGMI MSP Underdog Cup Season 1 in India with a prize pool of Rs 50,000. The tournament's main intention is to provide a chance for the grassroots players of BGMI esports to prove their skillset and make a name for themselves in IGC.
BGMI MSP Underdog Cup had kicked off on April 18, 2022, with over 1000 registered underdog teams. A total of 1000 teams competed in open qualifiers and top performers have made it to the Quarterfinals as well as Semi-Finals. The event has witnessed a complete booming and power-packed BGMI action from the amateur teams in the country.
The tournament had been shaped up nicely as teams have shown immense support and fought for the ultimate glory of winning the event. Following such blistering action, the top 16 teams advanced to the Grand Finals of the MSP Underdog Cup.
Also Read: Ubisoft Confirms Avatar: Frontiers of Pandora, Skull and Bones Launch Slated for 2022
16 Grand Finalists of BGMI MSP Underdog Cup Season 1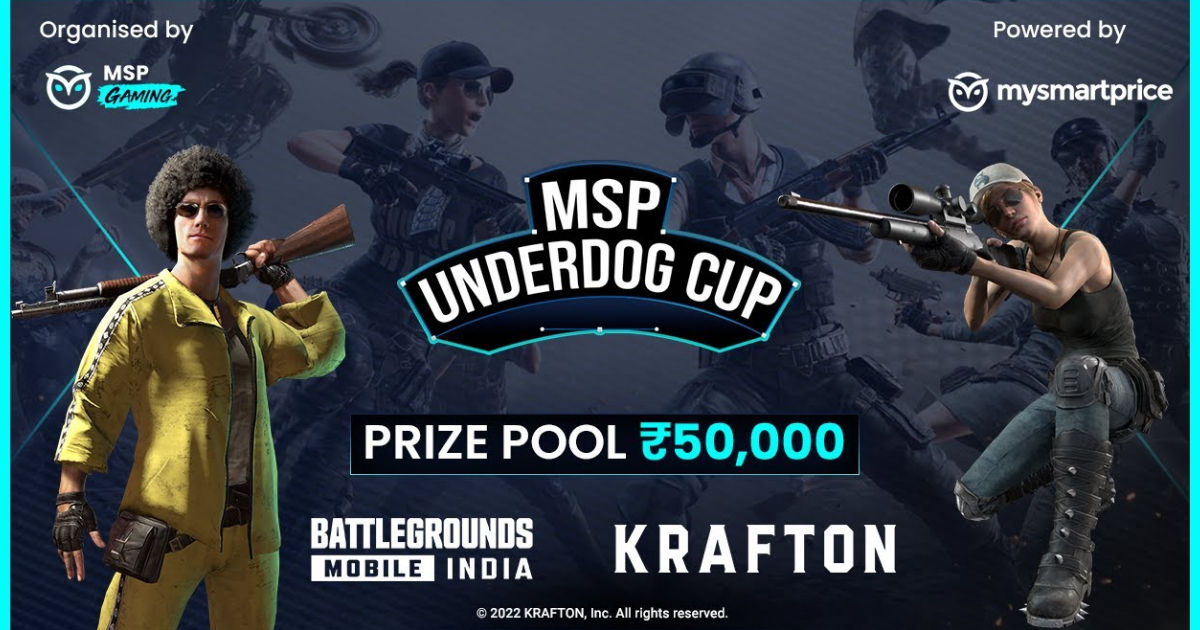 The Grand Finals of this underdog event has taken place on May 9 and 10, 2022. My Smart Price had broadcasted the major stages of this event LIVE on the official YouTube channel of MSP Gaming. Here is the list of teams that had made it to the Grand Finals of the MSP Underdog Cup.
Team Zero Kills
Team Knock Finish
Team 4 FRAGGERS
INR Esports
Skull FTW
Team 4 Kidnapper
Team HOD
Team Hide
Team Expert eSports
Volt
Lineup7
Team Damage Official
Panic eSports
IOTxNXS
Team D3vil Alpha
Bot Army Esports
Check the Grand Finals Overall Standings (Including Day 1 and Day 2) by clicking here.
MSP UnderDog Cup Winners and Runner Ups
Team Daku Family – 103 points (59 finishes)
Team Expert Esports – 95 points (48 finishes)
D3VIL Esports – 92 points (43 finishes)
Team Daku Family has been exceptional with the number of finishes amounting to a total of 59 finishes and 103 overall points (after day 2). With their monumental gameplay, Team Daku Family had bagged the ultimate championship of MSP UDC along with the lion's share of the prize pool. They were rewarded with Rs 20,000 as prize money for the winners and Rs 5000 as the MVP reward.
The team's IGL Hawkeye who is a 22-year-old BCA graduate from Dibrugarh University has been playing BGMI competitive (earlier known as PUBG Mobile) for the past 2 and half years. Having gotten to know about this event through Instagram, he has opened up to MSP expressing their happiness in the event with the following statements:
"We thank MSP for providing us the opportunity to showcase our skillset on such a huge platform. The Management is Friendly and the casting was also superb. Looking forward to tournaments from MSP."
Also Read: BGMI Update 2.0 Schedule Released: Goes Live Today on Android and iOS
Team Expert Esports has secured the second position in the points table with 95 points which made them runner-ups for the event. The team was rewarded with prize money worth Rs 15,000. Lal Singh Bhati, owner of Expert Esports is a real-life soldier from Rajasthan. In response to their position at MSP UDC, the team expressed joy with the following statements about MSP:
"Such a good event of underdog is rarely seen. Very nice management of the MSP server
stream and all very good. We are completely satisfied with this event. We are waiting for more such events."
D3VILS ESPORTS was the team that secured the third position (second runner-up) in the points table after the completion of Day 2 with 92 points. A total of 10,000 INR prize money was given to the team as a reward. Owing to their success, the team has spoken to MSP gaming about the event organization that aims to help underdogs to climb up in IGC. Roshan Singh from D3VIL esports, who is passionate about esports and Gaming stated:
"MSP underdog tournament was provided by our manager and it was a great experience in MSP underdog tournament, the management was very nice and they conduct a well-designed tournament we hope they bring more tournaments like this and thanks to MSP org to bring opportunities for underdogs in eSports."
Most of the players who competed in MSP UDC aspire to become professional BGMI esports players and this event has turned fortunate for them. The event provided the best competition for underdogs who want to make a name for themselves in the industry by showcasing their talent. With such great feedback, it is evident that the organizers had fulfilled their purpose by giving such good opportunities to grassroots players.
MSP Gaming will come back with more events of various esports games in the country. Do follow the official handles of MSP Gaming to stay updated and know more about upcoming events and tournaments. Here are the links to the official handles of MSP Gaming.