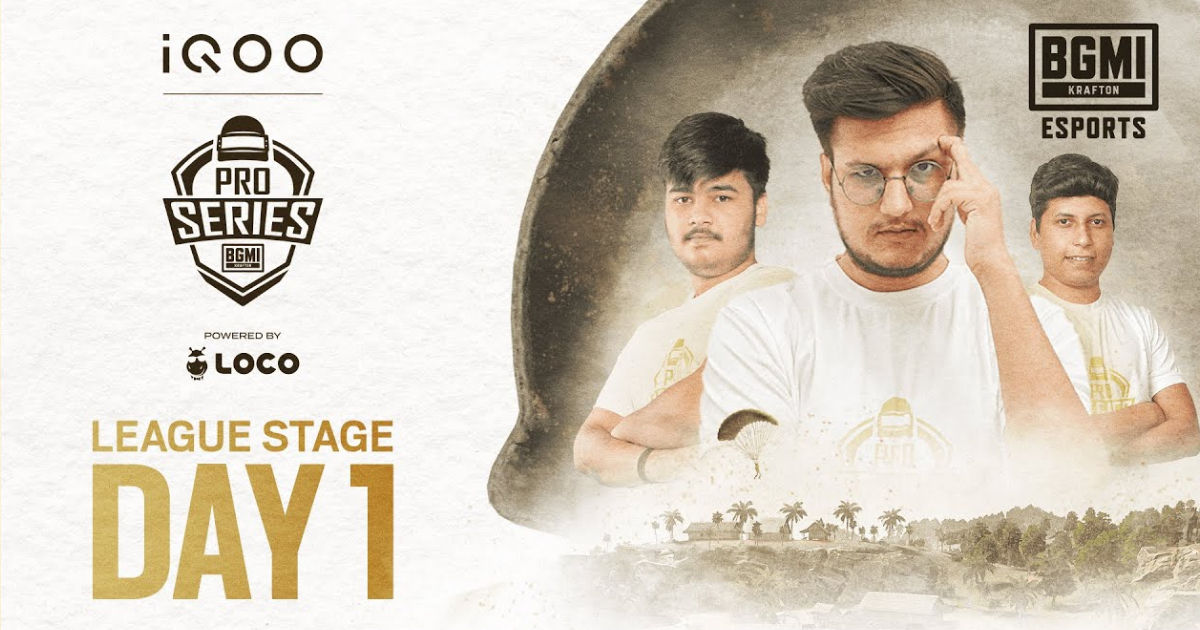 The first-ever Pro Series of BGMI i.e., Battlegrounds Mobile India Pro Series (BMPS) Season 1 had been kicked off its League stage with Day 1. 24 teams qualified from BMOC Round 4 will now be seen in this major BGMI Event where the League stage will go on for three weeks. Day 1 of the BMPS League Stage has taken place and a total of 6 matches were played in a round-robin format.
At the end of the day, it was Team Soul who have shown aggressive gameplay and they have bagged 96 points in their four matches. The underdog team Autobotz Esports took second place with 69 points while securing a couple of WWCDs. Each team would get 4 matches per day as the League stage is set to play in Round-Robin Format. Here are the teams of three groups:
BMPS Season 1 League Stage Day 1 Participating Teams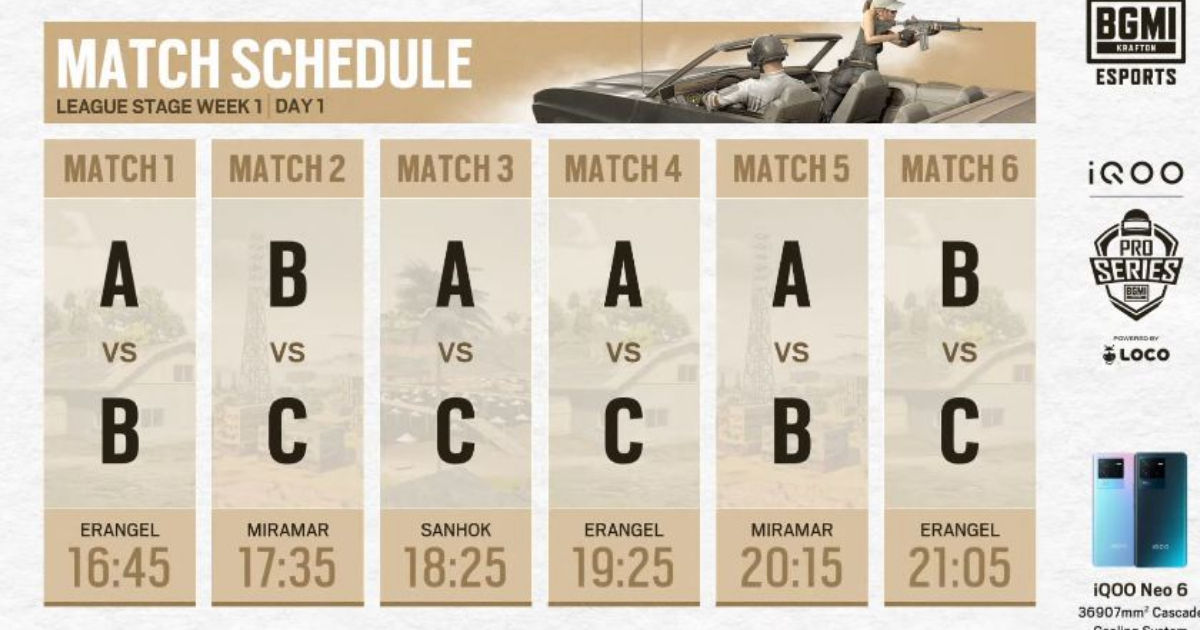 Group A
Global Esports
Hydra Officials
Team INS
Autobotz Esports
Retribution RTR
GOG Esports
Enigma Gaming
WSF Esports (We support Farmers, recently acquired by Esportswala)
Group B
OR Esports
Big Brother Esports
Initiative Academy
Walkouts
Blind Esports
Nigma Galaxy
ACBC Esports
Marcos Gaming
Group C
Hyderabad Hydras
Soul
XO
Kinetic Esports
R Esports
UP50 Esports
FS Esports
7Sea Esports
BMPS S1 League Stage Day 1 Overall Standings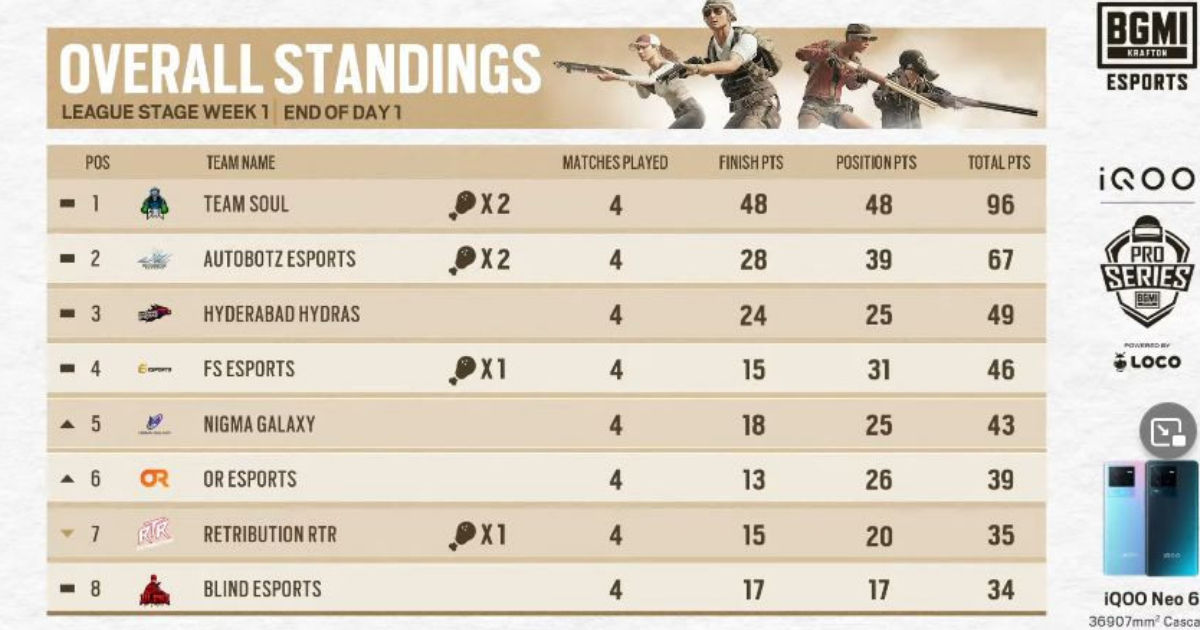 The first match of the League stage day 1 was played on Erangel and it was won by Autobotz Esports with a massive total of 13 kills.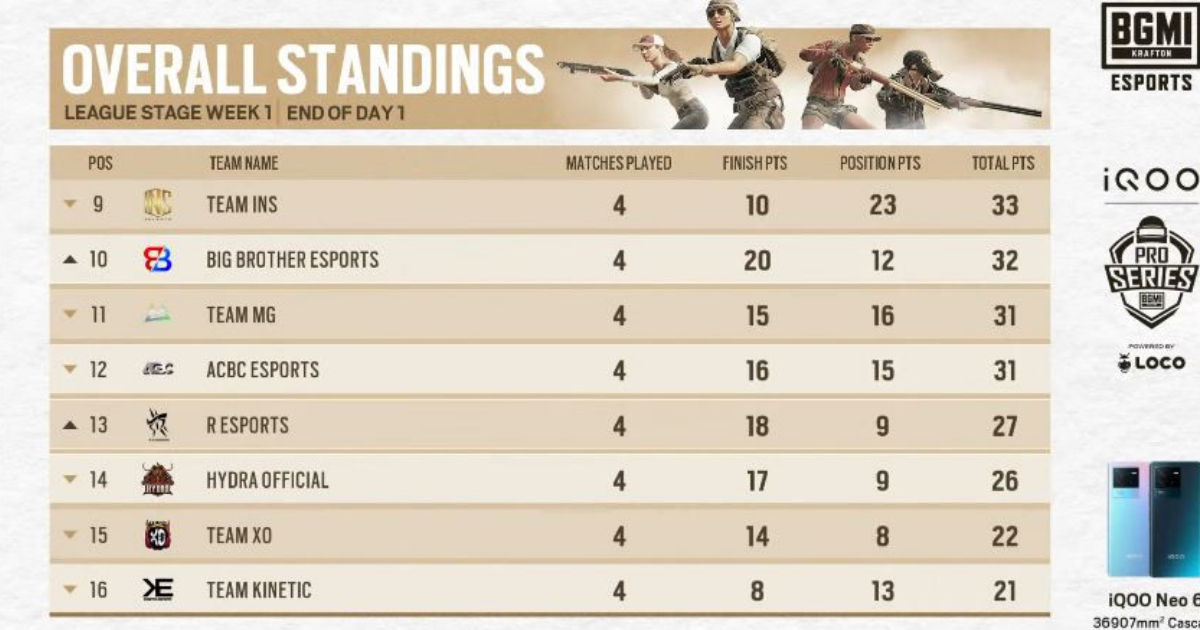 The second match of the day was played on the desert map, Miramar, and this match was claimed by Team FS Esports with 6 kills. Team Soul and ACBC Esports have dominated this match with 13 kills and 10 kills respectively.
The third match was played on Sanhok and the fan-favorite team Soul has secured the WWCD in this match with a whopping total of 14 finishes.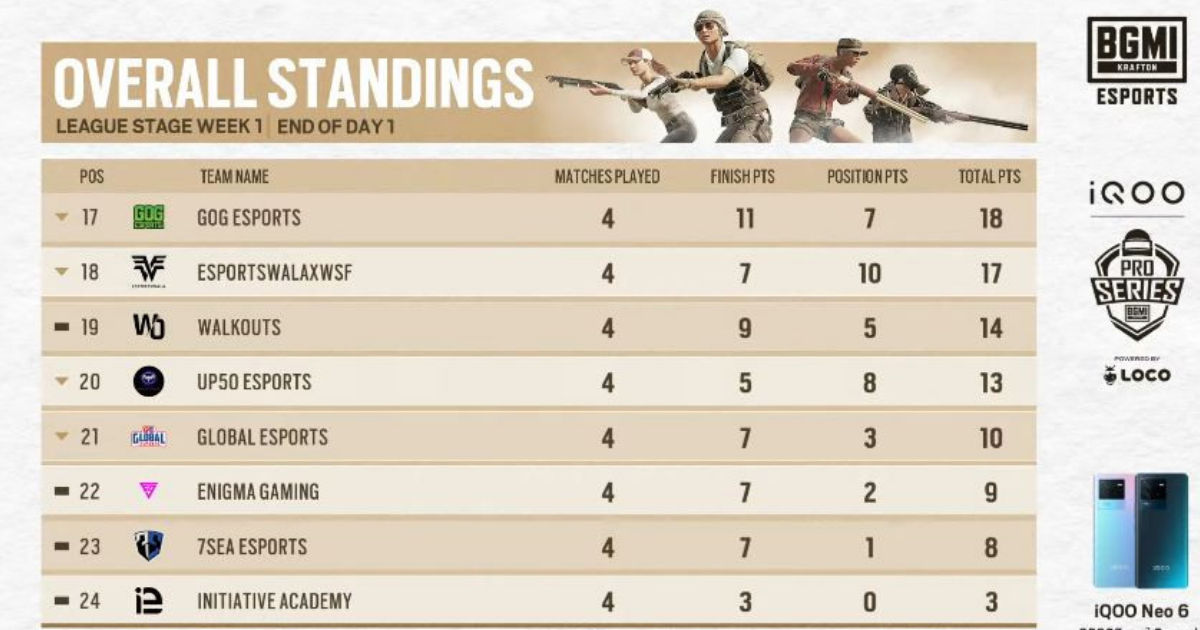 It was team Retribution RTR who emerged victorious in the fourth match with 8 finishes. But Team Hyderabad Hydras who was eliminated at the #2 spot had secured a total f 16 kills while Team Soul had 10 finishes under their name.
The fifth match of the day has seen Team Autobotz Esports winning again with 6 finishes, where OR Esports secured 10 kills.
Team Soul again dominated the final match of the day with 11 finishes where Big Brother Esports took 13 kills but were eliminated early.