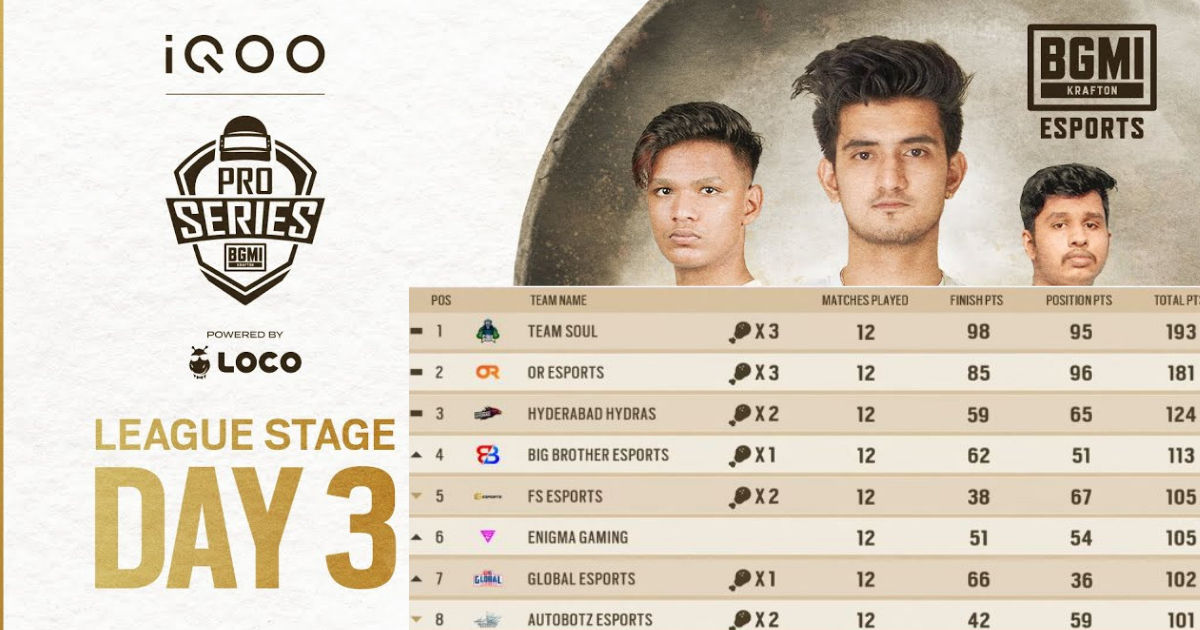 BMPS Season 1 League Stage Day 3 concludes with Team Soul continuing their domination over the points table and they refuse to leave their top spot on the list. The team has been exceptional ever since the roster signed the new players. Under the leadership of Omega, the team has put up a nice show for its fans in BMOC and the ongoing BMPS Season 1.
Team Soul has garnered 193 points after Day 3 concluded and they have secured around 98 finishes. OR Esports is crawling up the table and inching towards the top spot with 181 points and 85 points. Hyderabad Hydras, considering their performance in the past few months, is definitely one of the most underrated teams in the community. They have attained the third position with 124 points. Big Brother Esports, FS Esports, Enigma Gaming, and Global Esports finished in fourth, fifth, sixth, and seventh places respectively.
BMPS Season 1 League Stage Day 3 Overall Standings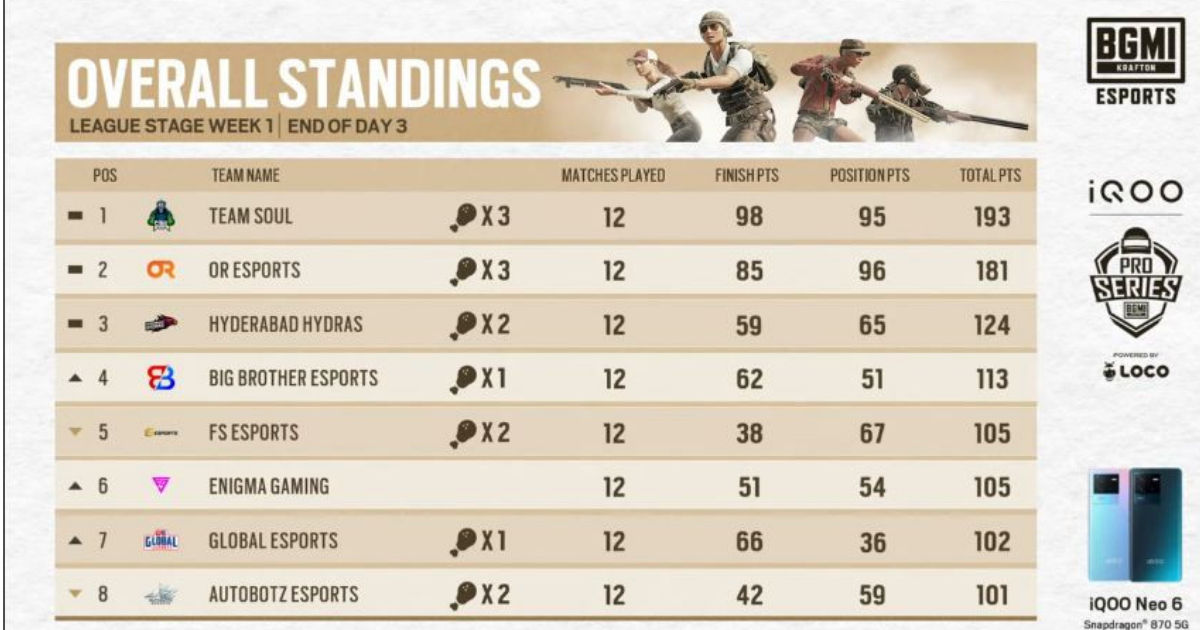 The first match of the day was claimed by Hyderabad Hydras, where Ace black 1vs2 Clutch against FS had led them to victory with 7 finishes. Team FS Esports was eliminated at the second position with 8 kills. Enigma Gaming and Team Kinetic finished in third and fourth spots with 16 points each.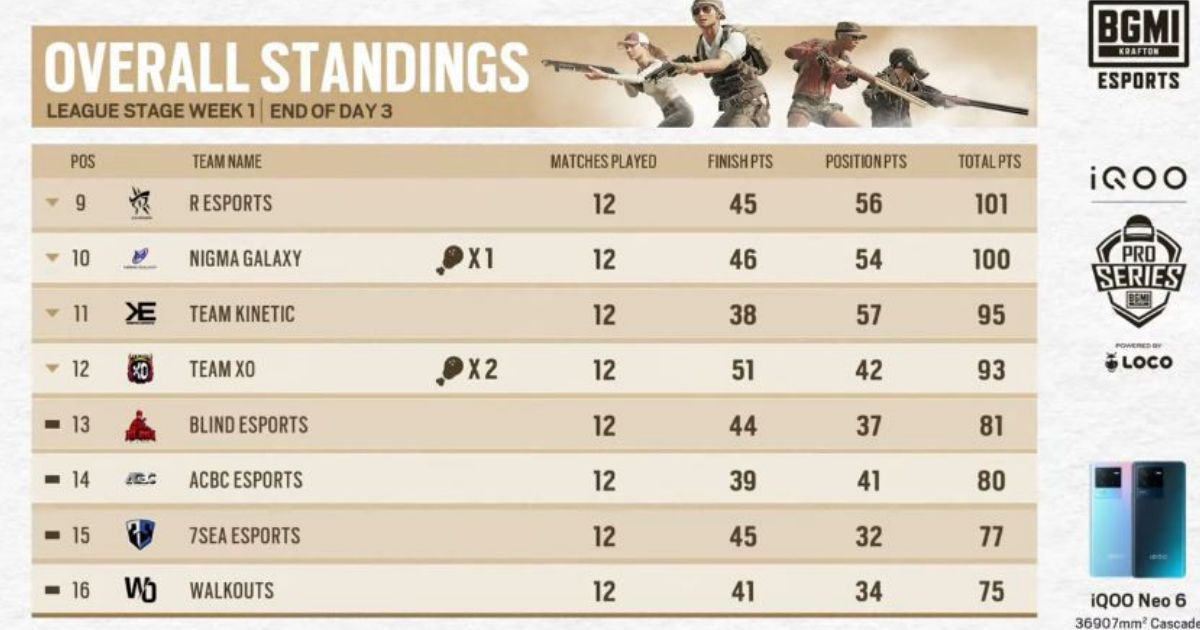 Nigma Galaxy, the reigning champions of the recently concluded BGMI Pro Warrior Cup S2, had secured the Chicken Dinner in the second match with 12 kills. Initiative Academy and Walkouts finished at second and third positions with 23 and 16 points respectively.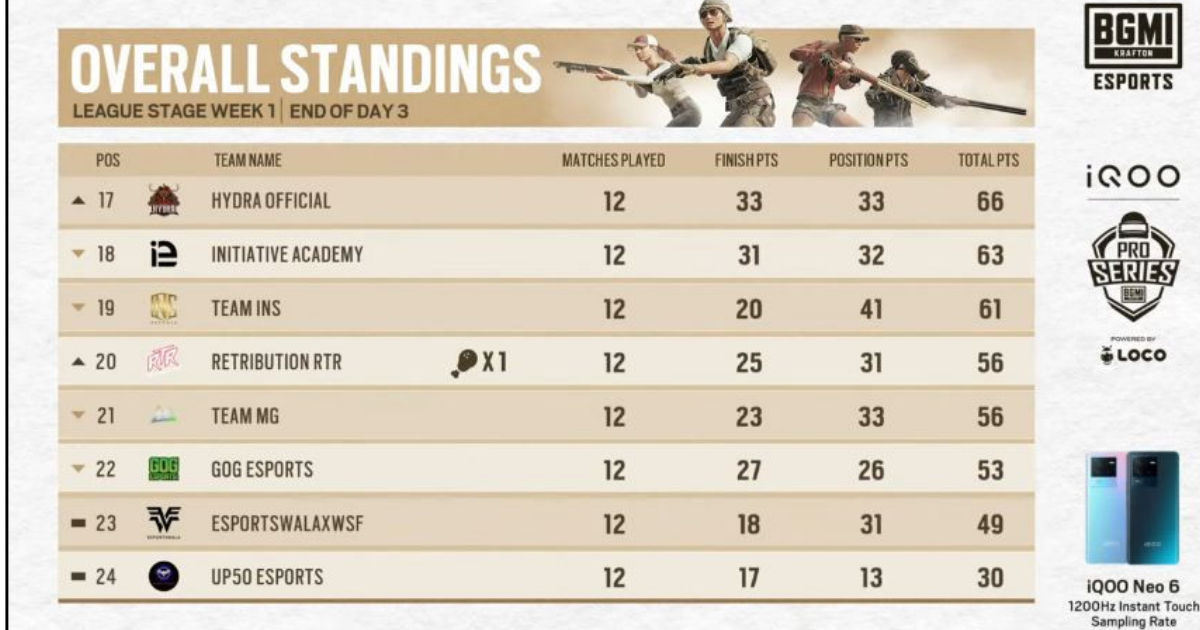 The third match has been good for OR Esports where they had won it with 14 finishes under their name while Team Soul was finished at the second position with 3 finishes. Hector's heal battle had led them to that spot. ACBC Esports finished at the third spot with 15 points.
It was Team FS Esports who claimed the victory in the fourth match of the day with 7 finishes. OR Esports cliched the top spot with the other 11 finishes elimination at the #2 spot.
Team Soul has marked their third Chicken dinner in the event by winning the fifth match of the day with a massive total of 18 kills. Hydra Official finished second with seven frags.
OR Esports again played well in the last match of the day and emerged victorious with 13 finishes. Enigma and WSF placed in second and third spots with 14 and 8 kills, respectively.
The Week 1 of the BMPS Season 1 Concludes today with the fourth matchday. Catch the Live Stream starting at 4:30 PM IST on LOCO, and the official YT channels of BGMI, IQOO Esports.