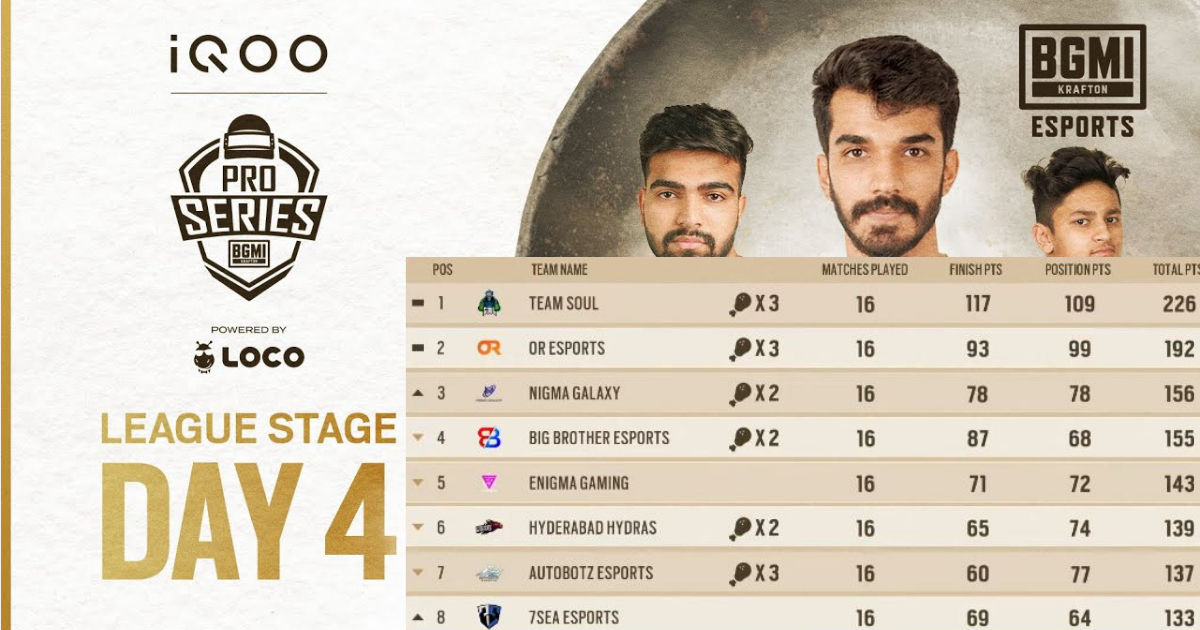 The Week 1 of the BGMI Pro Series League Stage is over as the BMPS Season 1 Day 4 concludes on May 22, 2022. Following the completion of 24 matches of Week 1, Team Soul is standing still on the top of the overall standings with 226 points and 117 finishes. By playing only 16 matches, the team had crossed more than 200 points.
For OR Esports, Day 4 had not been good as they only got 11 points, but they managed to maintain their second position on the standings with 192 points. It was Nigma Galaxy, the champions of BGMI Pro Warrior Cup Season 2 has secured third place on the points table with 156 points. Following them closely is Big Brother Esports with 155 points.
Enigma Gaming is the only team in the top 7 having no chicken dinner. 7 Sea Esports had a very great day as they came top 9 the position from 15th position. Team XO had fallen down to 17th position following a bad day while Hydra Official came to the 13th position with 116 points.
BMPS Season 1 League Stage Day 4 Overall Standings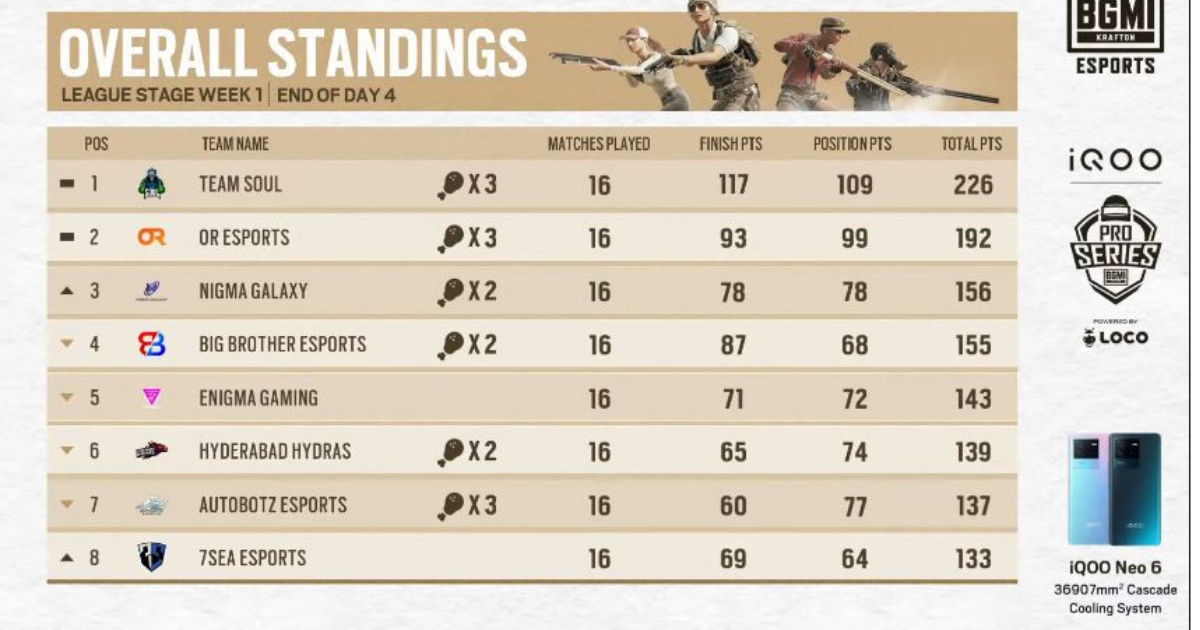 Team INS kicks off the day with an impressive win in the first match where they secured a total of 14 finishes under their name. Joker from INS has been awarded the MVP title for his 7 finishes. Nigma Galaxy was eliminated earlier but managed to bag 9 frags.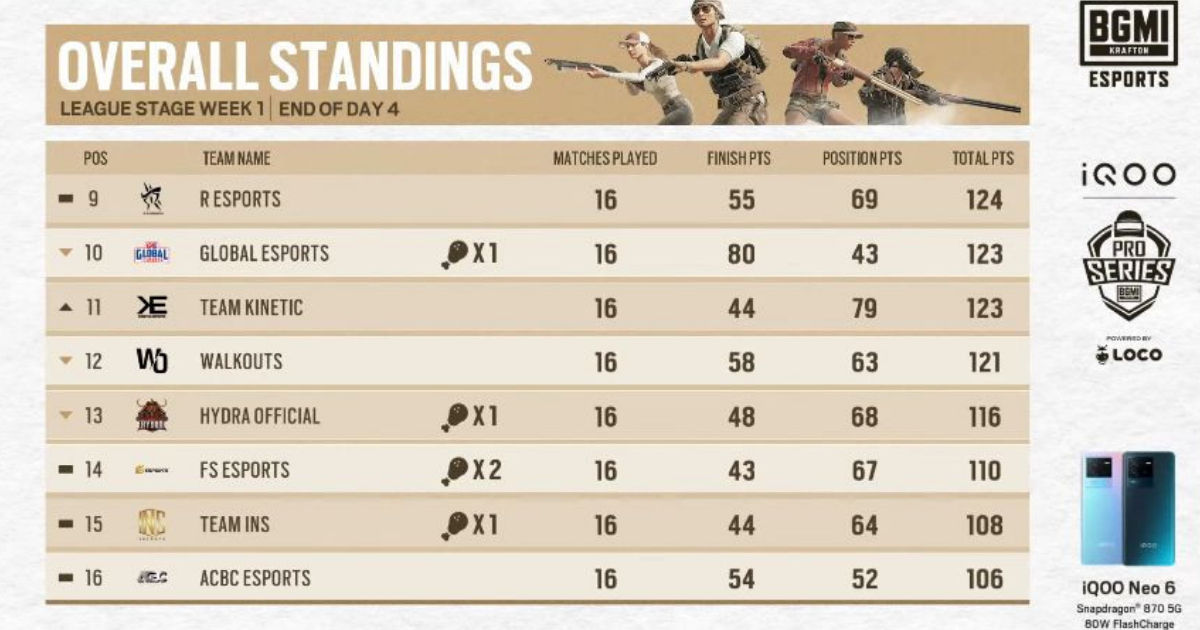 The second match had seen Big Brother Esports marking their win with a 14-kill Chicken Dinner. Walkouts and ACBC Esports had finished in second and third place with 7 frags each.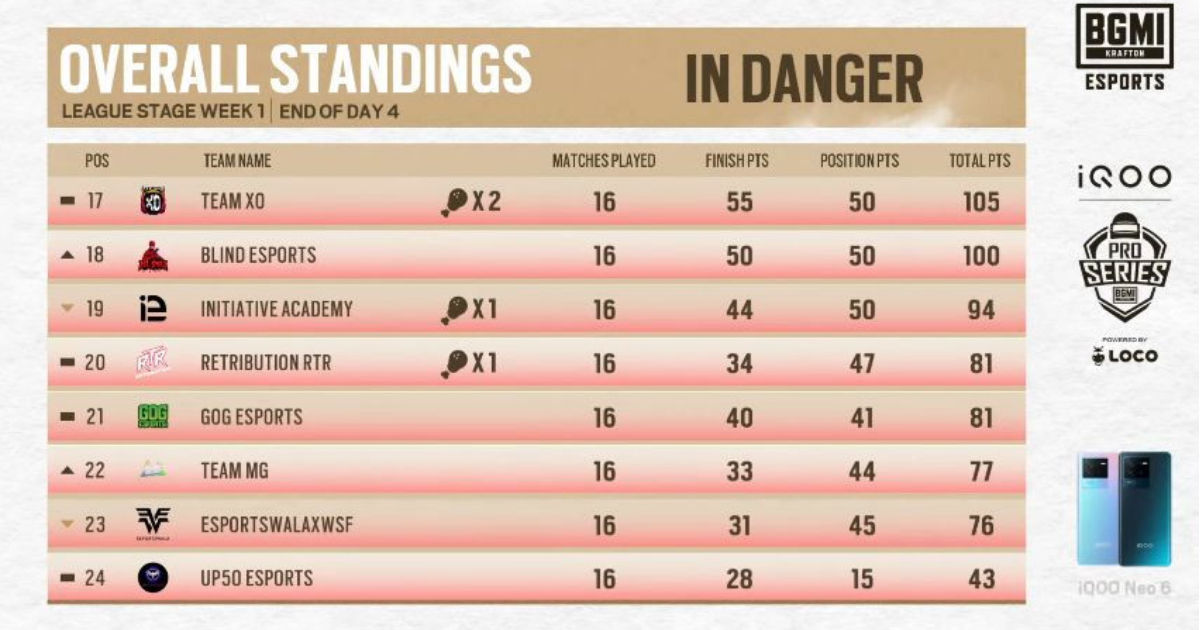 Autobotz Esports has secured their victory in the third match with 9 finishes in total. 7 Sea Esports was eliminated at the second position with 16 points whereas Soul and Enigma managed to grab 16 and 14 points respectively.
It was Hydra Official who emerged victorious in the fourth match and marked their first chicken dinner in the BMPS League Stage. They won the match with 11 finishes by eliminating R Esports at the #2 spot with 7 finishes.
Initiative Academy has put up a nice show in the fifth match and clinched the Chicken dinner with 10 frags. Walkouts were eliminated at the second position with 5 finishes which gave them 17 points in total.
The final match of the day was won by Nigma Galaxy with a good total of 14 finishes. 7Sea Esports managed to grab 18 points. Dreams from NGX was the MVP with 6 finishes and more than 1000 damage.
The Week 2 of the BMPS Season 1 League Stage will take place from 26-29 May and the event will be streamed LIVE on the official YT channels of BGMI, IQOO Esports, and the LOCO platform.