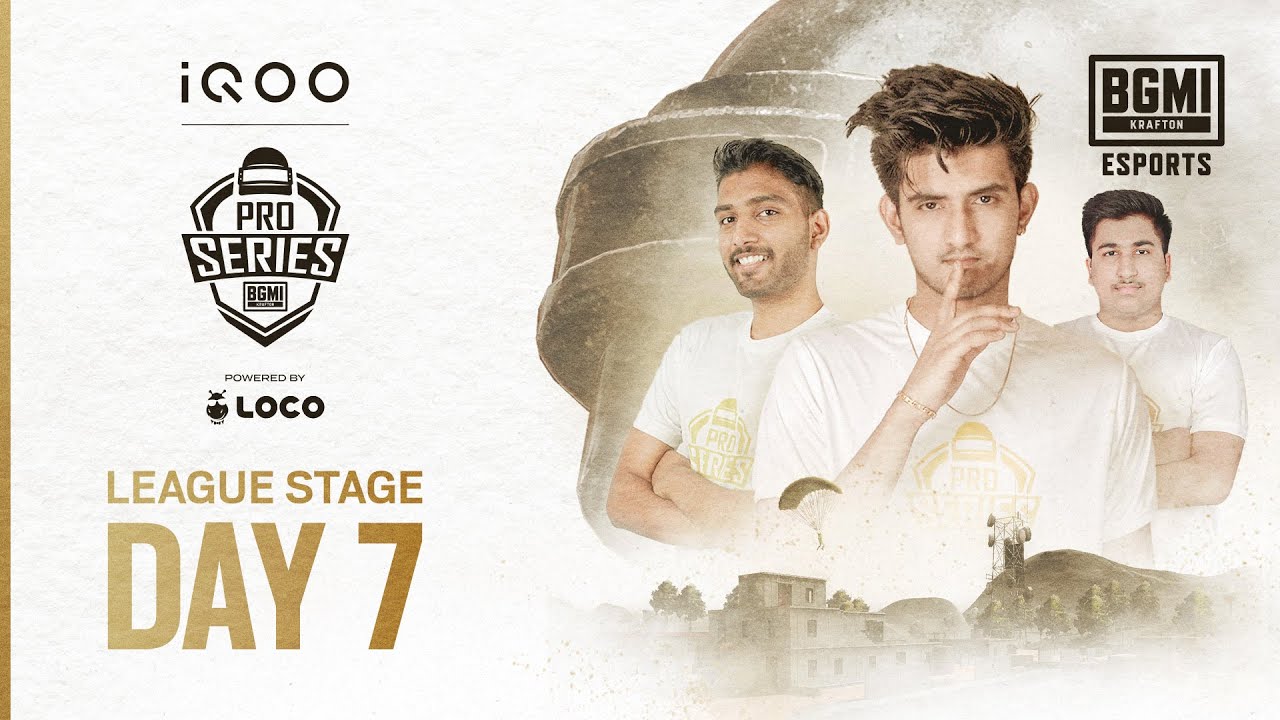 Today marks the end of BMPS Season 1 Day 7 of League Stage Week 2. A total of six matches were played as usual. Team OR Esports is leading the points table and the team raked 51 points on the day which accounts for a total of 405 points (7 chicken dinners). They become the first team to cross 400 points milestone in BMPS while Team Soul had a bad day as they only secured 8 points on the seventh day.
Team Soul stands at #2 on the points table with 319 points and they are followed closely by Team XO who is at the third position with 308 points with 7 Chicken Dinners. Hydra Official is slowly marking their BMPS journey so well as they are taking good no. of finishes and position points. They are at fourth position with 278 points while Nigma Galaxy stepped down to the fifth position.
Hyderabad Hydras, Enigma Gaming, and Global Esports are in sixth, seventh, and eighth positions respectively. Teams that are ranked from 9th to 17th just need a couple of good games to enter the first page of the points table.
BMPS Season 1 League Stage Day 7 Overall Standings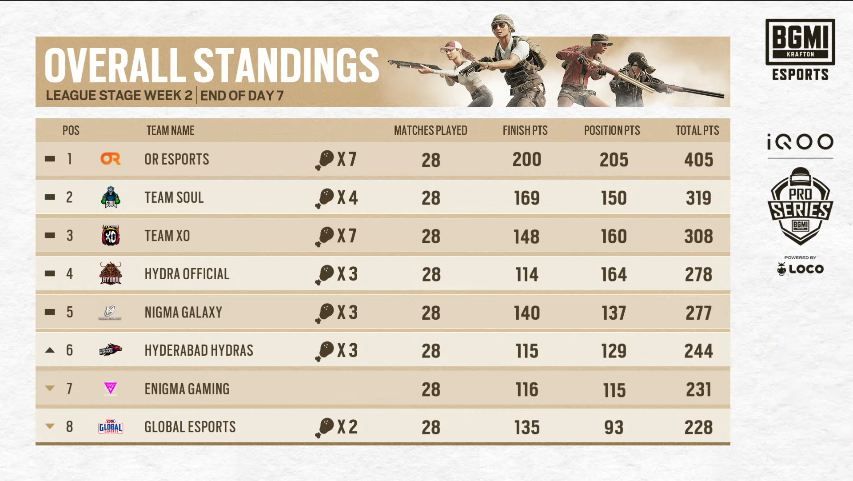 Hydra Official became the champions of the first match that was played on Erangel between Group A and B. They secured a total of 12 finishes while eliminating Nigma Galaxy who had 12 finishes as well. NGXwixxky had taken 2 finishes of Hydra members in the final fight.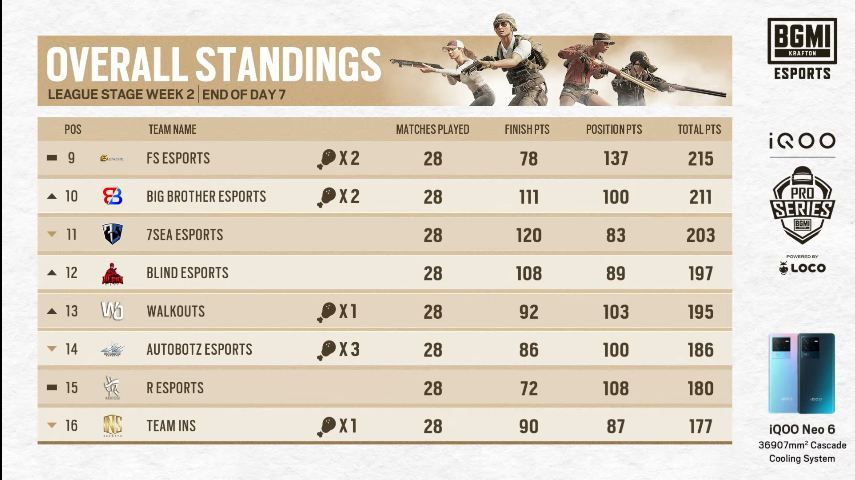 Hyderabad Hydras marked their third Chicken Dinner in the League stage by winning the second match of the day that was played on Miramar. The team secured 12 finishes while eliminating XO at the #2 spot with 6 finishes. Initiative Academy got out at the #3 position while securing 12 kills whereas Marcos Gaming and FS Esports grabbed 8 and 6 kills respectively.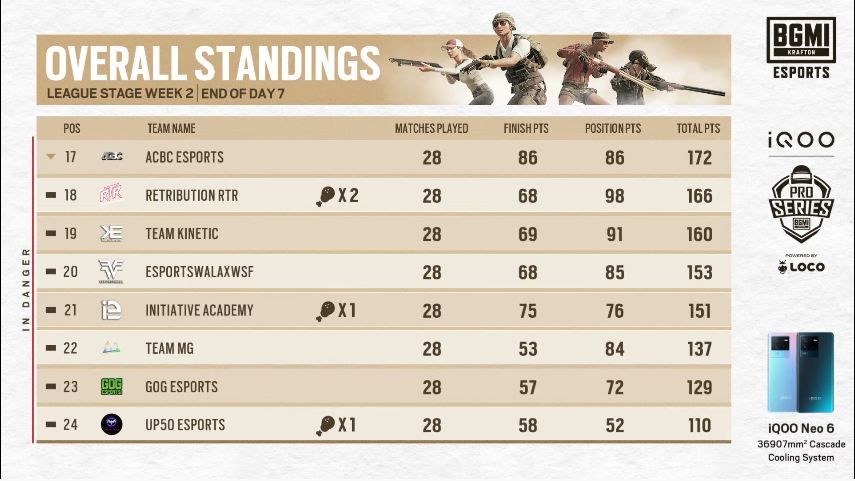 It was Team Retribution RTR who emerged as the champions of the third match that was played on the Vikendi Map with 12 kills. Team hydra ended up in the second position with 5 kills while INS was in the third position with 8 frags. 7Sea Esports was eliminated early but managed to grab 11 finishes.
Team XO had turned the fourth match into an eye feasting show as they claimed a whopping 16-kill victory. They eliminated Global Esports and Enigma Gaming to grab their win who had 8 kills each.
OR Esports had set fire in the fifth match and completely dominated the lobby where they secured a 22-kill victory in Miramar. OR Attanki alone took 10 kills while Aditya took 7 kills under his name. They eliminated Enigma Gaming and Esports Wala at second and third positions respectively.
Team Walkouts had won the final match of the day by playing smart gameplay and secured 13 finishes. MrSpray from WO alone took 8 kills with 1100+ damage. Hyderabad Hydras ended up second on the table with 8 finishes where MaxyOp alone took 8 kills. Blind Esports was eliminated early in the match but managed to grab 10 finishes.
Tomorrow i.e., May 29 will be the final day for IQOO Battlegrounds Mobile Pro Series Season 1 League Stage Week 2. With that conclusion, there would be only 4 matchdays left in the League stage (Week 3) which accounts for 24 matches in total. Fans can catch the event on LIVE Stream that is broadcasted on the official YouTube channels of BGMI, IQOO Esports, and the Loco streaming platform. Here is the match schedule for the BMPS Season 1 Day 8:
04:40 PM – Erangel

05:32 PM – Miramar

06:24 PM – Vikendi

07:22 PM – Erangel

08:14 PM – Miramar

09:03 PM – Erangel