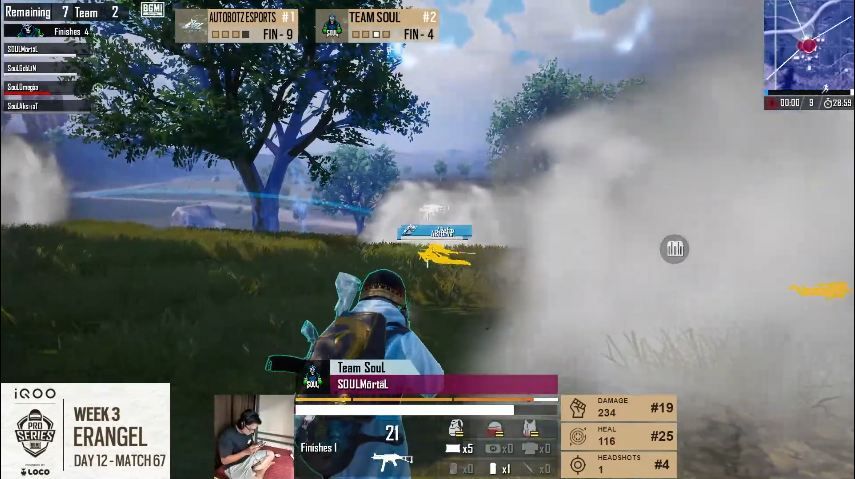 Today marks the end of BMPS Season 1 League Stage Week 3 Day 12 which concludes the most prominent and major phase of the BGMI's first-ever Pro Series. At the end of the Day 12, a set of 16 top-performing teams have been seeded into the BMPS season 1 Grand Finals where they will be fighting for the ultimate glory of the championship title along with the lions' share of the Rs. 2 crore prize pool.
The top 8 teams were already meant to qualify for the Grand Finals but there are no major changes in teams that ranked from 9th to 16th except Blind Esports. They had placed at the fourteenth position on Day 11 and today Esportswala had acquired a place in the top 16 which led them to the qualification for the Finals. Blind esports lost it as they have low position points compared to the 16-placed team.
BMPS Season 1 League Stage Week 3 Day 12 Overall Standings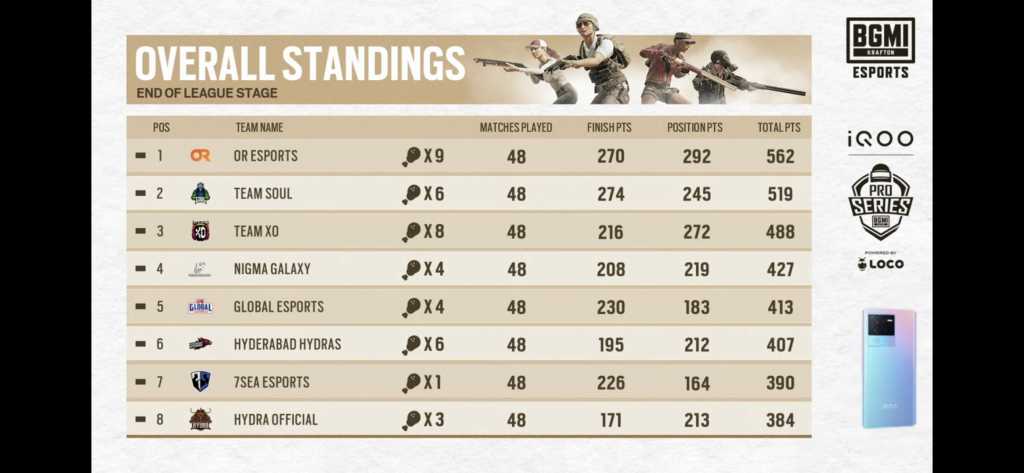 Team Soul has picked the momentum in the first match of the day and they had won it with 7 kills, whereas Mortal took 2 kills. Autobotz took the second spot on the leaderboards with 9 finishes. 7Sea Esports was eliminated early but managed to grab 12 kills under their name.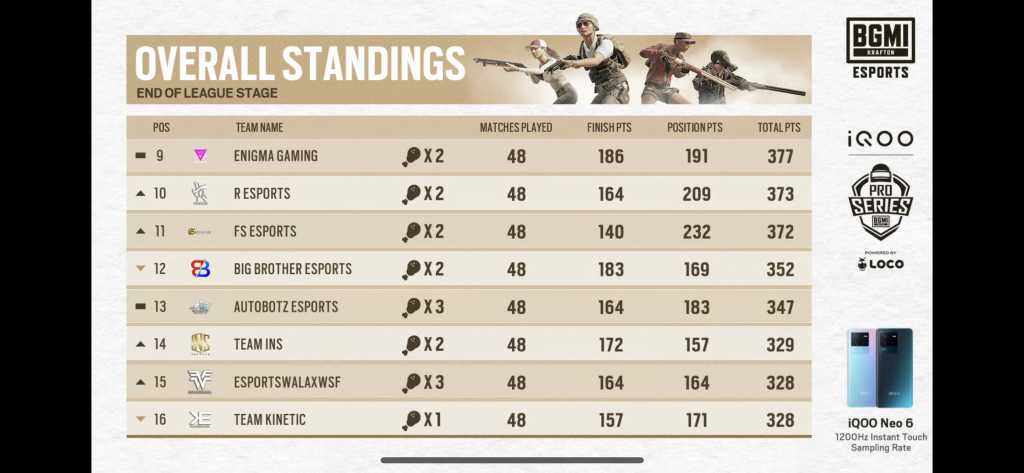 Team Walkouts have got the game they needed in the second match and they won it with 9 kills. The team eliminated ACBC Esports at the second spot with 9 frags while OR Esports was finished at the third spot. Autbotz secured 6 kills, while INS and Esportswala took 5 kills each.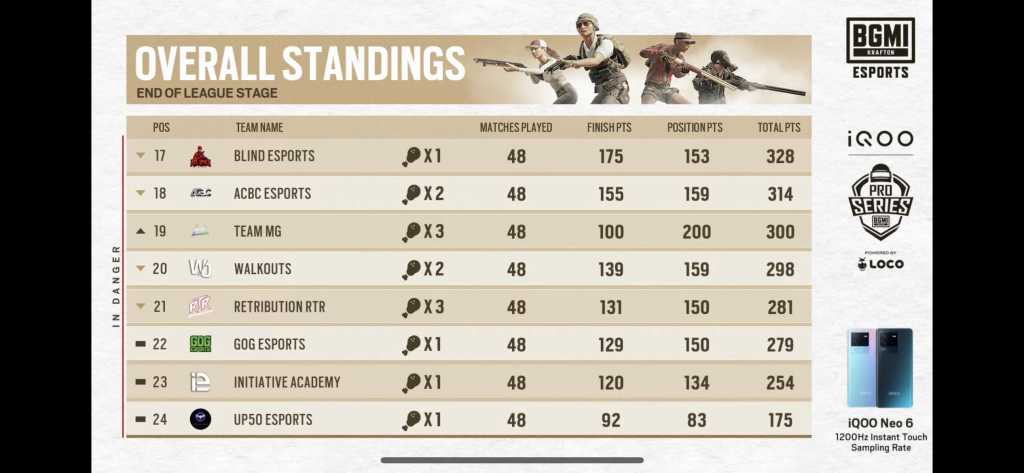 Hyderabad Hydras has taken their victory in the third match of the day with 7 finishes on Vikendi where they outperformed BB Esports in the last fight to claim their win. 7 SEA Esports played well in this match and secured 12 finishes like in the first match. Kinetic also took 7 kills while FS Esports took 6 frags.
R Esports had taken the final circle of the fourth match in their control and they won it by securing 9 finishes while eliminating FS Esports who has 9 kills. OR Esports took 6 kills whereas Hyderabad Hydras secured 7 frags.
Esportswala X WSF had emerged victorious in the fifth match of the day with 9 kills in total and they eliminated team Soul at e second spot with 12 kills. Team INS secured 13 kills while Kinetic took 8 frags.
The last match of the day was claimed by team Esportswala where they secured a whopping total of 16 kills. This match has become very crucial for Esportswala and they jumped all the way to the fifteenth position on the overall leaderboards.
BMPS Season 1 Grand Finals Qualified Teams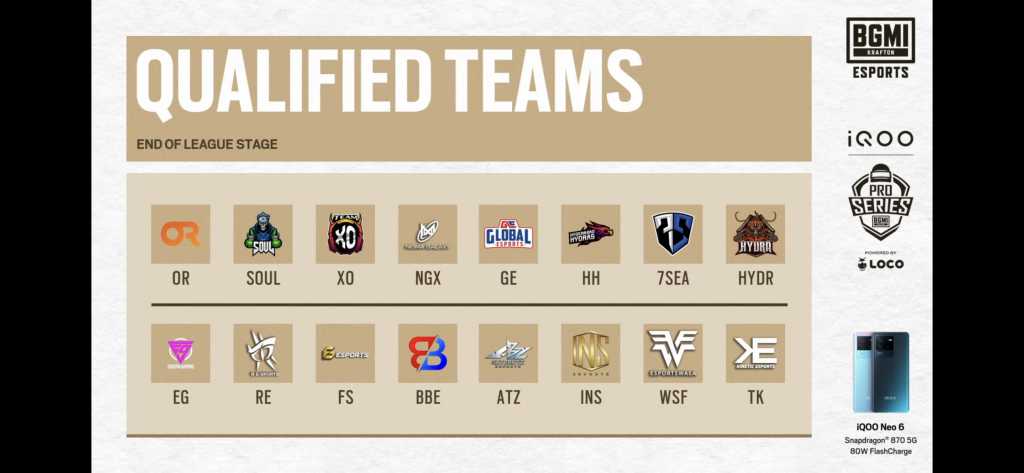 Soul
XO
OR Esports
Global Esports
Hyderabad Hydras
Nigma Galaxy
Enigma Gaming
Hydra Official
7 Sea Esports
R Esports
FS Esports
Autobotz
Big Brother Esports
INS
EsportsWala
Kinetic
BMPS S1 Finals will take place from June 9 to June 12, and a total of 24 matches will be played on four consecutive matchdays. Fans will cheer for their favorite teams and it will be intriguing to see which teams will beomce the table-toppers and grab that massive chunk of this massive prize-pooled event in Indian esports history.
All eyes will be on top-performers like OR, Soul, XO, Global Esports, and a few underdog teams. The event will be broadcasted live on the BGMI's official YouTube Channels and LOCO along with IQOO Esports YouTube Channel. Here is the prize pool distribution for the event:
1st Place: 75 lakhs
2nd Place: 35 lakhs
3rd Place: 20 lakhs
4th Place: 10 lakhs
5th Place: 9 lakhs
6th Place: 7.5 lakhs
7th Place: 5 lakhs
8th Place: 4 lakhs
9th Place: 3 lakhs
10th Place: 2.5 lakhs
11th Place: 2.25 lakhs
12th Place: 2 lakhs
13th Place: 1.75 lakhs
14th Place: 1.5 lakhs
15th Place: 1.25 lakhs
16th Place: 1 lakh
MVP: 2.5 lakhs
Most finishes: 2 lakhs
Lone Survivor: 1 lakh
Rampage: 1 lakh