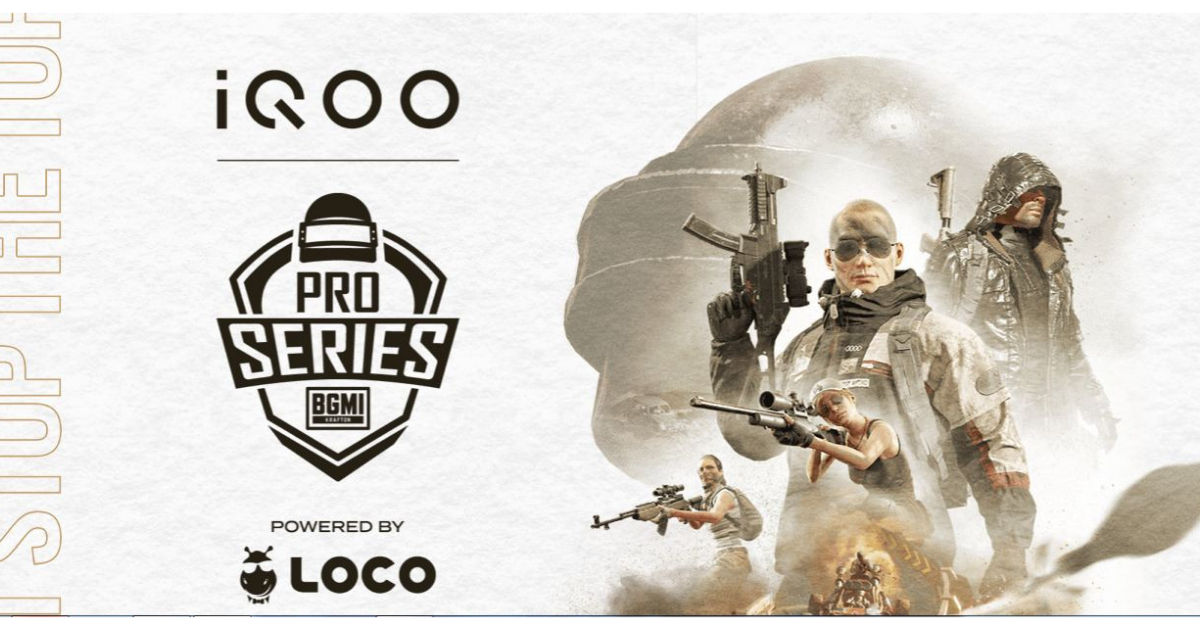 The Battlegrounds Mobile India Open Challenge 2022 (BMOC) concluded successfully yesterday which was May 15, 2022. The tournament has gone long for over a month and everyone is now looking up to BMPS Season 1 (Battlegrounds Mobile Pro Series). With the conclusion of BMOC Round 4, we now have all teams that are going to partake in the next major official event of BGMI.
BMOC 2022 was conducted online in four various rounds from which a total of 24 teams were set to advance for BMPS Season 1 following the fourth round. The last round (4th round) included invited teams from BGIS to compete along with the qualified teams from BMOC Round 3. Since BMOC is concluded, the 24 teams which have qualified for the next major official BGMI event are now revealed. Read on to know more about the qualifying teams, tournament structure, schedule, and more.
BMPS Season 1 Format, Schedule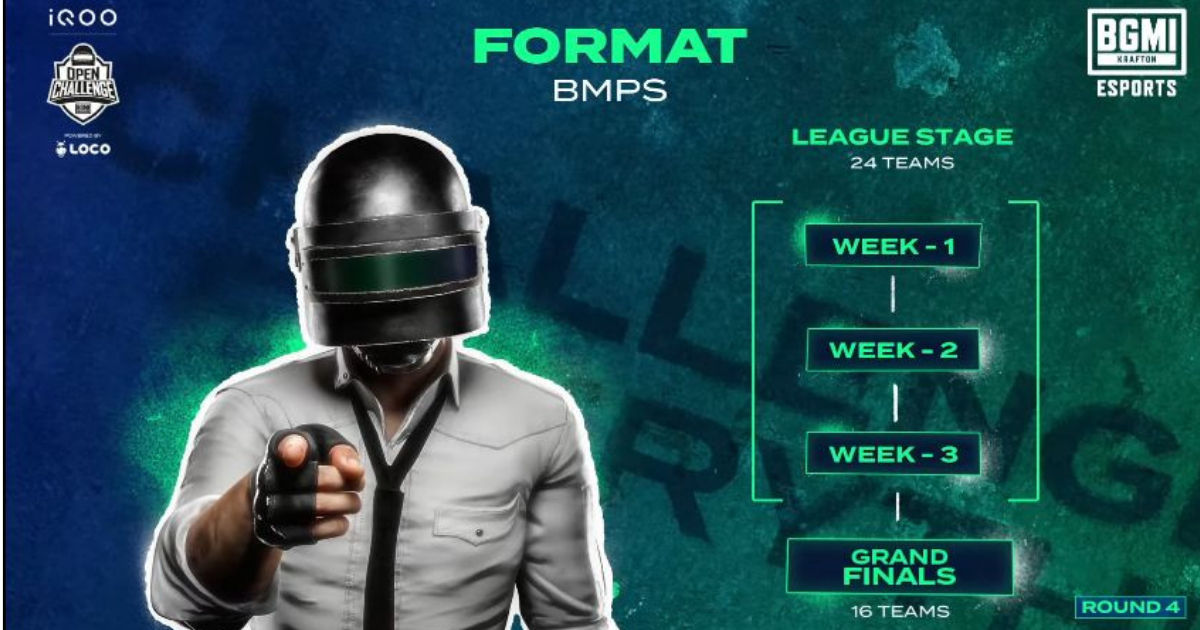 Round 4 featured 64 teams (32 qualified + 32 invited teams) that were seeded into 4 various groups(16 teams per group). Each group had to play 6 matches per day in which the top 6 teams will fill the available slots of BMPS Season 1. The tournament is announced with a 2 Crore INR prize pool, which is the highest for an esports event in India.
BMPS S1 is set to take place from 19th May to June 12th in two stages (the League stage and the Finals). Firstly, the league stage will feature the 24 teams listed below where they will be divided into three groups. These three groups will compete for 3 weeks in a round-robin format (four matchdays for a week).
Here is the schedule for the League stage: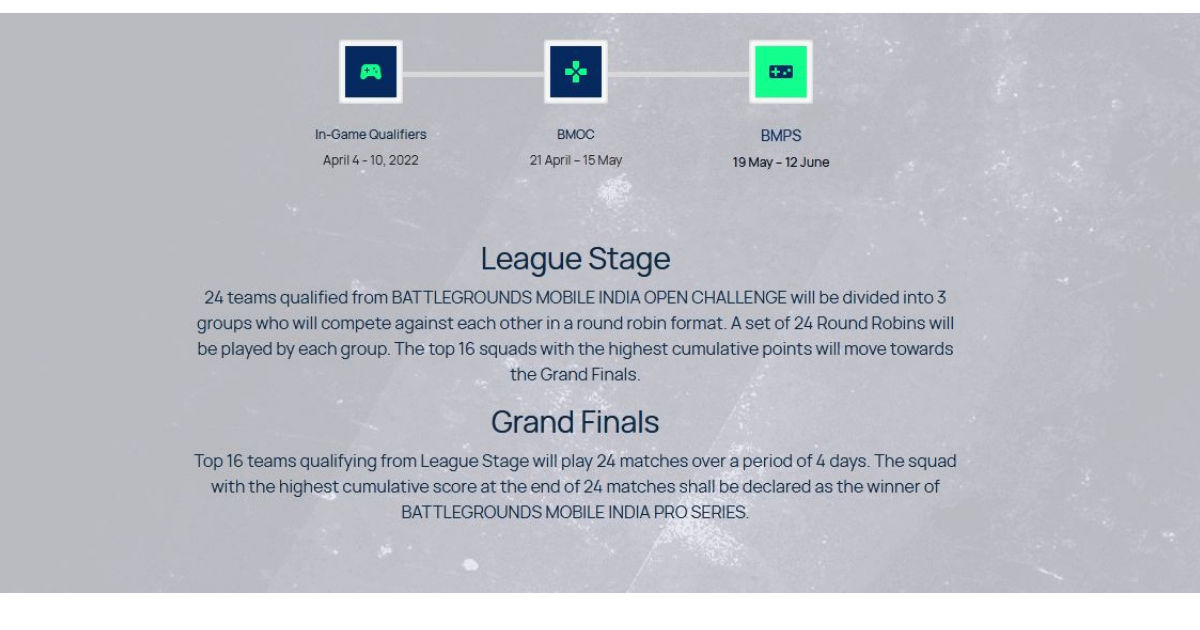 Round Robin 1/ Week 1:  May 19 to May 22
Round Robin 2/ Week 2: May 26 to May 29
Round Robin 3/ Week 3: June 2 to June 5
6 matches per day which account for 24 matches per week(72 matches in total).
Each team will get to play 4 matches a day in Round-Robin Format (16 matches per  week)
The top 16 teams on the overall points table of the League stage will advance to the Grand Finals. BMPS S1 Grand Finals are scheduled to take place from June 9 to June 12 2022. Each matchday will comprise 6 matches and the 16 teams will battle it out for four days. The team with the highest cumulative points on the overall standings will be declared the champions of the event.
Also Read: PUBG Mobile Has Earned Krafton $8 Billion Since its Launch: Reports
BMPS Season 1 Qualified Teams
Here is the list of teams that have qualified for the upcoming BGMI event:
Global Esports
Big Brother Esports
Initiative Academy
Team INS
Hydra Official
GOG Esports
Team Soul
Team XO
Enigma Gaming
Blind Esports
Autobotz Esports
Retribution RTR
OR Esports
WSF Esports
Walkouts
UP50 Esports
7Sea Esports
Marcos Gaming
Team Kinetic
R Esports
Hyderabad Hydras
Nigma Galaxy
ACBC Esports
FS Esports
Prize Pool Distribution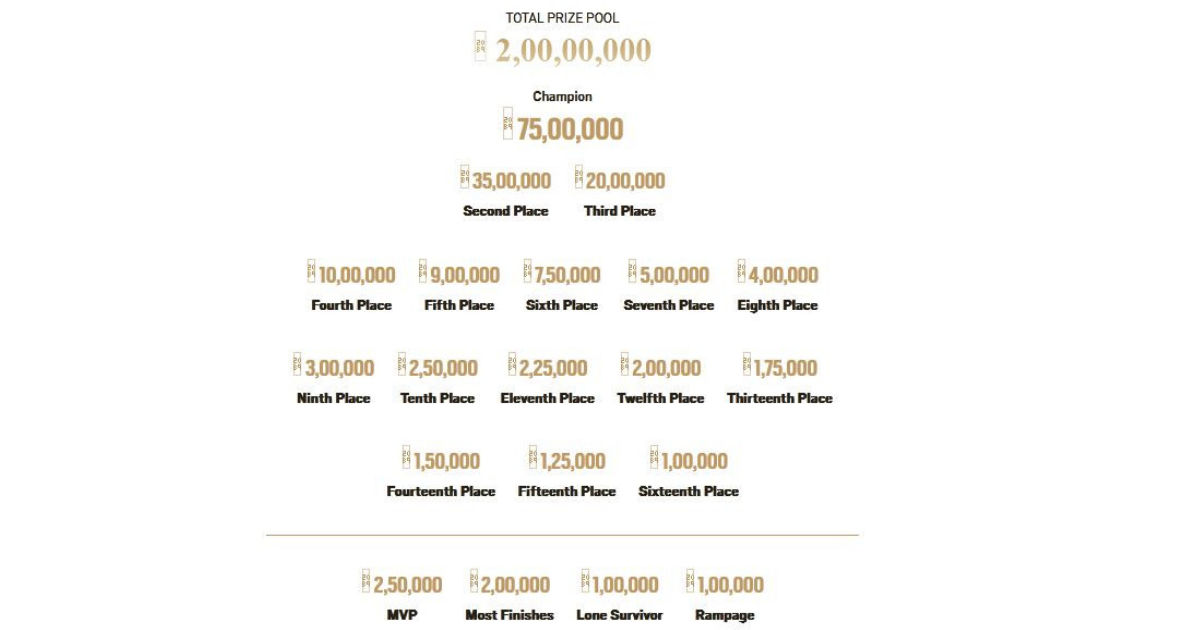 As previously mentioned, the tournament features the biggest prize pool in Indian Esports history which is 2 Crore INR. The prize pool is distributed among the teams as seen below:
1st Place: 75 lakhs
2nd Place: 35 lakhs
3rd Place: 20 lakhs
4th Place: 10 lakhs
5th Place: 9 lakhs
6th Place: 7.5 lakhs
7th Place: 5 lakhs
8th Place: 4 lakhs
9th Place: 3 lakhs
10th Place: 2.5 lakhs
11th Place: 2.25 lakhs
12th Place: 2 lakhs
13th Place: 1.75 lakhs
14th Place: 1.5 lakhs
15th Place: 1.25 lakhs
16th Place: 1 lakh
MVP: 2.5 lakhs
Most finishes: 2 lakhs
Lone Survivor: 1 lakh
Rampage: 1 lakh
Points Distribution
| | |
| --- | --- |
| Position | Points |
| 1 Finish | 1 point |
| 1st | 15 |
| 2nd | 12 |
| 3rd | 10 |
| 4th | 8 |
| 5th | 6 |
| 6th | 4 |
| 7th | 2 |
| 8th | 1 |
| 9th | 1 |
| 10th | 1 |
| 11th | 1 |
| 12th | 1 |
| 13th | 0 |
| 14th | 0 |
| 15th | 0 |
| 16th | 0 |
BMOC Round 4 has seen shocking and unexpected turns as more than 50 percent of the invited teams have failed to qualify for the upcoming event. This shows the power of underdog teams which have shown exceptional gameplay and outplayed the prominent and experienced teams. Looking towards the next event, everyone is cheering up for their favorite teams like Team Soul, XO, OR Esports, HYD Hydras, and more.
It will be disappointing for some fans as they will not get to see some golden teams like Godl, X Spark, TSM, Skylightz Gaming, etc. Nonetheless, the underdog teams will show their worth and will put up a godly show for BGMI enthusiasts. The event will be streamed LIVE on LOCO, the official YT Channels of BGMI, and IQOO Esports.