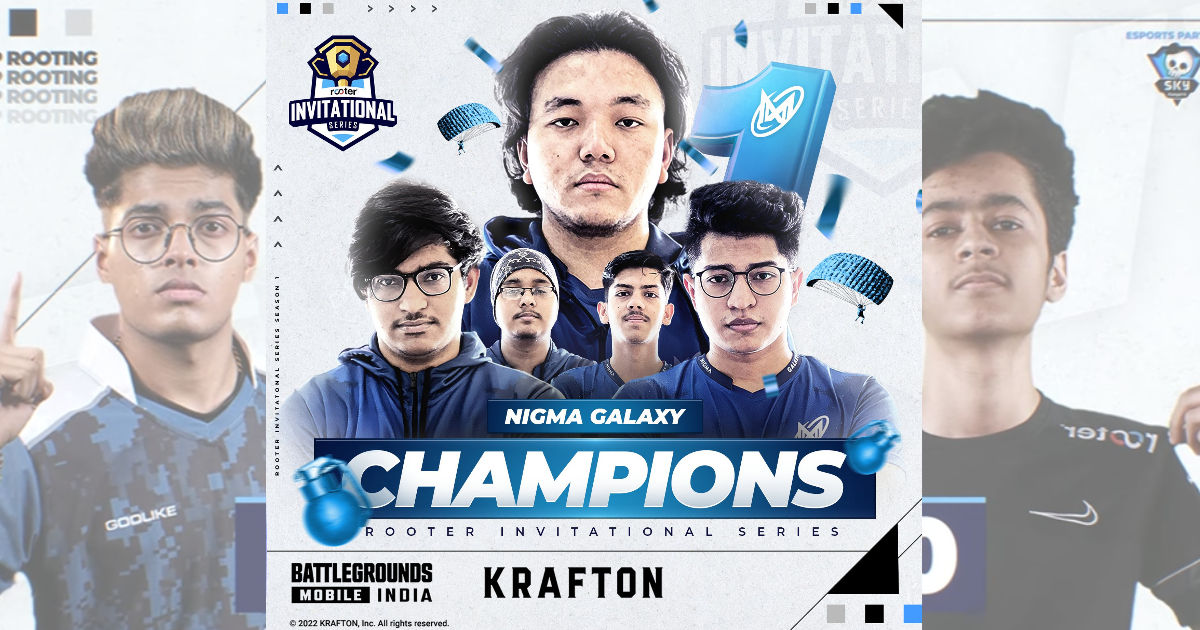 BGMI Rooter Invitational Series has concluded after 6-day-long finals came to an end with Nigma Galaxy emerging as the champions of the event. The team has put up a consistent performance in the Grand Finals to lead the points table with a heavy margin and ultimately they crowned the championship.
Nigma Galaxy received Rs 6.5 Lakh Prize money and Apollo from Nigma Galaxy received the MVP title along with Rs 20000 as a reward. Chemin Esports were the runner-up of the event and received a prize reward of Rs 3.5 Lakhs. The top 16 teams from the Grand Finals Leaderboards have now qualified Rooter Pro Series LAN event.
BGMI Rooter Invitational Series – Grand Finals Overall Summary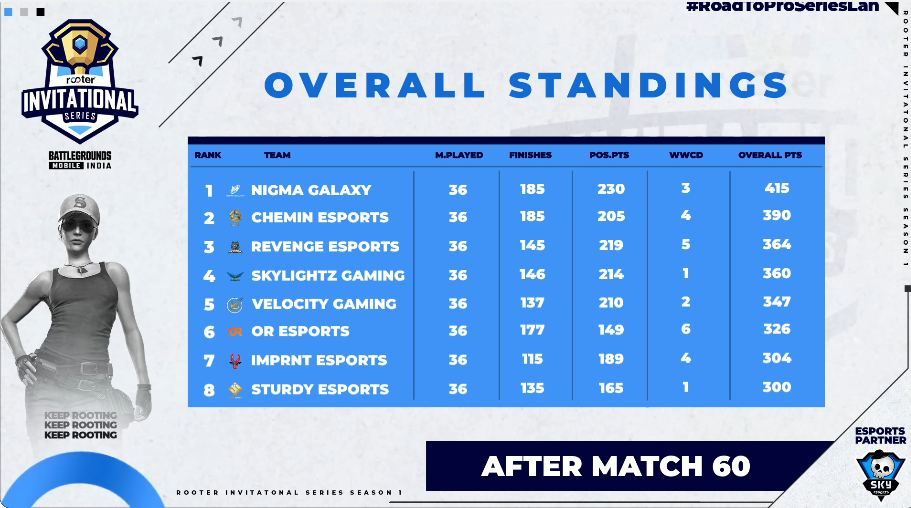 Rooter Invitational Series Group Stage has featured a total of 32 teams where each team got to play a total of 3 matches per day for four days. A set of 24 teams have been qualified for Finals from the Group Stage and Finals have witnessed a round-robin format among three divisions with eight teams each. The Finals were set to take place from 29 July to 5 August (6 days).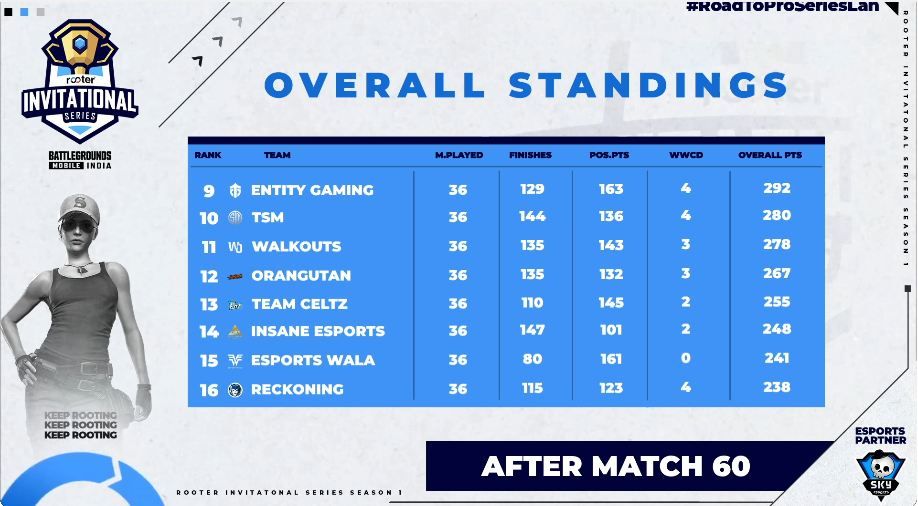 Nigma Galaxy has accumulated a total of 415 points and secured 185 finishes to secure that top spot on the overall standings table. Chemin Esports secured the second spot with 390 points and they are followed by Revenge Esports & Skylightz Gaming with 364 and 360 points respectively.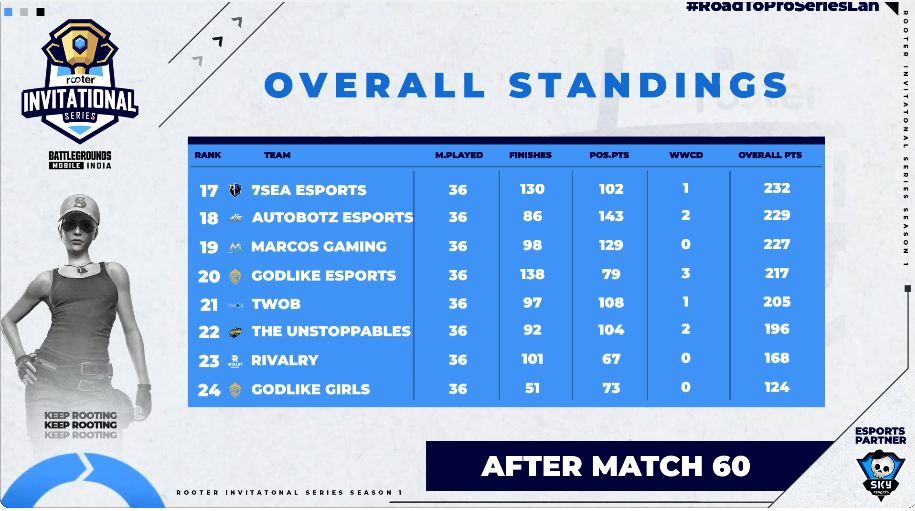 OR Esports has taken a total of 6 chicken dinners in the competed total of 36 matches of this event. The team garnered a total of 326 points and 177 finishes but ended up in sixth place. Recently announced Sturdy Esports have secured the eighth place with 300 points while Entity Gaming managed to secure ninth place with 292 points.
We are your @RooterSports Invitational Series Champions🌟#StarsAligned #NGXbgmi pic.twitter.com/To5JTspbrC

— Nigma Galaxy (@NigmaGalaxy) August 5, 2022
TSM finishes in tenth place with 280 points while Orangutan and 7Sea Esports ended up taking twelfth and seventeenth places respectively. Godlike Esports did not fare well in this event as they ranked at the twentieth spot with 217 points. The top 16 teams have now made it to the Pro Series LAN and below are the teams that have earned a spot at the LAN event.
Also Read: BGMI Ban Miffs Players, Organisations and Fans Who Ask for Specific Rules to Avoid Surprise Bans
Rooter Pro Series LAN Event – List of Qualified Teams
Here's the overall standings following the conclusion of the Rooter Invitational Series – The top 16 teams qualify for the Pro Series Lan 🔥#RooterInvitationalSeries #BGMI pic.twitter.com/S4CEgf9cZQ

— Rooter.gg (@RooterSports) August 5, 2022
Nigma Galaxy
Chemin Esports
Revenge Esports
Skylightz Gaming
Velocity Gaming
OR Esports
Imprnt Esports
Sturdy Esports
Entity Gaming
TSM
Walkouts
Orangutan Gaming
Team Celtz
Insane Esports
Esportwala
Reckoning Esports
Prize Pool Distribution
Make way for the MVP of the Rooter Invitational Series, NGX Apollo 🙌

He was totally unstoppable throughout the tournament, completing 70 finishes with a 41.42% finish rate! 🔥#RoadToProSeriesLan #BGMI pic.twitter.com/8T3haF3ayW

— Rooter.gg (@RooterSports) August 6, 2022
The prize pool of Rs 15 lakhs is distributed among teams and players as follows:
Nigma Galaxy – Rs 6.5 lakhs
Chemin Esports – Rs 3.5 lakhs
Revenge Esports Rs 1.5 lakhs
Skylightz Gaming – Rs 50000
Velocity Gaming – Rs 50000
OR Esports – Rs 50000
Imprnt Esports – Rs 50000
Sturdy Esports – Rs 50000
Entity Gaming – Rs 20000
TSM – Rs 20000
Walkouts – Rs 20000
Orangutan Gaming – Rs 20000
MVP – Apollo (Nigma Galaxy): Rs 20000
The LAN event schedule is yet to be announced. Recently BGMI got removed from Google Play Store and App Store abruptly which blocked the access for users to download the game officially. The app is reportedly banned by the Indian Government but it is still unclear whether it is just a ban or not. BGMI fans have been waiting for an official confirmation from Krafton and the Government as it is heavily expected that the game will be back since the game is running.