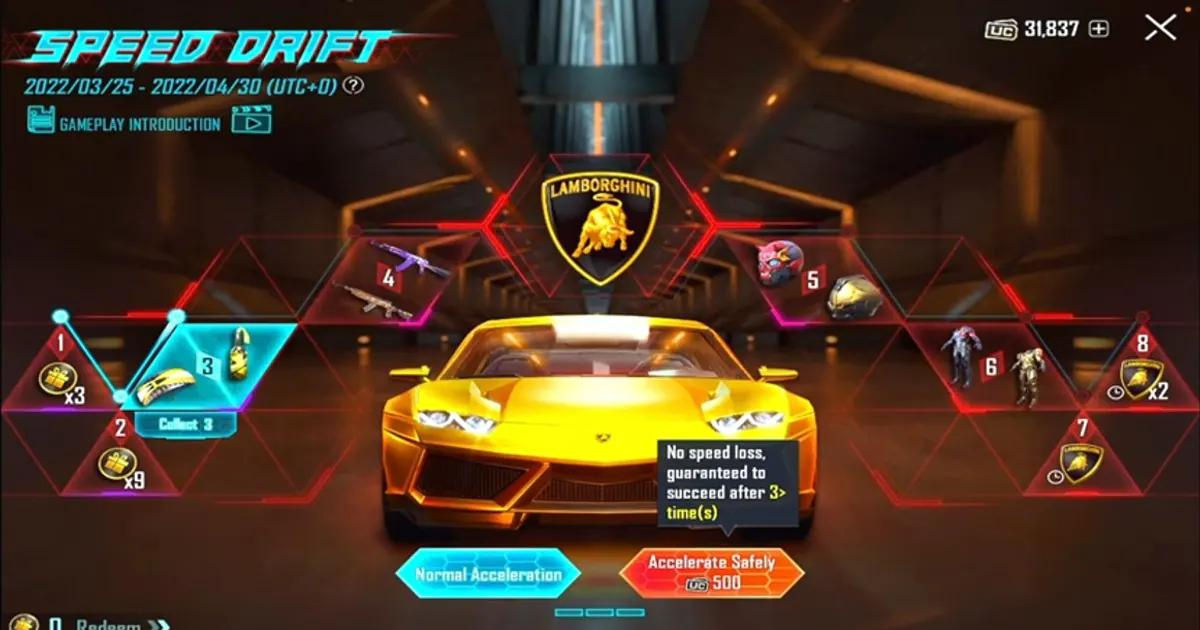 BGMI is no stranger to collaborations and crossovers and the latest one brings a total of 6 fantastic Lamborghini skins to the game with the Lamborghini Lucky Spin – Speed Drift. The event kicks off today, March 25, at 7:30 PM.
The Lucky Spin will give players a shot at getting their hands on Lucky Medals, which can be exchanged for Lamborghini vehicle skins from the Event Shop. Collecting all 6 Lamborghini skins will allow players to unlock a hidden Lamborghini vehicle skin on the exchange page.
The secret page can only be accessed once players have collected all 6 skins. The page appears by clicking the button on the top-left corner of the screen in the Event Shop.
Also Read: BGMI Gillette 7Sea Invitational 2022 Announced with $20,000 Prize Pool
BGMI Lamborghini Lucky Spin – Speed Drift Is Now Live
Lucky Medals are a little hard to come by and it solely depends on chance and probability. Alternatively, the problem can be solved by throwing a bunch of UC at it as spending certain amounts of UC will award players with a Lucky Medal. Players will get a Lucky Medal upon spending 10,000 UC, and then the number rises incrementally. Lucky Medals can be claimed from the event centre in the main menu of BGMI.
This isn't exactly ideal as the total amount of UC required to get 6 Lucky Medals probably isn't worth the result. The Lamborghini crate contains 6 of the most popular cars from the iconic car manufacturer.
These include the likes of the Estoque Metal Grey, the URUS Giallo Inti, the Aventador SVJ Verde, the Aventador SVJ Verde Alceo, and more. The new collaboration shouldn't be that big a surprise for players as players have previously been witness to fun collaborations with major manufacturers such as Tesla.
BGMI is easily one of the most popular games in the country as is reflected by its flourishing esports scene. Krafton has announced a number of great esports tournaments for the year, including the second season of the BGMI Series.