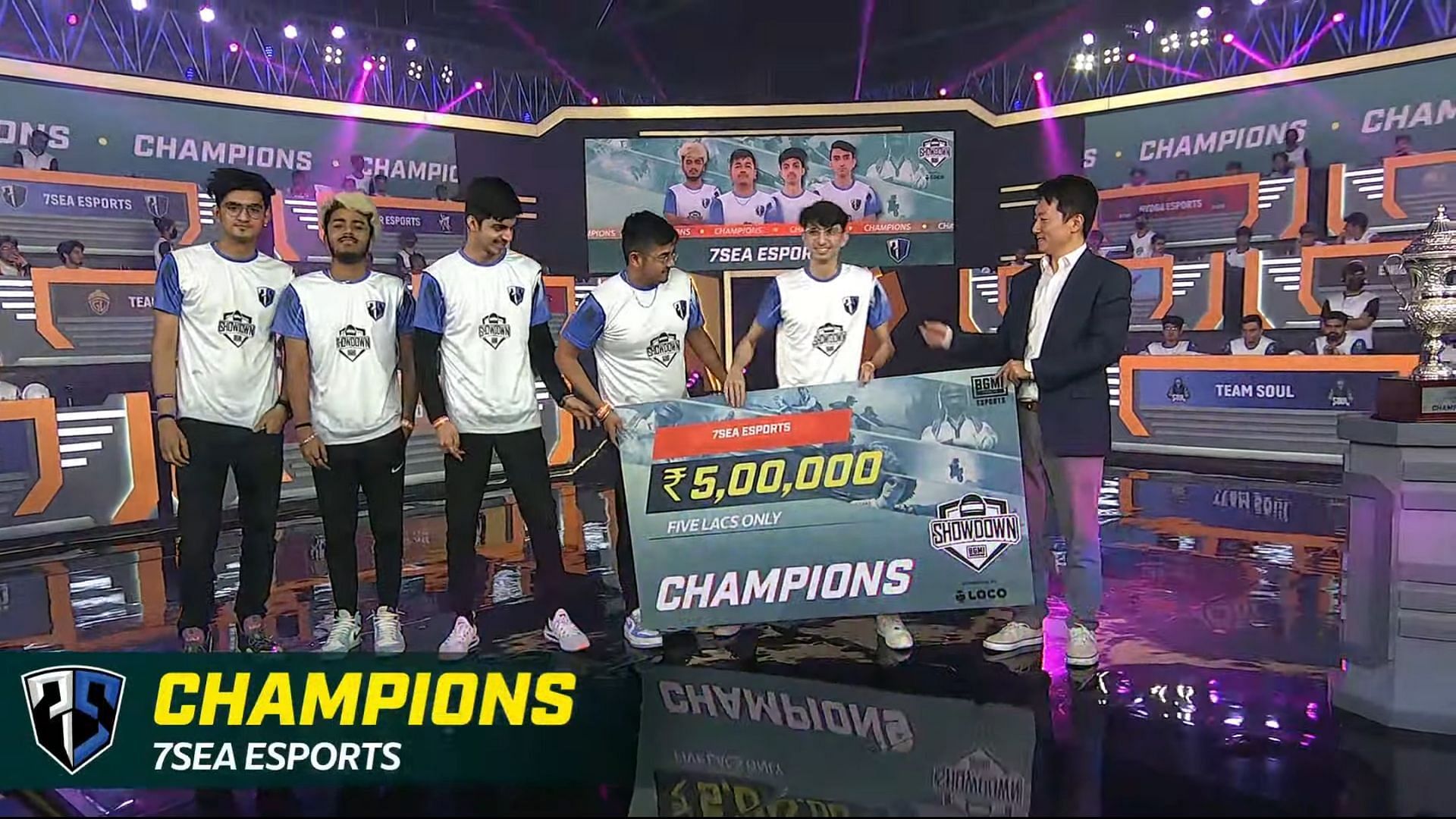 BGMI Showdown one-day-long Grand Finals come to an end and that marks the conclusion of the First-ever official BGMI LAN event, which was announced with a Rs 15 Lakh Prize Pool. It was 7 Sea Esports, out of the blue, emerged as the champions of this great LAN event and bagged a slot in the PMWI 2022 After Party Showdown alongside the trophy & Rs 5 lakh prize money. OR Esports who dominated the Group Stage with a heavy lead ended up in the ninth position.
Orangutan Gaming looked pretty strong from the start itself and they were leading the table with a healthy lead till the last match. They have eliminated early in the last match which has cost the ultimate glory of this championship title where 7Seas grabbed it from them with style. 7Sea Esports has garnered a total of 92 points and their 15-kill chicken dinner in the last match has made their way into becoming the champions while Orangutan got eliminated in that match early alongside the other teams.
7Sea raked a total of 92 points and 41 finishes with the help of two chicken dinners. The team wins the championship trophy, Rs 5 Lakh prize money and becomes the second team to represent India at PMWI by bagging a spot at PMWI After Party Showdown, which is set to take place from 18-20 August. It was hard luck for the Orangutans as they lost the title in the last match. Nonetheless, the team finished in the second spot and received Rs 2,50,000 Prize Money. XO finishes in fifth place while Team Soul finished in seventh place.
OR Esports had a poor final as they finished in the ninth position and Godlike ended up in the 14th place while TSM took the 15th position.
BGMI Showdown Grand Finals Overall Standings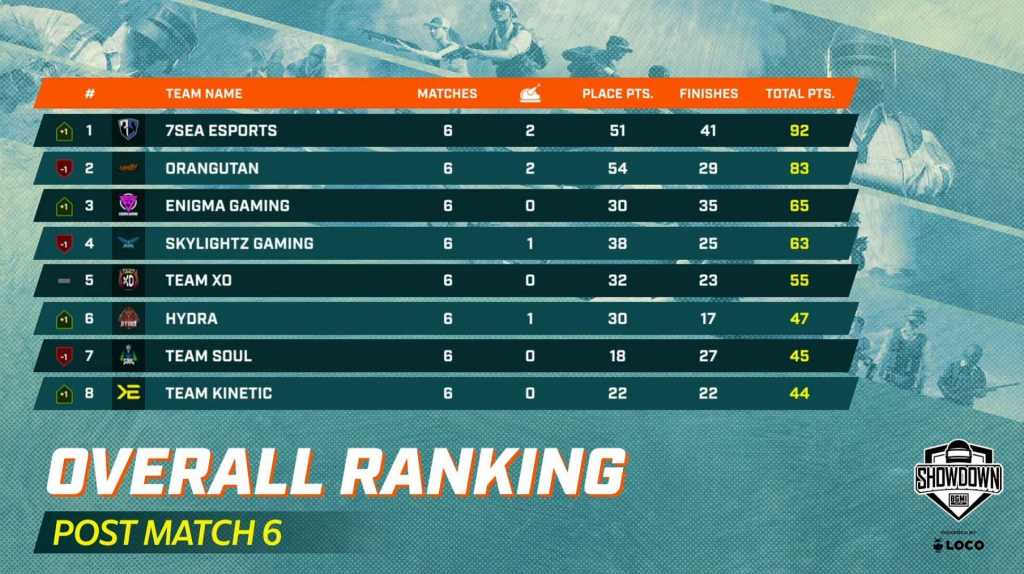 The first match was won by Skylightz Gaming which was played on Erangel. Skylightz had the zone advantage in the final circle and they pulled it out with an 11-kill chicken dinner in the first match. Team XO and Enigma came second and third place with 11 kills each.
The second match was played on the snow map which was claimed by 7Sea Esports. They have secured a total of 12 finishes in this match where Sarang received the MVP title for his three kills. Skylightz Gaming was eliminated in the second position with 7 kills while Hyderabad Hydras garnered a total of 14 points in this match.
Orangutan Gaming had a great match in the third round of the day that was played on Erangel. The team secured an 11-kill chicken dinner to climb up to the second spot on the overall standings from the seventh position. Kinetic Esports garnered a total of 22 points while Soul took 15 points. 7 Sea Esports dropped down to the fourth position on the overall points table after this match.
Hydra Official have marked their win in the fourth match of the day that was played on Sanhok. The final battle was between Hydra and Orangutan where Hydra defeated Orangutan with a high zone advantage as well as an advantage. The team secured a total of 8 kills while Orangutan took 5 finishes.
It was Team Orangutan who aced the fifth match and they claimed the win with eight finishes with good rotations & team play. 7Sea Esports finished in the second position with 6 kills while Team Soul ended up in the third with 8 frags.
Congratulations to 7Sea Esports, the Winners of #BMSD2022 🔥🥇 pic.twitter.com/8isP65rRXO

— Loco (@GetLocoNow) July 24, 2022
This match has led Orangutan to take a healthy lead of 17 points from 7 Sea Esports. But things changed in the final match as every team went for fights at Yasnaya and several teams got eliminated.
7Sea Esports remained patient in the final match and managed to pull out a nice victory with a massive total of 15 finishes. Orangutan Gaming got eliminated early and took only 4 points on the overall standings. This match has helped 7Sea Esports to secure this first-ever Official BGMI LAN event title.
Showdown Prize Pool Distribution
The prize pool of Rs 15 Lakhs is distributed among teams and players as follows:
7SEA – Rs 5 lakhs
Orangutan – Rs 2.5 lakhs
Enigma Gaming – Rs 1 lakh
Skylightz Gaming – Rs 75,000
Team XO – Rs 50,000
Hydra – Rs 45,000
Team Soul – Rs 40,000
Team Kinetic – Rs 35,000
OR Esports – Rs 30,000
Global Esports – Rs 25,000
INS – Rs 20,000
Hyderabad Hydras – Rs 20,000
Nigma Galaxy – Rs 20,000
GodLike – Rs 20,000
TSM – Rs 20,000
R Esports – Rs 20,000
Special prizes
MVP – SprayGod (7SEA) – Rs 50,000
Grenadier – Fierce – Rs 50,000
Longest Finish – Drigger -Rs 50,000
Most Finishes by Team – 7SEA – Rs 50,000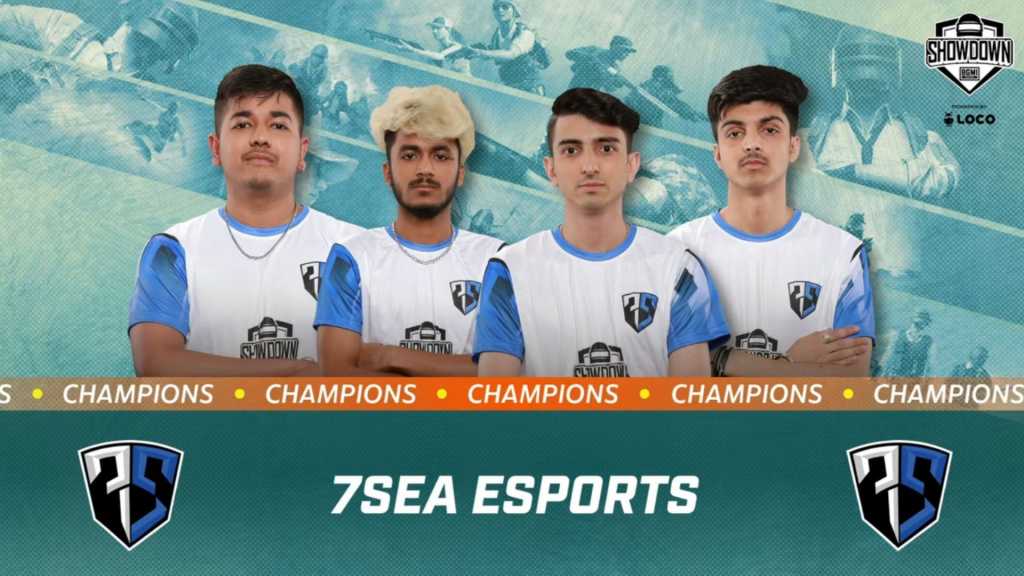 Team Soul has got the chance to represent India at PMWI: Main Stage event after winning the regional event of India named BMPS Season 1 2022. It was rumoured that another team from India will take the special slot that remained in PMWI: AfterPartyShodown event. 7Sea Esports bags that special slot in the second stage of PMWI by winning this event. Good Luck to both the teams who are representing India in PMWI, scheduled to take place from 11-20 August in Riyadh.