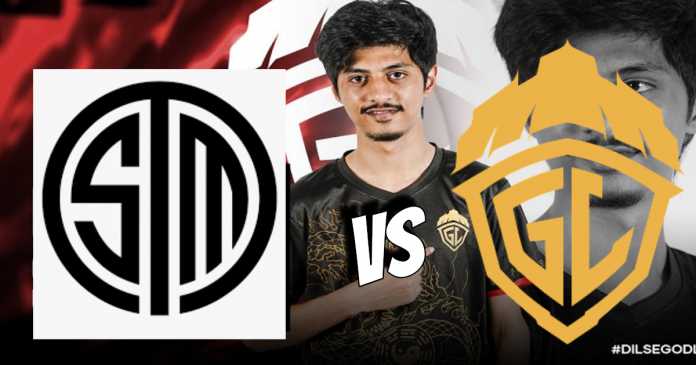 The player poaching controversy among two of India's best Esports organizations is taking a turn toward lawsuits and courts. Last night, TSM took it to their social media handles and stated that they have decided to go legal against Godlike Esports, citing the Integrity of Esports in India.
TSM is one of the biggest esports organizations where their rosters operate in various esports titles across the globe. TSM has become the highest-grossing organization according to the Forbes list of Most Valuable Esports companies in 2022, followed by 100 thieves. Godlike also had collaborations with an international org named Nova Esports but later parted ways.
The recent controversy began after Shadow left TSM abruptly and joined Godlike Esports. As per TSM, Shadow was still under the contract while joining Godlike and they claimed Godl had player poached BGMI player Shadow without their permission.
BGMI Team TSM Issues Statement of Taking Legal Action Against Godlike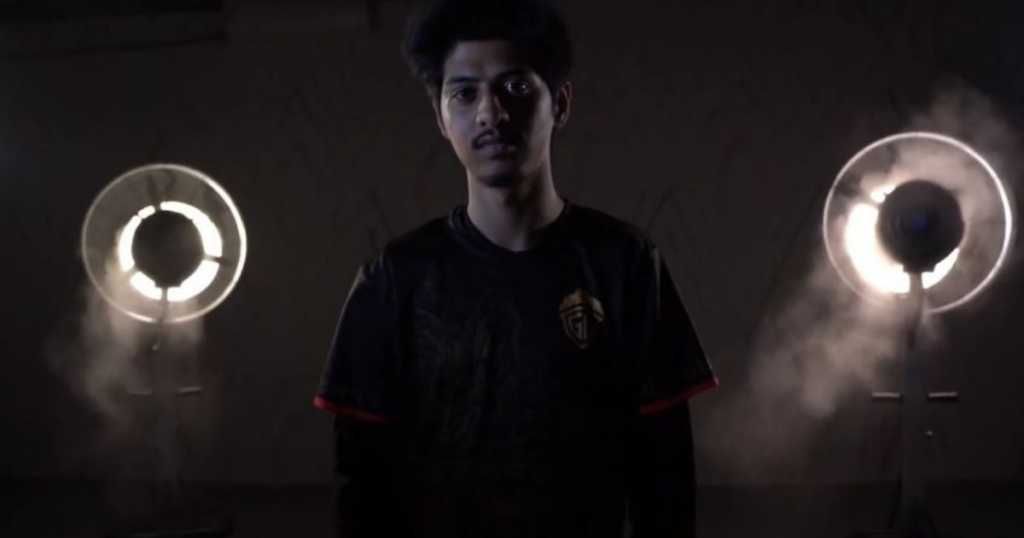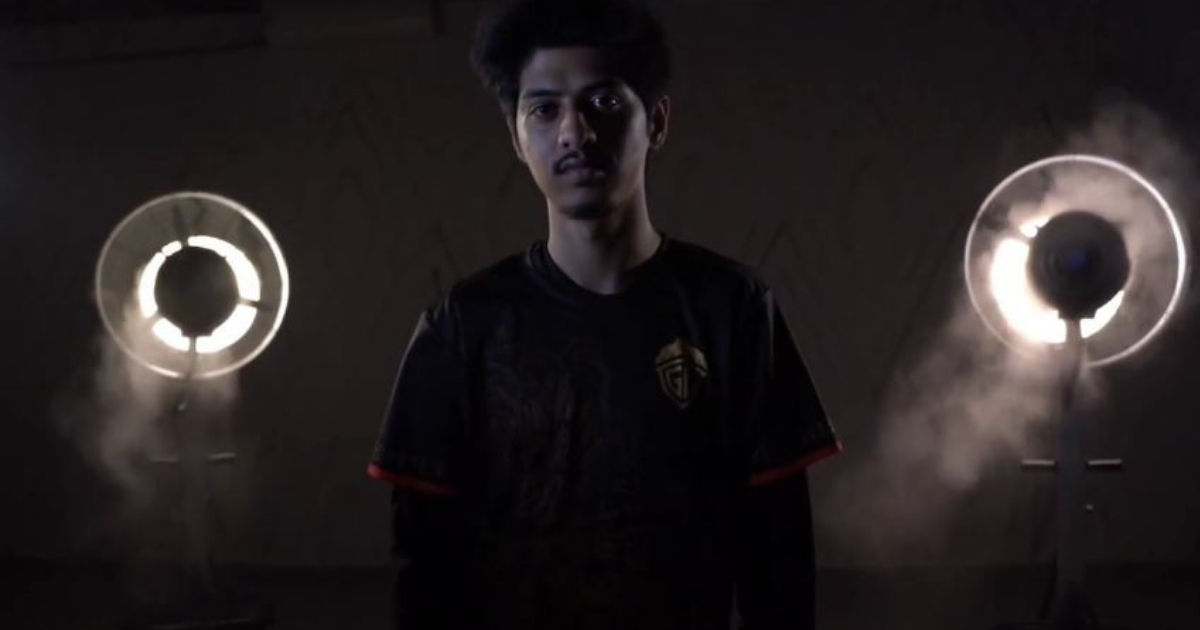 The controversy has been heated up, as both organizations are now decided to go legal citing their concerns over allegations made against each other. Godlike stated that they are willing to go legal after TSM official leaked Shadow's private chats with the organization and defamation their org. Hours after their statement, TSM issued an announcement of taking legal action on this issue.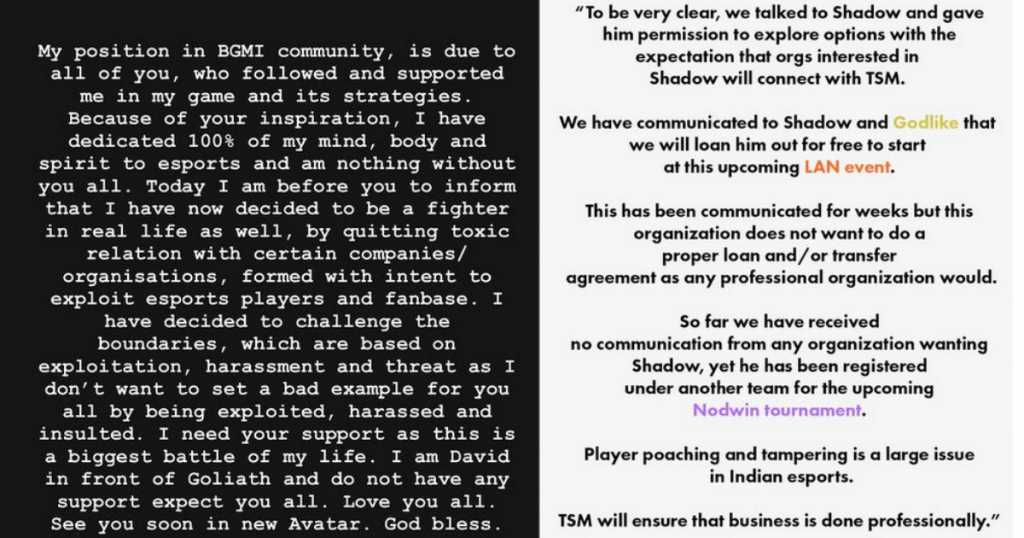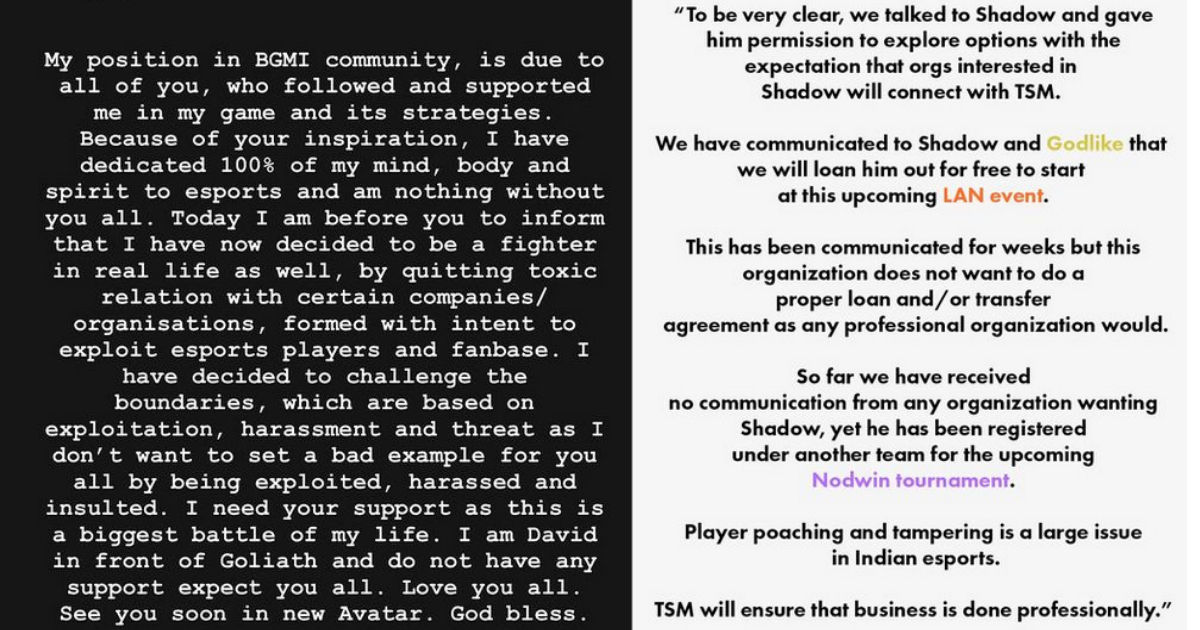 By publicly naming individual persons, the incident has devolved into a social media shambles. With so much going on, it's critical to get the right information prior to actually rushing to conclusions about the problem. Now, Both parties of announced that they are going legal, it is sad to say that things are going for the worst.
Global officials of TSM FTX have responded after Godlike singed Arjun 'Shadow' Mandhalkar while he was still under the TSM contract. Before their signing, the team registered Shadow under Godl Roster in the upcoming LAN event of Nodwin. This shocked the officials at TSM India and made them contact Godlike as well as Krafton to resolve this issue. Both parties have not responded back to TSM.
I've been inundated by messages since this tweet. I ofc didn't mean to generalise all of India. The region has some incredible orgs and players and i'm really happy to see the Indian esports scene growing.

We'll be taking action and hope this never happens again 🤍🇮🇳 https://t.co/xAutApKgrk

— TSM FTX DUNC (@followdunc) June 19, 2022
TSM Armin claimed that there was no reply from Godlike and stated that player poaching is a large issue in Indian Esports. On the other hand, Shadow shared an Instagram post where he stated that he was subjected to harassment, thereat and exploitation, which TSM denies. Shadow allegedly wrote a 'termination letter' to TSM which says that they would part ways in Mid-June and he stated it was mutually agreed.
Imagine a world where you think you can terminate contracts with an org like a Netflix subscription 🤣😭

— TSM FTX DUNC (@followdunc) June 21, 2022
On the other hand, TSM mentioned that Godlike never approached them and hence, the transfer is not legal. Shadow and Godlike reported that their signing is done after approaching a lawyer and thus, it is valid. The authoritative GodLike Twitter account posted about the alleged harassment and online networks enmity they are facing mentioning, 'We don't take threats lightly.'
We don't take threats lightly.#WeAreGodLike#DilSeGodLike pic.twitter.com/FSPdxlYcOa

— GodLike Esports (@GodLike_in) June 21, 2022
Following this announcement, TSM's director Jeff Chau took it to Twitter and announced their legal action against the org in question. He states that he did all to stop this, but in the end, it had come down to this extent.
Did everything to avoid this

Wish those who have the power and authority did the right thing for the player's career and professionalism of competitive esports in India

Simple (free) loan agreement was too much to ask for and too expensive I guess…🤷‍♂️ https://t.co/RLCRU16LXj

— Jeff "SuiJeneris" Chau (@SJeneris) June 21, 2022
To India Gaming Community:

June 6: TSM & Shadow 🤝, ok to post looking for team, Shadow even says: "if any offers come I will let you guys know then?"

Shadow then connects w/ a certain org and pushes to be released for free…😞

Offered FREE loan agreement so Shadow can play 👇 pic.twitter.com/JHwuqGyQ67

— Jeff "SuiJeneris" Chau (@SJeneris) June 20, 2022
However, Shadow will play under Godlike Roster in the upcoming Masters Series 2022 while TSM announced their new signing of Wanted to their BGMI roster. The only good part is that there would be less toxicity among the organizations publicly until the judicial court verdict comes out.
Thanks for reading till the end of this article. For more such informative and exclusive tech content, like our Facebook page