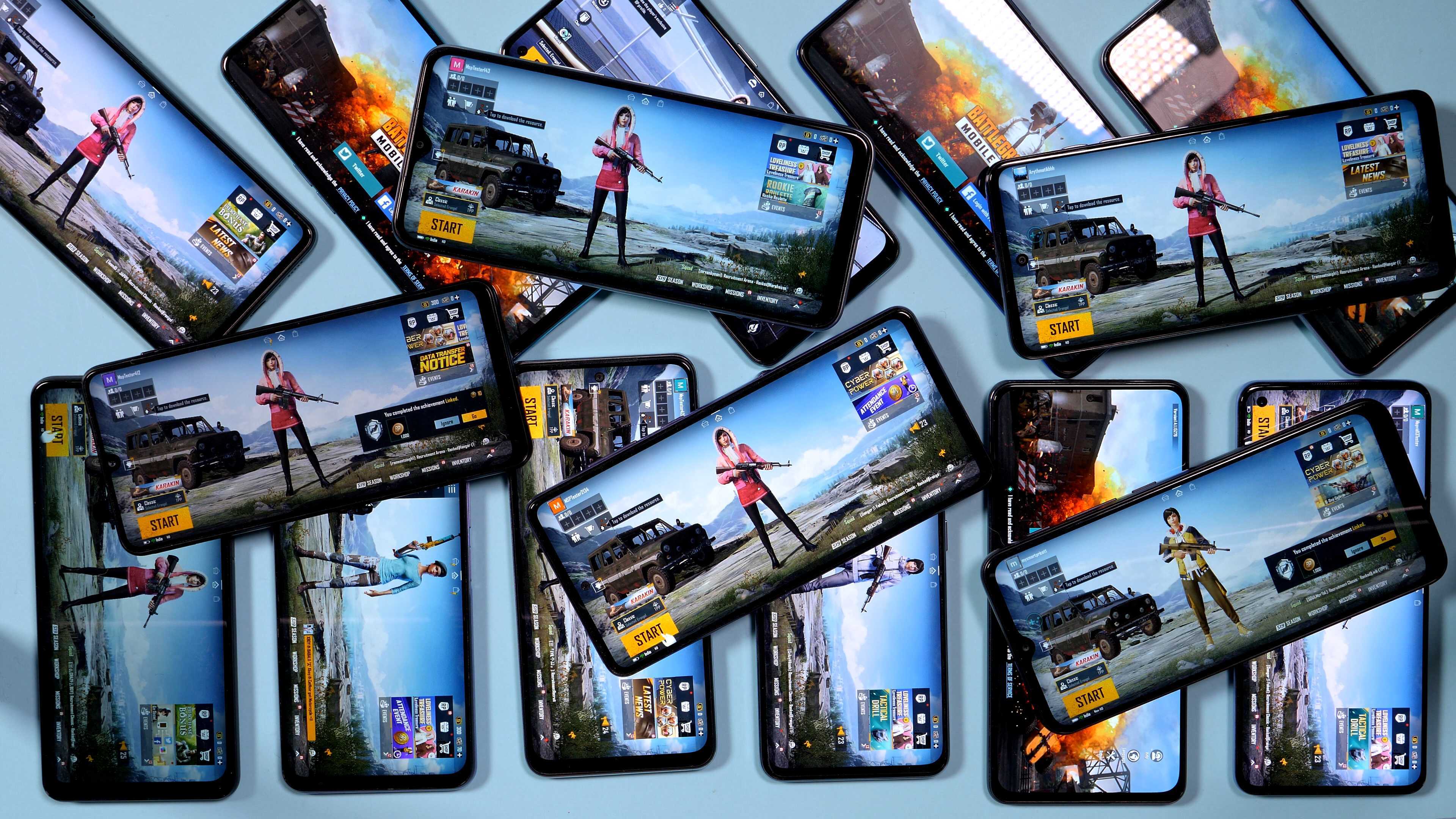 Battlegrounds Mobile India (BGMI) is one of the most popular battle royale games in India. The game brings a plethora of features, including characters, gun skins, vehicle skins, emotes, and more. Although some of the items you can get by completing certain tasks and participating in events. However, most of the items can be only purchased with the company's in-game currency. Known as UC, or Unknown Cash, the currency allows you to get lots of things.
But, how you can purchase UC in BGMI? What are the different packages offered in the game? Can you get some discounts on purchasing BGMI UC? Questions like this sure baffle every gamer. So, in order to make things easier for you, we have compiled this article so that you can purchase UC in BGMI with ease.
Also Read: BGMI Rewards: Full List of New Rewards & Events, How to Redeem and Participate
What is UC in BGMI?
UC or Unknown Cash is an in-game currency that is used in Battlegrounds Mobile India. Players can purchase the in-game currency using real money and they spend it on various things. Players can spend UC to purchase crates, outfits, gun skins, companions, emotes, accessories, treasures, Battle Pass, vehicle skins, and more.
Best Items to Purchase with UC
There are different items that you can buy with UC. Here's what you need to know:
Royal Pass
The first thing you can buy with BGMI UC is the Royale Pass. The Royal Pass allows you to acquire exclusive items by completing certain tasks. There are two types of Royale Pass including a standard Royal Pass that cost you 360 UC and Elite Pass Plus which is priced at 960 UC.
Companions
You can also buy new companions or pets with UC in the game. Players can buy different companions like Falcon, Godzilla, Poro, or Kong. Apart from this, one can also buy Companion food to increase their points.
Crates
One can also buy different Crates in the game with the help of UC. Crates allow you to get a chance to win legendary and mythic outfits that are quite rare in the game. There are different types of crates, including Premium, Classic, and Lucky, which you can purchase with UC.
Apart from this, one can also get the following items with BGMI UC:
Outfits
Treasures
Gun skins
Vehicle skins
Parachute skins
Emotes
Accessories
How to Purchase UC in BGMI?
Purchasing the UC in Battlegrounds Mobile India is pretty simple. All you need to do is follow these steps:
Open the BGMI application on your Android or iOS device.
Go to the Lobby and you will see a UC icon at the top-right corner. Tap on it.
You will be then taken to the UC Purchase page. There you will have a wide range of options for purchasing UC.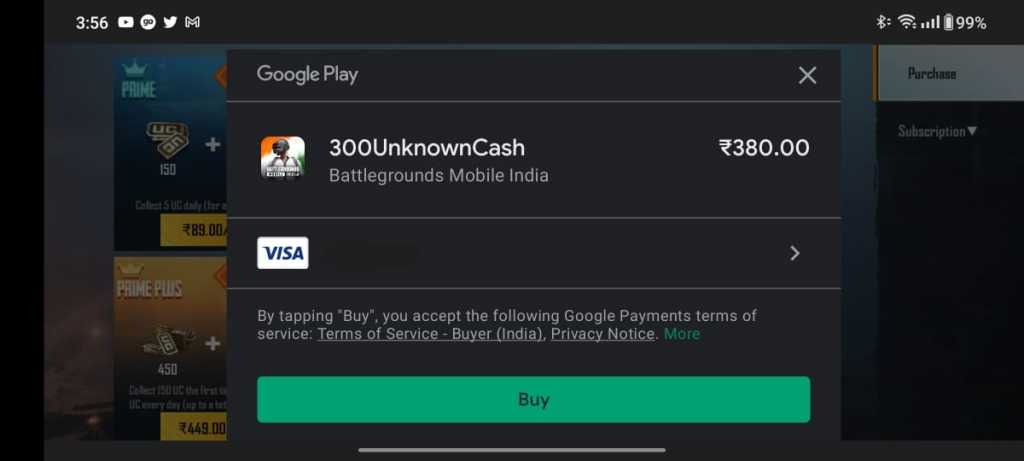 Pick up the package you want to buy and tap on it.
You will see a Google Play payment gateway pop-up. Now enter your bank/card details and make the payment.
Also Read: Battlegrounds Mobile India (BGMI): How to Transfer PUBG Mobile Game Data to BGMI via Facebook, Twitter, Google
Once the payment is made, the UC will be automatically credited to your account. You can then use it to purchase different items in Battlegrounds Mobile India.
List of BGMI UC Packages, How Much Free UC Does Each Package Offer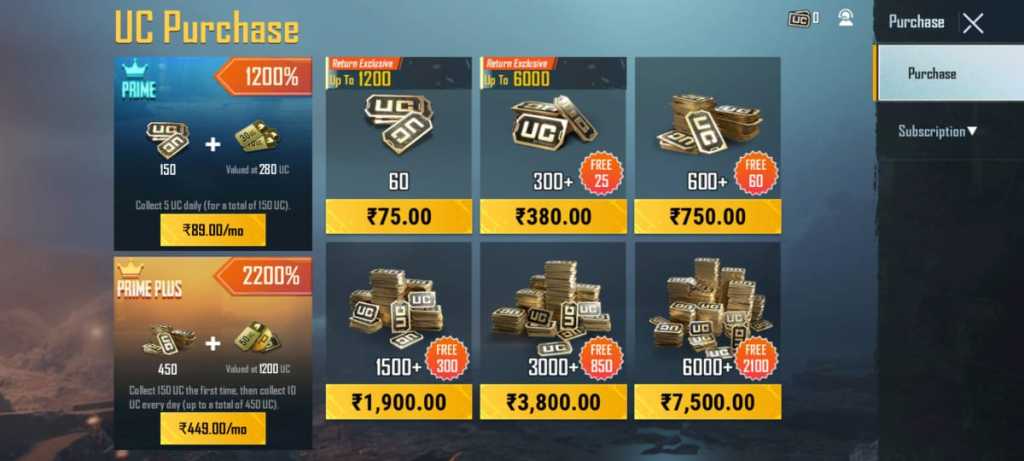 The developers offer a wide range of packages for BGMI UC purchases. Interestingly, you will get a set amount of free UC if you buy more UC from the game. For example, you can get 300 UC for free, if you first purchase 1500 UC in BGMI. That being said, here is a full list of UC packages available in Battlegrounds Mobile for Android:
| | | | |
| --- | --- | --- | --- |
| Price | UC | Free UC | Total UC |
| Rs 75 | 60 UC | NA | 60 UC |
| Rs 380 | 300 UC | 25 UC | 325 UC |
| Rs 750 | 600 UC | 60 UC | 660 UC |
| Rs 1,900 | 1500 UC | 300 UC | 1800 UC |
| Rs 3,800 | 3000 UC | 850 UC | 3850 UC |
| Rs 7,500 | 6000 UC | 2100 UC | 8100 UC |
Sadly, you have to pay a bit more on iOS. Here's the list of all UC packages available for iOS users:
| | | | |
| --- | --- | --- | --- |
| Price | UC | Free UC | Total UC |
| Rs 89 | 60 UC | NA | 60 UC |
| Rs 449 | 300 UC | 25 UC | 325 UC |
| Rs 899 | 600 UC | 60 UC | 660 UC |
| Rs 2,099 | 1500 UC | 300 UC | 1800 UC |
| Rs 4,199 | 3000 UC | 850 UC | 3850 UC |
| Rs 8,500 | 6000 UC | 2100 UC | 8100 UC |
Also Read: BGMI Names List: Best Stylish Design Nicknames for Boys and Girls in Battlegrounds Mobile India
How to Get a Discount on BGMI UC Purchase?
Although the developers offer free UC benefits when you purchase it in-game, you are not getting any discount with real money. However, there are certain ways through which you can indirectly get discounts while purchasing UC.
You can purchase the Google Play credit separately from different websites that offer some cashback offers and use the credits to purchase UC in the game. Here are some websites that are offering discounts on Google Play credits.
Amazon Pay
Amazon Pay is currently offering some great discounts on the purchase of Google Play credits. To start with, users can get Rs 50 cashback when they purchase Google Play recharge using Amazon Pay UPI. This means you can first use Rs 100 Google Play recharge to get the cashback and then use the Pay Balance to get a discount on the next purchase of Google Play.
So for example, if you want to buy UC worth Rs 380, you can first make a Google Play recharge of Rs 100 and get Rs 50 cashback. Use this cashback to purchase Rs 280 Play credit. This will effectively bring down the cost to Rs 230. This means you bought 325 UC for Rs Rs 330.
Paytm
Paytm is also offering some interesting cashback on Google Play recharge. New users can use GP300 and get up to Rs 300 cashback on the purchase of the Google Play recharge code. Users can get Rs 30 cashback with the purchase of Rs 105 to Rs 499, Rs 50 cashback for purchases between Rs 500 to Rs 999, Rs 70 cashback for purchases between Rs 1000 to Rs 1,499, and so on.
CodaShop

If you are looking for some good discounts on BGMI UC purchases then CodaShop is probably the best option for you. The website is now offering BGMI UC purchases for its customers. The website claims that one will get additional UC with the purchase of different packs.
To start with, if you pay Rs 60UC you will get 6 Bonus UC. Similarly, for 300 UC one will get an additional 55 UC, for 600 UC you will get 120 additional UC, for a 1500 UC purchase you will get a 450 UC bonus.
Finally, for 3,000 UC, you will get a 1,150 bonus UC and if you pay for 6,000 UC, you will get a 2,700 bonus UC. However, it is important to note that this is a limited-period offer and is valid till October 13th.
Can You Can BGMI UC for Free?
No, there are no websites or applications that credit free UC to your Battleground Mobile India profile. These are just fraudulent websites, so you should be aware. However, there is a workaround to get free UCs.
There are some apps like Google Opinion Rewards and more through which you can get Google Play credit that in turn can be used to purchase BGMI US. Here's what you need to know:
Google Opinion Rewards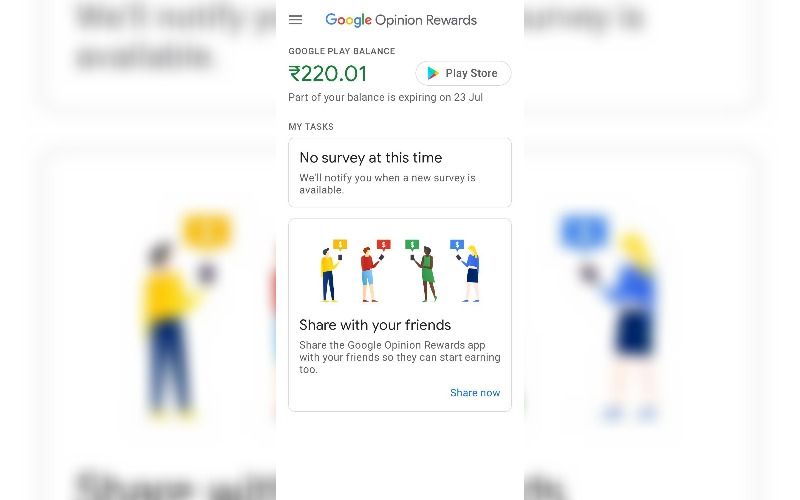 The Google Opinion Rewards application is probably one of the best to earn some Google Play credits. The app is made by Google and allows you to earn some money by participating and completing short surveys.
You can download this application and complete short surveys to get Google Play credits. Once you earn enough credits, you can simply purchase UC in BGMI. This means you are getting BGMI UC for free in a way.
What to do if UC Purchase is not credited to your BGMI Account?
if you have purchased BGMI UC and still it is not showing on your Battlegrounds Mobile India account, you need to worry. Some users have reported this issue and there are two possible reasons for it. The first one could be a glitch from the developers and the second one could be a failure of transactions at the Play Store.
For the former, you can send an email to Krafton complaining about the UC purchase not being credited to the account. In order to do that, one needs to send an email to battlegroundsindia_support@krafton.com and in the subject field add 'UC not issued to the account'.
In the body, you need to mention your nickname and character ID along with the screenshot of the payment receipt, which you can get from the Play Store under the Purchases section.