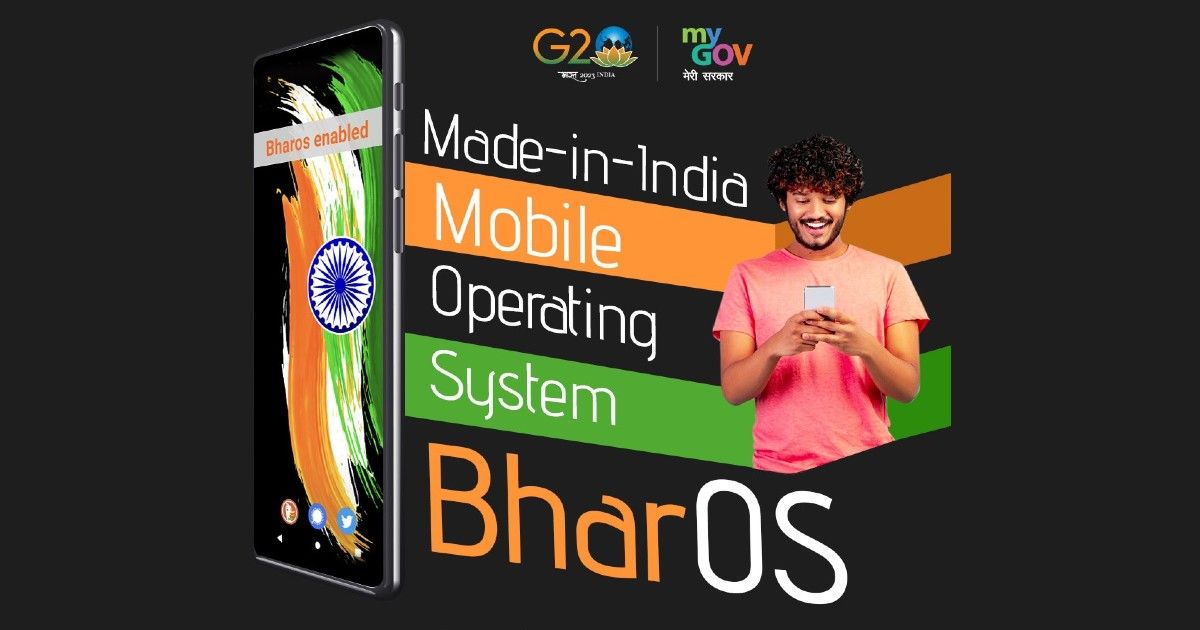 On Tuesday, January 24, union ministers for education and information technology (IT), Dharmendra Pradhan and Ashwini Vaishnaw, tested BharOS. The latter has been unveiled as a mobile OS that promises zero bloatware and a stringent focus on privacy that stems from the setup not being powered by Google Mobile Services (GMS). Built by a homegrown team, the mobile OS comes at a time when regulatory actions against the might of Google and Apple are at a peak, and questions have been raised regarding the extent of power that these tech firms wield. On this note, here's looking at what BharOS is — the mobile operating system that has been promised as an indigenous alternative to Android and iOS.
What is BharOS?
Developed by JandK Operations Private Limited, a non-profit organisation incubated at the Indian Institute of Technology (IIT), Madras, BharOS is an operating system that is meant to power smartphones. In concept, the platform is similar to privacy-centric operating systems such as GrapheneOS, /e/ OS and, more recently, AphyOS (which, incidentally, is a Swiss privacy-focused mobile operating system that was recently showcased at the World Economic Forum 2023 in Davos). The OS is based on the Android Open Source Project (AOSP), which uses the underlying code base of Android, but is its own operating system atop the AOSP base.
Who built BharOS?
As mentioned above, the primary developers of BharOS were JandK Operations Private Limited, which is a non-profit incubated at IIT Madras. The project is funded by the central government's Department of Science and Technology (DST), under the latter's National Mission on Interdisciplinary Cyber-Physical Systems (NMICPS).
According to Mint, in a press statement given at the time of the unveiling of BharOS on January 19, V Kamakoti, Director of IIT Madras said that BharOS is a mobile operating system that has been "built on a foundation of trust, with a focus on providing users more freedom, control and flexibility to choose and use only the apps that fit their needs." He added that the software platform can "revolutionise" the way users think about security and privacy, when using their smartphones.
Is it really Different from Android?
Yes it is, but only to the extent that any AOSP-based mobile OS is different. The Android that we know of popularly, today, is also an AOSP-based mobile OS, and is essentially Google's version of what they imagined AOSP to be. While BharOS is built on the same code base, what needs to be inspected is if the platform truly lives up to its promise of not using any Google processes — or of any company's for that matter — which will be key to understanding how much information transmission is done on it.
Indian 'Operating System'- BharOS tested successfully today.

Listen to Union Minister @AshwiniVaishnaw giving a suggestion for BharOS Team that conveys the feeling of every Indian. #MadeInIndia #AatmanirbharBharat #OperatingSystem #BharOS pic.twitter.com/MNzLL9gsGk

— Digital India (@_DigitalIndia) January 24, 2023
To be sure, initial inspection, as highlighted by Esper's Mishaal Rahman in a thread, suggests that BharOS is just another fork of an AOSP platform. If that is what it turns out to be, the platform may end up being just another attempt at creating an Android alternative.
Can BharOS run all necessary apps even without Google services?
Essentially, yes. Any app that can run on the conventional version of Android (the one we all use in our phones today) are based on AOSP, which in turn make them compatible with any OS built on AOSP. As a result, conventional everyday apps such as Google's Gmail, Microsoft's Outlook, Apple's Music or Meta's WhatsApp should all be supported on BharOS.
However, it is important to note that support for an app is typically always the biggest challenge for alternate mobile operating systems, since the way an app is updated on a platform depends on the developers, and whether they find it worthwhile to spend time, effort and money behind maintaining an app on an OS.
Typically, most operating systems have historically struggled to keep up with updated app support, even though theoretically, they support most mainstream apps.
Would it really offer a private and secure usage experience?
The veracity of these claims are yet to be proven. To be sure, BharOS promises not to use any of Google's services, which can drastically reduce the number of times a connected smartphone is required to ping remote servers to continue operating. However, at the moment, BharOS essentially feels like a blank template for developers to work on — since it does not come with its own app store.
Instead, the company's official description says that BharOS will support organisation-specific Private App Store Services (PASS) — which suggests that companies and services can custom-fork the platform to designate an app store of their choice. This can theoretically help enterprises and government bodies offer a privately regulated mobile usage experience. However, do note that the ability to 'sideload' apps, through APKs, could be a risky proposition, if done from the wrong mobile app store.
Such a model can also leave users open to the lack of a tight, established security procedure. With the lack of a central authority, the security aspect can swing either way — including putting users' data at risk.
Which users can access BharOS at the moment?
The platform is not available for public use at the moment, and it remains unclear if BharOS can be used on any publicly available consumer device, any time soon. BharOS is reportedly being tested right now by specific government bodies and organisations with privacy-centric requirements. There is also no word on whether the makers of the platform will look to sign partnerships with mobile phone brands and manufacturers to find a market for it.
Does it raise concerns regarding the 'splinternet'?
In a way, while BharOS is similar to the likes of AphyOS and GrapheneOS, it is also similar to Huawei's HarmonyOS in China. Its ability to run privately, without a global network such as that of Google's, can potentially make it a walled operating system that runs only within our domestic shores. This, in turn, may add to the theory of the 'splinternet' — a term used to describe an Internet that is split across geographic boundaries.
Examples of the splinternet are already abound, and as concepts, are already found in Russia and China, as notable examples. Numerous activists and regulators have voiced concerns that raising a split internet as an experience can essentially lead to divides and restrictions in the core concept of open communications that the internet brought about in the first place.
However, experts have also argued about the need for mobile operating systems outside of Google's Android in particular, and Apple's iOS as well. A service such as BharOS can help address this for India, in the long run.