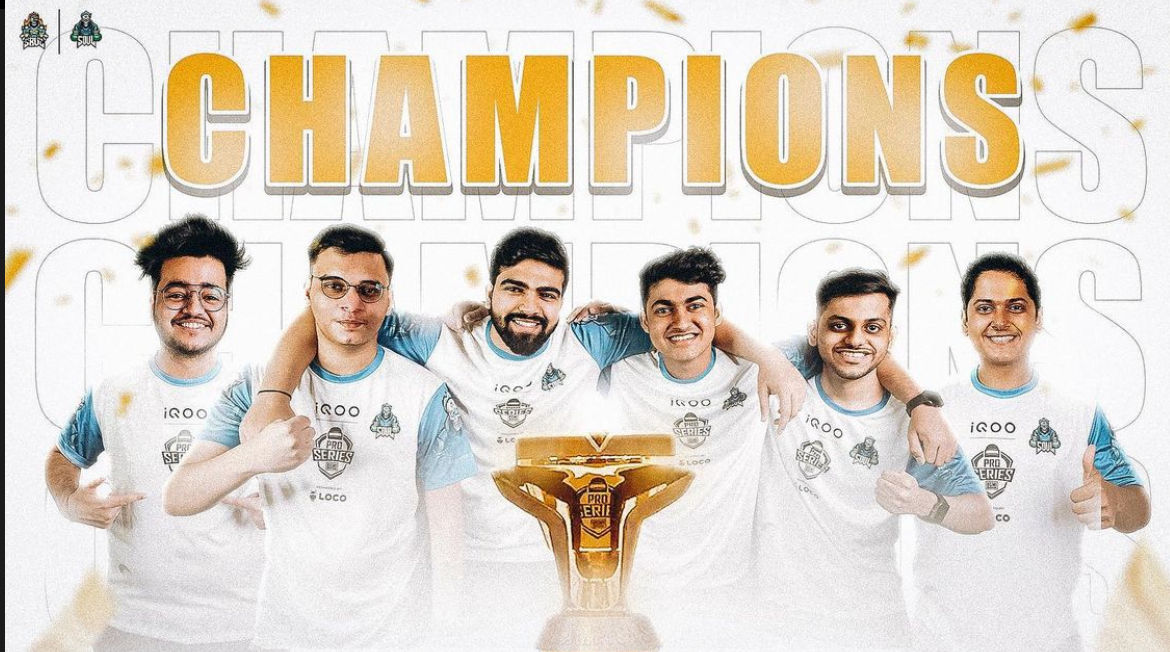 The day has come when BMPS Season 1 Grand Finals Day 4 has ended, which concludes the tournament. At the end of the day, Team Soul has emerged as the reigning champions of this mega-official event from Krafton, Iqoo Esports. The team raked a total of 335 points on four days with 166 eliminations. Goblin alone took 71 finishes while Akshat contributed 40 kills to the team.
Having emerged as the Champions with outrageous domination, Team Soul has won Rs 75 lakh prize money, the ultimate championship title, and the BMPS trophy. The team also bagged the Most Finishes reward, Goblin Took the MVP title and 3 Player of the Day awards, while Akshat took the Lone Survivor award, which gained them nearly an Rs 10 lakh worth of prize money.
OR Esports finally had a great day and managed to climb to the second position and become the runner, earning them Rs 35 Lakh. Enigma Gaming played brilliantly and has shown a few consistent gameplays, leading them to become the second runner-ups after Soul and OR. They have been rewarded with Rs 20 lakh. Global Esports was ranked in the fourth position, while FS, Nigma, Big Brother Esports, and XO are in fifth, sixth, seventh, and eighth positions, respectively.
Teams like XO, Hyderabad Hydras, 7Sea, and Hydra, who performed well in the League Stage, have not got the chance to put up a great show for their fans in the finals. Underdog teams like R Esports, Autobotz, WSF, and Kinetic have outraged tier-1 teams in BMOC, which is considered a great achievement for themselves and have reached this far. They might be invited to the next official event of BGMI and Krafton.
BMPS Season 1 Grand Finals Day 4 Overall Standings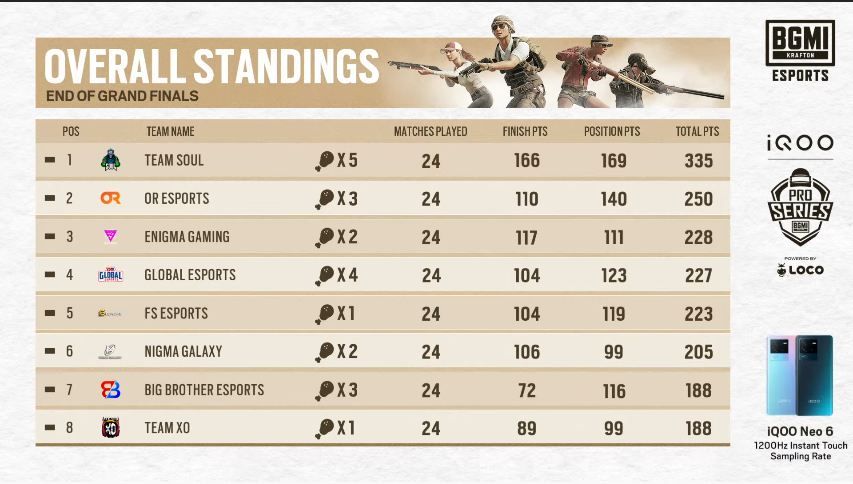 Big Brother Esports have claimed the first match of the day with 12 finishes, where they eliminated FS Esports in the final fight to claim their chicken dinner. Nigma Galaxy took the third spot on the match standings table with seven finishes, while Enigma secured the fourth position with eight frags. Team Soul was eliminated at the ninth position with three finishes.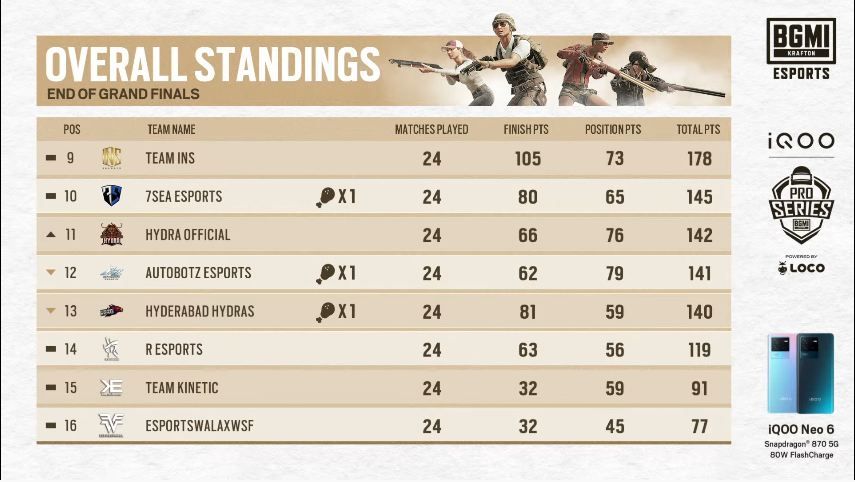 The second match of the Final Day was played on the Miramar, in which the last fight was among the top two teams, Soul and Global Esports. Global esports eliminated XO at the third position and defeated soul at the second position by finishing the lone survivor Goblin. They secured a total of 9 frags, whereas XO and soul took 11 and six finishes, respectively. R Esports and OR esports were eliminated early but managed to grab nine and seven kills, respectively.
OR Esports became the champions of the third match with 11 finishes, where they outperformed R Esports at the second position, who had nine kills. Hyderabad Hydras took four kills while eliminating at the third spot. FS Esports and Big Brother Esports took five and eight kills in this match, while Enigma and Global Esports ended the match with seven finishes each.
Team Soul had an early elimination in this match, and they have not taken any finishes in this match. This match helped OR Esports enter the Top 3 in the point standings.
Its Team SOUL carrying the emotions of fans 🥺🚀

BMPS winners 🔥 | @S8ulesports @Mortal04907880 pic.twitter.com/KxzNKK0x8i

— Priyanshu Khandelwal¹⁸ 🇮🇳 (@Priyanshuinnn) June 12, 2022
OR Esports again played a brilliant knock in the fourth match of the day and claimed the second consecutive chicken dinner with six kills. But Enigma Gaming evolved as the table-toppers in the match standings with 12 finishes. INS took 11 kills in this match while FS Esports secured seven finishes. This match led OR Esports to take second on the overall standings chart.
The fifth match surprised everyone by winning the fifth match of the day as they seemed to lose the final fight to Enigma Gaming. But Immortal from XO had led their team to clinch that chicken dinner with ten kills. Enigma Gaming tried hard to take the win as Rexx has done one vs. two against XO and fierce defeated him finally. But Team Soul was eliminated at the third position but took 13 kills, whereas Goblin alone took seven frags and became the MVP. This match has led Enigma Gaming to enter the Top 3 position on the overall leaderboards.
The last match of the day was won by the defending champions of this tournament with 12 kills where the audience got to see Mortal and Viper in the team in the place of Akshat and Omega. They eliminated OR esports, Nigma Galaxy, and INS in the final fight to claim their win.
BMPS Season 1 Prize Pool Distribution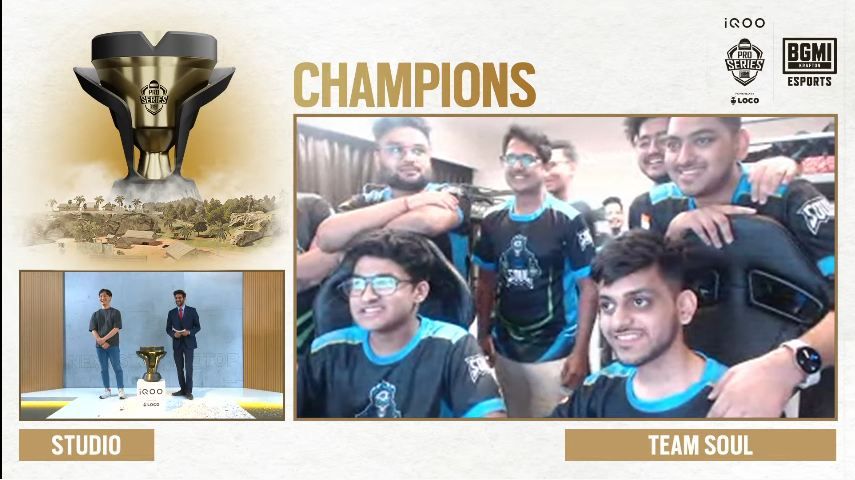 1st Place: Rs 75 lakhs – Team Soul
2nd Place: Rs 35 lakhs – OR Esports
3rd Place: Rs 20 lakhs – Enigma Gaming
4th Place: Rs 10 lakhs – Global Esports
5th Place: Rs 9 lakhs – FS Esports
6th Place: Rs 7.5 lakhs – Nigma Galaxy
7th Place: Rs 5 lakhs – Big Brother Esports
8th Place: Rs 4 lakhs – Team Xo
9th Place: Rs 3 lakhs – Inside Out
10th Place: Rs 2.5 lakhs – 7 Sea Esports
11th Place: Rs 2.25 lakhs – Hydra Official
12th Place: Rs 2 lakhs – Autobotz
13th Place: Rs 1.75 lakhs – Hyderabad Hydras
14th Place: Rs 1.5 lakhs – R Esports
15th Place: Rs 1.25 lakhs – Kinetic
16th Place: Rs 1 lakh – Esportswala x WSF
MVP: Rs 2.5 lakhs – Goblin (Team Soul)
Most finishes: Rs 2 lakhs – Soul -166 finishes
Lone Survivor: Rs 1 lakh – Akshat (Team Soul)
Rampage: Rs 1 lakh – Goblin (Team Soul)
The organizers have set a few more awards and prize money exclusively for the finals, which are based on the community voting and performance on the matchdays. They are as follows:
Fan Favorite Team: Team Soul – Rs 1 lakh
Fan Favorite Player: Goblin (Team Soul) – Rs 1 Lakh
Player of the Day (Day 1) – Eggy (Enigma Gaming) – Rs 1 Lakh
Player of the Day (Day 2) – Goblin (Team Soul) – Rs 1 Lakh
Player of the Day (Day 3) – Goblin (Team Soul) – Rs 1 Lakh
Player of the Day (Day 4) – Goblin (Team Soul) – Rs 1 Lakh
Top 5 Players of BMPS S1 Grand Finals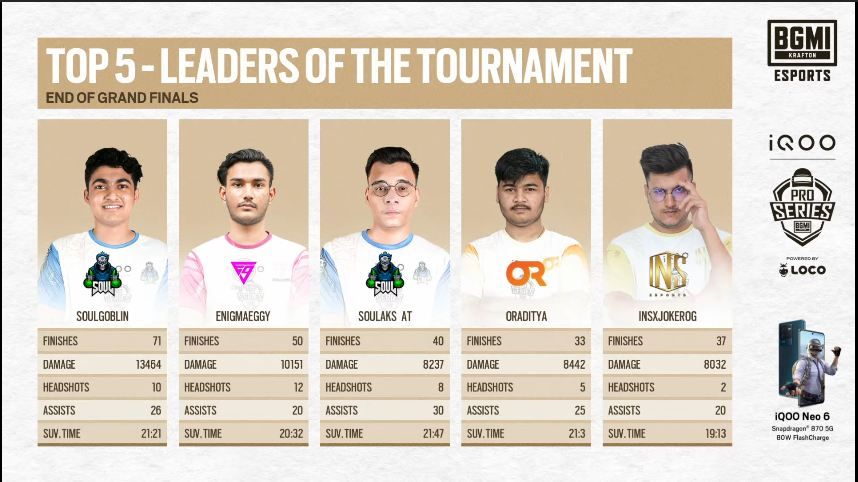 Goblin has shown an emphatic and tremendous performance since BMOC Round 4, and Omega's IGL-ing, Akshat Assaulting, and Hector's support with the mentoring of Sid, Mortal, Aman, Thug, and Goldy have led the team to this great position. The tournament has introduced a few players like Screams (BB Esports), Eggy (Enigma Gaming), Attanki and Jelly from OR, etc. These players have put up a wonderful show at the event. Thanks to Tesseract Esports for being the backbone of this event, and Cheers to the Casting Desk, including Ocean Sharma, Ankibot, Spero, Fyxus, Mazy, Arka, and Experiment, for giving the event a voice.