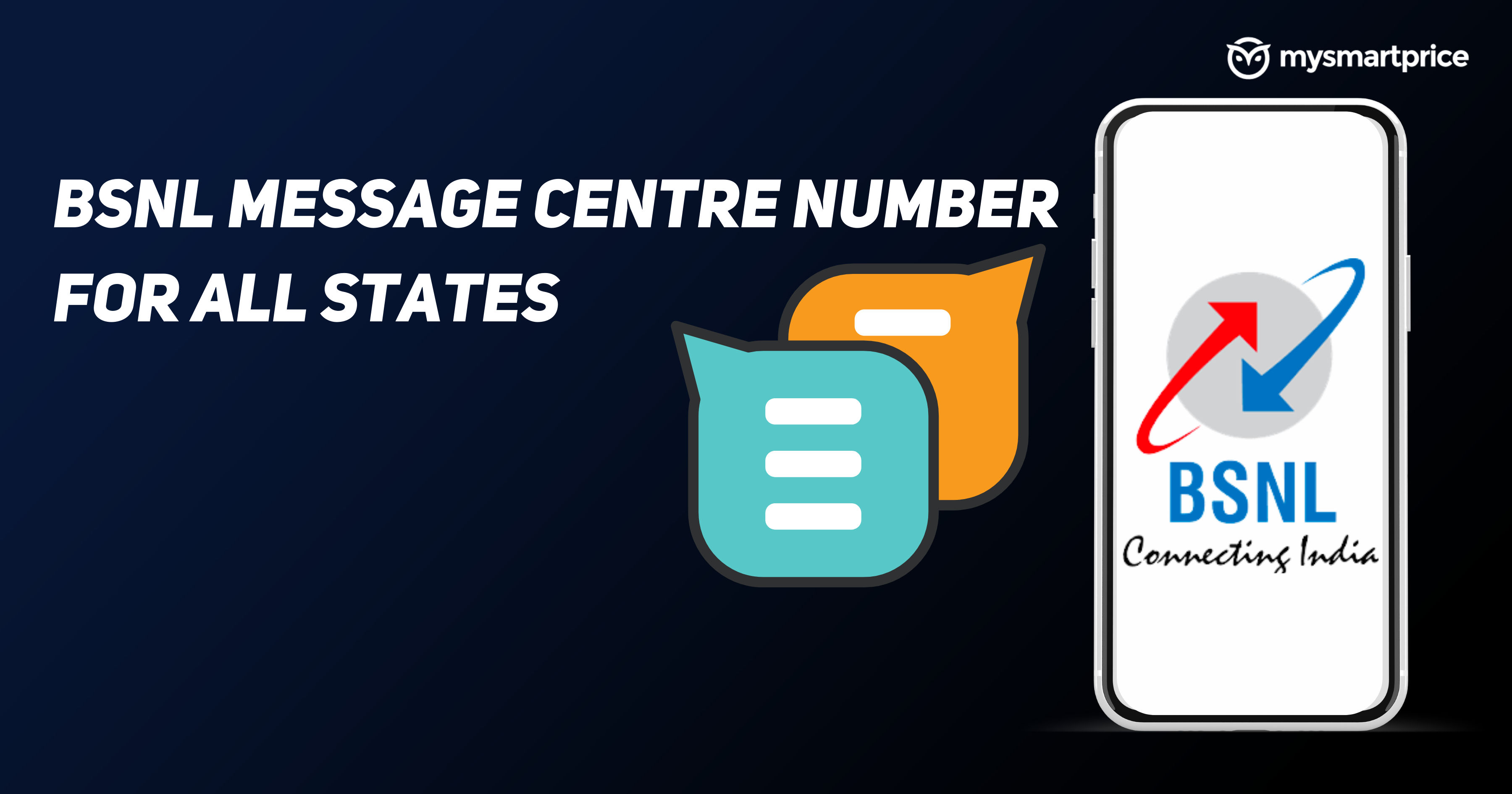 If you are not able to send or receive a message from your BSNL SIM on your phone, then there could be certain reasons for it. Either your recharge plan has expired or there is some issue with your SIM. But there could be another reason, incorrect or old, SMSC or Message Centre number. Message Centre maintains the sending and receiving processes from one device to another. However, it keeps on changing, so if you are not able to send or receive any messages from your BSNL SIM, then here's a list of updated Message Centre numbers for all states and how can you change it.
Also Read: BSNL Balance Check: How to Check BSNL Data, SMS, Talktime, Prepaid Plan Validity – Enquiry Number Code List
BSNL Message Centre Numbers
For All States
To get the BSNL SMS centre number for your state, check out the below list.
States Name
BSNL SMS

Center Number

Andaman Nicobar

+919434099997

Andhra Pradesh

+919442099997

Arunachal Pradesh

+919434099997

Assam

+919434099997

Bihar

+919434099997

Chhattisgarh

+919422099997

Goa

+919422099997

Gujarat

+919422099997

Haryana

+919417099997

Himachal Pradesh

+919417099997

Jharkhand

+919434099997

Jammu & Kashmir

+919417099997

Karnataka

+919442099997

Kerala

+919442099997

Madhya Pradesh

+919422099997

Maharashtra

+919422099997

Manipur

+919434099997

Meghalaya

+919434099997

Mizoram

+919434099997

Nagaland

+919434099997

Odisha

+919434099997

Punjab

+919417099997

Rajasthan

+919417099997

Sikkim

+919434099997

Tamil Nadu

+919442099997

Telangana

+919442099997

Tripura

+919434099997

Uttar Pradesh

+919417099997

Uttarakhand

+919417099997

West Bengal

+919434099997
How To Change BSNL SMS Centre Number?
Also Read: BSNL Recharge Plans 2022: Best BSNL Prepaid Plan List with Data, SMS, Unlimited Calling, SIM Validity Benefits
Change BSNL Message Centre Number From Message Settings
BSNL message centre number is changeable, so if you plan to change it, follow the steps below.
Launch the messaging app on your phone.

On the top right corner, there will be three dots, also called the Menu option. Tap on it.

A drop-down menu will appear, choose Settings.

Scroll down and tap on Advanced. There will be an option named SMSC. Tap on it to edit.

Now, copy the BSNL SMS centre number for your state from the above list. Paste it and click on Save.

That's it, you have changed the BSNL SMS centre number from your phone. You can now send the SMS again.
Change BSNL Message Centre Number From USSD Code
If your message app is not showing the SMSC option, then you can try changing the BSNL message centre number from USSD code on your phone.
Dial *#*#4636#*#* on your phone on the dial pad.

A prompt will appear, tap on the phone information and scroll down to the bottom.

Search for the SMSC option and tap the refresh button to view the current SMS centre number.

Now, fill in the above BSNL SMS centre number as per your state and click on Update.
That's it, your BSNL SMS centre number has changed and you can now use it to send SMS.
Also Read: BSNL Validity Extension Plans 2022: List of All BSNL Recharge Plans to Extend Validity – Benefits and Price
FAQs
1) What are the benefits of using the BSNL Message Centre /SMS Centre Number?
BSNL users can use the message centre number to get in touch with the company on various issues. The SMS centre number will respond quickly here with all the information a user needs.
2) Why are my BSNL message not sending?
The BSNL messages are not being sent because of the SIM issues. Try using an alternate SIM or use contact customer service for better resolution.
3) How to reset my BSNL message Centre number?
BSNL users can either update or replace the Message Centre number but cannot reset it.