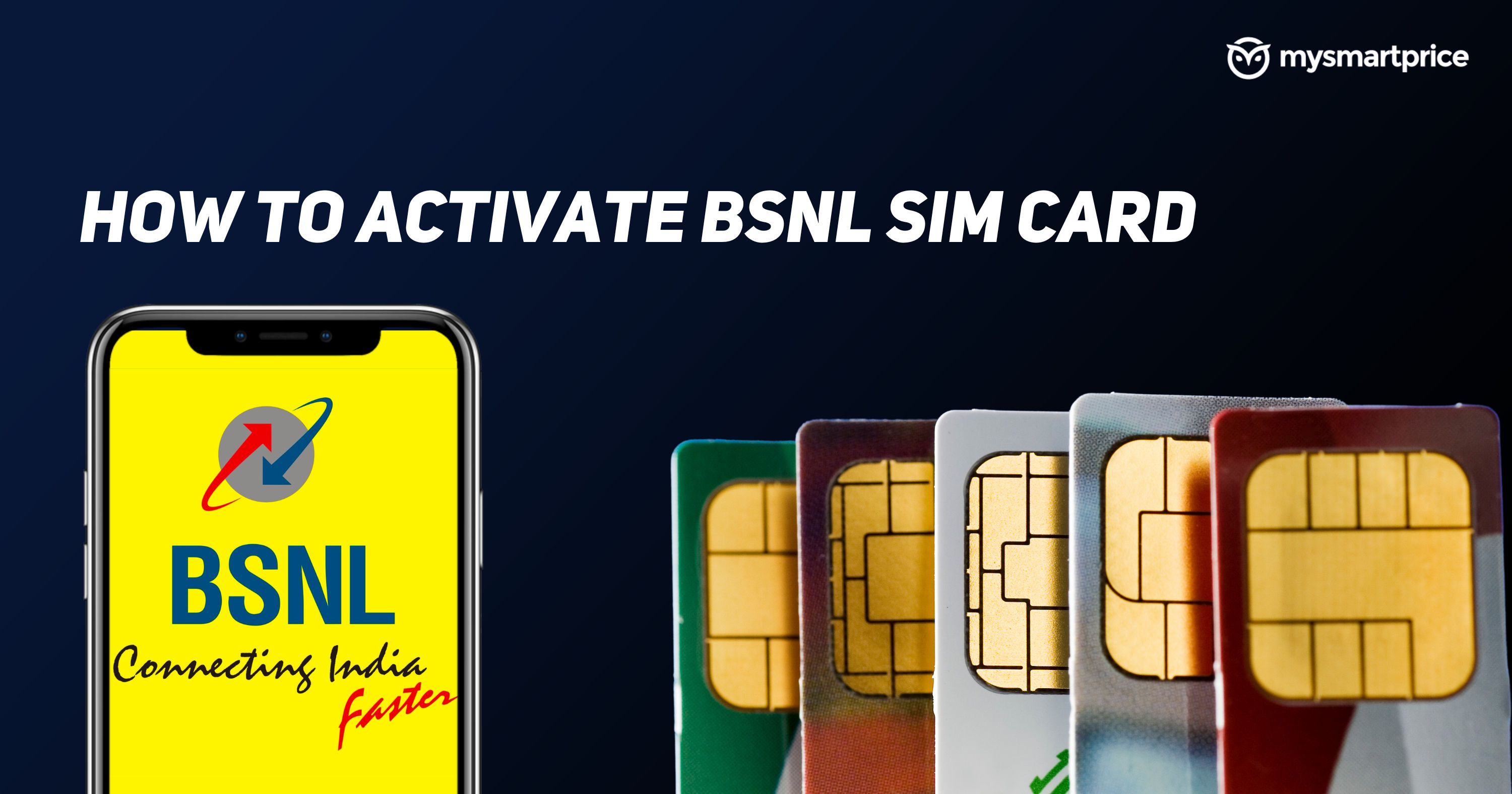 Bharat Sanchar Nigam Limited (BSNL) is one of the largest telecom operators owned by the government. The operator is known for offering cheap prepaid plans and interesting offers. Although BSNL is yet to roll out 4G services in the country, it still provides a stable 3G connection across India.
So, if you want to have a new BSNL number or just bought one, the first question is: How can you activate it? In order to answer these questions, we have compiled this article that will help you to activate your BSNL SIM card without much worry. Here is everything that you need to know.
Also Read: BSNL Recharge Plans: Best BSNL Prepaid Plan List with Data, SMS, Unlimited Calling, SIM Validity Benefits
How to Activate a New BSNL SIM Card?
Users can purchase a new BSNL SIM card from regional mobile distributors or authorised service centres. Once you acquire your SIM, you'll need to activate it in order to start using it. Here's how you can do it:
Put your BSNL SIM card in your mobile phone and restart it.

Watch for the network signal to emerge.

Open the phone app after you notice the network signal at the top of the display.

To verify your identification, call 1507 from your phone.

Questions about your language skills, identity and address evidence, among others, will be asked of you.

Follow the instructions for the tele-verification phase.

Your BSNL SIM will be successfully activated once it is finished.

You will obtain internet settings unique to your handset.

When you save these changes, your SIM Card will function properly.

The SIM can now be used for calling and Internet services.
Users of BSNL can also dial 123 and follow the IVRS's instructions to learn how much their balance is. Users can then begin utilizing their SIM for calls and services.
Also Read: BSNL Balance Check: How to Check BSNL Data, SMS, Talktime, Prepaid Plan Validity – Enquiry Number Code List
How to Activate Data Service on Your BSNL SIM Card?
To use high-speed BSNL 3G services on any iPhone, Android, Windows phone, etc., consumers must complete a simple process known as "BSNL data activation and deactivation on prepaid mobile."
In order to do that, you can send the text message "Start" to 1925 from your BSNL number. You will receive a notification saying, "Mobile data service has been enabled."
Also Read: BSNL Validity Extension Plans: List of All BSNL Recharge Plans to Extend Validity – Benefits and Price
How to Activate BSNL SIM after Expiry?
Reactivating a deactivated or expired BSNL prepaid SIM card is possible in a variety of ways.
According to TRAI regulations from March 22, 2013, services for any prepaid mobile connection will be turned off after 90 days for subscribers with less than Rs 20 in their account and those who have not used them in any way (including making or receiving voice or video calls, sending SMS, using mobile internet or data, or using VAS).
First, you must contact BSNL customer service to request reactivation. You must submit your reactivation request at the nearby BSNL outlet. You must include documents showing your address and photo ID along with the request. Alternatively, if the operator disconnected it at your request or due to the inaccurate CAF, your number will be reinstated after you receive a confirmation call.
You have 15 days to reactivate your BSNL Mobile if it has been deactivated.
Try to contact BSNL customer service and ask for reactivation.

Reactivation requests should be made at the nearby BSNL store.

Proof of your address and identification with a photo is required.

Your number may receive a confirmation call before being reactivated.
USSD Codes for BSNL SIM Activation
You may instantly activate a BSNL SIM by calling the number 53734, which is the BSNL activation USSD code. The best approach to activating your BSNL VoLTE sim is to call this number. However, you must send a message from your phone in the manner described in the section below in order to activate a BSNL SIM.
FAQs:
How long does it take for BSNL to activate a SIM card following Tele verification?
It may take up to 48 hours to activate a new SIM card once you've submitted the request for a new connection. You can use the alternative mobile number you supplied in CAF to prove your identification. Once the identification is made, you will receive a call for Tele verification. Post Tele verification, your SIM card may take between 30 minutes and 2 hours to activate. One can call customer service if you are having trouble activating your BSNL SIM card on 1800-180-1503.
After tele-verification, I am unable to use my phone to access the internet. What should I do?
Check the settings on your phone. The procedures below should be followed if connectivity problems persist even after activating mobile data:
If it's an Android-based device, then:
Access the settings app.

Click the Network and Internet buttons.

Click on Mobile Networks now.

Click on BSNL.

Scroll down to find the Preferred network type option and click it.

Tap on 3G/4G/automatic now. You should now be able to use your mobile data.
In the case of iPhones and iPads:
Access the settings app.

Click on Cellular.

Select Cellular Data from the menu.

Then click Enable 4G.

Now select "both voice and data" from the menu.

You should now be able to access the internet.
How can I know my BSNL SIM is active?
When you dial the USSD code *124# from a BSNL line, the service provider will send you an immediate SMS with information about the balance and validity of your BSNL subscription.
How can I make my BSNL SIM active by recharge?
According to TRAI regulations, beginning on March 22, 2013, services for any prepaid mobile connection will be turned off for subscribers with less than Rs. 20 in their account, and if there has been no usage for 90 days, defined as no incoming or outgoing voice or video calls, outgoing SMS, mobile internet or data use, use of value-added services, or purchases made with balance.
Prepaid mobile connections can be renewed for Rs. 20 within the grace period of 15 days following the deactivation date.
If your BSNL Mobile is deactivated, you have 15 days to reactivate it.
Try contacting BSNL customer service to request reactivation.

Make a reactivation request at the nearby BSNL store.

Proof of address and photo identification should be provided.

After which your number will be reactivated, a confirmation call might be made.
How much does it cost to activate BSNL SIM?
By paying a nominal fee of Rs. 20, your Prepaid Mobile connections can be restored within 15 days of the deactivation date.
How much does it cost to recharge an expired BSNL SIM?
When your prepaid period ends, your account gets deactivated. However, there will be a grace period where you can recharge your prepaid card to reactivate it. You will not be able to place or receive calls during the grace period.