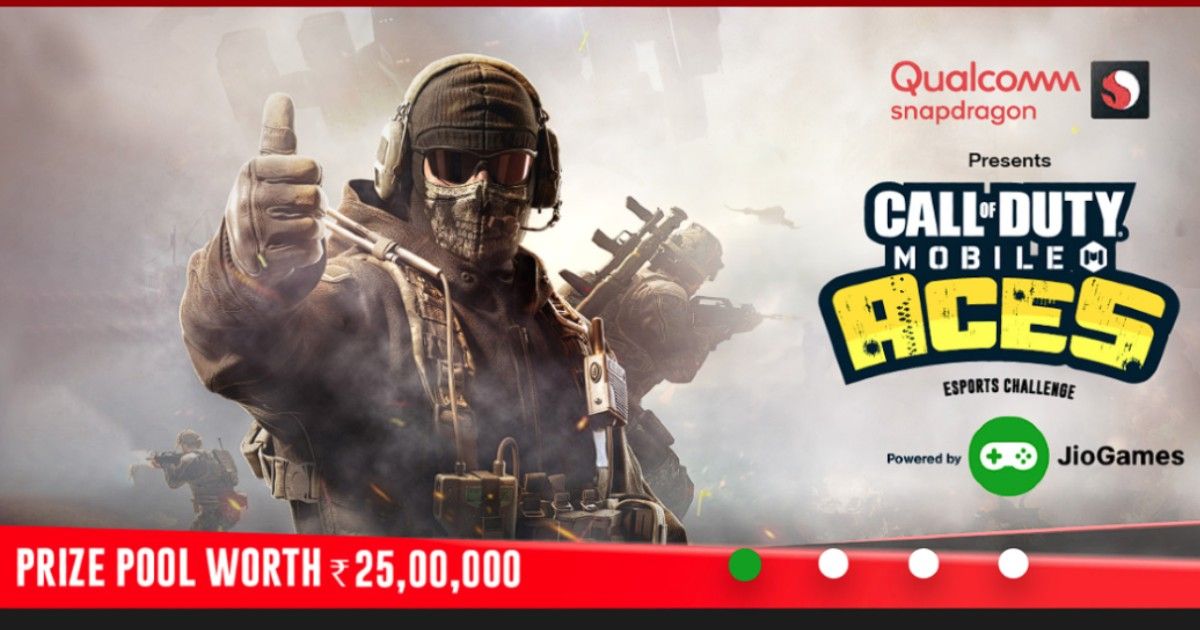 Reliance Jio and Qualcomm Snapdragon have joined hands to host a gaming tournament on the JioGames platform. The companies are calling it the Call of Duty Mobile Aces Esport Challenge, the game tournament is a free-to participate which includes Solos and 5V5 team plays. The company has also announced that the winning team of the Call of Duty Mobile Aces Esports Challenge will get a prize pool of Rs 25 lakhs. Jio has announced that it will live stream the entire esports tournament on its JioTV, Esports HD channel, Facebook Watch, and JioGames YouTube channel also. Here's how you can register for the esports tournament.
"The collaboration between the two is set to bring superior gaming experiences to the gaming enthusiasts across India through multiple contests that will be organized by JioGames on the JioGames Esports platform with QCTAP as a title sponsor. The collaboration will start with the first contest, 'Call of Duty Mobile Aces Esports Challenge', featured on JioGames Esports platform," Jio said in a press release.
How to Register for Call of Duty MobileAces Esports Challenge
Do note that the tournament is free to participate for all the Jio and non-Jio users.
The interested ones need to first visit the official Jio games website by clicking here.
On this page, you can see the Join button, click on it and proceed for login.
The Game ID and IN-Game name are mandatory for Solo Aces.
You need to validate your email id to join the tournament.
Once you logged in, you can see the registration form.
You need to provide necessary details like Game ID, email ID, name, and more.
Once you are done with the form hit the submit button and you are good to go.
According to the official website, the registration for the Solos tournament ends on April 11th, 2021 at 9 PM IST. However, you still have time until April 30, 2021, to register for 5V5 team matches. The qualifier matches will kick off on June 11, 2021, and the finals will be held on June 20th, 2021.
Solo Aces
Ranking
Prize Pool
Daily Qualifier
1st  Place
Rs 2,000
2nd Place
Rs 1,000
Solo Final v
1st  Place
Rs 25,000
2nd Place
Rs 15,000
3rd Place
Rs 12,000
4th Place
Rs 8,000
5V5 Team Plays
Ranking
Prize Pool
Grand Final
Winner
Rs 6,50,000
2nd Place
Rs 4,25,000
3rd Place
Rs 2,75,000
4th Place
Rs 1,50,000
All Star Aces
1st  Place
Rs 2,00,000
2nd Place
Rs 1,00,000
3rd Place
Rs 60,000
4th Place
Rs 40,000
Online Game Tournament Rules
The game version of all the participants will be updated to the latest version.
Players will use their own online access and Gamer Tags to participate in the event.
All tournament matches will be played in lobbies hosted by tournament officials.
In the case of a tie, the game will be replayed before moving to another level.