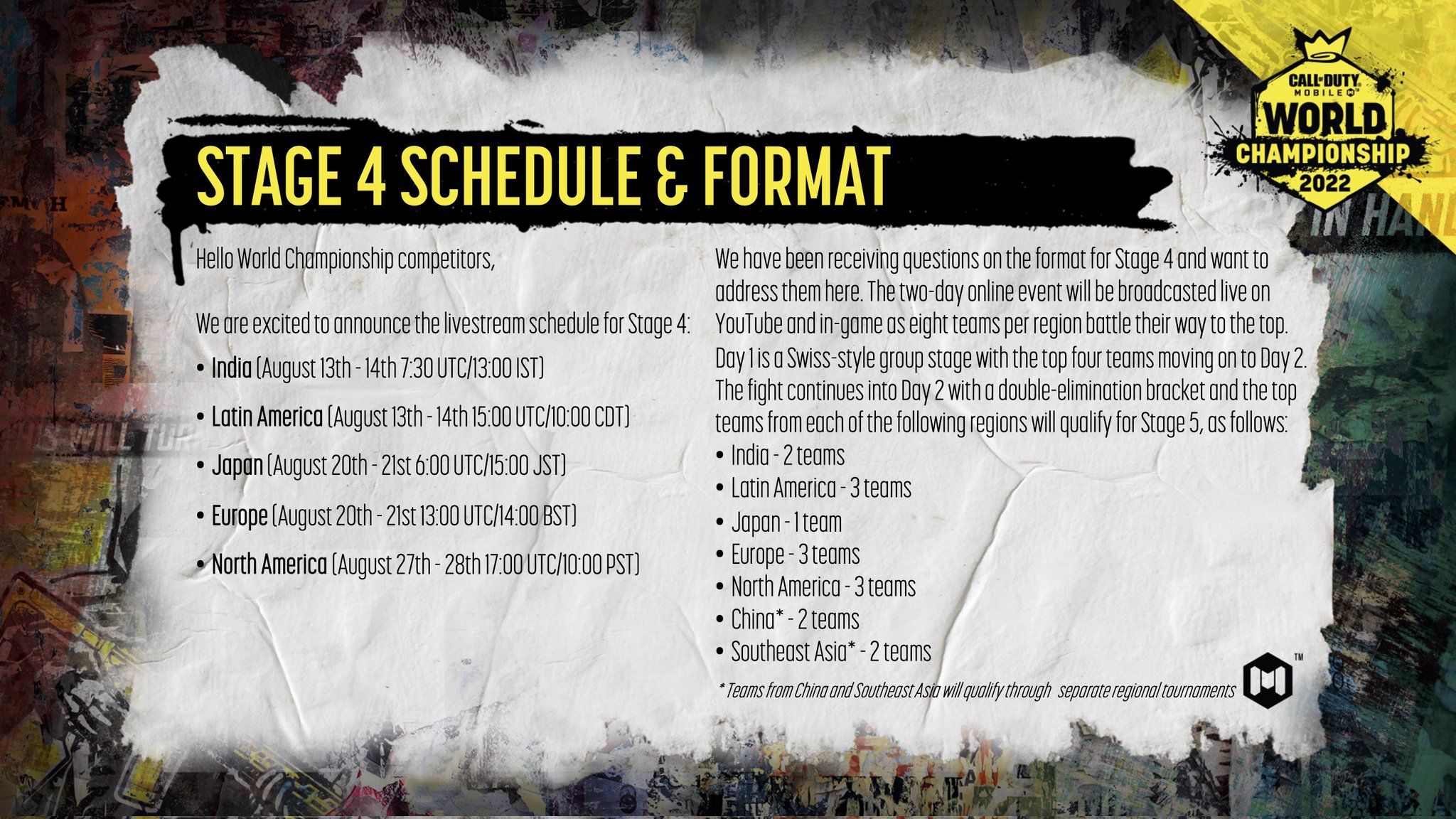 The third stage of the Call of Duty Mobile World Championship 2022 concluded in June and July 2022. Activision announced the event back in March 2022 and none of the three stages was broadcasted. Now, the forthcoming stage called COD Mobile World Championship 2022 Regional Playoffs, will be streamed online and it includes 5 regions.
Call of Duty Mobile World Championship 2022 is the official event of COD Mobile organized by Activision. The event boasts a huge prize pool of $ 2 million. An official announcement including the Stage 4 details like broadcast timings, regions, schedule and more has been released on the Internet. Let's check out the new format and schedule of Stage 4 and Stage 5 of COD Mobile WC 2022.
Call of Duty Mobile World Championship 2022 Stage 4 – All you Need to Know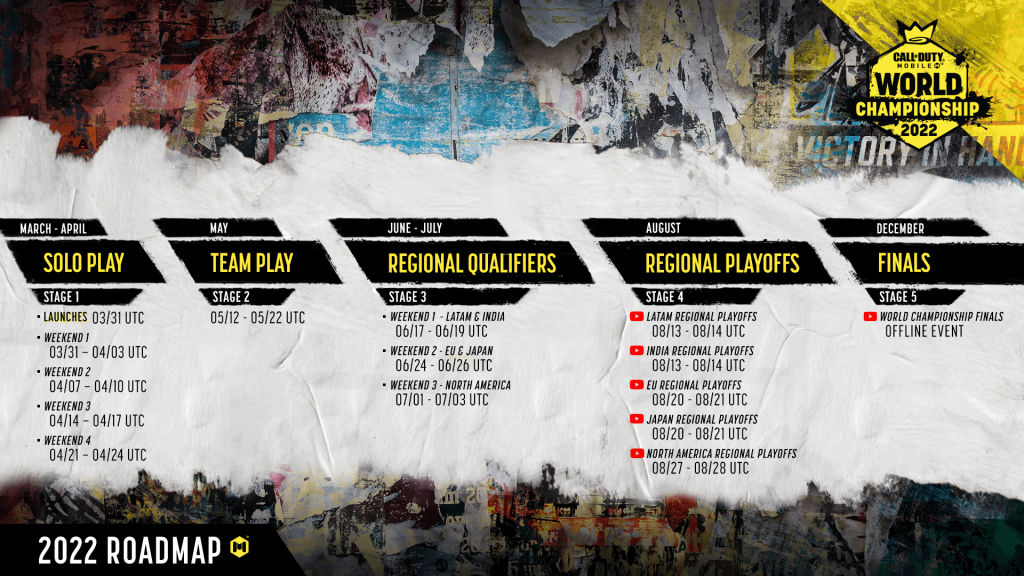 Call of Duty Mobile WC Stage 3 had taken place from 17 June to 3 July and the top 8 teams from each region have been advanced to Stage 4 of the event. The Regions include India, Latam, North America, Japan, EU. Here is the format of COD Mobile World Championship Stage 4, which is set to take place in August 2022:
Each regional playoffs will take place as an online event for 2 days.
Eight qualified teams will play on Day 1 in a Swiss-style Group Stage
The top 4 teams from Day 1 will advance to Day 2.
4 Qualified teams will play in a Double-elimination bracket format and the top teams will qualify for the Finals.
Here is the schedule for five regional playoffs:
LATAM and India – August 13 and 14
EU and Japan – August 20 and 21
North America – August 27 and 28
🚨 #CoDMobile World Championship Stage 5 Updates! 🚨

Schedule: ⏬️
🗓 9th-11th December 2022

Slot Distribution (Teams): ⏬️
• Latin America (LATAM) – 3
• Europe – 3
• North America (NA) – 3
• India – 2
• China – 2
• Garena (Southeast Asia) – 2
• Japan – 1 pic.twitter.com/vkcOpSPsU4

— GLXY COD Mobile (@GLXYCODM) July 13, 2022
After Day 2, The top teams from each regional playoffs will make it to the Final Stage i.e., Stage 5 as follows:
Latin America LATAM – 3
Europe – 3
North America (NA) – 3
India – 2
China – 2
Garena (Southeast Asia) – 2
Japan – 1
Teams from China and South East Asia will get slots on the basis of their separate regional tournaments. Two teams from India will have the chance to represent our country in the Finals of this COD Mobile's global event.
Where to Watch?
Fans can watch the regional playoffs online on YouTube or in-game at the following timings:
India – 13 and 14 August – 7:30 UTC/13:00 IST
LATAM- 13 and 14 August – 15:00 UTC/10:00 CDT
Japan – 20 and 21 August – 6:00 UTC/15:00 JST
Europe- 20 and 21 August – 13:00 UTC/14:00 BST
North America- 27 and 28 August – 17:00 UTC/10:00 PST