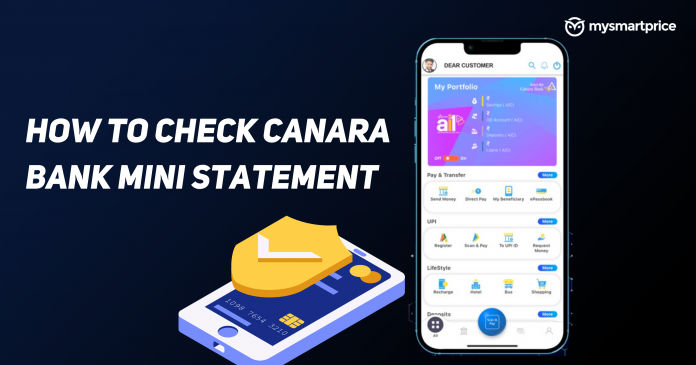 Canara Bank is India's third largest nationalised bank.  Established in the early 1900s, it is headquartered in Bangalore. The bank has over 10,000 branches across the nation and it offers a whole host of facilities for more than 10.4 crore customers. Among all the basic and advanced level facilities that Canara bank offers, the ability to check mini statements is the most popular one. 
With all the facilities that are on offer, checking Canara bank mini statement using missed call number, SMS service, app, and also online banking is easier than ever. A mini statement is a shorter version of your bank passbook that shows you the previous five to ten transactions, so that you can quickly have a look at where did your money go or how you received the money.  This comes in handy when you quickly want to have a look at the last few transactions. 
In this article, we will list out how you can check your Canara bank mini statement in multiple ways. We have listed out five ways to check mini statement, two of which need an internet connection and the other two work on any phone including feature phones without internet connectivity. Let's get started. 
Also Read: SBI Mini Statement: How to Check Last 5 Transactions History Using Missed Call Number, Online, SMS, and More
How to Check Canara Bank Mini Statement via Missed Call Service
One of the easiest ways to get the mini statement is by giving a missed call from your registered mobile number. This process does not need internet connectivity at all. 
To get the, you will have to dial 09015734734 from your registered mobile number and you will instantly get an SMS from the bank with details like the current balance and details of the last five transactions 一 which is your mini statement. The SMS will also show you "CR" and "DR", which are credit and debit.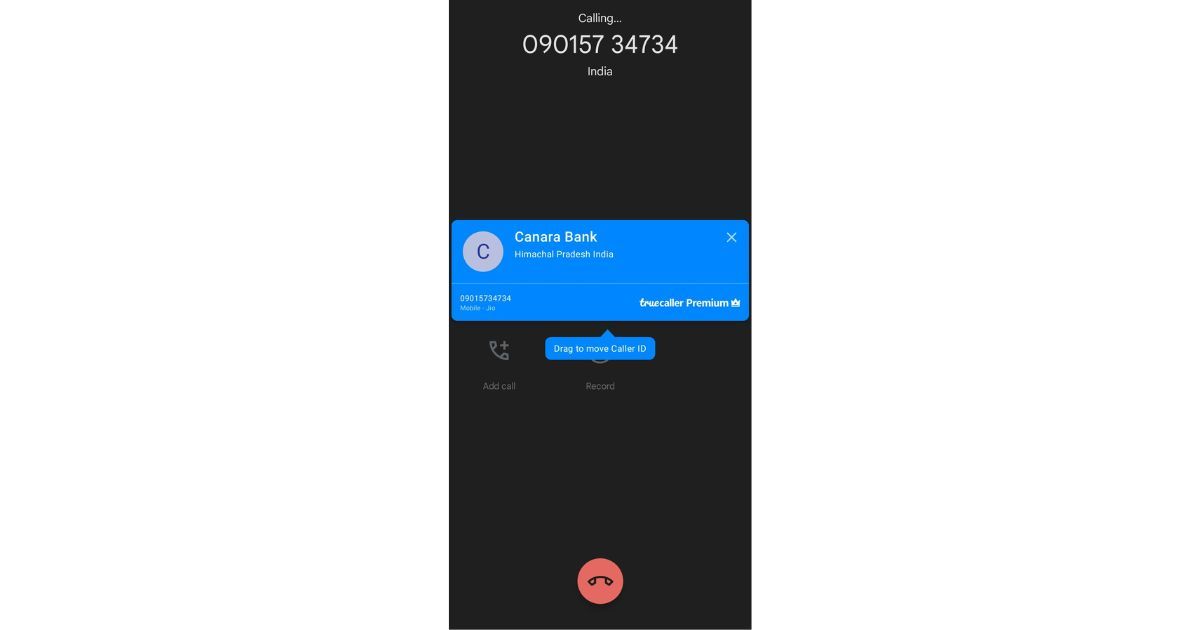 If you want your mini statement in Hindi, you can dial 09015613613 from your registered mobile number.
How to Check Canara Bank Mini Statement via Internet Banking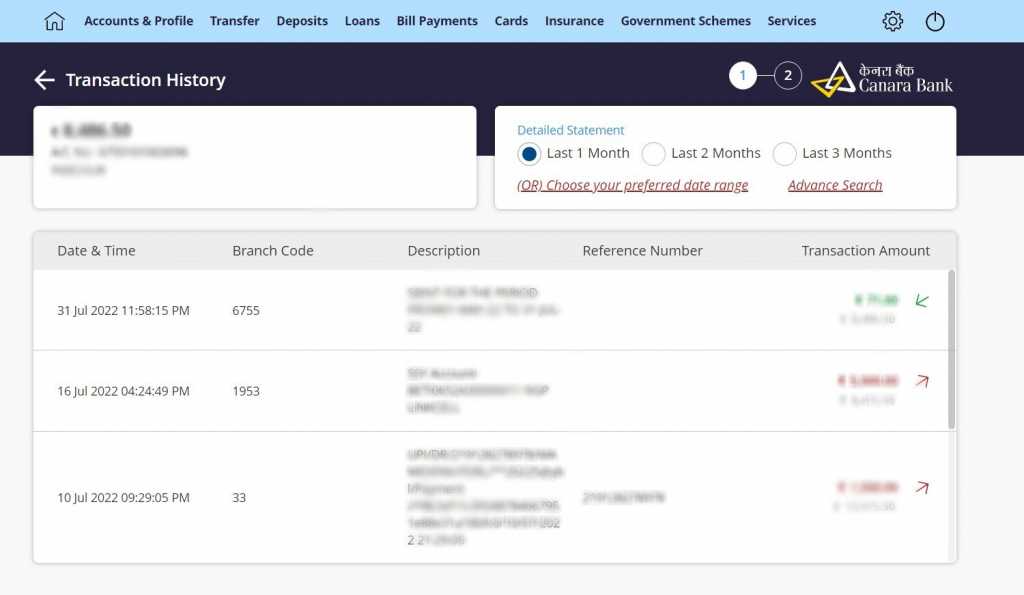 For those who have internet banking facilities enabled and also have the user ID and password handy, internet banking is one of the other ways to check the balance. However, this method requires you to have access to an internet connection. 
Enter Valid User ID, password, and captcha code

Click on "Sign in"

On the left menu, click on "bank details"

On the new screen, you will get the option to check the mini statement 

Click on the mini statement and you will see the details of the mini statement
Also Read: Canara Bank Balance Check: How to Check Canara Bank Balance via Internet Banking, Missed Call Service, Mobile App, and More
How to Check Canara Mini Statement via Toll-Free Number
There is  no dedicated toll-free number to check mini statement with Canara bank, you can use the numbers which are provided in the missed call service section:
Dial 09015734734 for Canara bank mini statement in English

Dial 09015613613 for Canara bank mini statement in Hindi
In case you still need the toll-free number for other queries, from India you can try the following five numbers:
1800 425 0018

1800 103 0018

1800 208 3333

1800 3011 3333

+91-80-22064232 (If calling from outside India)
How to Check Canara Bank Mini Statement via Debit Card using ATM Machine
Insert Canara Bank ATM/debit card into the machine

Select your preferred language

Enter your ATM pin

Select the '

Mini Statement

' option on the screen

Your Canara bank mini statement will be displayed on the scream

If required, you can also take a print copy of your last 10 transactions
Also Read: Bank of Baroda Mini statement: How to Check Last 5 Transactions History Using Missed Call Number, Online, SMS, and More
How to check Canara Bank Mini Statement  via the Mobile app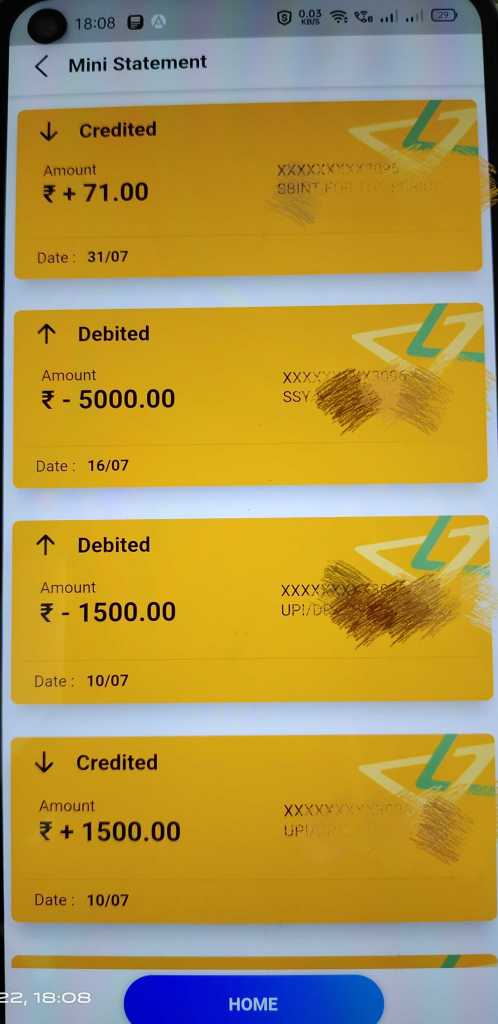 Enter User ID, Password / MPIN to login

In the "All" tab, tap on "ePassbook" under "Pay & transfer"

You will the list of all your recent transactions from your Canara bank account
FAQs:
How to download the Canara bank mini statement?
In the mobile app, you can tap on your savings account balance and then tap on transaction history. Next, you can select the detailed statement for the last 1 month, 3 months, or 3 months. Alternatively, you can also select a custom date range. Next, you will have to tap on the "Download as PDF" option. 
Can I Check my Canara Bank mini account statement without the internet?
You can use the missed call service and ATM machine service 一 both of which do not require any internet connection. 
Can I get my mini statement in Hindi?
Yes, you can dial (missed call) 09015613613 for the Canara bank mini statement in Hindi.
Do I have to pay any charges for availing Canara Bank mini statement service?
No, the mini statement service is free on the internet baking mode, missed call service, and mobile app. However, banks charge annual charges for debit cards and SMS facilities, in which the mini statement is also one of the many services that the bank has to offer. 
How to Register your Mobile Number with Canara Bank
You can register your mobile number in two ways. The first one is by visiting the nearest Canara bank ATM with your Canara bank debit card. Once you are in the ATM, insert the card, enter the ATM pin, select the "Register mobile number" option and enter the mobile number. Enter the OTP you receive on your phone and select "Confirm"
After this, your mobile number will be linked to your mobile number and you will be able to take full advantage of the same. Once the number is linked, you will get an SMS confirming your number has been linked with your account. 
The second method is to register the mobile number by directly visiting the nearest Canara bank branch and filling out a form. You can ask any Canara bank employee inside the bank for their form to register your mobile number and link it with your bank account. 
Thanks for reading till the end of this article. For more such informative and exclusive tech content, like our Facebook page