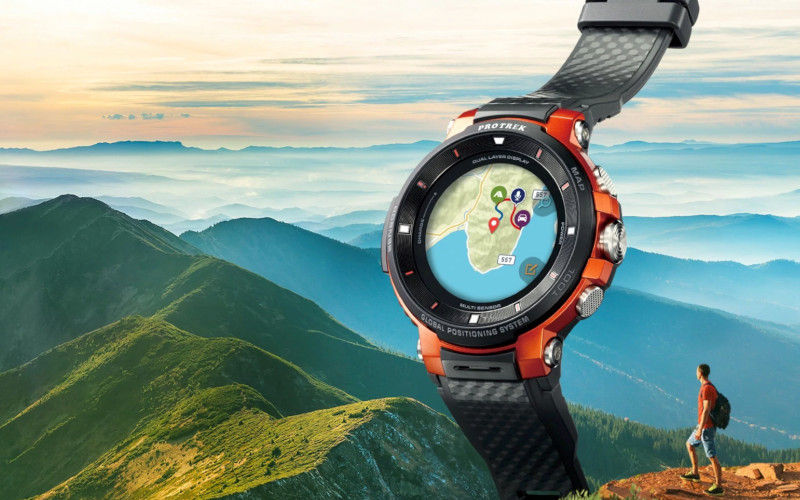 Casio has announced that it will release its PRO TREK Smart WSD-F30 smartwatch officially on January 18. The watch was unveiled back in August during IFA 2018, where it received eight awards. The specifications and features were also revealed during the initial announcement. The watch will ship with Google's Wear OS, and it will be compatible with all smartphones that run Android 4.4 KitKat or newer. It will set you back $550.
The Casio PRO TREK Smart WSD-F30 Offers Improved Water Resistance And Longer Battery Life
The WSD-F30 is a rugged smartwatch that is water resistance up to 50 meters. The watch is also compatible with many satellite navigation systems, like Michibiki, GPS and GLONASS. Unlike last year's Smart Outdoor Watch 2 (WSD-F20), it offers a long battery life, courtesy of a proprietary technology. The watch's unique energy-saving mode leverages the new dual-layer monochrome and color display to increase battery life by up to 3 days. Using only monochrome can help extend the battery life to up to a month. All the essential features, such as time, compass, barometer, and altimeter will still be available when you switch to monochrome.
Protected by a MIL-STD-810 case, the WSD-F30 smartwatch can survive extreme environments such as freezing cold temperatures and it can also withstand falls. Compared to the WSD-F20, the new watch is a little smaller and sports thinner bezels. The wearable also supports 802.11 b/g/n Wi-Fi and Bluetooth Low Energy 4.1.
The Watch Can Save Up To Five Offline Apps
Casio will also launch an extra-long cloth band as an accessory for the watch, which would allow users to wear the new wearable over the sleeve of rugged jackets. Apart from that, the company has entered a partnership with Bikemap, which is the most popular cycling map app in the world. This would enable the watch to display information such as maps and routes and WSD-F30 PRO Trek owners will be able to them download them in advance for offline access. Moreover, details about cycling activity recorded by the device would be automatically synced to the Bikemap app.
Check out the watch in all its glory below and let us know what you think: