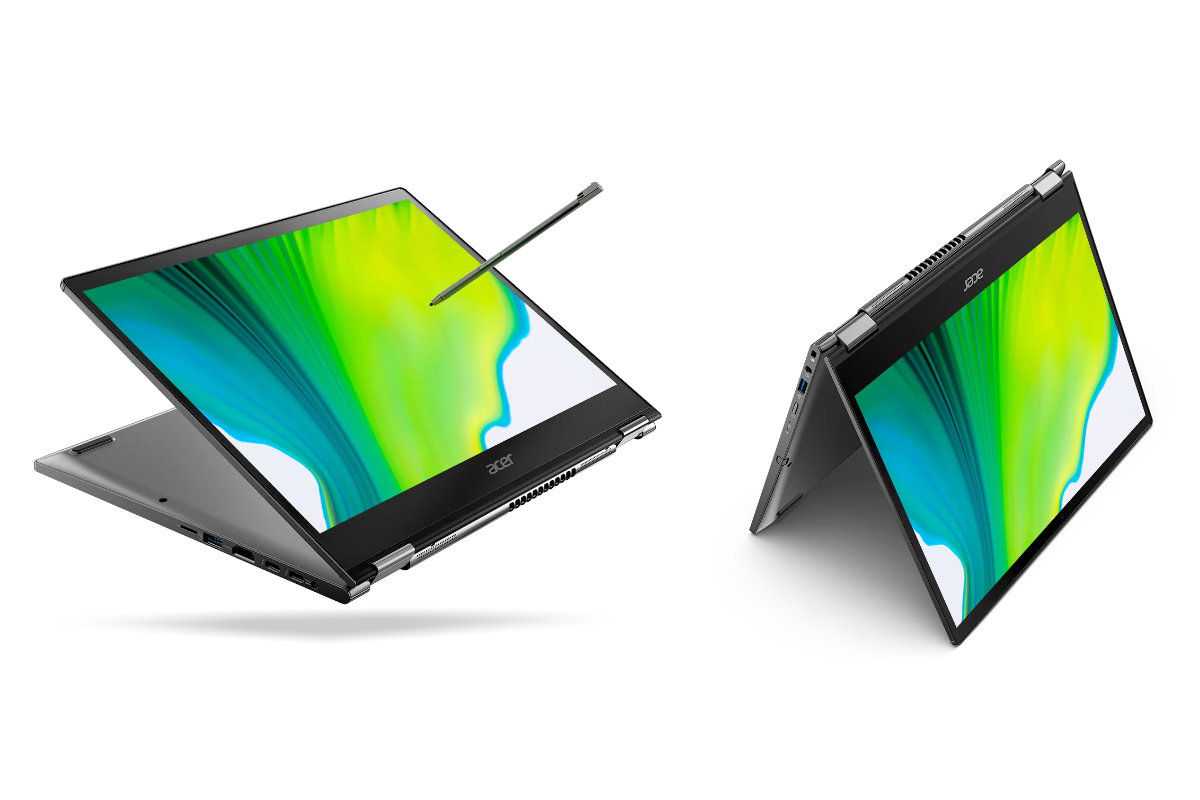 Acer has unveiled updated variants of its Spin 3 and Spin 5 convertible laptops today at CES 2020.
The most significant change these new models bring is that they pack Intel's Ice Lake (10th-generation) processors, offering better performance and increased battery life compared to their predecessors, which were powered by Intel's 8th generation processors.
Another major change is that the Spin 5 now features a 13.5-inch display with 3:2 aspect ratio as opposed to the 16:9 aspect ratio screen in its predecessor, offering more visible content on display. The Spin 3's screen, however, remains unchanged.
The new laptops also feature a slimmer and a more rugged chassis, a newly-developed Active Stylus with Wacom's AES technology that offers 4096 pressure points, and newer connectivity options, among other things. Here are the detailed specifications, pricing, and availability.
Acer Spin 3 Specifications, Pricing, Availability
Display – 14-inch TN panel with Full HD resolution and touchscreen functionality, 16:9 aspect ratio, Acer Active Stylus with Wacom AES technology.
Processor – Options: Intel Core i5-1005G1, Intel Core i5-1035G1, Intel Core i5-1035G4
Graphics – Intel UHD Graphics with 32EUs (Core i5-1005G1, Core i5-1035G1), Intel Iris Plus Graphics with 48EUs (Core i5-1035G4)
RAM – Up to 16GB LPDDR4x in a dual-channel configuration
Storage – PCIe 3.0 x4 M.2 SSD, storage options: 128GB, 256GB, 512GB, 1TB
Operating system – Windows 10 Home
Ports – 2x USB 3.1 Gen 1 Type-A, 2x UBS Type-C Thunderbolt 3, 1x HDMI, 1x microSD reader, 3.5mm audio jack, proprietary charging port
Wireless connectivity – Dual-band Wi-Fi ax, Bluetooth v5.0
Battery – 3-cell 48Wh, 65W charger, 12 hours claimed battery life
Audio – 2 speakers in a stereo configuration, 2 far-field microphones
Weight –5 kilograms
Other features – Accelerometer
Price – EMEA: $649, US: $699
Availability – EMEA: February 2020, US: April 2020
Acer Spin 5 Specifications, Pricing, Availability
Display – 13.5-inch TN panel with QHD resolution and touchscreen functionality, 3:2 aspect ratio, Acer Active Stylus with Wacom AES technology.
Processor – Options: Intel Core i5-1035G4, Intel Core i7-1065G7
Graphics – Iris Plus Graphics with 48EUs (Core i5-1035G4), Intel Iris Graphics with 64EUs (Core i7-1065G7)
RAM – Up to 16GB LPDDR4x in a dual-channel configuration
Storage – PCIe 3.0 x4 M.2 SSD, storage options: 256GB, 512GB, 1TB
Operating system – Windows 10 Home
Ports – 2x USB 3.1 Gen 1 Type-A, 2x UBS Type-C Thunderbolt 3, 1x HDMI, 1x microSD reader, 3.5mm audio jack, proprietary charging port
Wireless connectivity – Dual-band Wi-Fi ax, Bluetooth v5.0
Battery – 4-cell 56Wh, 65W charger, 15 hours claimed battery life
Audio – 2 speakers in a stereo configuration, 2 far-field microphones
Weight –2 kilograms
Other features – Fingerprint scanner, accelerometer
Price – EMEA: $999, US: $899
Availability – EMEA: March 2020, US: June 2020