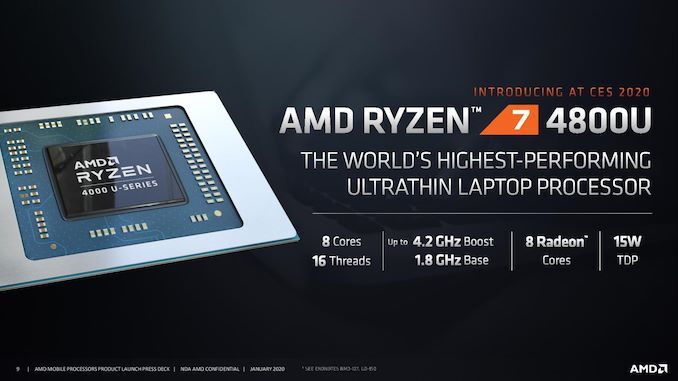 AMD has announced its 4th generation of mobile APUs known as Ryzen 4000 (codenamed Renoir) built on TSMC 7nm process technology at the ongoing CES 2020. They will be available in both 15W or 45W options, commonly known as U series and H series. Additionally, there will be an exclusive 35W variant for ASUS. The first devices with these new APUs will be available sometime later in Q1 2020.
At last year's CES, AMD unveiled its Ryzen 3000 series of APUs. And this year, continuing the tradition, the chipmaker announces its successor Ryzen 4000 series. The new series follows the same monolithic design built on 7nm technology consisting of 8 Zen 2 cores and up to 8 compute units of enhanced Vega graphics. This means it has two times the cores present on the previous generation but three fewer compute units, which however performs better.
The Zen 2 cores present in these mobile chips have the same CCX layout present on the versions. That means the 8 cores are separated into two CCX units and has up to 4MB L3 cache per CCX. These chips can support up to 64GB LPDDR4X memory and has an improved power delivery to deliver up to five times power state entry/exit latency than its predecessor. Although the company is claiming 2x performance per watt, the same is yet to be experienced since all the previously released Ryzen APUs-powered laptops had terrible battery backup when compared to the ones powered by Intel chips.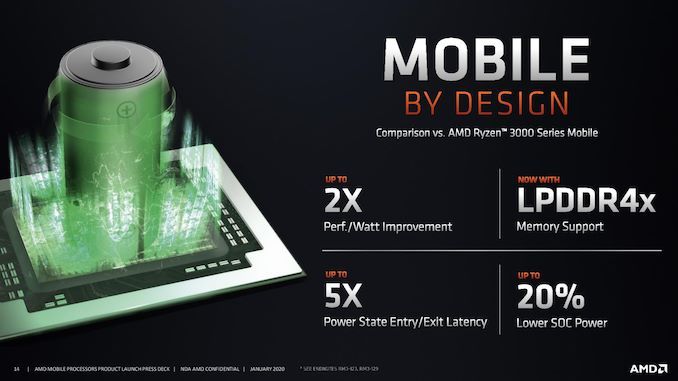 Talking about the new enhanced Vega GPU, despite having 8 CUs, down from 11 present in the previous models, the Ryzen 7 48000U performs 28% better in 3D Mark Time Spy Test against Intel's Core i7-1065G7 because of the high 1750 MHz clock frequency. As for I/Os are concerned, the chips support standard SATA, USB and PCIe 3.0 but the exact SoC support will be announced soon. Additionally, the H-series has a feature called SmartShift, which will adjust the power budget between the discrete GPU and the CPU for the power budget the laptop is designed for.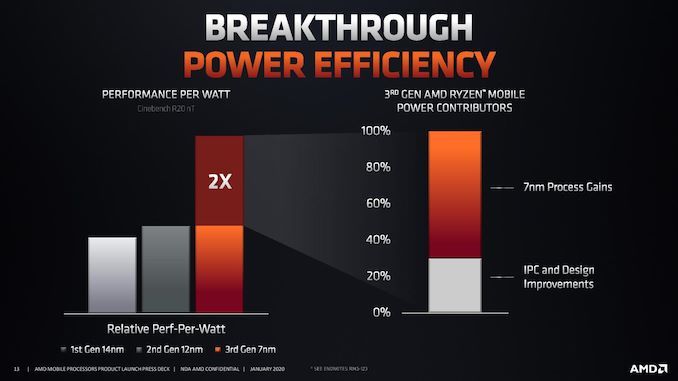 Out of all the AMD Ryzen 4000 series chips, the Ryzen 7 4800HS, a binned version of Ryzen 7 4800H, will be exclusive to ASUS, which can offer 45W performance and frequency in a 35W casing due to better usage of sub-bins for power and voltage. Having said that, ASUS has already announced Zephyrus G14 powered by the said silicon, making them the first OEM to use an AMD Ryen 4th generation chip. We can expect more devices from different OEMs by the end of Q1 2020.