ASUS and NVIDIA have announced a new ROG Swift 360Hz gaming monitor during the ongoing CES 2020. As per the company, the ROG Swift 360Hz gaming monitor is the world's first gaming monitor that comes with support for the NVIDIA G-SYNC to feature a 360Hz refresh rate. Let's have a look at what all the ROG Swift 360Hz gaming monitor has in store for us, especially the gamers out there.
ASUS ROG Swift 360Hz Gaming Monitor: Specifications and Features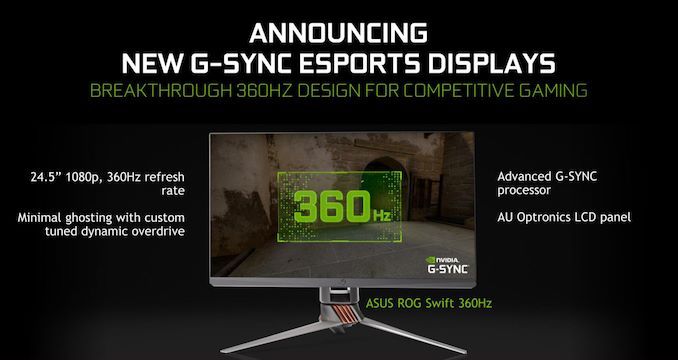 Starting things off with the display of the monitor, the ROG Swift 360Hz gaming monitor features a 24.5-inches Full HD display. While this might turn out to be a bummer for some who were expecting a 4K resolution or higher, one should keep in mind that many gamers instead go for a 1080p panel to ensure that they experience smoother gameplay without any frame drops and stutter.
Also Read: CES 2020: Lenovo Launches Legion Y740S "Gaming" Laptop Without A Discrete GPU
At 360Hz, the ASUS ROG Swift 360Hz gaming monitor simply outperforms the existing gaming monitors out there as it is, well, 120Hz faster than the current generation monitors that top out at 240Hz. There is no denying that ASUS has taken a big leap here with its latest gaming monitor. So far, NVIDIA has not disclosed at to what type of panel is being used with the ROG Swift 360Hz monitor, but since all of the 24.5-inch 240Hz G-Sync monitors that the company has launched so far have TN, so we can expect the same with this one as well.
Also Read: CES 2020: D-Link Unveils Wi-Fi 6 Mesh Systems And Wi-Fi Mesh Compatible Routers
If, however, you prefer a higher resolution gaming monitor, ASUS has also announced the ASUS ROG Swift PG32UQX which features a 4K HDR display. This one sports the NVIDIA G-SYNC ULTIMATE and HDR. The monitor comes with a 16:9 aspect ratio, and it can reach a peak brightness of up to 1400 nits. The monitor is DisplayHDR 1400 compliant. Speaking of the refresh rate, the ROG Swift PG32UQX comes with a standard 144Hz refresh rate, and it supports 10-bit colour.
Both the Asus ROG Swift 360Hz and the ROG Swift PG32UQX monitors will be available later this year. As far as the pricing is concerned, the company has not revealed anything about it as for now.
What are your thoughts on the latest gaming monitors by ASUS? Do let us know in the comments section below.