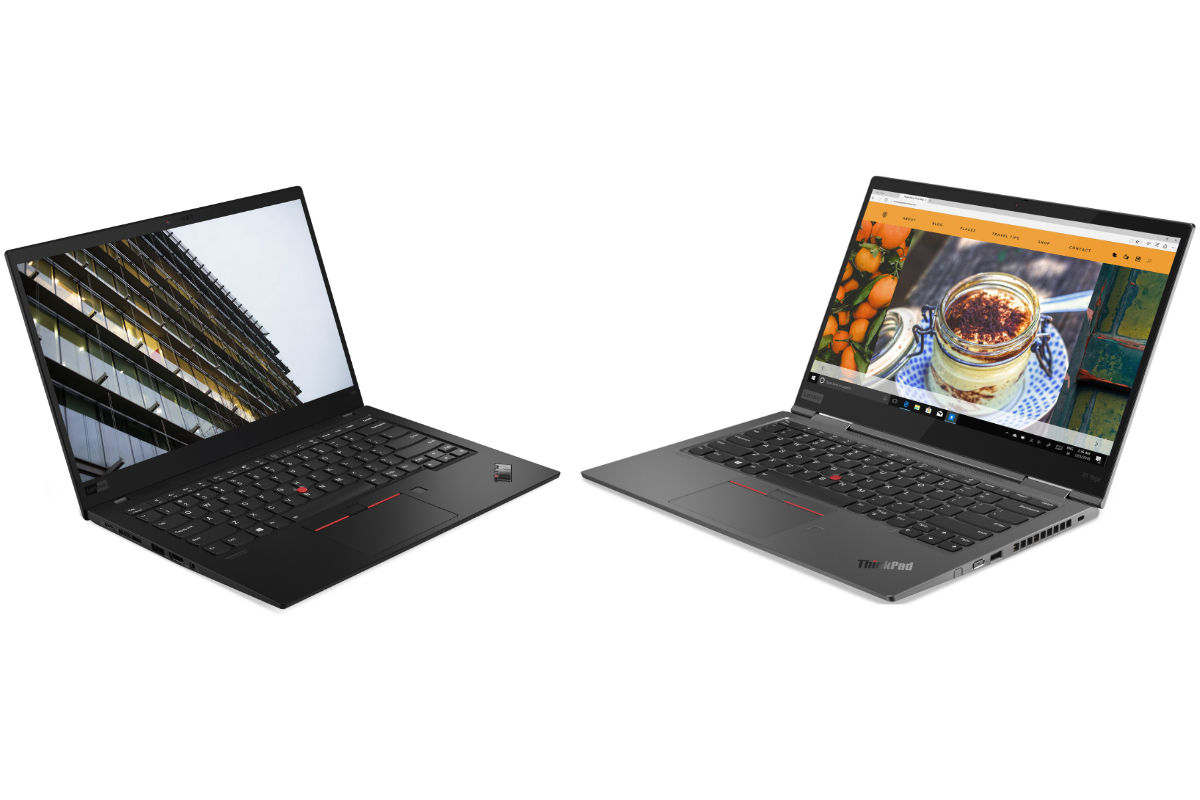 Lenovo has launched 2020 variants of its two premium laptops – the ThinkPad X1 Carbon and the ThinkPad X1 Yoga – at the CES 2020 event. The new ThinkPad X1 Carbon is the 8th generation device in its series, whereas, the latest ThinkPad X1 Yoga is the 5th iteration in its line-up.
In case you haven't heard about these laptops before, you should know that the ThinkPad X1 Carbon and the ThinkPad X1 Yoga are high-end offerings from the brand. These laptops are targeted towards corporate users, who need high power machines in a thin and light form factor. While the ThinkPad X1 Carbon has a traditional laptop form factor, the ThinkPad X1 Yoga is a 2-in-1 convertible version of the ThinkPad X1 Carbon. These laptops are known for having a premium build quality, strong CPU performance, long battery backup, advanced security options, and tons of physical ports.
Anyway, both the new laptops from Lenovo feature new keyboard, Wi-Fi 6 connectivity, additional security features, among other improvements over their predecessors. You can check out the complete specifications below. Lenovo has revealed that the new ThinkPad X1 Carbon will cost $1,499 for the base variant, whereas, the ThinkPad X1 Yoga starts at $1,599. You can configure both the laptops with various processors and RAM and storage capacities. However, upgrade prices are still unknown. According to the brand, both the laptops will go on sale in the US later this year.
8th generation Lenovo X1 Carbon Specifications
Display – 14-inch IPS LCD, options: Full HD resolution + 400 nits brightness, Full HD resolution + touch + 400 nits brightness, Full HD resolution + touch + 500 nits brightness + ePrivacy, WQHD resolution + 300 nits brightness, 4K resolution + 500 nits brightness + HDR400
Processor – Intel 8th generation Comet Lake U, options: Core i5, Core i7 (Up to six cores)
Graphics – Intel UHD
RAM – LPDDR3, options: 8GB, 16GB
Storage – PCIe NVMe up to 2TB
Operating system – Windows 10
Ports – 2x USB 3.1 Gen 1 Type-A, 2x USB Type-C Thunderbolt 3, 1x HDMI 1.4, 1x ethernet, 1x 3.5mm audio jack
Wireless connectivity – Dual-band Wi-Fi ax, Bluetooth v5.0, LTE (Optional), NFC
Battery – 51Wh, 10-18 hours claimed battery backup
Other features – Fingerprint reader, IR camera, ThinkShutter, backlit keyboard
Weight – 1.09kg
5th generation Lenovo X1 Yoga Specifications
Display – 14-inch IPS LCD touchscreen, options: Full HD resolution + 400 nits brightness, Full HD resolution + 500 nits brightness + ePrivacy, WQHD resolution + 300 nits brightness, 4K resolution + 500 nits brightness + HDR400
Processor – Intel 8th generation Comet Lake U, options: Core i5, Core i7 (Up to six cores)
Graphics – Intel UHD
RAM – LPDDR3, options: 8GB, 16GB
Storage – PCIe NVMe up to 2TB
Operating system – Windows 10
Ports – 2x USB 3.1 Gen 1 Type-A, 2x USB Type-C Thunderbolt 3, 1x HDMI 1.4, 1x ethernet, 1x 3.5mm audio jack
Wireless connectivity – Dual-band Wi-Fi ax, Bluetooth v5.0, LTE (Optional), NFC
Battery – 51Wh, 10-15 hours claimed battery backup
Other features – Fingerprint reader, IR camera, ThinkShutter
Weight – 1.3kg