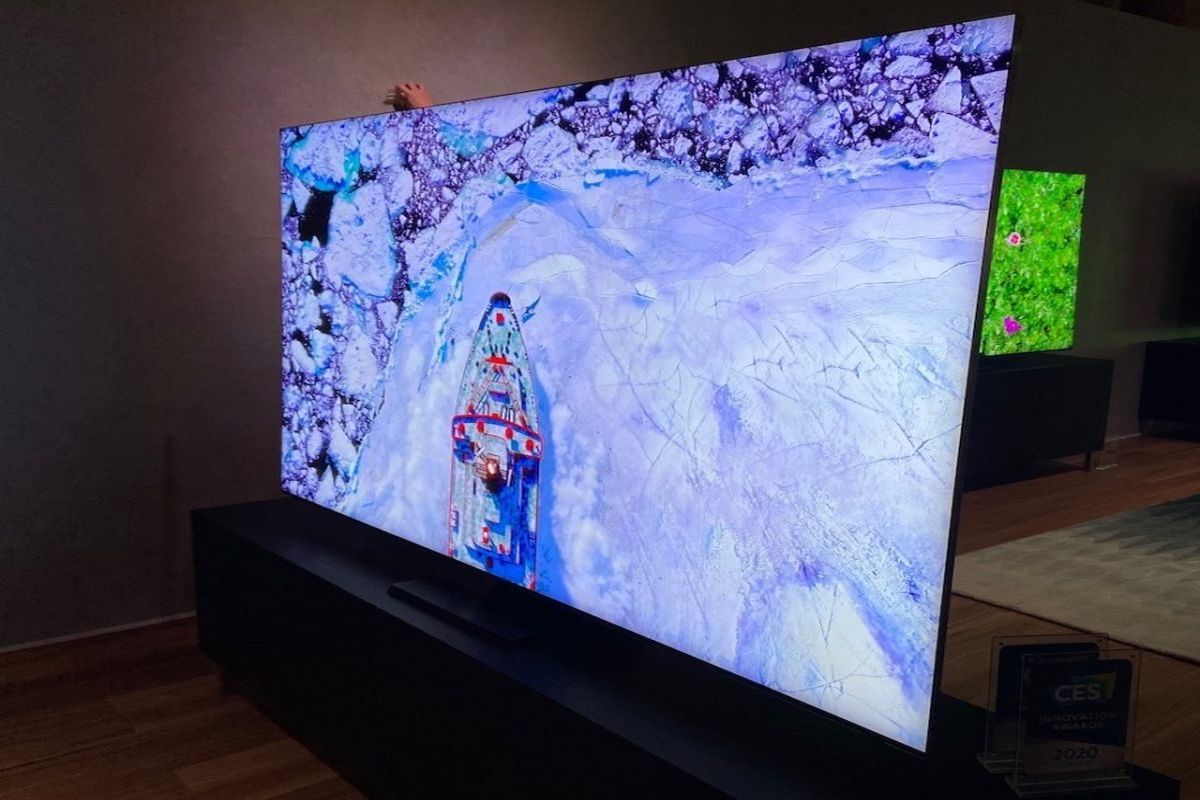 Samsung, a world-class TV manufacturer, has presented its latest 8K offering during the CES 2020. The company has unveiled the Q950TS QLED TV that, of course, comes with an 8K resolution, but has so much more going on which makes it a compelling choice for a flagship TV in 2020. Let's have a look at the specifications and features of the Samsung Q950TS 8K QLED TV.
Samsung Launches the Q950TS 8K QLED TV with Minimal Bezels, 99% Picture During the CES 2020
The Samsung Q950TS 8K QLED TV has an astonishing 99% picture compared to 95% for most of the TVs out there. That certainly means that the bezels on the Samsung Q950TS are as minimal as it gets. Samsung has achieved the thin 2.3mm bezel by eliminating the black matrix around the edge of the TVs panel. The result is clearly visible in the image above. The grilling on the TVs sides, howsoever minimal, is still put to use. The Samsung Q950TS has an all-new audio system that fits speakers into all four of its edges which should essentially provide for a more immersive audio experience.
Also Read: CES 2020: Sony Unveils PlayStation 5 Logo, Launch Time Frame, New Details
Furthermore, the company has developed yet another groundbreaking audio technology for the Samsung Q950TS. The TV comes with a new processing driver which not only locks voices and placement effects to the screen but also places those in the right place. That necessarily means that one can hear, as well as see the objects moving around the display. Samsung has dubbed the technology dubbed "Object Tracking System". Lastly, the TV has a built-in mic that can monitor the ambience and optimize the sound accordingly.
Coming to the picture quality, there is no denying the fact that 8K displays look absolutely eye-pleasing. As per Samsung, the Q950TS can cover 100% of the DCI-P3 colour space associated with digital cinema, and it achieves 4000 nits of brightness. The TV comes with Samsung's 8K AI Upscaling system which now features a new Deep Learning element to increase the details and textures in the picture.
Also Read: CES 2020: Samsung Galaxy Chromebook Flaunts A Premium Design And 4K AMOLED Display
Adding to it, the TV comes with a new Adaptive Picture engine dubbed the Active Tone Mapping system, which is a new approach to the local dimming system. It works with either HDR10 or HDR10+ systems. The TV has a new FALD backlight local power distribution tech that improves peak brightness by more than 20% and controls the stray illumination better. As of now, Samsung has announced the pricing and the availability of the Samsung Q950TS.
What are your thoughts on the latest 8K TV from Samsung? Do let us know in the comments section below.