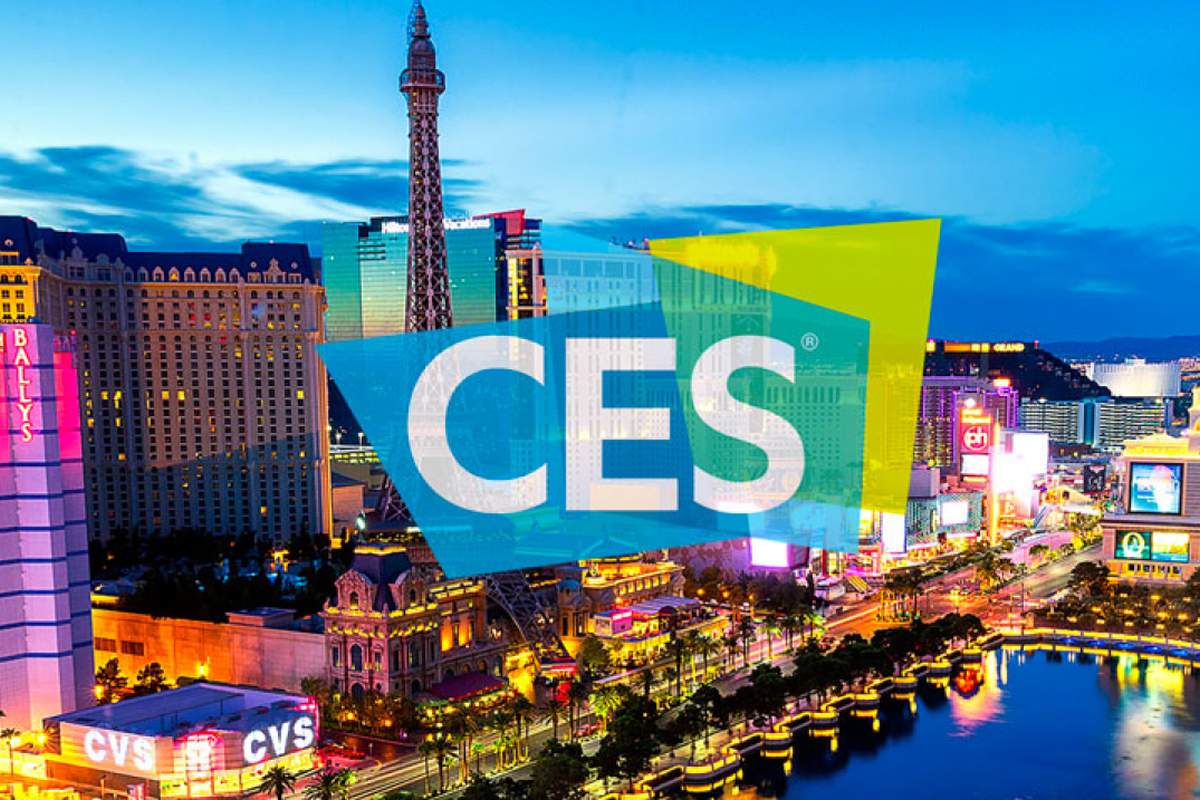 CES (Consumer Electronics Show) 2020 was home to hundreds of intriguing gadgets. Now that the show is over and dust has settled, we are sifting through a long list of devices introduced on the show floor. For the first article in the CES wrap-up series, we have handpicked the top five smartphones worth checking out from the CES 2020. The list includes phones with disappearing cameras, foldable screens, an unusual type of display, and the latest 5G connectivity. Without further ado, let's get onto the list.
1. Cyrcle Phone
Smartphones have come a long way. The latest phones are millions of times more powerful than the guidance computers that took the Americans to the moon. However, let's face it. All these new smartphones look the same. Bored of the sight of glass slabs, people often long for the quirky designed from the early 2000s such as the Nokia 7650, 7600, and 6600. While biggies such as Samsung and Huawei are trying to make the smartphone segment more interesting with their foldable designs, a start-up from the US has unveiled its rounded smartphone rightly named as Cyrcle. It is a brainchild of Cristina Cyr, who has previously worked at Microsoft and NEC as a software engineer. The handset looks like a compact make-up mirror. It is still in the concept stage and according to a report, the device sports a 3.4-inch circular display. It has a 13-megapixel camera and comes with dual SIM support. he phone features two headphone jacks. On the software side of things, you get Android 9, which is being tailored for the unusually shaped display.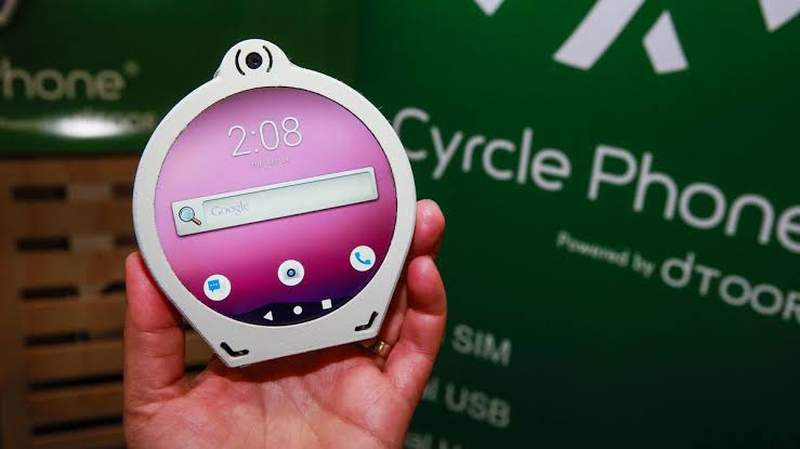 2. HiSense's color e-ink phone
E-ink displays have certain advantages over LCD screens found in most gadgets. For starters, E-ink displays lack glare and are easy on eyes. This is why this technology is quite popular in e-book readers such as Kindle. However, its sloppy refresh rate keeps it away from success in mainstream devices such as smartphones and laptops. But, thanks to the latest advancements in the e-ink display technology, we will get a smartphone with a color e-ink display. A Chinese brand HiSense, who has already developed a monochrome e-ink phone in the past, showcased its first smartphone with the color e-ink screen. Its screen only supports 4096 colors but boasts of impressive power efficiency. It features the latest Print-Color screen tech, which offers a faster refresh rate than its monochrome counterparts. HiSense stated that the phone will go into production in the second quarter of 2020. However, the Chinese company did not offer any information regarding its price.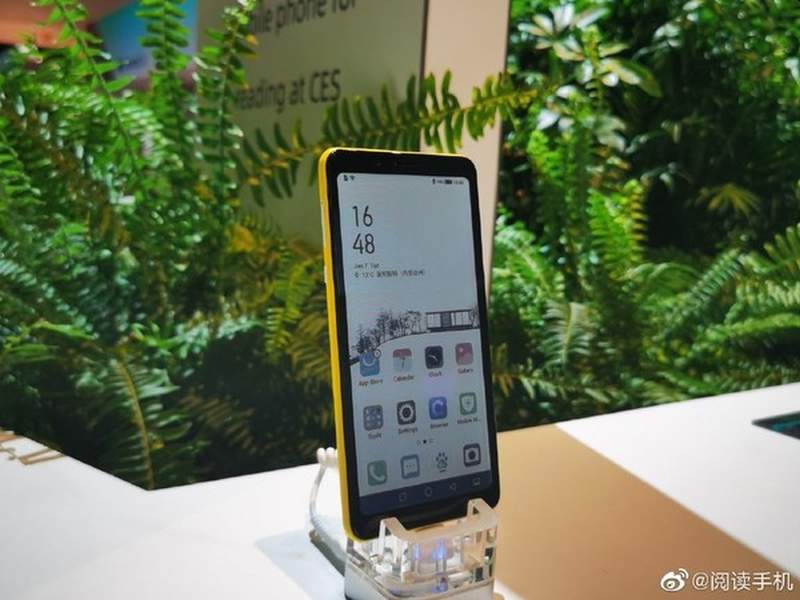 Image source: phone.cmno.com
3. TCL 5G foldable phone
This CES was not without a foldable phone. Joining the ranks of Samsung, Huawei, and Motorola, the Chinese brand TCL introduced its 5G foldable phone. While it may not outdo the handsets from premium brands, TCL's phone will shake up the market with its competitive price tag. TCL claims that the phone will be priced around S500 (approx Rs 35,500). That's less than half of what the Galaxy Fold or Mate X costs. TCL has used similar tactics in the TV market where its Iffalcon brand in India Roku line-up in the west undercuts brands such as Samsung and Sony by a huge margin. The 5G foldable phone from TCL features a large 7.2-inch flexible display. It can be folded like a diary much like the Galaxy Fold device. However, unlike Samsung's phone, the TCL 5G foldable phone lacks a secondary screen on the outside. As a result, you can't use it when folded. The phone comes with a quad-camera setup on the back. However, TCL hasn't shared more details regarding the device. It is also tight-lipped about the launch timeline.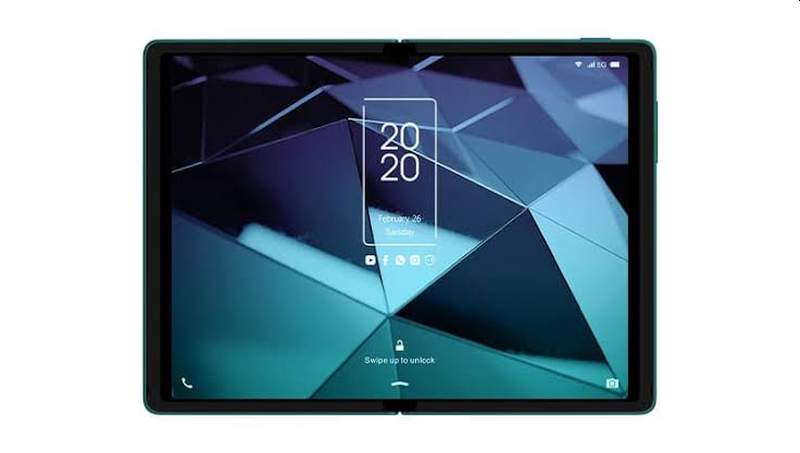 4. OnePlus Concept One
OnePlus made a lot of headlines at the CES 2020 with its Concept One smartphone. While it looks like a regular premium phone with a leather back, it has some impressive trick up its sleeve. Made in collaboration with McLaren known for its racecars, this is the first smartphone to feature an electrochromic glass on the rear camera. It is similar to the sunroof on the McLaren 720S Spider, which can switch between tinted and transparent in a heartbeat. It uses organic particles to alter transparency in the glass. So when the camera is not in use, those lenses will not look like an eyesore. More importantly, it will also double up as a built-in polarizing filter for the camera. As per the company, the glass on the OnePlus Concept changes opacity in 0.7 seconds. At this point, it is not clear whether OnePlus has plans to mass-produce this handset anytime soon.
5. Samsung Galaxy S10 Lite and Galaxy Note 10 Lite
In developing markets, brands such as OnePlus are nibbling away the market share that mostly belonged to Samsung's premium handsets. In response, the South Korean brand introduced the watered-down version of its flagship phones Galaxy S10 and Galaxy Note 10. These new phone feature top-notch 6.7-inch AMOLED panel with Full HD+ resolution. These screens have a punch hole camera design to accommodate selfie cameras. Both devices also pack in a 4,500 mAh battery. This is where the similarities end. The Galaxy Note 10 Lite comes with an S-Pen stylus. Moving on to the photography department, the Galaxy Note 10 offers a 12 MP primary, a 12 MP wide-angle lens, and another 12 MP telephoto sensor. The Galaxy S10 Lite also comes with a triple camera setup. However, it comes in 48 MP + 12 MP + 5 MP configuration. The Galaxy Note 10 Lite is backed by Samsung's in-house Exynos 9 Series 9810 chipset. On the other hand, the Galaxy Note 10 Lite is powered by Qualcomm's Snapdragon 855 chipset. If Samsung pegs the S10 Lite at around Rs 50,000, it will have a serious challenger against the OnePlus 7T Pro.