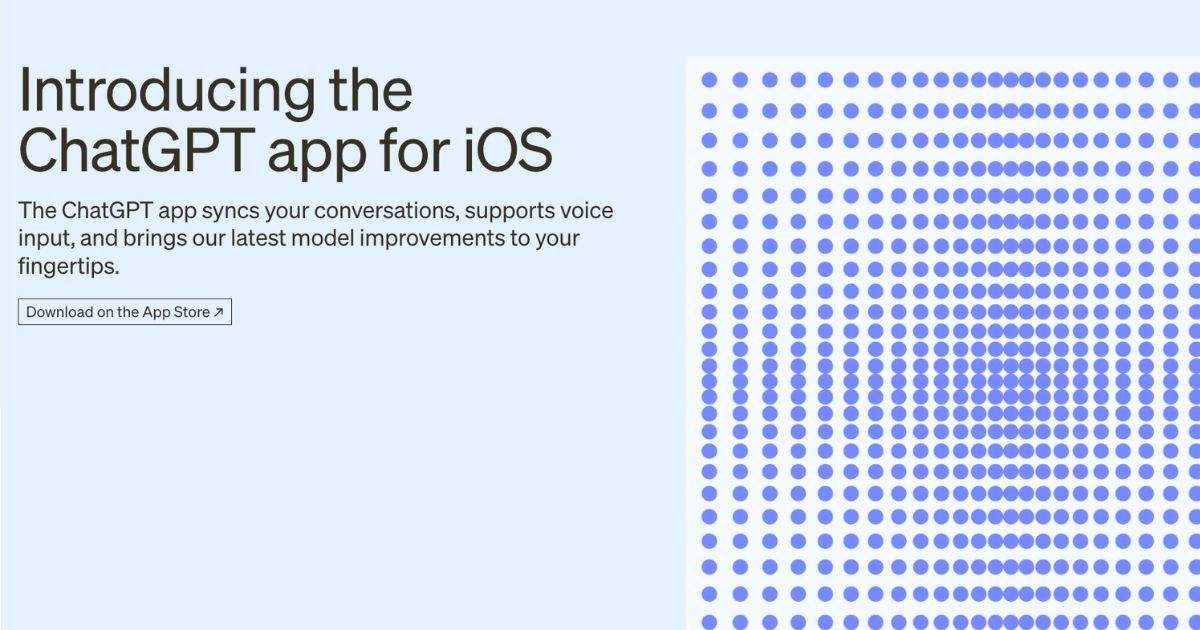 Over the past eight months, chances are slim that you haven't — at least once — heard of ChatGPT. The artificial intelligence (AI)-powered chatbot app, made by Microsoft and Elon Musk-backed AI research organisation OpenAI, shot to popularity ever since it was released to the public in November last year.
Since then, ChatGPT created a record for being the fastest-growing application in the world, notching up 100 million monthly active users by January this year — just three months into its official release. Now, over the past month, OpenAI has launched ChatGPT on iOS, making it available in the form of an official app to take on the hundreds and thousands of fake apps claiming to offer the service.
With the app — including its paid version in the form of ChatGPT Plus — now being available for all users in India, we take a look at what exactly is the app, and how you can use ChatGPT on iOS in various forms.
What is ChatGPT?
Put simply, ChatGPT is an app that uses AI algorithms to process an input written in simple human language and offer a response that is essentially similar to how any other person would respond. To do this, ChatGPT uses a technology called a Transformer Model — a landmark invention made by a team of Google researchers in 2017.
This model gives ChatGPT the ability to break down human language input into simple data points and gives it the ability to think like humans. It does this by using the Transformer Model to relate two words contextually and understand what a sentence means.
It is this that made ChatGPT so different from most AI chatbots that came before — previous bots simply followed a process and a few preset lines of instructions that they were fed in order to respond to keyword-based human queries. In comparison, you can ask ChatGPT questions just the way you would message a friend, or send an email asking for a solution from a colleague — and its response will also be akin to a human's response.
How to Use ChatGPT on iOS Via App
While there are plenty of restrictions and debates to this AI system, this shouldn't stop you from accessing cutting-edge AI technology yourself. To do so, you can access ChatGPT on iOS through its official app. Here's how.
Access the iOS App Store and search for ChatGPT
Select the one where the developer name says, 'The official app by OpenAI'
Once downloaded, you will be prompted to log in to the app
For ChatGPT on iOS, you can choose to 'login with Apple' to sign in to the app
Alternatively, you can also choose to log in with your Google account — or any other email address
Tapping on 'login with Apple' will prompt you to select whether you want the email address to remain hidden
The next screen will lead you to a browser interface, where you will be asked to complete your login process. Simply follow the on-screen instructions to log in
Once you are signed in, you will be prompted to accept the privacy and data collection policies of ChatGPT
Once you confirm both, you are now ready to use ChatGPT on iOS
Use the bottom bar that says 'message' to write your queries. You also have a voice button to the right of the message bar in order to write your query with voice. Note: even if you speak your query, it will be submitted in the written format
The purple button to the bottom right is used to send queries
The top-right button will have three options — History, Settings and New chat
History will display all your previous queries, while settings can let you subscribe and upgrade to ChatGPT Plus. Additionally, it can also let you control what your main language of usage is, and control how your chat data is used by OpenAI to train and improve its AI models
How to Use ChatGPT on iOS Via Browsers
If you do not wish to use the ChatGPT app on your iPhone, ChatGPT on iOS is also available via web browsers. Here's how to use them.
Open your browser, and access chat.openai/com, or click here
You will be prompted to log in to the service. Choose your preferred login method
The login process here is exactly the same as the one mentioned above in the app usage section
Once you are signed in, you have the same message bar to submit your queries
In the browser interface, the History section appears as query tabs to a disappearing menu that slides out from the left
You can also start a new session by tapping on the 'New chat' link
To the bottom is 'Settings', which works the same way as in the app above
Start using it by typing in your query to ChatGPT
How to Subscribe to ChatGPT Plus
While ChatGPT on iOS is convenient and feels great to use at first, it starts feeling limited and shows its shortcomings once you are beyond the initial phase of usage. This is because ChatGPT — the free version — is still based on the old GPT 3.5 AI data model built by OpenAI. The latter's knowledge and data set is limited only to some time in mid-2021.
To get ChatGPT to access live information on the go, and use the latest GPT 4 model launched by OpenAI in March this year, users will have to subscribe to ChatGPT Plus.
To subscribe, use the following steps.
On ChatGPT on iOS, tap on the ellipsis at the top-right corner of the screen once you have logged in
Select Settings from the drop-down
On the next screen, tap on Subscription — Free plan, or 'Upgrade to ChatGPT Plus'. Both options will open a subscription page on your iPhone
Simply tap on the 'Subscribe' button at the bottom of the page to access ChatGPT Plus
ChatGPT on iOS and any other platform is available in both paid and free versions. The paid version costs $20 per month internationally, and Rs 1,999 per month in India.
Does ChatGPT Have Alternatives?
Yes, there are plenty of alternatives to OpenAI's ChatGPT, the most notable of which includes Bard, by Google. You can access Bard by simply opening bard.google.com or clicking here, and logging into your Google account. The rest of the usage procedure is very simple, including the usual chat interface that chatbots come with.
Microsoft, which also uses OpenAI's GPT models (it is also a significant investor in OpenAI), also has its Bing search platform, which allows you to use a modified version of ChatGPT.
Other alternatives also include tools such as Jasper (available as an app on iOS), Rytr and more.