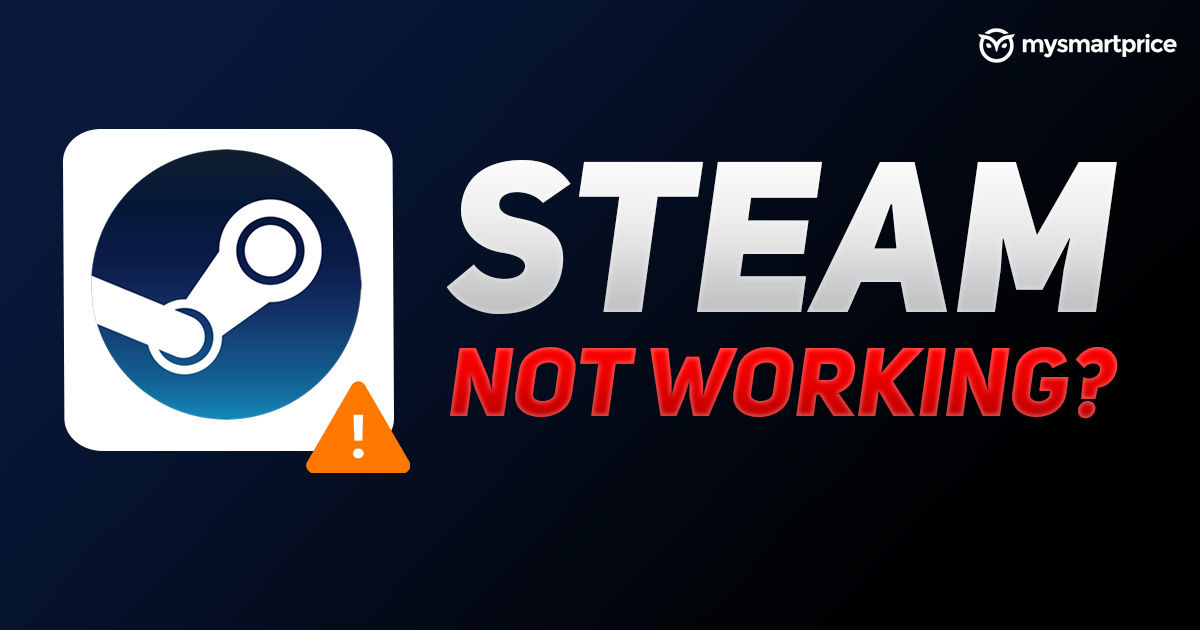 Steam is one of the most popular apps for gamers on PCs, used by millions of gamers around the world regularly. As a result, it is likely that Steam does run into occasional technical issues from time to time, including server downtime or issues with its desktop client. Unfortunately, such issues can throw a spanner in your plans for a weekend set to be spent gaming, but at times, it does hold true that Steam may have simply been unavailable due to technical blockades at your end, and not Steam's. Just to be absolutely sure of what the issues may be with the popular gaming client on PCs, we take a look at the best possible ways for you to verify if Steam not working may have happened because of server downtime, and how you may take steps to ensure that everything from your end is working just fine.
Also Read: Best PUBG Mobile emulators in 2020: Tencent Gaming Buddy, BlueStacks, Android Studio and more
Check internet or Steam not working prompts
Sometimes, Steam not working may occur due to genuine server downtime. To check whether this is the case, conduct a quick search for tracking sites that tell you whether a popular internet service may be suffering outage at the moment. Such sites include the rather clearly named 'Is Steam Down?', or even a general service tracker such as DownDetector. If you see plenty of red flags or reports here, be rest assured that Steam might just be going through a widespread outage right now, and the issue does not affect you alone.
If this does not return conclusive information for you, the next step is to start checking for problems at your end. Start this with the no-brainer step – your internet connection. Sometimes, it may so be that it is your internet that is momentarily down, leading you to believe that the problem lies with Steam. Check your modem and fire up a web browser page to make a random search that would not be cached in your system.
If you have installed an antivirus in recent times, verify that Steam did not get included into the list of blocked services by the antivirus' firewall. In case it has, every antivirus has an easy, guided process to let you remove a trusted service that was mistakenly added.
Also Read: GTA 5: How to download GTA 5 on PC and Android smartphones from Steam and Epic Games store?
End process and clear app cache
Sometimes, Steam not working on your PC may happen due to multiple system processes trying to initiate the service. This is a known and very common issue with Windows 10 apps and services. To resolve this, either right-click on the taskbar at the bottom and select 'Task Manager', or use the Ctrl+Alt+Del key combination and select the same. Scroll down to find Steam's processes, and you will almost certainly find one or more Steam processes active in the list. Right-click on each process to end the service. As a general good practice, go to run and access the 'Temp' folder on your PC, clear it entirely, restart your PC and fire up Steam.
If this does not work, it's time to clear Steam's own app cache. To do this, locate the drive where you installed Steam, and open the respective folder. Once you open it, you should find the 'appcache' folder right at the top. To err on the side of caution, copy this folder and paste it on an external drive, and permanently delete the folder entirely, from your PC. Try opening Steam after this, and for the most part, this should resolve any pending Steam issues.
Also Read: 5 Best Mobile Gaming Accessories to Play PUBG, Call of Duty Like a Pro
Delete and reinstall
As a last-ditch effort to fix the Steam not working issue and restore it to normalcy should the above steps not work, try reinstalling Steam locally without having to delete all your Steam games and apps. To do this, open the installed Steam folder, select everything inside, and then deselect Steam.exe, and two folders – 'steamapps' and 'userdata'. Once all the files are deleted, simply double-click Steam.exe to enable the installer. Alongside reinstalling the app, this should also automatically enable updating of the app on your PC, and resolve any reason why the app may have been stuck on an update loop, and hence was unable to start. This also makes sure that Steam automatically detects your installed games, therefore saving you all the hassle of reenabling everything from scratch.
If this fails too, it's time to either fire up Windows System Recovery to locate missing system files that maybe preventing the app from working. Alternatively, contact the official Steam Support to gain help from Valve's own experts. It is seldom possible that Steam not working would not have an easily attainable solution, so be sure to try all of the above steps.
Is Steam free to use?
Steam is free to download and free to use. This basically a platform for those who want to purchase the game and download it anytime they want. Furthermore, there are some free-to-play games on the platform as well.
What's the most expensive game on Steam?
The most expensive game on Steam is Ascent. The game comes with a price tag of $999, which roughly translate to Rs 73,358. The game is a survival horror VR shooter game.