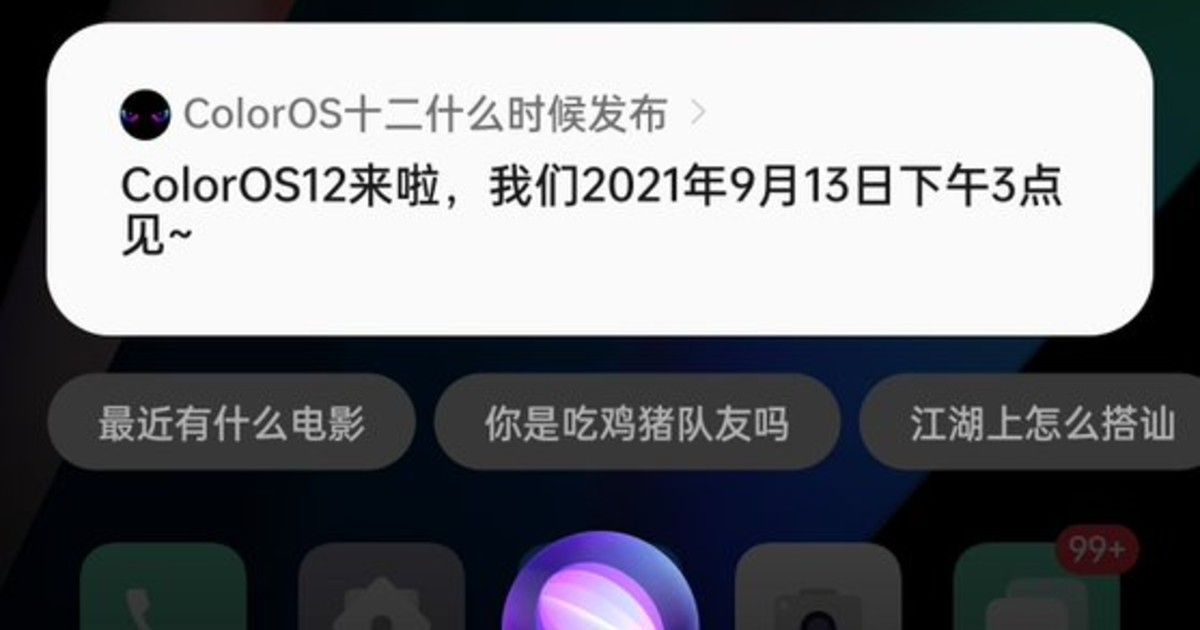 ColorOS 12 is slated to be the upcoming custom Android interface by Oppo, which would bring the new Android 12 to Oppo's phones. While the launch of the interface is all but confirmed as natural succession to the present ColorOS 11, a new leak has seemingly revealed key information about the custom software. According to tipster Mukul Sharma on Twitter, a leaked screenshot from an Oppo smartphone in China has revealed that ColorOS 12 will be officially unveiled on September 13.
At the moment, it's not clear if this unveiling will remain specific to China, but even if it is, the announcement would give Oppo users around the world some idea around what to expect with the new Android interface by the OEM. The launch date comes courtesy a leaked screenshot of a voice search via Breeno, the AI voice assistant that Oppo offers in its phones in China. Breeno closely resembles Apple's Siri in terms of how it is overlaid on top of the home screen, and interestingly, the launch date leak is also identical to how Apple's WWDC 2021 date was revealed – via screenshots of voice search via Siri.
ColorOS 12 is expected to bring new visual elements to keep in line with how Android 12 looks. This will seemingly include bolder icons and larger tabs for the notification panel, and bold colour combinations on these as well. Based on a few, alleged leaked screenshots so far, ColorOS 12 doesn't quite look similar to the stock Android 12 interface, which is keeping in line with how Oppo's software interface has always looked distinctly different. However, this has not always been for the good, as ColorOS previously had a history of being cluttered and full of bloatware.
In recent times, Oppo has succeeded in improving its software experience, turning ColorOS 11 into a far more streamlined interface than before. However, features such as the Breeno voice assistant remains amiss in its global builds such as the one supplied on Indian phones. Going forward, it will be interesting to see if Oppo does indeed bring its own voice assistant to more markets, although data localisation norms may complicate how data exchange between servers for its voice queries would work. If you're interested in the new Oppo interface, do keep an eye out for more information next month, on September 13.
Thanks for reading till the end of this article. For more such informative and exclusive tech content, like our Facebook page