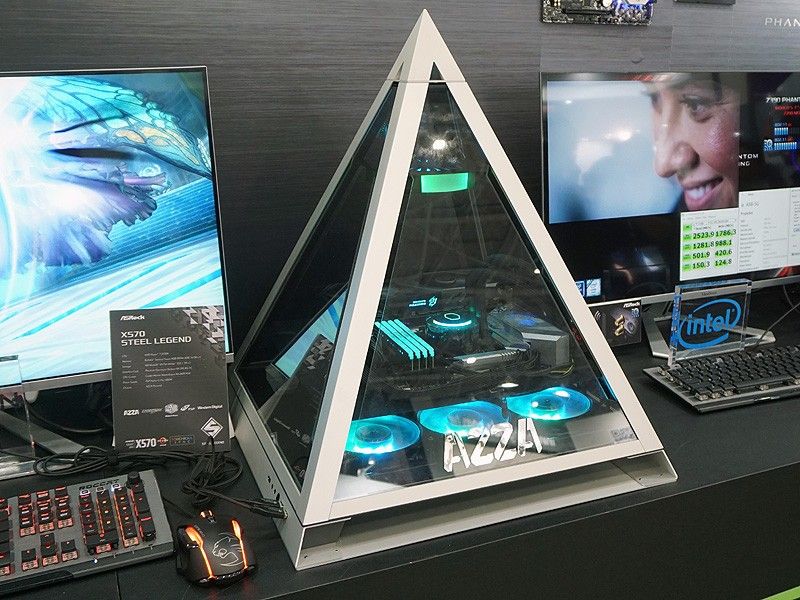 These days, desktop computers are hard to come by, but these machines have their own charm. With the resurgence of PC gaming, powerful custom builds with insane designs are back in style. And when it comes to the world of crazy computers, there's no better place than Taiwan's Computex. The largest PC-centric trade show in the world hosts hundreds of brands that attract over 40,000 enthusiasts and press across the globe. Without further ado, here are some of the coolest and wackiest machines from the show floor:
ElmorLabs Ice Cube
It is no secret that powerful computers get heat up real bad. This happens because some of the electricity passing through a computer gets turned into the heat due to resistance. For sustained performance, a PC has to keep the temperatures under control. Depending on the budget, you can use a high-performance heat sink, fans, and even liquid cooling ducts. But if that doesn't sound cool enough, ElmorLabs has got you covered. Its Ice Cube cabinet uses liquid nitrogen to cool a monstrously powerful rig. According to the company, the Ice Cube can achieve the temperatures as cold as -50 degree Celsius. The setup comprises of serious firepower from Intel's top-end Core i9-9000K processor overclocked at 5.7 GHz. It is based on ROG Maximus XI Apex motherboard and has Trident Z RGB RAM. No matter what other PCs on this list offer, they simply can't be as "cool" ElmorLabs' rig.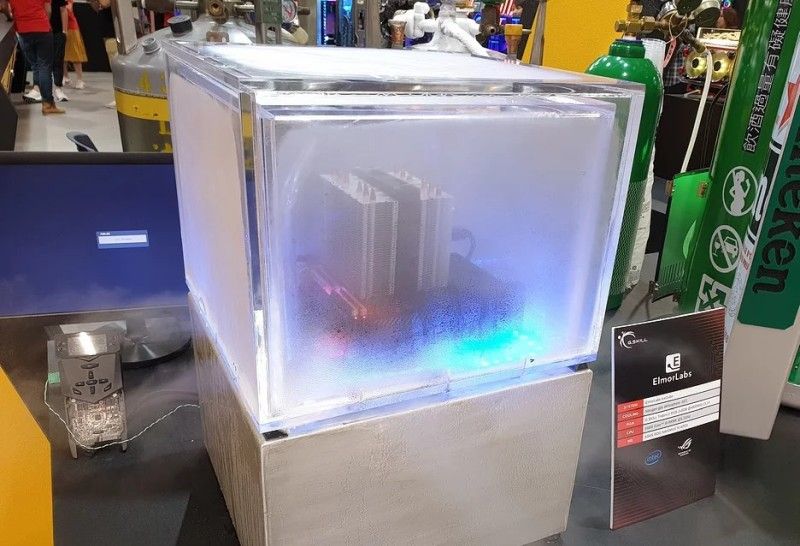 Azza Pyramid Case
Taiwanese brand Azza is known for its quirky PC case designs. Last year, it made heads turn with the cube-shaped Optima 803 cabinet. This time around, the brand has brought a glass pyramid case to the Computex show. The case is made of tempered glass so that you can show off the powerful components inside. It has an aluminum frame for structural rigidity. At the bottom and on the inside, Azza has generously thrown-in the RGB LEDs that spice up the look of the understated brushed metal. These lights can be controlled by a remote. There's also an option to drive these LEDs directly by the mainboard. If you don't agree with the Aztec or Egyptian way of raising the pyramid, you can install this case upside down with Azza's special stand accessory.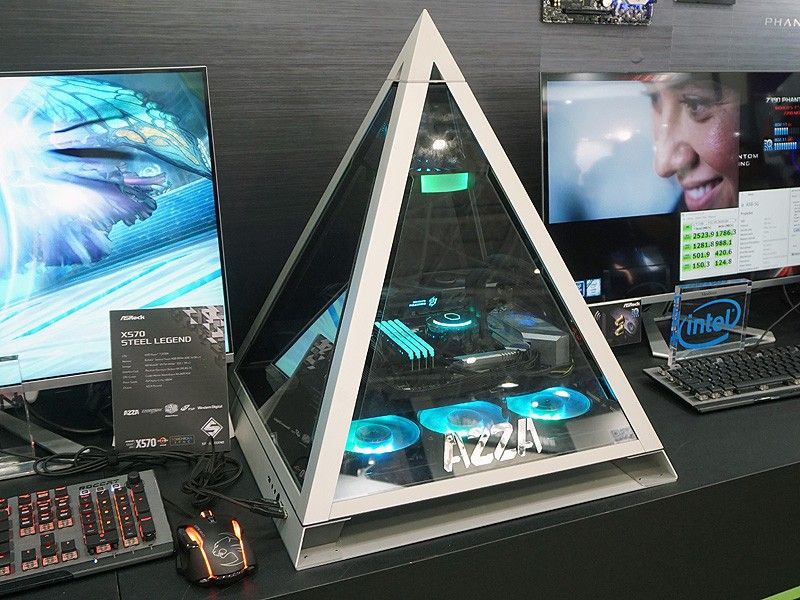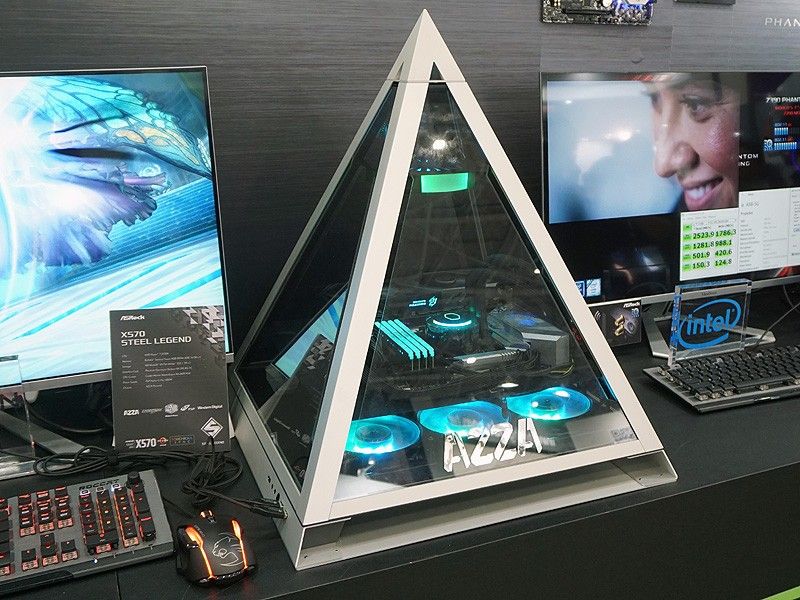 Asus Prime Utopia
The Taiwanese tech company is challenging the dated ATX cabinet design with its Prime Utopia concept. The current motherboard layout hasn't changed much since 1995. Designed decades ago, it simply installs all the components on one side of the board. With a growing number of components and larger graphics cards, the existing ATX design barely leaves any breathing space for the components. Asus addresses this issue with its innovative layout that moves some of the components on the other side of the motherboard. This effectively cuts down on the clutter and leaves more space for the cooling components. The new design offers enough room to accommodate the liquid cooling assembly. With plumbing going through the back, you don't compromise on the aesthetics either. The Prime Utopia comes with modular blocks for various ports and connectors. of course, it comes with tonnes of RGB LEDs. Moreover, you also get a fancy new OLED dashboard.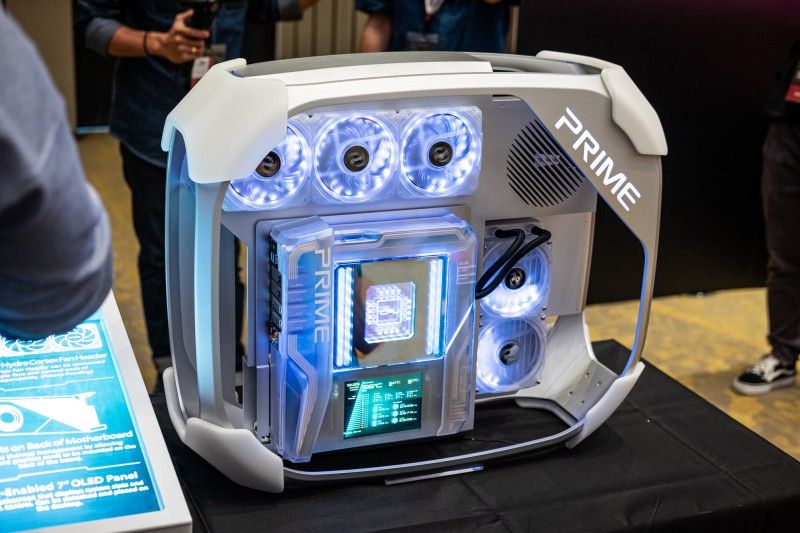 Klevv Sphere
Klevv, a subsidiary of Hong Kong based Essencore, gave Azza's Pyramid case a run for its money with its Klevv Sphere case. Its design is reminiscent of the Gyrospehere vehicle from movie Jurassic World. Sphere shaped PCs are not new as Zotac had mass-produced Sphere Mini PC back in 2014 under its Zbox (box, seriously Zotac?) brand. The biggest difference between the two designs is that Zotac's PC was opaque whereas the Klevv Sphere is transparent to flaunt its RGB guts. The company used this case to showcase its high-performance Cras X RAM, which recently won the prestigious Red Dot design award. For upgrades and maintenance, you can open the sphere upwards thanks to its unique hinge mechanism. After seeing this futuristic orb, I never want to build an ATX cabinet based PC rig anymore.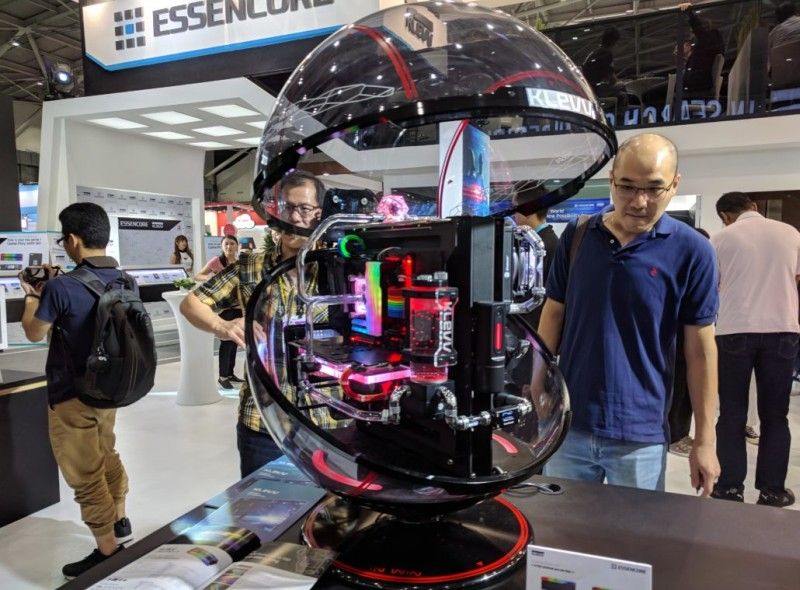 Intel Honeycomb Glacier
Laptops are mostly boring, but this one deserves a place on the list of wacky computers. We know that Intel introduces form factor innovations once in a few years. Unveiled in 2011, its ultrabook platform saved us from the bulky notebooks from the last decade. For Computex 2019, Intel is showing off its latest concept called 'Honeycomb Glacier' to its hardware partners. This new design comes with a secondary display embedded in the top half of the keyboard. Gamers can use this companion screen for map, inventory, or other in-game elements. The display can also be used for watching walkthrough videos without leaving the game on the main screen. The setup will also come in handy for graphics designers and video editors. Intel is making this reference design available to its partners. The consumer products based on this concept will be powered by Intel's 9th Gen Core mobile processors. The first product Asus' ZenBook Pro Duo is expected to hit the stores this year.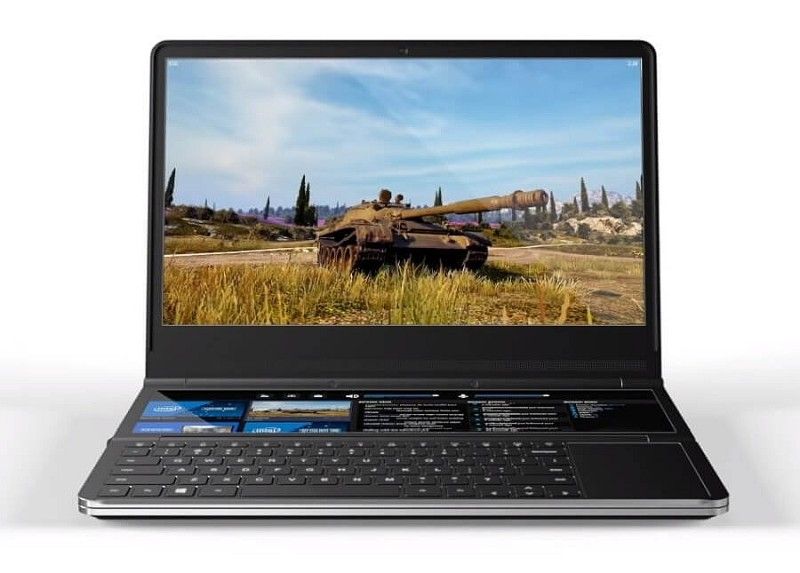 Image source: Akiba, PCWorld, Wccftech,