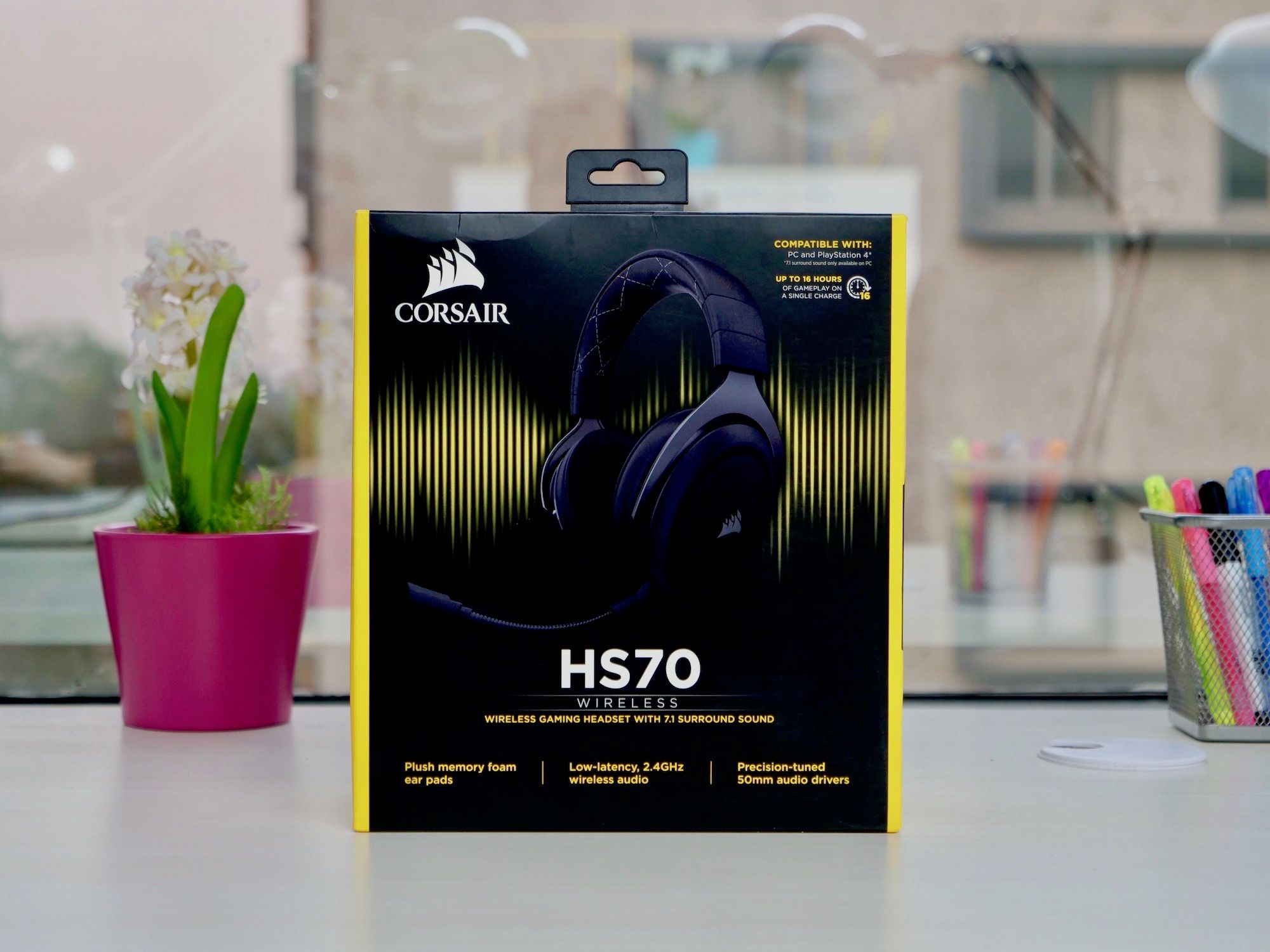 Corsair makes some excellent gaming products, including PC cases, CPU coolers, gaming headsets, keyboards, mice, and mousepads. We recently reviewed their newest CPU AiO water cooler (Corsair H115i RGB Platinum Review) and gaming mouse (Corsair Glaive Review) and found them to be good performers. The company makes wired and wireless gaming headsets as well. The Corsair HS70 Wireless is its priciest wireless gaming headset and it works with PCs, Macs, and even the PlayStation 4. Unlike the Corsair Void Pro, though, it does not come with fancy RGB lights but it is made using sturdier materials.
Corsair HS70 Wireless
$79.99 Onwards
Design and Build Quality
9.0/10
Features & Software
8.0/10
What Is Good?
Comfortable design and sturdy build
Relatively balanced audio
Removable microphone arm
7.1 channel surround sound
What Is Bad?
Spotty wireless range
The microphone could be slightly clearer
No swivelling earcups
The Corsair HS70 Wireless and the Corsair Void Pro wireless headphones are both priced below $100, have Discord-certified microphones, USB wireless transceivers, 7.1 channel surround sound and 16 hours of battery on a single charge. The HS70 Wireless can be seen as a wireless version of Corsair HS50. It has conventional looks and comes in Black and White. So, is it any good? Let us find out in our review.
Corsair HS70 Wireless Review:
Design
Corsair HS70 Wireless Design
As mentioned earlier, the Corsair HS70 Wireless lacks RGB lighting that you can find in the Void Pro. It also has more conventional looks in comparison. So, if you want a gaming headset with "gamer-ish" looks to go with, you should opt for the Corsair Void Pro instead of the HS70. The Corsair HS70 is for people like me who prefer understated headset designs.
The oval-shaped earcups have an over-the-ear design with memory foam covered with leatherette material. The chassis and the yokes are made using metal and the headband is covered using stitched padding. There are numbered markings on the headband for precise size adjustments. The right earcup has just a plastic power button. The left earcup has a 3.5mm jack for attaching the microphone, a scroll wheel to adjust volume, microphone mute/unmute button, LED indicator and a microUSB port for charging. The microphone arm is removable and the 3.5mm jack can be covered using a supplied plastic flap. There's no foam covering for the microphone, though. The LED indicator displays red, orange or green colors, depending on the battery level. A pen drive-sized USB dongle acts as an audio transmitter and receiver over the 2.4GHz radio frequency.
At over 300 grams, the headphones don't feel heavy. The overall build quality and comfort levels were excellent for the most part, thanks to quality padding on the headband and memory foam on the earcups. I couldn't notice any creaking sounds while wearing or removing them. I wear spectacles while gaming and didn't feel them being pressurized on my face. I don't game more than 3-4 hours in one go but I do listen to music for much longer and didn't notice any issues regarding comfort with the Corsair HS70. Removable microphone arm is a feature that's really helpful and made it easier to hang them on my PC cabinet's headphone hanger. It would've been great if the earcups could be swiveled for storing them in a more compact area.
Corsair HS70 Wireless Review:
Audio Quality & Wireless Performance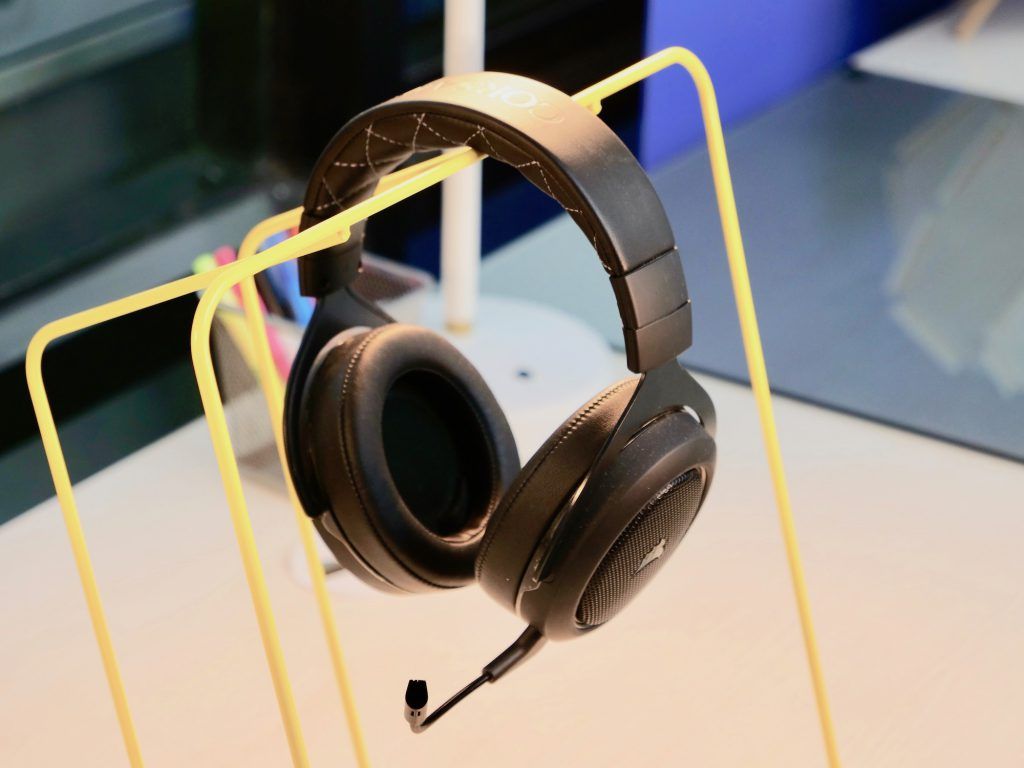 The HS70 uses 50mm neodymium drivers with 20Hz-20KHz frequency response, an impedance of 32Ω at 1KHz, and 111db sensitivity. The microphone has a frequency response of 100Hz-10KHz, an impedance of 2.2K ohms, and sensitivity of -40db. Over the past decade, I've listened to a lot of earphones and headphones (gaming and non-gaming). Many gaming headsets have boosted mids and lows, but the HS70 has relatively cleaner audio. I won't say they sound as clean as some studio monitors or high-end headphones, but they have a relatively neutral audio tuning than many other gaming headsets. You can tune them to sound even cleaner by adjusting equalizer through the Corsair iCUE software (more on it in the software section). I tested the headphones with both PC and PS4 Pro, and it worked flawlessly.
Since the 7.1 channel surround sound feature can only be activated using the iCUE software, it doesn't work when used with a PS4. Positional audio sounds good in games and it is helpful in locating enemy footsteps or gun firing. I still like clearer stereo audio more than 7.1 channel audio which somehow sounds inferior to me in terms of pure audio clarity. I am not a big online competitive games player, but I do play Counter Strike from time to time with my colleagues and younger brother. I was able to test the microphone and it sounded alright. I also used it for voice & video calls over Skype and recorded my voice in sound recorder app on my PC. It wasn't as clear as I would like it to but it wasn't very bad either. It would be good enough for chatting during multiplayer gaming.
The headphones are rated to work as far as 40 feet away from the audio dongle, but the wireless connection was spotty at times. Sometimes it would work flawlessly, but the other times signal would cut off completely when I was moving around inside my room, let alone taking it to another room. I didn't have any problem when I was gaming sitting near my PC or PS4, though. I talked to Corsair's PR agency representative about this issue and I was told that it seems like an issue with this particular review unit. I wasn't able to test another unit of the HS70, but I would suggest you test the wireless performance before buying the HS70. Battery life is excellent on the HS70 and the auto shutdown feature helps when you forget to turn off the headset when you're not listening to it. On a single charge, it lasted multiple days, sometimes close to a week with my usage pattern.
Corsair HS70 Wireless Review:
Software
The Corsair iCUE software is available for Windows and macOS (in beta form: v3.11.114). It can be used to tune audio output using the equalizer, adjust mic and sidetone (a feature where you can listen a part of your voice that's being recorded using the mic, sort of voice feedback) volume, switch between stereo/7.1 channel audio, check battery charge level, enable/disable voice prompts, update the firmware, and enable/disable auto shutdown. You can even save custom equalizer presets and export/import settings and profiles.
Custom equalizer profiles didn't seem to work on the macOS version of iCUE, though, maybe due to its beta status. You can only check battery level using the iCUE software, so it isn't possible to know battery status when it is connected to a PS4. An option to know battery level using voice prompts would've been great. The iCUE software also lets you place various controls/information windows on the dashboard. For example, you can place equalizer preset, mic volume level controls, and CPU temperature on the dashboard so that you can have a look at all these things in one place.
Should You Buy The Corsair HS70 Wireless?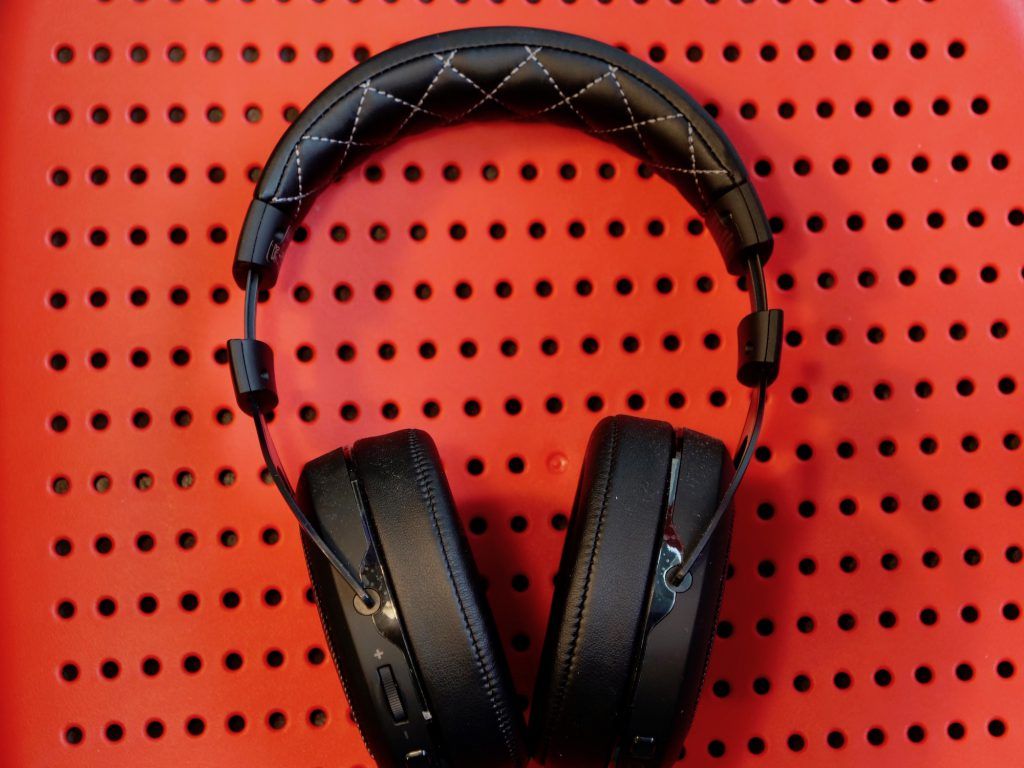 The Corsair HS70 is a good gaming headset and suitable for those who do not like funky looking devices with RGB lighting and colorful color accents. It is a sturdy headset with a comfortable design, relatively neutral audio, clear microphone, an option to activate 7.1 channel surround sound and good battery life. It works with PS4, too. I did experience some issues with its wireless range and the microphone could've been slightly clearer to make it a must buy for every gamer who has a budget of around $75. If you're someone who prefers funky looks and RGB lighting, you should consider the Corsair Void Pro. If not, the Corsair HS70 could be a great option.