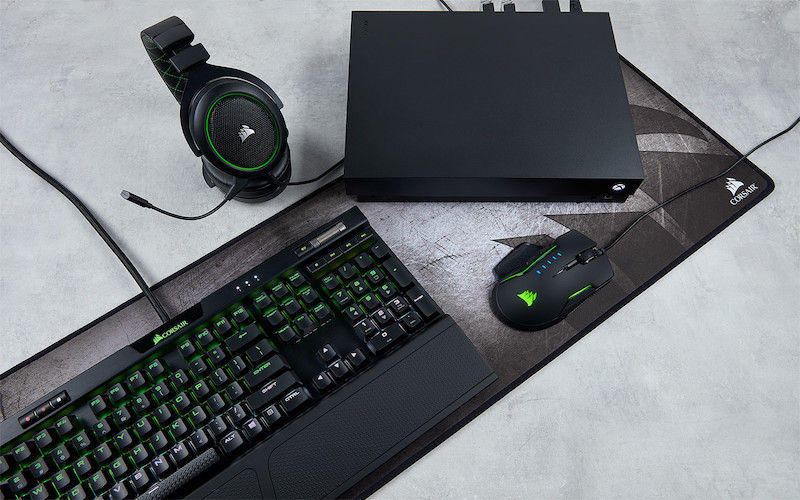 Following the footsteps of Razer, which recently tied up with Microsoft to unveil 'designed for Xbox' mice and keyboards at CES 2019, Corsair also entered into a similar partnership with the American tech giants. The move happened after Microsoft, at the X018 event, announced keyboard and mouse support for selected Xbox One games.
Corsair is a world-leading PC gaming and peripherals company and now became Microsoft's latest Xbox licensed hardware partner. The fact on whether the keyboards would feature a dedicated Xbox One switch or RGB lighting is still unclear as nothing has been revealed by either Microsoft or Corsair. But one thing remains certain, now Xbox One users can enjoy the same precision and reliability that gamers witnessed on Corsair peripherals.
Corsair, apart from offering compatible Xbox One keyboards and mice, is also committed to work in close proximity with Microsoft on multiple other projects including Mixer. Mixer is Microsoft's next-generation interactive live streaming service. If this happens to be true, it will be a huge boost to Mixer broadcasters.
However, the announcement of the partnership between Corsair and Microsoft does not indicate that every product from Corsair would work with all Xbox One games. It is left to the developers to decide if the games come with input support. Moving over to the point of accuracy and control, there is no doubt that keyboards and mice offer better game balancing than consoles. Therefore, it is up to Microsoft to work with the developers in ensuring a fair and balanced gaming experience for all.
At the recently concluded X018 event, Microsoft published a list of gaming titles that would offer Xbox One keyboard and mouse support. To be precise, the list contained 14 games which would feature the support and would be released in two batches. While games like Fortnite, Deep Rock Galatic, Bomber Crew, Strange Brigade, War Thunder, X-Morph Defence, and Vermintide 2 would feature the keyboard and mouse support from November, Children of Morta, Minion Master, Vigor, Moonlighter, DayZ, Wargroove and Warface will receive the support in December.