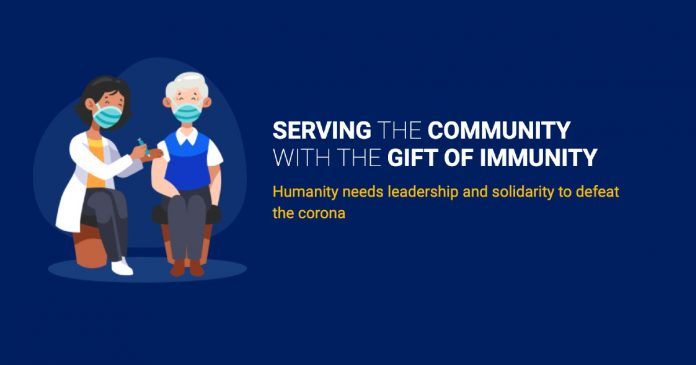 The second phase of India's covid-19 vaccinations is about to begin and it includes people between the ages of 45 and 60 years with co-morbidities. Dubbed the largest covid-19 vaccination drive in the world, the second phase of vaccination will be handled by the Ministry of Health and Family Welfare. To get the vaccine, you will have to register yourself in the CoWIN 2.0 portal and find the nearest vaccination center. The second phase of vaccinations includes private hospitals, though government hospitals will vaccinate people at no charge. You will have to pay Rs. 250 per dose, and an additional Rs. 150 and Rs. 100 for vaccines and operational charges, respectively, if you choose private options.
What is CoWIN 2.0?
As the count of active cases in India jumped to 170,293 cases, Prime Minister Narendra Modi himself took a dose of the vaccine today, kicking off the second phase of the country's vaccination drive. People will need to register themselves through the vaccine portal, which is dubbed CoWIN 2.0.
The new version of the portal has some advanced features, including GPS location tapping, four appointments per mobile phone and a walk-in provision for registering from the session site.
CoWIN 2.0 Portal Timings
The registrations on the CoWIN 2.0 portal open from 9am on March 1, after the app went under maintenance for two days, on February 27 and 28. Vaccination appointments will only be available between 9am and 3pm everyday.
Covid-19 Vaccine: Eligibility
The second phase of vaccinations include people who are between the ages of 45 and 60 and have certain comorbidities. The government has released a list of 20 such comorbidities that make you eligible. The government has also announced that people who are 45 and older can be vaccinated from April 1st in India. People can register for the vaccination. 
COVID-19 Vaccination: List of Comorbidities for People Aged Above 45 to be Eligible
Note that in order for you to be eligible for a vaccine, the Centre has clearly stated that all citizens above 60 years of age and those over 45 years with comorbidities will be eligible for vaccinations from March 1. And, if you are over 45 years of age, this is the list of comorbidities that make you eligible for the vaccine:
Heart failure with hospital admission in the past one year

Post Cardiac Transplant or left ventricular assist device (LVAD)

Moderate or severe valvular heart disease

Significant left ventricular systolic dysfunction (LVEF<40%)

Congenital heart disease with severe PAH or Idiopathic PAH

Coronary Artery Disease with past CABG/PTCA/MI and Hypertension/Diabetes on treatment

Angina and Hypertension/Diabetes on treatment

CT/MRI documented stroke and hypertension/diabetes on treatment

Pulmonary artery hypertension and hypertension/diabetes on treatment

Diabetes (>10 years or with complications) and Hypertension on treatment

Kidney/ Liver/ Hematopoietic stem cell transplant: Recipient/On wait-list

End Stage Kidney Disease on haemodialysis/ CAPD

Current prolonged use of oral corticosteroids/ immunosuppressant medications

Decompensated cirrhosis

Severe respiratory disease with hospitalizations in last two years/FEV1 <50%

Lymphoma/ Leukaemia/ Myeloma

Diagnosis of any solid cancer on or after 1st July 2020 ORcurrently on any cancer therapy

Sickle Cell Disease/ Bone marrow failure/ Aplastic Anemia/ Thalassemia Major

Primary Immunodeficiency Diseases/ HIV infection

Persons with disabilities due to Intellectual disabilities/ Muscular Dystrophy/ Acid attack with involvement of respiratory system/ Persons with disabilities having high support needs/ Multiple disabilities including deaf-blindness.
How to Register for COVID-19 Vaccination
Registration is quite simple and will be done through the CoWIN 2.0 portal. Follow these steps to register yourself:
Open cowin.gov.in.

Enter your mobile number and Aadhaar number.

You will then receive an OTP on your phone, which you will have to submit.

Once you submit the OTP, the "Registration of Vaccination" page appears.
Enter all the details required on this page.
Once the details are entered, click the "Register" button at the bottom right corner. Post which, you should get a Confirmation message stating you've registered successfully.
If you want to add more members from your family, the page gives you the option to link three more people to the same mobile number.

You will also need to upload a medical certificate to prove you have one of the above mentioned comorbidities.

The date for a second dose will be booked at the center, and it's set for 29 days after the first dose.

You will also get a Reference ID, which can be used for getting the vaccination certificate later.
You can use your Aadhaar card, electoral photo identity card (EPIC), passport, driving license, PAN Card, NPR Smart Card or pension document with photograph to register for getting the vaccination.
How to book appointment
With the registrations done, you will then have to book the appointment for the covid-19 vaccinations. As mentioned before, appointments will be available between 9am to 3pm only. Here's how to book an appointment:
Schedule a date and time for the appointment on the "Account Details" page by clicking on the Schedule Appointment button or choosing the date from the Calendar. 

Search for the vaccination centre of your choice by State, District, Block and Pin Code from the drop-downs.
Once you pick your preferred Centre, the available slots will be displayed post that.
You can book your slot by clicking on the "Book" button. After which, the "Appointment Confirmation" page is displayed.
Click on "Confirm" to verify the final details.
Once confirmed, it will show the appointment successful page.
How to find nearest vaccination location
There are 10,000 government centres where vaccinations can be taken, and another 20,000 private centres, that are empanelled under Pradhan Mantri Jan Arogya Yojana (PMJAY) and Central Government Health Scheme (CGHS), will begin from March 1 onwards.
Here's a list of all the Government hospitals:
PMJAY Empanelled Hospitals by The Indian Express
Here's a list of all the CGHS empanelled hospitals:
PMJAY Empanelled Hospitals by The Indian Express
The private locations will have a pre-fixed charge mentioned above, while the government locations will offer the vaccines for free. There's a location finder built into the CoWIN 2.0 portal, which will help you find the nearest vaccination centers. You can only access it after registering yourself for the vaccine.
COVID-19 Vaccine Price
As mentioned before, you will have to pay Rs. 250 per dose of the Covid-19 vaccine. The breakup of the charges are Rs 150 for the vaccine and Rs 100 as a service charge for the dosage. These only apply for those who go through private hospitals though, government facilities will administer the vaccine for free.
How to Get COVID Vaccination Certificate
The vaccine certificate will be awarded to those who have successfully completed the vaccination process. You will have to remember the Reference ID you were given during registration in order to receive the certificate.
You can get the vaccine certificate from this link, once you enter the Reference ID. You can also get the certificate from Aarogya Setu and DigiLocker apps.
COVID-19 Vaccination: How to Reschedule
If you happen to be unable to make it on a particular date, the CoWIN 2.0 portal will allow you to reschedule as well. Here's how to do that:
Login to the CoWIN 2.0 module

Find the calendar icon, which shows you an already booked slot

This will take you to the book appointment option that you may have seen earlier. You can reschedule using this.

Choose the slot that works for you and press the "book" option.

Click confirm when you're done