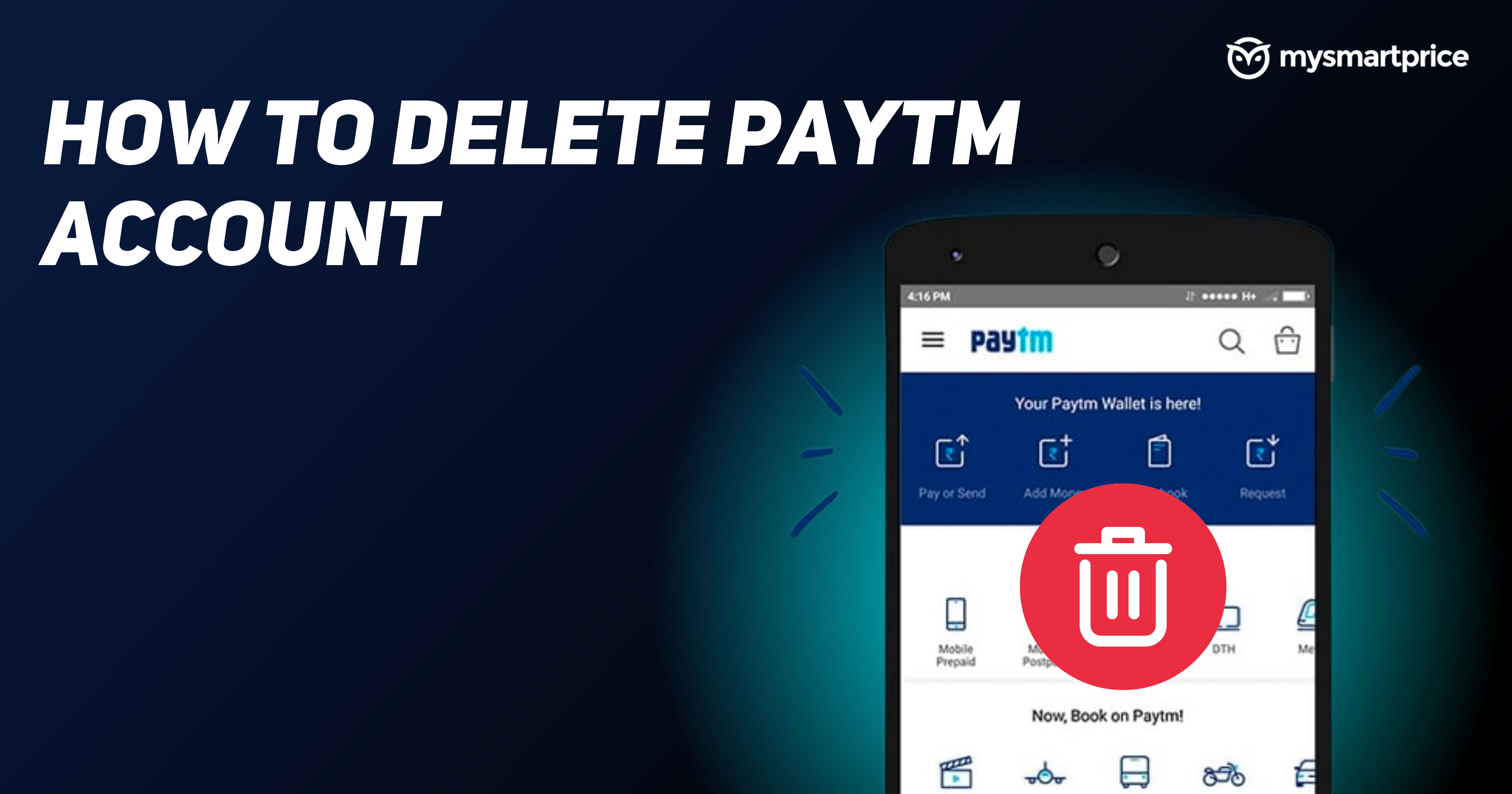 Paytm is one of the most used apps in India. It's a payment platform that helps in sending or receiving money. Most users in India use it for transferring money via the Unified Payment Interface (UPI). To do all these payments and receive the money, one needs to provide their details by filling out KYC which includes one of your government-issued documents. Now, if you are planning to remove your KYC details and delete your Paytm account, you need to follow some steps and make sure to take care of some important criteria. What are they and how to delete a Paytm account? Let's find it in this article.
Also Read: Where Is UPI ID: How to Find UPI ID in Google Pay, PhonePe, Paytm?
How to delete the Paytm account?
To delete the Paytm wallet account, follow these steps.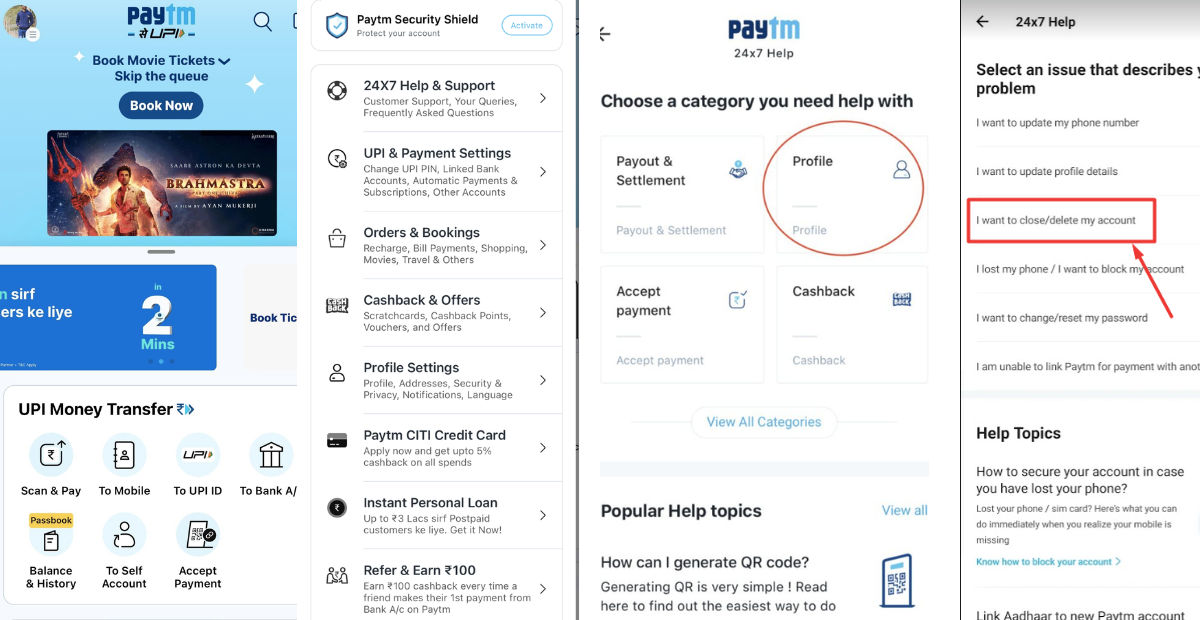 Login to your Paytm account.

Tap on the hamburger menu on the top left corner of the screen and a few options will appear.

Tap on 24×7 help.

Tap on Profile Settings, if you can't find it, tap on More Products & Services.

Select 'I need to close/delete my account'

Choose 'I do not use this Paytm account'.

Now, the final step – tap on Message Us and send it.
Once receiving your request, Paytm will soon close your account.
Can I restore the deactivated Paytm account?
Unfortunately, you cannot restore your Paytm account once deleted as it will result in the loss of your both, User ID and password from the app. To reactivate your account, you will need to sign up again and link your bank accounts and add cards. Also, not forget you will need to do your KYC again.
Also read: How to Create UPI ID in Google Pay, Paytm, PhonePe, Amazon Pay Payment Apps
How to delete Paytm History?
While writing this guide, there is no official way to delete Paytm transaction history. However, if you want, you can download it or check it in the Paytm app directly. We advise you not to give anyone your account information even if they claim to delete your Paytm history. They are most likely to be scammers.
How to delete a bank account from Paytm?
To remove a UPI address or linked bank account from Paytm, just follow these steps.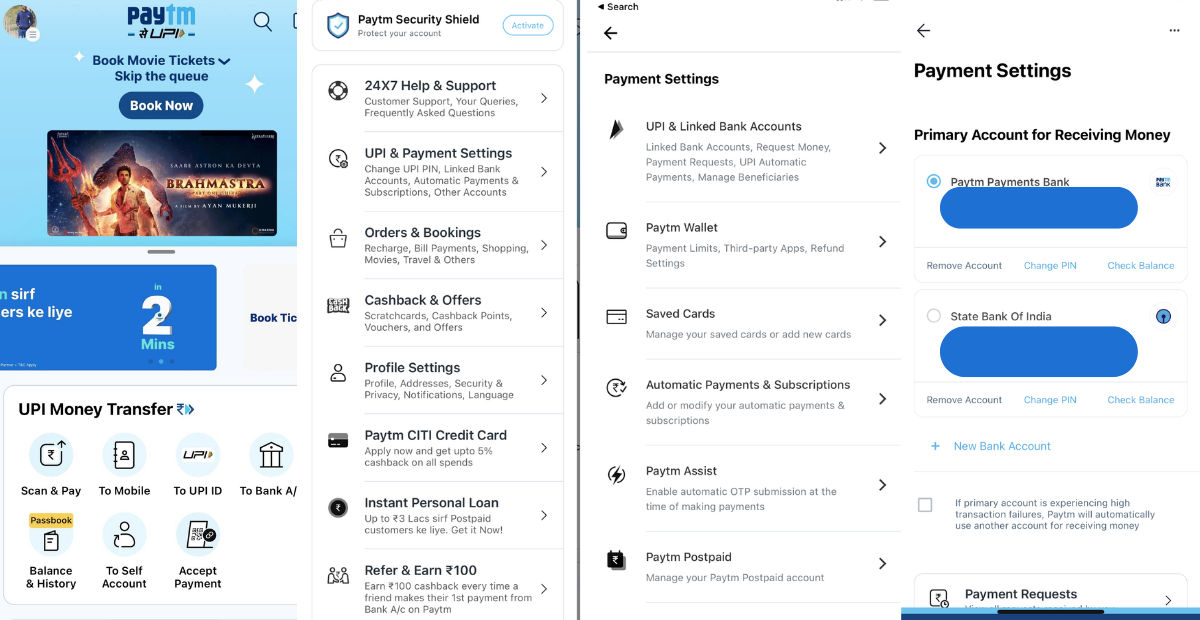 Launch the Paytm app on your mobile.

Tap on the hamburger icon on the top left corner and then Profile.

Tap Payment Settings and then select UPI & Linked Bank Accounts.

Now, here you can see the list of bank accounts that are linked to your Paytm account.

To delete any bank account, just tap on Remove Account and confirm it.
A linked bank account will be deleted from your Paytm account instantly.
Also Read: Reset UPI PIN: How to Reset or Change UPI PIN in Google Play, Paytm, PhonePe, Amazon Pay Payment Apps
How to delete a Paytm business account?
Paytm has a special account for merchants and shopkeepers called Paytm Business. If you have one, here's how to delete it.
Open Paytm Business app on your mobile and log in.

Tap on your profile picture in the top left corner of the screen.

Among the many options, tap on Business Profile.

Scroll down to the bottom and tap on Deactivate My Account.

A request will be submitted to Paytm and the account will be closed within 24-48 hours.
How To Delete Paytm KYC Account Or KYC Details From Paytm?
Deleting KYC details from a Paytm account is not a long step but takes some time. To do this, you will need to contact customer service via email or contact number. You can call Paytm customer care on +91 0120 4456 456 and request them to remove the KYC-related documents that you have submitted already. They will verify the details and remove your documents within a few hours.
Things to know before closing the account?
Before closing your Paytm account, it is important to keep your money safe. There are some criteria that you should follow before closing a Paytm account. Here're the most important things you should do.
Use the balance by transacting on any Paytm service

Transfer the remaining balance to any other registered Paytm phone number.

Transfer the remaining amount to any bank account.

Closing your account means that you cannot use the same credentials again to log in.
FAQs
1) How to delete a Paytm account by call?
To delete a Paytm account via call, just dial on Paytm Customer care number which is 0120 3888 388. Tell them that you want to delete your account after which they will raise a ticket. You will receive a confirmation mail once the account gets deleted.
2) How long does it take to delete the Paytm account?
Generally, Paytm account deletion takes two business days.
3) How can I delete my Aadhar card from Paytm?
To remove an Aadhar card or any other KYC document from Paytm, open the app and go to your profile. Tap on 24×7 Help Support and choose the KYC option. Message Paytm customer support that you wish to remove your KYC documents from the app. They will ask for some details for verification and will then remove your Aadhar card from the account.