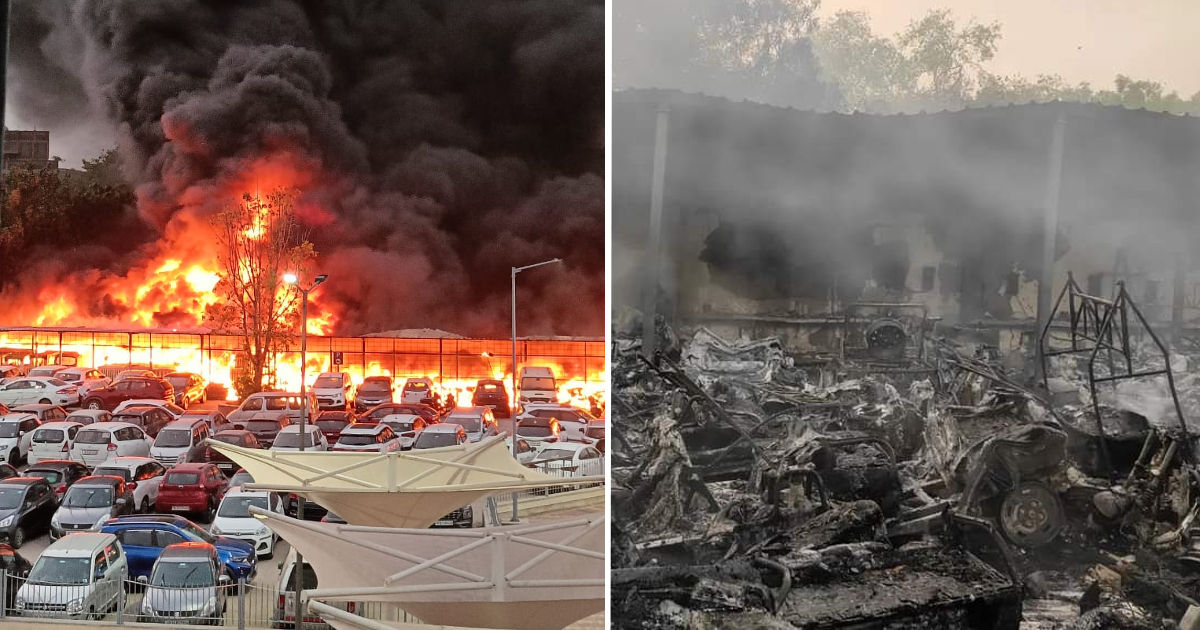 A massive fire broke out in Delhi's Jamia Nagar on Wednesday and burnt down around 100 vehicles including cars, scooters, bikes and e-rickshaws. The fire took place in an electric vehicle parking lot in the area, burning almost all of the vehicles present there to ashes. Luckily, no casualties are being reported from the incident till now.
Delhi fire service officials rushed to the spot after receiving reports of the incident. A team of 11 fire-brigade personnel was able to douse the fire but not much was left of the vehicles at the site of incident till then. As reports cite the Delhi fire-brigade officials, the fire burnt down a total of 50 old e-rickshaws, 30 new e-rickshaws, 10 cars, 2 scooters and a motorcycle.
Reports on the internet cite officials saying that the parking manager was present at the location when the fire broke out. While the no human lives weere lost due to a quick alarm raised, none of the vehicles parked in the lot could be saved from the massive fire. The emergency response teams are yet to find a reason for the mishap.
Though it cannot be said for sure, there is a chance that the fire started from any one of the electric vehicles present at the location. With this, the anxiety around electric vehicles in India is bound to heighten, making it worse after other such fire incidents that have taken place with electric vehicles across the country in the past couple of months.
If this turns out to be the case in Delhi's Jamia Nagar too, we can expect to see a drastic clampdown on EV productions and sales in India. This will then likely be followed by a new set of regulations to ensure a safer class of electric vehicles, at least minimising the chances of a fire breakout if not eliminating them altogether. Results of the investigation are still awaited.