Highlights
Delhi Metro Rail Corporation (DMRC) is the latest to offer QR-based WhatsApp ticketing to its commuters, but there's a catch.
Currently, the service is only available to DMRC commuters plying on the Airport line.
Delhi Metro Airport Line commuters can use WhatsApp chatbot-generated QR tickets from their smartphones.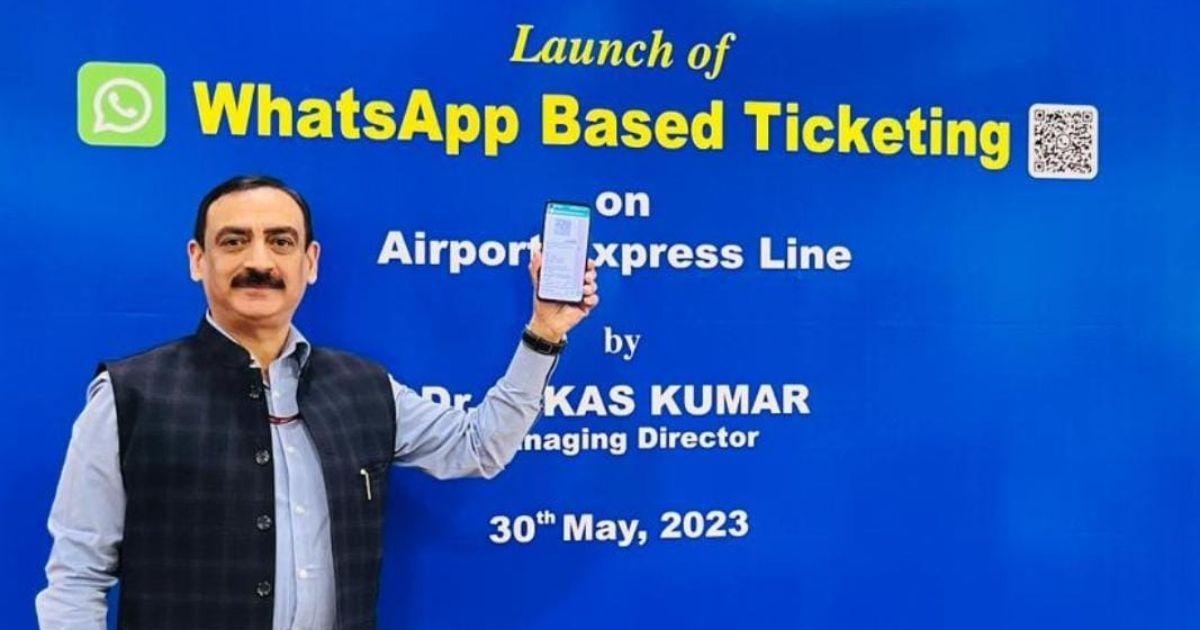 Delhi Metro Rail Corporation (DMRC) is the latest metro service to start offering WhatsApp ticket booking to its commuters. However, there's a catch. The service is not available to all metro lines in the NCR region. Only airport line commuters can book QR-based tickets conveniently using WhatsApp on their smartphones.
This will make it easier for travellers to reach the airport on time without waiting in queues. DMRC is the sixth metro service to offer WhatsApp booking after Bangalore Metro Rail Corporation Limited (BMRCL), Mumbai Metro, Pune Metro, L&T Metro Rail Hyderabad, and Chennai Metro Rail Limited (CMRL). Here's everything you need to know about DMRC's WhatsApp-based ticketing service.
DMRC Airport Line Commuters Can Now Book Metro Tickets on WhatsApp
Further enhancing travel experience for its commuters in an easy to navigate digital mode, Delhi Metro today introduced 'WhatsApp based Ticketing Service' for travel on Airport Express Line. This was launched by Dr. Vikas Kumar, MD/DMRC in presence of other senior officials. pic.twitter.com/MjJcHU3moS

— Delhi Metro Rail Corporation I कृपया मास्क पहनें😷 (@OfficialDMRC) May 30, 2023
DMRC MD Dr Vikas Kumar introduced the Delhi Metro WhatsApp ticket booking service in the presence of other senior officials. The WhatsApp chatbot-based QR ticketing service will be available to commuters on the Delhi Metro Airport line, also called the Delhi Metro Orange line. It connects the IGI airport to the NDLS railway station of the Delhi/NCR. All commuters need to do is add the official DMRC chatbot number to their contact list and send a message on WhatsApp. This facility will make it convenient for domestic and international travellers heading to and from the airport.
How to Book Delhi Metro Airport Line Tickets Using WhatsApp?
Commuters can book their Delhi Metro Orange line tickets in minutes using the new service. Here's how to book DMRC WhatsApp-based metro ticket.
Add the DMRC official WhatsApp number 9650855800 to your contacts.

Open WhatsApp and initiate a chat with the above number by sending Hi.

Select your preferred language from the options provided.

Choose the Buy Ticket option from the list.

Pick your source and destination metro station.

Enter how many tickets you want to purchase.

Confirm the details and make payment using the integrated UPI service through a credit card, debit card, or UPI.

You will now receive a QR-based ticket in the same chat that needs to be shown to the designated scanner at the AFC gates.
Like other metro services, DMRC allows passengers to book a maximum of 6 tickets, with individual tickets generated for each passenger.
Things To Keep in Mind While Booking Delhi Metro Tickets on WhatsApp
According to DMRC's FB post, the tickets generated on WhatsApp are valid till the end of the business day. After they have entered the metro station, passengers must exit within 65 minutes from the destination station. If, for some reason, passengers want to exit from the source station itself after making the entry, they must do so within 30 minutes of entry.
Commuters will not be able to book tickets after business hours and will not be able to cancel WhatsApp-based tickets. Additionally, a small convenience charge will be levied on payments made through bank cards (credit or debit), but UPI transactions are exempted from this charge.